11 Vegetarian Mediterranean Recipes for Newbies
The Mediterranean may boast the healthiest recipes in the world, yet these dishes are anything but bland. Vibrantly colored with fresh ingredients (I mean, just look at this Marinated Celery Salad!), this type of cuisine is used around the world for a variety of flavorful dishes. My Mediterranean-inspired dishes use ingredients common to this area for the freshest, most appetizing vegetarian Mediterranean recipes.
Grab one of these easy Mediterranean recipes to brighten your day and satisfy your palate.
I love drawing inspiration from Mediterranean cuisine and their use of fresh + pickled ingredients to create unique food experiences. These flavors are inspiration for my downloadable Mediterranean Diet Meal Plan, and many other recipes as well. They are just so good!
Table of Contents
Ingredients for these recipes are commonly found in the countries surround the Mediterranean Sea, and there are 22 of them! So while I often use recipes common in Italy or Greece, these are not the only countries from which you can draw inspiration.
Explore your preferences and branch out to try new flavors… it's the best part of food and how I've come to love Greek Salad and Vegan Pumpkin Soup along with the rest of these vegetarian Mediterranean recipes.
Easy Mediterranean Recipes
Vegetarians unite! Well… even if you aren't vegetarian you can enjoy these recipes. They are great for anyone looking to incorporate meat-free recipes into their day. Use any of these for a Meatless Monday or share them with friends at your next gathering.
While vegetarian Mediterranean recipes sound exotic and exciting, I can't wait for you to try my Stuffed Portobello Mushrooms, they really do use a lot of ingredients that you are familiar with or may even have on hand. Don't be intimidated if there is an ingredient you aren't sure about, drop a comment and let me help you find it!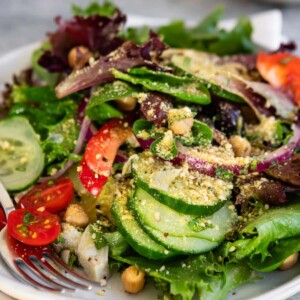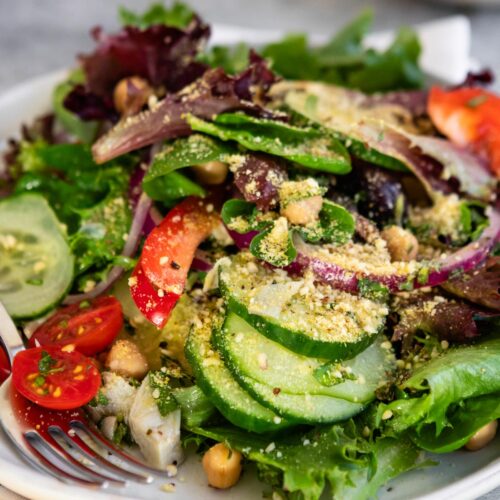 Mediterranean Greek Salad Recipe
This colorful salad is as full of flavor as it is color. Your skin will be glowing after incorporating this dish into your lunch routine, and Mediterranean inspired classic!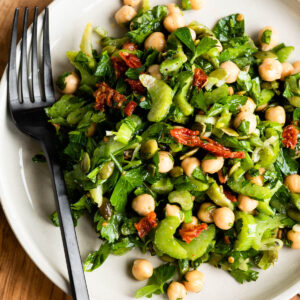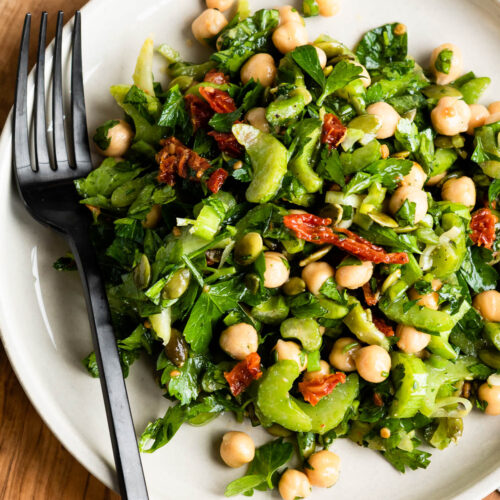 Marinated Celery Salad
This Mediterranean-inspired marinated celery salad is vibrant and oh-so-delicious. It's a crunchy addition to a meal or a protein-packed meal on its own.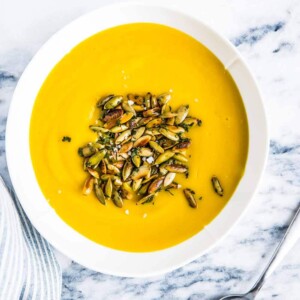 Vegan Pumpkin Soup
One thing I really love is a good vegan pumpkin soup. It's healthy, filling, comforting, and warms you up when the weather is chilly. Check out the recipe notes for all the variations.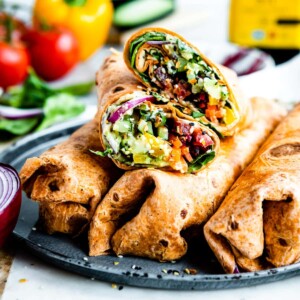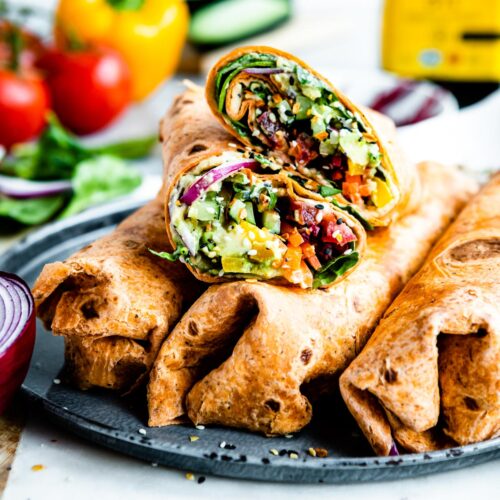 Veggie Wrap with Hummus
Eat the rainbow with this plant protein veggie wrap. It's got crunch, creaminess and flavor. Plus, you can wrap it however you want!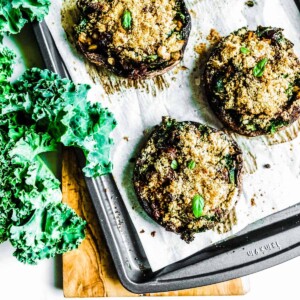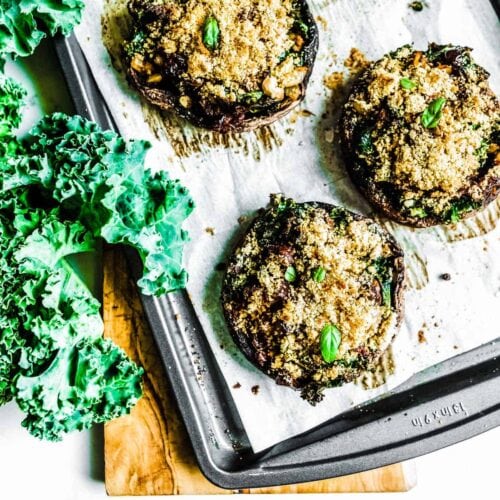 Stuffed Portobello Mushrooms
This stuffed portobello mushroom recipe is easy enough for a delicious weeknight dinner and unique enough for your next dinner party. Mediterranean-inspired flavors pop in these beautiful mushroom caps.
Mediterranean-Inspired Snack Ideas
I am a professional snacker during the work day. Since I work from home, I often don't stop for a formal "lunch break" and instead snack throughout the day in between projects and work calls.
That's why I like to have an arsenal of filling, protein-powered snack options to get me through each day. If one of these recipes sounds good to you yet you want to make them dairy-free, then feel free to use vegan feta cheese (VioLife as a great option!).
If you don't have tahini on hand, or it isn't easy to source around you then swap it with sunflower butter or cashew butter. Use what you have on hand first and see if you can get it to work for you!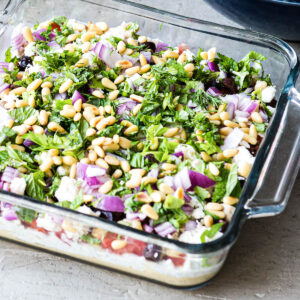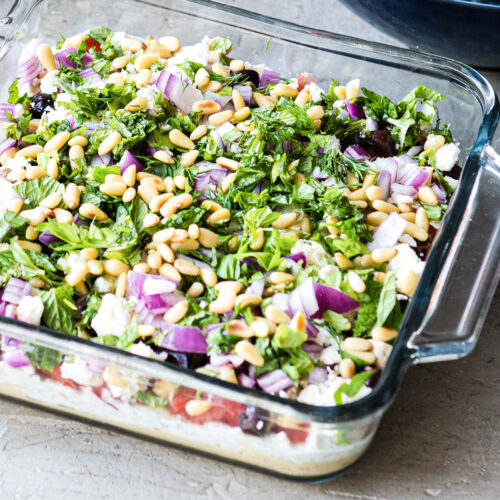 Layered Greek Dip
This layered Greek dip is a Mediterranean-inspired dish loaded with sauces and marinated fresh vegetables to create an irresistible appetizer. This recipe is easy to double if you are feeding a large group.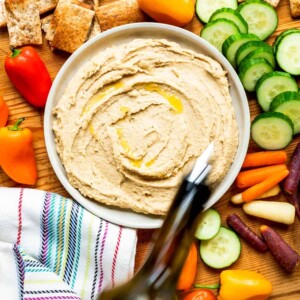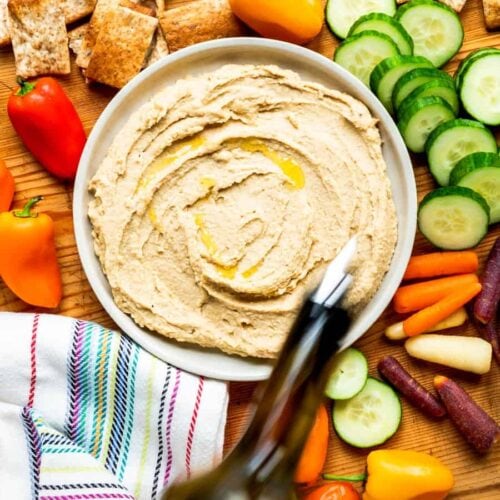 Homemade Hummus
With this recipe on hand, you'll never need store-bought hummus again! Along with iron-rich chickpeas, we've included loads of fresh, vibrant herbs to add extra vitamins, minerals to this herb hummus.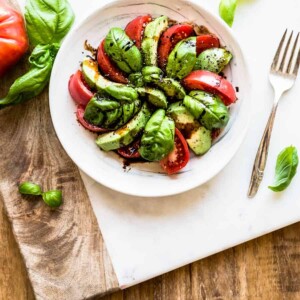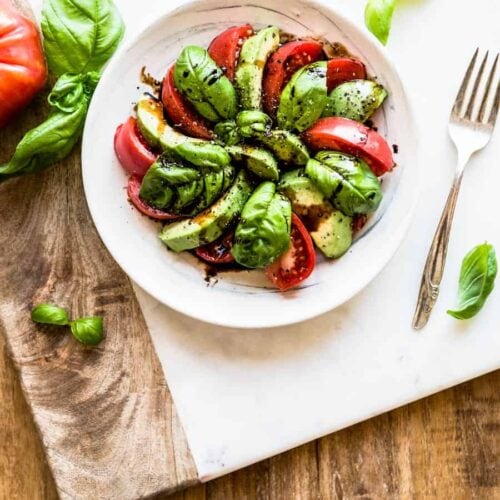 Avocado Caprese Salad
It's pretty hard to top a juicy, garden fresh, still-warm-from-the-sun tomato, but this comes pretty close. Creamy avocado stands in for cheese in my Avocado Caprese Salad. We don't think you'll miss it.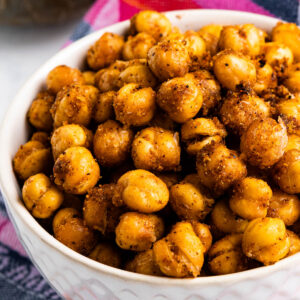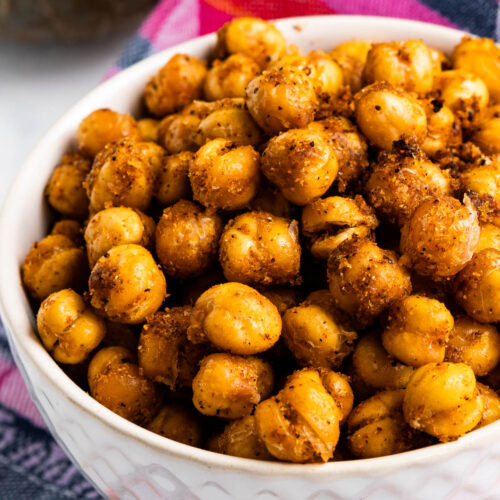 Garlic Baked Chickpeas
Crispy, crunchy, savory. These garlic-baked chickpeas are a serious snacking experience. They are surprisingly light and perfectly seasoned for that garlicky explosion you want. Eat them right away for the crispiest result!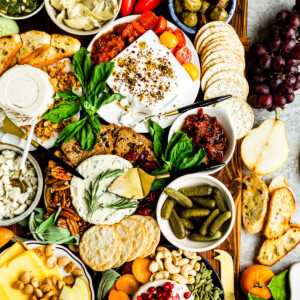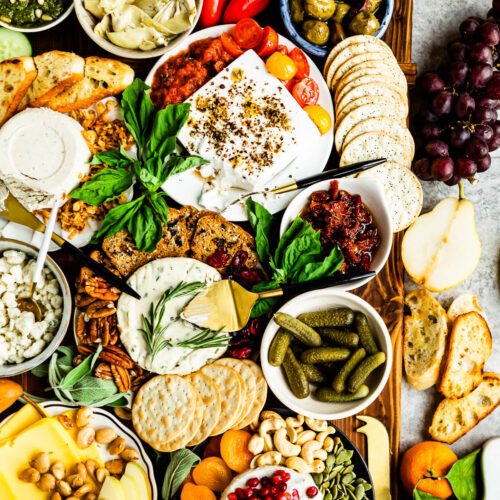 Vegan Charcuterie Board
Charcuterie boards are all the rage and I'm here for it! We've assembled a beautiful, tasty plant-based charcuterie board with an assortment of non-dairy cheeses and dips along with fresh fruits and veggies and other snacks.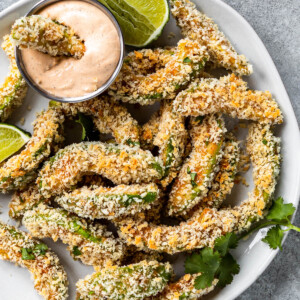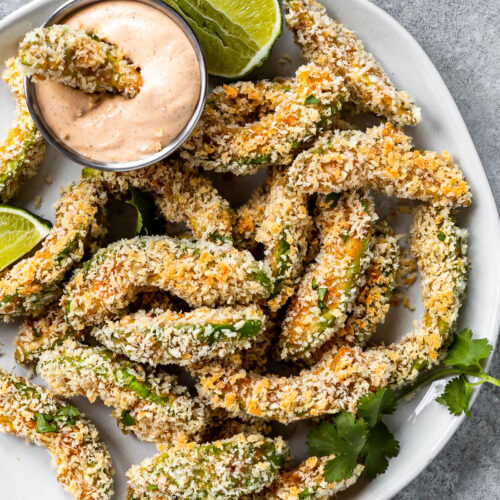 Avocado Fries
Snacking made delicious with these crispy avocado fries. These are a super fun side dish, snack or appetizer that will surely liven up your day.
Common Mediterranean Ingredients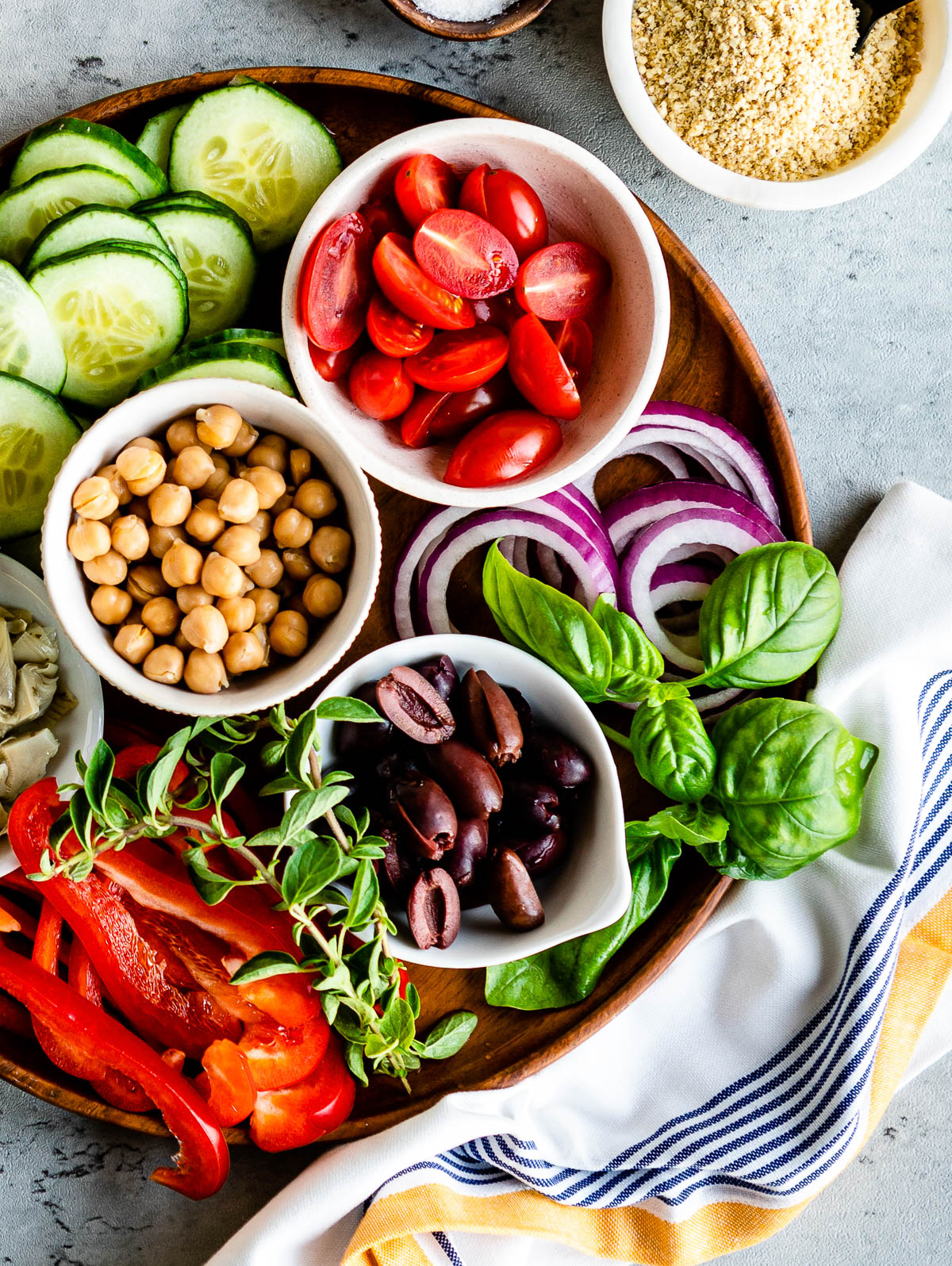 There is a vast list of ingredients used in Mediterranean recipes. Here are some of the most common examples of Mediterranean food you can start incorporating into you diet, many of which are used in my recipes!
Fruits and vegetables like tomatoes, eggplant, olives, apples, figs, avocado, cherries, onion, cucumbers, clementines, apricots, melons, nectarines, strawberries, pomegranates, bell peppers, peaches and grapes
Nuts like almonds, hazelnuts, walnuts and pistachios
Whole grains like quinoa, pasta and wheat
Seeds
Fresh herbs like basil, oregano, bay leaves, rosemary, fennel, mint, sage and parsley
Legumes and beans
Unrefined oils
Fish
Moderate use of cheese, eggs, poultry and lamb
You'll find ingredients like this in many common Mediterranean-inspired recipes. If you're trying to follow a certain lifestyle like vegan or gluten-free and aren't sure if a new-to-you ingredient works, look it up! Knowledge is power, and you may be surprised what is (or isn't) available to you.
I just learned that feta can be made from cow milk or sheep milk! So if one doesn't work, keep exploring until you find what works best for you and your body.
FAQs
What are Mediterranean vegetables?
A lot of fresh fruits and vegetables are found along the Mediterranean including tomatoes, eggplant, olives, apples, figs, avocado, cherries, onion, cucumbers, clementines, apricots, melons, nectarines, strawberries, pomegranates, peaches and grapes.
What is a typical Mediterranean breakfast?
Breakfasts in the Mediterranean are often light and simple (if eaten at all). They include bread with soft cheese and fruit, a tray of bread, olives and cheese, and sometimes fried eggs, depending on the country you're in.
Which food is eaten daily in a Mediterranean diet?
Even in the Mediterranean, common food varies depending on the country you visit. There are many fresh fruits and vegetables, cheeses and bread, olive oil, vegetables in oil like olives, pickled vegetables and sun-dried tomatoes and more. Fish is common as well.
Which one of these vegetarian Mediterranean recipes sounds like a winner to you? Drop a comment and let me know!