20 Healthy Snacks for Work
Eating healthy while working isn't hard to do—it just takes a little preparation, planning and a determination to do it. Sounds pretty simple, right? Hey, I know it isn't all that easy, which is why I've got some great healthy snacks for work, as well as tips on how to be healthy while working.
Whether you are in an office, healthcare space or in your home, these snacks + tips can help you win the work day! Plus, if you show up to work with a Layered Greek Dip, you might just make some new friends!
"Office" time looks different these days, yet I wanted to give you a snack list that can go from home to wherever work is conveniently. I often keep a bag of Oven Roasted Almonds in my purse.
So it won't matter if you don't have a fridge or microwave, just grab a good lunchbox cooler or an icepack, depending on the recipe, and snack your way through the day with confidence.
Table of Contents
Savory Snacks for Work
I broke this list into savory and sweet options since snack cravings seem to fall into those categories. I included homemade hummus and nut butter since they are great healthy fats with protein and you can easily add in your fav veggies or whole-grain crackers to dip.
Speaking of dips, you can also smash some avocados + a sprinkle of sea salt or bring in a serving of greek yogurt to dip as well. I make snacks in batches before my week begins so that I can grab 'n go when I need to.
Sweet 'n Healthy Snacks
For those with a sweet tooth, this next list is for you. I've got both refrigerated and non-fridge options for you, so pick what works best. I love the apple "donuts" option as you can dress them up any way you want: sprinkle some hemp hearts or chia seeds on top, or even some mini chocolate chips!
Who says we can't have fun with our food?!
Tips For a Healthy Work Day
Eating healthy at work actually starts before the workday… and prep is key! Here are my top 4 tips on how to have a healthful workday, snacks and all!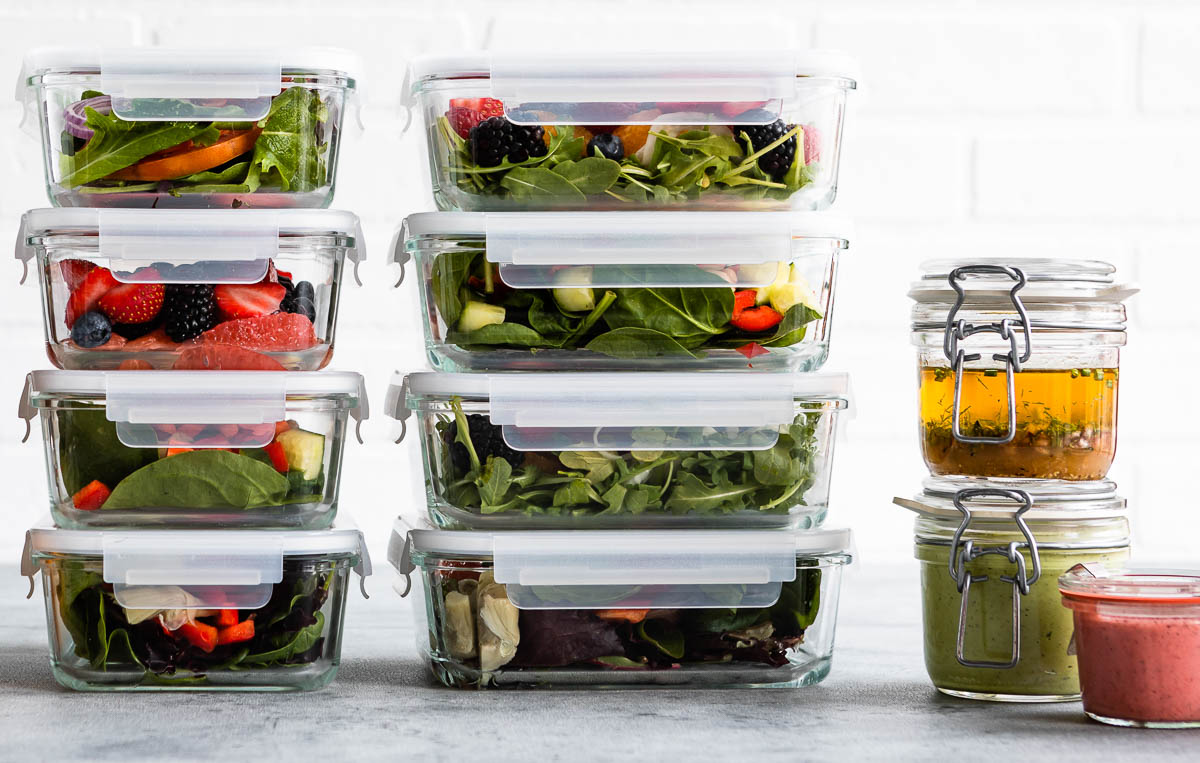 Dinner Leftovers = Easy Lunch
When you make dinner, make enough to have leftovers for lunch. It's really that simple. Maybe that means doubling, tripling, or even quadrupling a recipe so you have enough for tomorrow's lunch. Try roasting large pans of vegetables or making salad jars out of the leftovers.
I created Rawk the Year: Meal Planner, my plant-based planning guide, to help my family make easy + healthy dinners. If you struggle with this then I encourage you to check out this meal planner, and learn how to feed your crew nourishing whole foods. You'll not only find great dinner recipes, but also snacks for work, smoothies, non-smoothie breakfast options, desserts and beverages.
To avoid eating a big lunch that might lead to the afternoon sleep-ys, try eating half of your leftovers for lunch, then half in the middle of the afternoon (if you get hungry again). This spaces out the meal, breaks up the afternoon, and may even help break the 3pm coffee fix!
Healthy Snacking Starts With Breakfast
Beginning your day with breakfast is a smart idea for several reasons. If you let yourself get too hungry by skipping your morning meal, it's harder to resist junk food when your stomach starts to rumble. Or worse, when you get hangry.
Eating a healthy breakfast helps your body absorb nutrients better throughout the day, as well as sets you up to crave healthy snacks at work, instead of more processed foods.
A nourishing breakfast sets your day up for success, so that you can do your job to the best of your ability.
What can you do to make breakfast simple and healthy? I suggest prepping green smoothie packs to blend up before you leave for work, whether commuting to an office building or to your den. If breakfast smoothies don't work for you, then try another healthy breakfast option like eggs, tuna, avocado toast or even dinner left overs! Steel cut oats are a great filling breakfast option for me.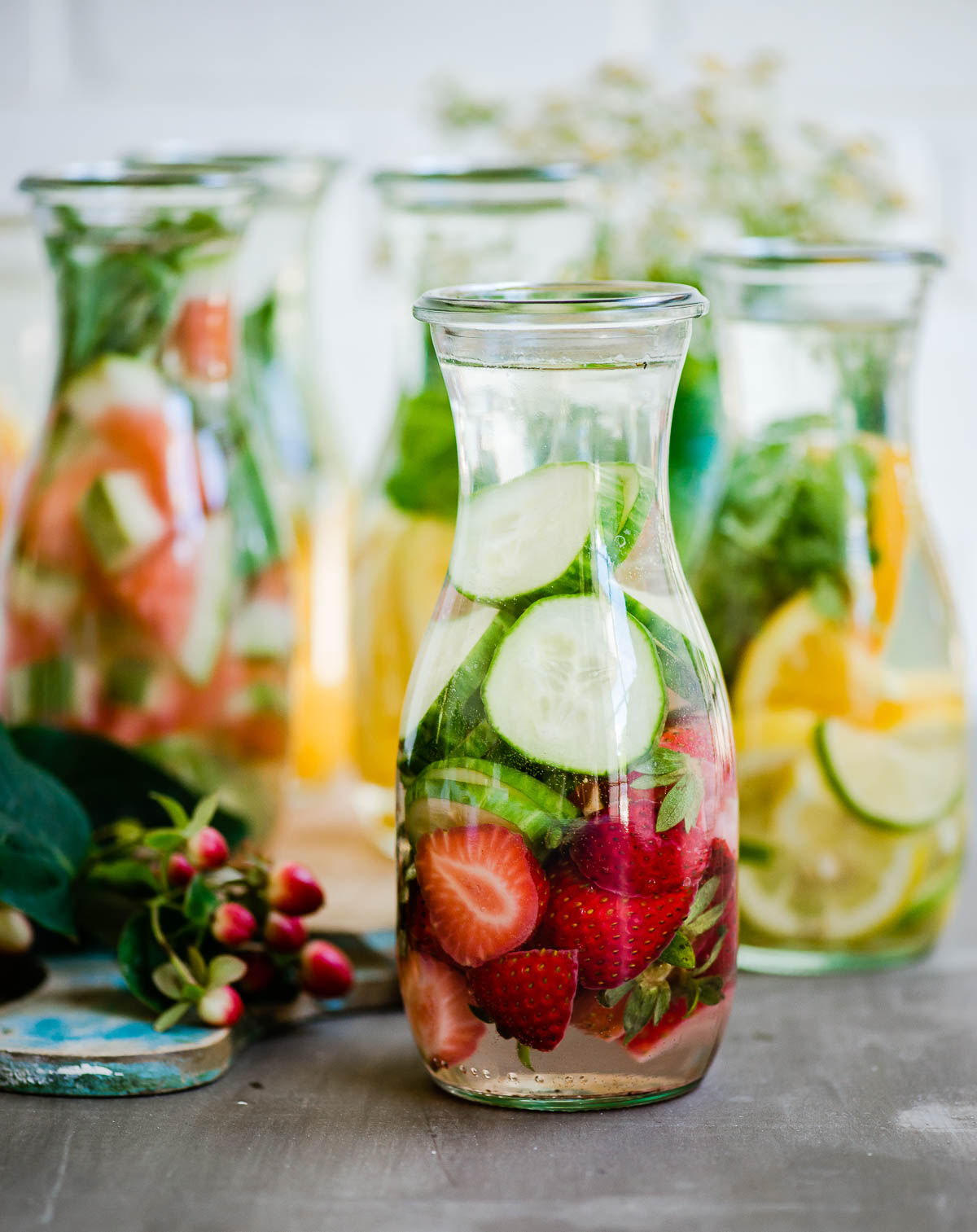 Hydration is Key
Drink plenty of water during the day. Keep a glass or bottle of water next to your workspace. If you aren't a fan of plain water, spice it up by making fruit-infused water with fruit, herbs and veggies. Or drink sparkling mineral water. (No diet soda, if you can help it!) Set a timer on your phone or try to sip water a few times an hour.
Did you know that sometimes "hunger" is actually thirst? Next time you start snacking, intentionally drink water in between bits of that healthy work snack, to naturally up your water intake.
Actually Take a Lunch Break
Ah, the lovely lunch hour! It means you've made it halfway through your work day. Eating a healthy lunch is integral to sustaining you through the rest of your day and preventing afternoon slumps. It also leads to healthy snacking throughout the afternoon.
Pack as much nutrition into your lunch as you can, including healthy fats, protein, fiber and as many fruits and veggies as you can. Whenever possible, it's a good idea to bring your lunch from home.
Also, don't just use your lunch break for eating. Stretch for 5 minutes, take a walking lap around the block, 20-minute power nap, or read a non-work related book for 10 minutes.
Focusing your energy on something other than work helps to break up the day, reset your mood, and give you a rush of endorphins that will help you not feel so sluggish throughout the afternoon.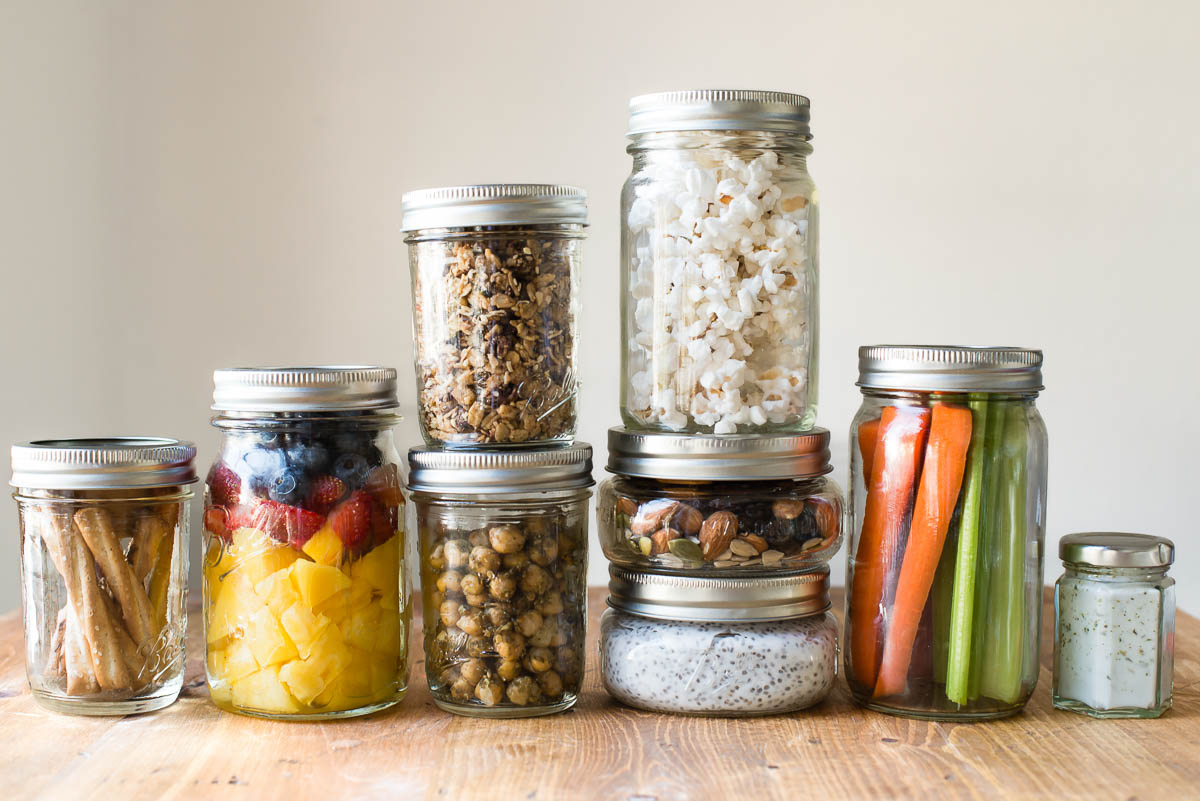 Ready-to-Eat Snack Options
While the above list is great for anyone who can prep, what about the times when a snack attack hits you unprepared?! Well, I've got a list for that, too.
Fill a drawer at your desk (or a shelf in the office fridge) with: dried fruit and nuts (or make your own trail mix), dark chocolate, and packets of popcorn. I also keep Barney's almond butter packets in my bag. Grabbing pre-cut veggies from the grocery store like celery sticks and bell peppers gives you something crunchy to munch.
You can easily make a snack that has protein, healthy fat and carbs in it by popping the popcorn in the microwave then dusting it with nutritional yeast. Or eating some dark chocolate dipped in nut butter. Buy some granola bars you actually like and keep those on hand, too!
The last thing you want to do when in the snacking mood is try and force yourself to eat something you don't like. So no picking up a snack just because it's "healthy." Shop around and give a few different kinds a try to find one you like and will actually reach for in a pinch.
I hope this list inspires you to prep a few snacks ahead of your work week, whether that work includes a desk and computer, a kid with endless energy, a classroom of eager minds, a sketch pad, or slew of customers.
What are some of your go-to work week snacks? Leave a comment and let me know! I'm always up for a great new healthy snack for work idea.