5 Easy Rice Bowl Recipes Packed with Flavor
It's 5:00 pm, I just got home from picking up my last kid and there are no dinner plans. I know veggies are sitting in the fridge on the edge of going bad and I don't want to order takeout again so what do I do? I make one of these healthy rice bowl recipes and win the night.
Countless weeknight dinners have been saved by my coconut sriracha veggie bowl or some asparagus stir-fry. Why? Because they're super easy, versatile and can be made-to-order for those picky eaters. Everyone's happy and I didn't have to order takeout.
Let's talk about the five rice bowl recipes that are served on repeat at my table as well as how to make a killer healthy rice bowl that fits your preferences and your family just right. We've got something for everyone.
I've got vegan and gluten-free options so that you can make easy rice bowl recipes without worrying about bloat or inflammation. I see rice as a hearty vessel for delicious vegetables, nuts, seeds and sauces.
Table of Contents
Delicious Rice Bowl Recipes
I'm not joking when I say these are recipes my family eats all the time. We got a rice cooker early on in parenting and use it on a weekly basis. It started out as an easy way for our young kids to "help" make meals and became a well-loved appliance.
Along with my rice cooker, I discovered how easy it is to sauté or roast a tray of vegetables. Once I dialed in a few great sauce options, I knew I had the makings of great and easy dinner options.
Most of these recipes are included in my 30-minute meals round-up because they are so fast to throw together. Read through these options and let me know which one sounds like a winner to you!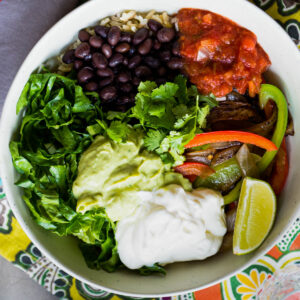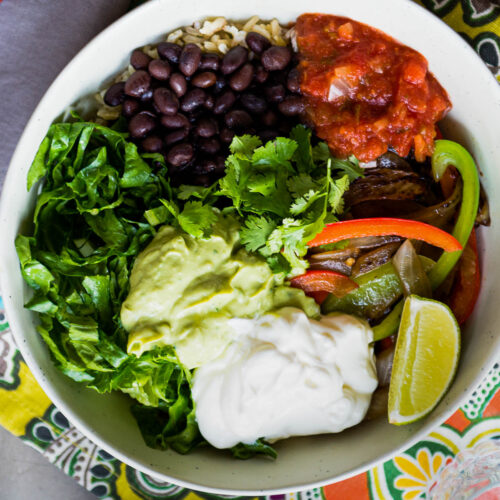 Chipotle Veggie Bowl
This Chipotle Veggie Bowl recipe is super fresh, nutrient-dense and bursting with flavors! It's easy to customize so everyone in your family can chow done on exactly what they want. Use tomatoes of fresh salsa, avocados or guac, bell peppers or jalapeños, the choices are all yours.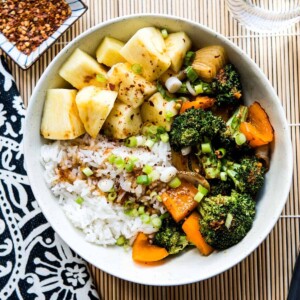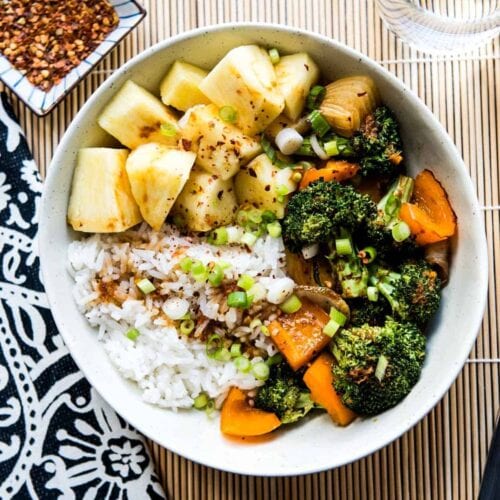 Simple Teriyaki Veggie Bowl
Say hello to summer with these Hawaiian-fusion teriyaki veggie bowl! Roasted broccoli, orange bell pepper and onions over creamy coconut rice make for a quick + nutrient dense meal that the whole family will love.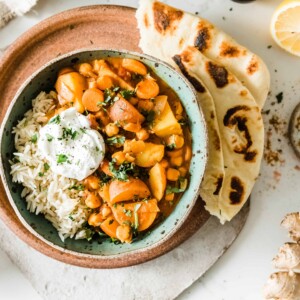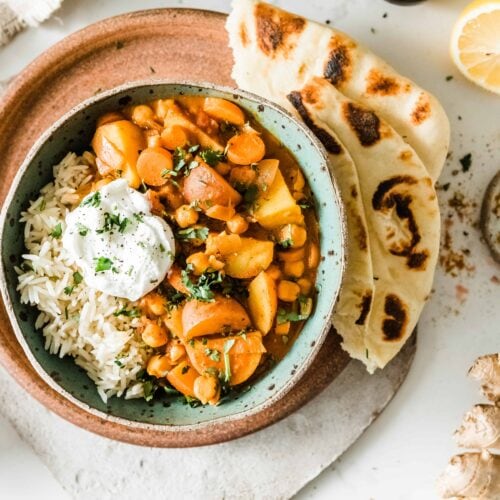 Creamy Potato Curry
Full of flavor and super creamy, this dish will leave you satisfied. Instead of heavy creams and a night full of stomach cramps, this potato curry is 100% dairy-free. It's dressed with a variety of fresh herbs and spices.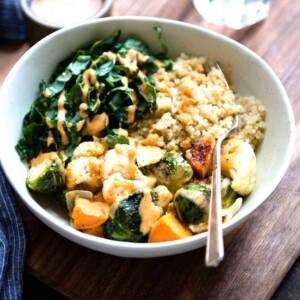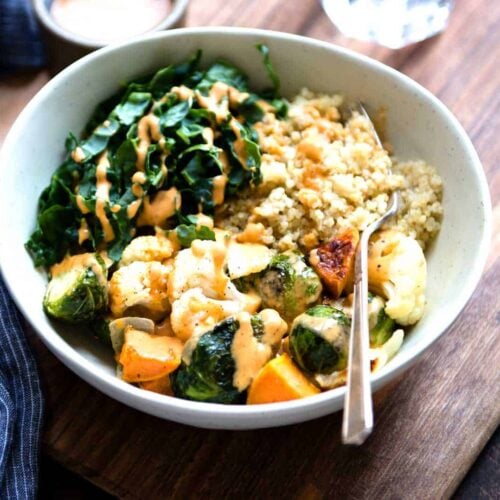 Coconut Sriracha Veggie Bowl
This veggie bowl recipe is simple, delicious and has the perfect sauce. Roasted onion, cauliflower, sweet potatoes and Brussels sprouts served with brown rice or quinoa under the best sauce ever. Great for those left over veggies in the fridge that need to be used.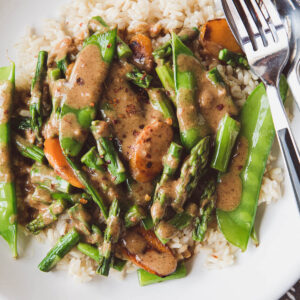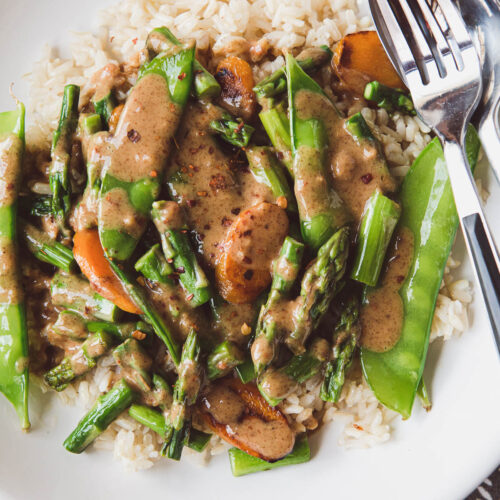 Asparagus Stir-Fry
This is a quick, weeknight meal that my whole family will stick around for. It is made with veggies commonly found in stir-fry as well as an almond butter sauce that you might need to double; it's that good! Enjoy with whatever veggies you have on hand for a quick yet nourishing meal.
Rice Options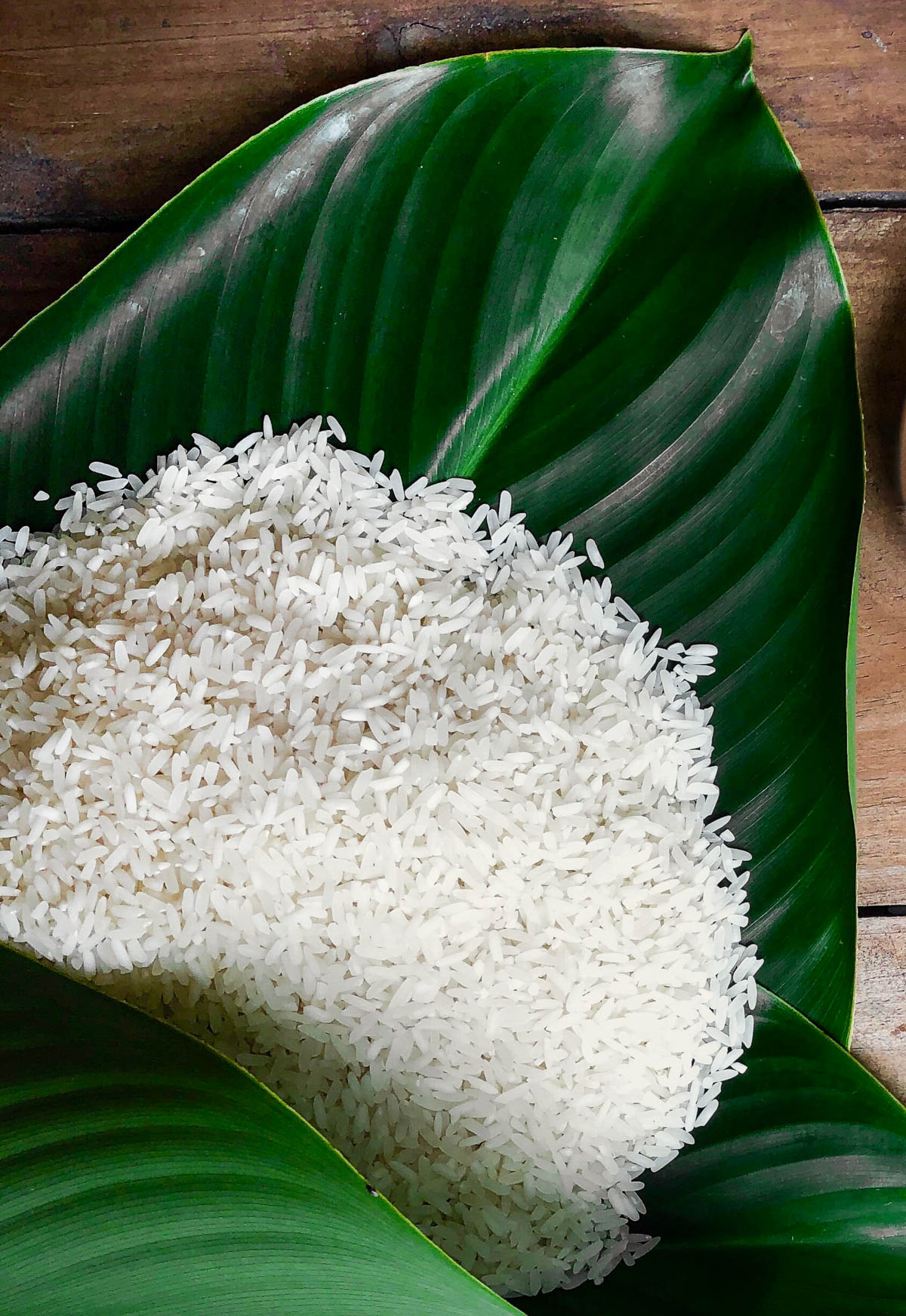 The first question I get when sharing a rice bowl recipe is, which is better, white or brown rice? Aside from taste preferences, here's what I know:
First, brown rice is a whole grain. This means it includes all parts of the grain. Meanwhile, white rice removes the bran and nutritious germ, leaving it with a very limited amount of nutrients.
Brown rice contains more fiber. 100 oz of brown rice (1 serving) contains 1.4 grams of fiber compared to just .4 grams of the same serving of white rice.
High consumption of rice may lead to higher levels of arsenic in the body, and brown rice seems to have higher levels than white. Note that moderate consumption of rice should be fine.
These two aren't your only options! Cauliflower rice is on the rise in popularity and a cauliflower rice bowl is a great grain-free option. Quinoa is also a hearty choice for those wanting to lower their rice intake yet still wanting the comfort of a warm grain.
Sauce Choices
In my opinion, a healthy rice bowl isn't complete without the perfect sauce. Oftentimes store-bought sauces just don't do it for me (plus they're typically full of not-great ingredients), so I really get into creating my own.
Sometimes a simple guacamole or salsa does the trick, yet when I really want flavor, I go for something with flair. Since a lot of my bowls are plant-based, I also use the sauce to deliver more protein and healthy fats. Here are a few of my go-to sauces: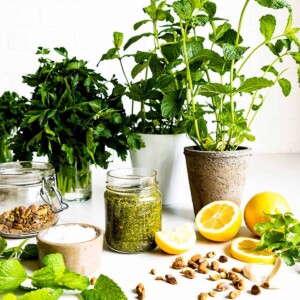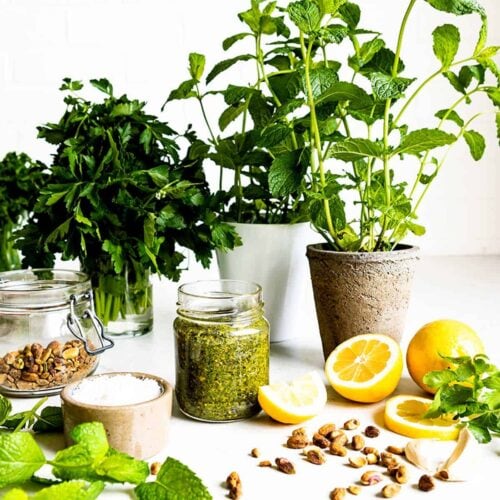 Pistachio Pesto
Plant-based pistachio pesto recipe combines parsley and mint with roasted pistachios and lemon juice for a sauce that is vibrant and fresh.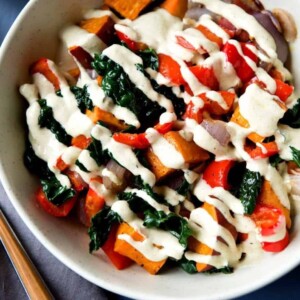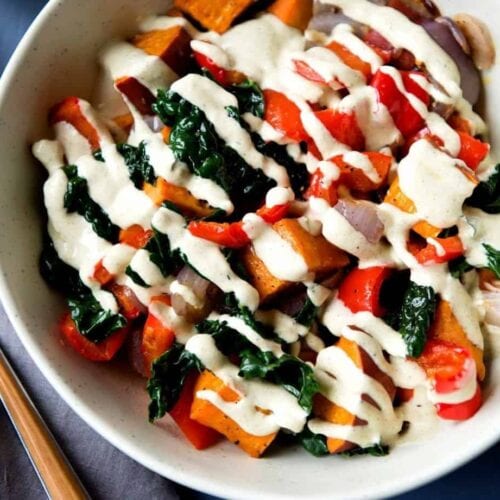 Hemp Hearts Veggie Bowl
The hemp sauce makes this dish and brings the roasted veggies to a whole other level! Feel free to swap in other veggies to match your preferences, but this combo of onions, bell peppers, sweet potatoes, and kale is a real winner.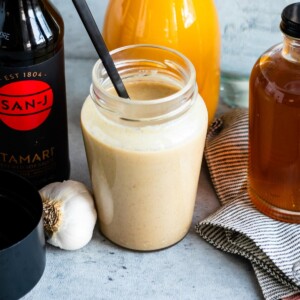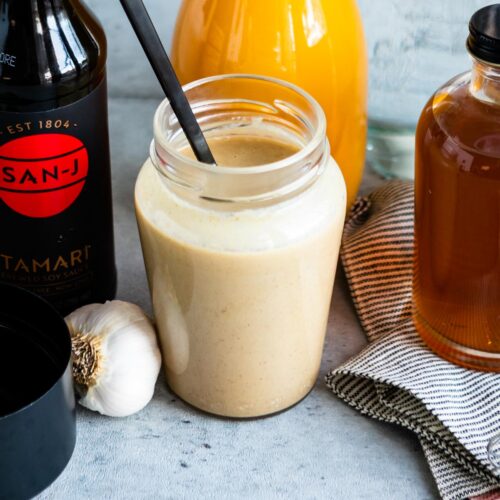 Citrus Tahini Dressing
This simple dressing is bursting with bright citrus flavor paired with a nutty tahini cream. It is both oh so good and oh so good for you. Use it as a gorgeous charcuterie dipping sauce or salad dressing. I originally created it to top my Crunchy Chickpea Salad from my Autumn Cleanse.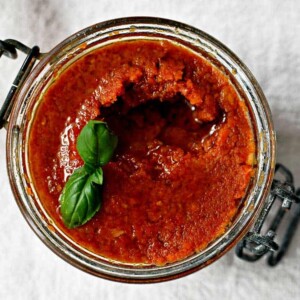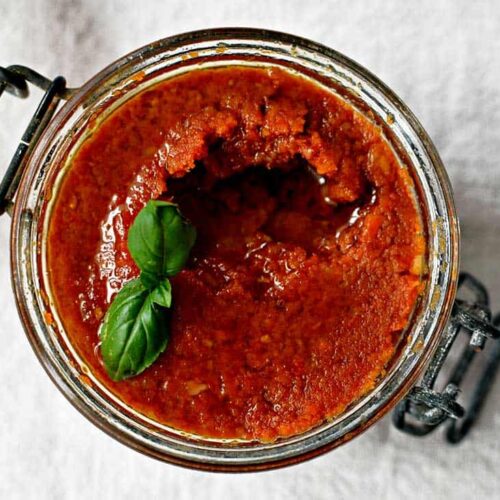 Sun-Dried Tomato Pesto
Enjoy the best sun-dried tomato pesto recipe out there— I add it to pizza, salads, soups, toast and veggie bowls.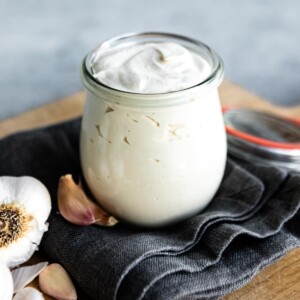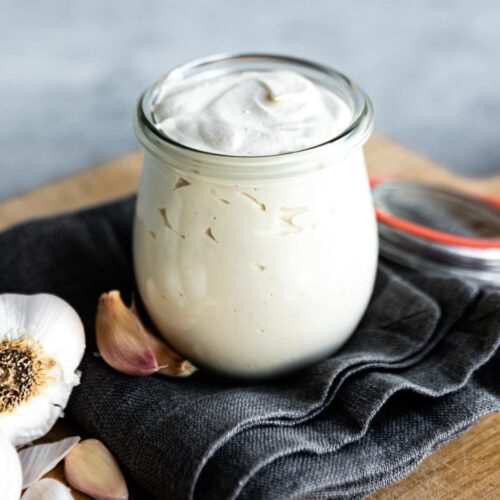 Garlic Lemon Aioli
100% vegan and 100% scrumptious. This aioli is the perfect dressing for my Kale Caesar salad. Make sure to soak those cashews for a soft and creamy result. You'll enjoy this incredibly simple recipe!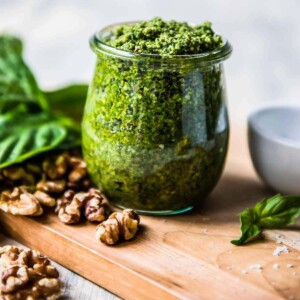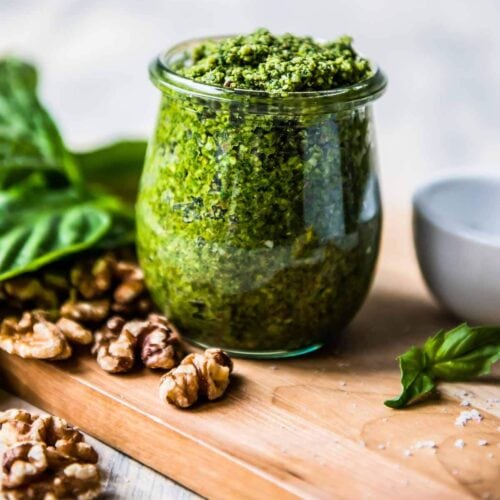 Vegan Basil Pesto
This vegan basil pesto is simple to make and packed with plant-based ingredients. The garlic blends perfectly with the basil for an authentic Italian flavor.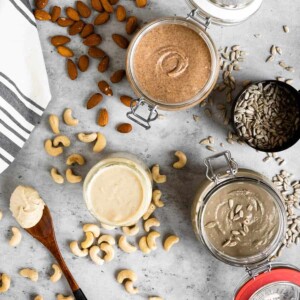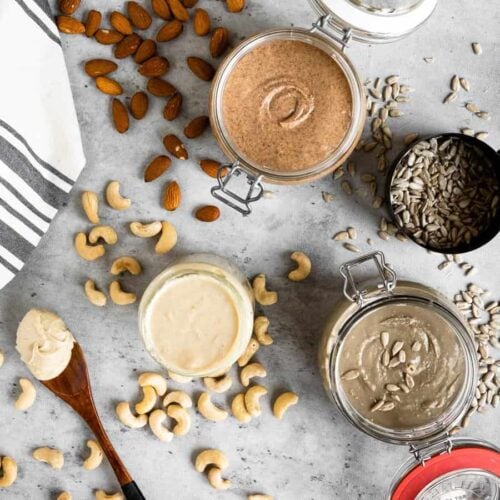 Homemade Nut Butter
Nothing compares to the ultra creamy texture and flavor of homemade nut butter. Try these as an alternative to peanut butter to make sandwiches, sauces, dressings, cookies, and more. Or use as a luxurious, decadent dip for apples, pears, peaches, nectarines, pretzels, carrots, celery, or anything dip-able.
And don't forget the finish! Sometimes you need a little cashew cream (it's my vegan version of sour cream) or vegan parmesan cheese for a lovely finish along with green onions and cilantro.
If you love the idea of a gluten-free meal, then swap soy sauce with tamari. It's the gluten-free version and tastes just as good!
Protein Varieties
Let's talk protein. You can easily add grilled chicken, shrimp, salmon, ground turkey and more to these bowls. My son does a lot of meal prep on the weekends and usually makes a big batch of chicken to add to dishes like these throughout the week.
If you want plant-based options then I recommend using nuts, seeds and tofu. You can even make a batch of my crispy tofu nuggets and pair them well with any of these healthy rice bowl recipes.
Pro Tips
I love any meal I can prep ahead, and the more I don't have to prepare at dinner time, the better.
Here's what I like to prep on the weekend and have on hand to make weeknight dinners easier and tastier:
Chop vegetables: You can chop and store (individually) red cabbage, onion, garlic, ginger, radishes, and peppers. You name it! This makes the day of prep a breeze. Even if you only get a few onions chopped and stored, your future self will thank you! It saves a lot of time when prepping in batches.
Double (or triple) a batch of rice: You can make one cup of rice in the same amount of time as four cups, so why not make more? You can store it to use in stir-fry, another rice bowl, casserole or turn it into a side for taco night. Easy!
Spice mixes: While sauces are best made the day of, I like to whip up spice mixes ahead of time. I have a go-to homemade taco seasoning that I store in a mason jar for easy access. I also like to make my own curry powder mix, so I typically make a large batch at a time when I make it.
What are your prep tips to make homemade meals easier on you?
Rice Bowl Recipes FAQs
How can I make my rice bowl better?
If your rice bowls end up bland and boring then you can easily turn them into crave-able dishes by adding in a homemade sauce. A simple coconut sriracha sauce can really jazz up those veggies and rice! All my sauces are made in five minutes or less, so you can't complain that they are hard to make. Don't be afraid to play with flavors as well. Try adding in some toasted sesame oil or citrus like lemon or lime juice to brighten up a dish.
What kind of rice is used for rice bowls?
You can use the rice you prefer in your bowls. Try a few different ones to hone in on your favorite. Decide if you like white or brown rice better, then choose the type as well. My family's go-to is jasmine rice. When I want a grain-free option I choose cauliflower rice.
Why are rice bowls good?
I love rice bowls because they are easy to make, can be customized based on my preferences and are a great way to use up leftovers in the fridge. Simply roast a tray of veggies with some olive oil, salt and pepper, cook some rice and toss it all together. Then grab some sriracha sauce, a bit of coconut milk or coconut cream, tamari and ginger to whip up a great sauce and you're good to go!
What are your favorite rice bowl ingredients? I'd love to hear about them in the comments section below.