Asparagus Stir-Fry – Simple Green Smoothies
I can't wait to share this Asparagus Stir-Fry recipe with you! Mine is vegan and made with whole ingredients like garlic and ginger root to bring out the best flavor. I love a good rice bowl and this one is one of the best. Originally created for my Spring Cleanse, I'm sharing it today to give you a lovely stir-fried asparagus dish to add to your Spring menu.
Stir-fry began in China, heating up a wok on a fire until it is very hot, then adding food and spices to it and quickly cooking them until tender. My Chinese-inspired version uses traditional flavors with a few twists for a nutty, creamy finish.
Table of Contents
Ingredients for Stir-Fry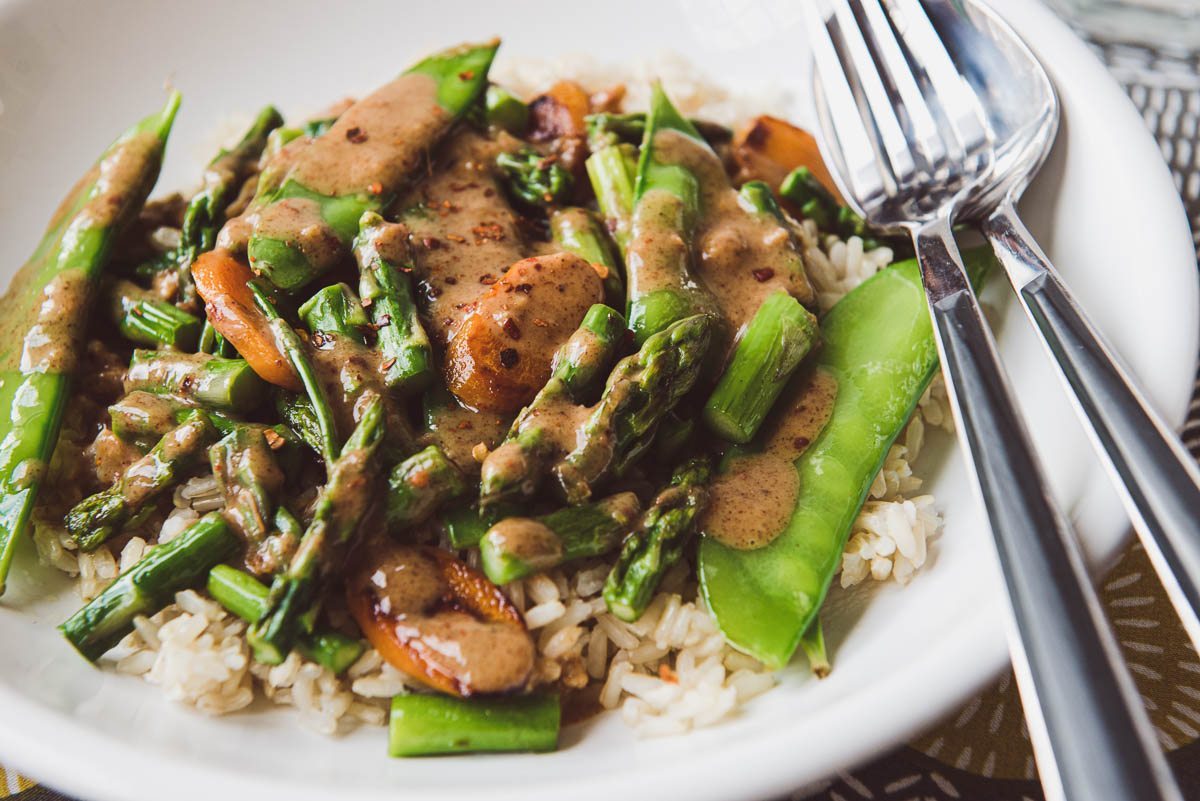 To create a vegan stir-fry from scratch you really just need some fresh veggies and a bit of oil over a hot skillet, but I'm taking mine up a notch with a savory almond butter sauce. Here's what you need for both:
For the Sauce
Canned coconut milk: For this sauce, you really want the cream from the coconut milk. Make sure you shake or stir up that can before measuring to mix up the liquid at the bottom with the gorgeous cream on top.
Almond butter: I love using homemade nut butter for this recipe for extra creaminess and a warm, nutty finish.
Tamari: This sauce is a gluten-free version of soy sauce and can be found in the international aisle of most grocery stores.
Maple syrup: The sweetness of this syrup helps balance the more potent flavors from the other ingredients, giving you a perfectly balanced sauce.
Ginger root: Fresh is key for the best flavor and to benefit from ginger's anti-inflammatory properties.
Garlic clove: A little goes a long way with fresh garlic! One clove will give you just the right punch of flavor, yet I won't judge if you turn this into a garlic stir-fry with more!
Crushed red pepper: Adding a little heat wraps this sauce up nicely, simply omit it if you want a milder dish, or bring straight to the table to allow others to add spice to their preference.
For the Stir-Fry
Coconut oil: Since we are cooking this at high heat, you want an oil that won't burn before you add your veggies. Coconut oil is my go-to for everything and works well with this dish.
Asparagus: The shining star in this dish! Loaded with folate and antioxidants, asparagus is a great green vegetable to grace your plate!
Carrots: With beta carotene, potassium and fiber, carrots are a nutritional (and flavor!) compliment to the asparagus in this dish.
Snow peas: To add even more crunch to this great recipe, I add in snow peas. You can eat them pod and all!
Brown rice: Serving this stir-fried asparagus with brown rice turns it into a filling meal.
Easy Ingredient Swaps
For a completely soy-free dish, swap the tamari sauce with coconut aminos. Feel free to add in the Spring-fresh veggies of your choice if snow peas or carrots aren't ready when you make this.
Brown rice isn't for everyone so you can use white rice, cauliflower rice, or the base of your choice. If you don't need a vegan dish, swap the maple syrup with honey for an equally nutty, sweet note.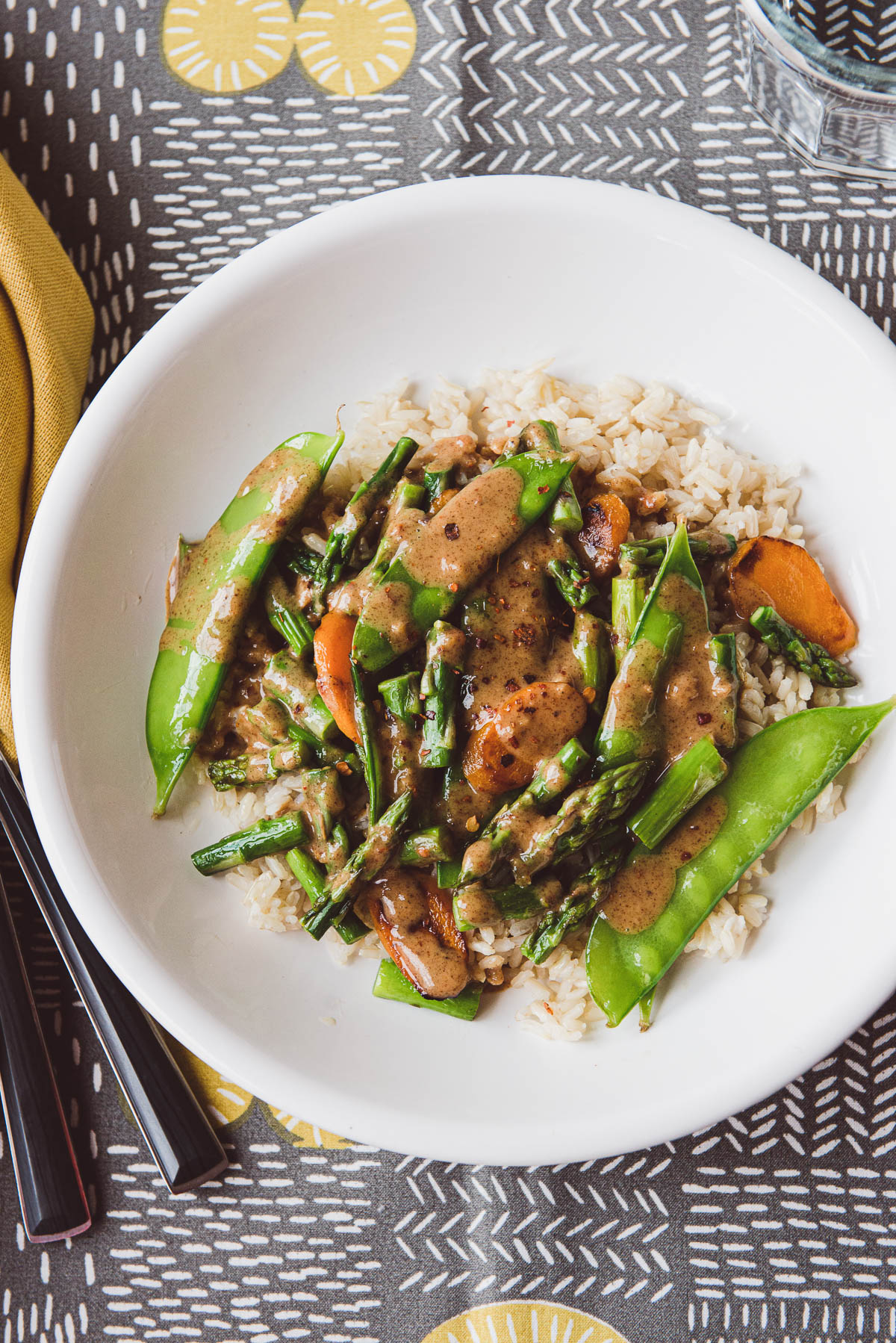 Asparagus Stir-Fry Recipe
Now that you've grabbed all the ingredients you need for dinner, let's make some magic! While you can totally use a wok for this recipe, I know that not everyone has one. Grab a large skillet and know that you will still get a wonderfully sautéed result.
Start by making the brown rice according to the package directions. You'll be able to make the rest of the dish while your rice is cooking, so feel free to keep an eye on it on a back or side burner and save that big burner for the main event.
To make the sauce, mix together all the sauce ingredients in a jar with a lid until combined. You can set this aside while you cook the veggies. You want a pourable result, so if the sauce is too thick then add water a tsp at a time then stir to thin.
Heat coconut oil over medium-high heat in a large skillet. Once it is heated, add in all the prepped veggies at once and stir-fry until they are tender crisp. You want the asparagus to be soft enough to chew but still crunchy. Be careful to avoid any jumping oil or water from the veggies as they sear in the hot pan.
To serve, add 3/4 cup brown rice to bowls and top with an equal amount of veggies per serving. Drizzle sauce over top and enjoy immediately.
That's all there is to it! While roasted vegetables are delicious and certainly have their place in my dinner rotation, I love the ease of recipes like this that require less chopping and not a lot of kitchen time. You can also serve the three components in separate bowls so diners can put their meal together exactly how they want it.
Asparagus Stir-Fry FAQs
How do you cut asparagus for stir-fry?
I recommend trimming the rough bottoms off than cutting them into 1-inch pieces to ensure they cook through properly. I'm going for still crunchy yet softened asparagus when I'm done.
Does asparagus need to be blanched before adding it to a stir-fry?
No need to blanch before stir-frying asparagus. The high heat of the skillet/wok along with the water from the other vegetables will help cook this vegetable to perfection.
How do you cook asparagus so it doesn't get soggy?
I am no fan of soggy asparagus. I like to get the skillet nice and hot before adding my vegetables, then add them all at once so none get done too quickly. I cut the asparagus into 1-inch pieces beforehand so I can insure they cook evenly. You'll get a slight char on the softened outside with a crunchy center when you are done with the stir-fry. Keep an eye on the veggies and don't add the lid while cooking so that steam doesn't get trapped inside causing the vegetables to get soggy.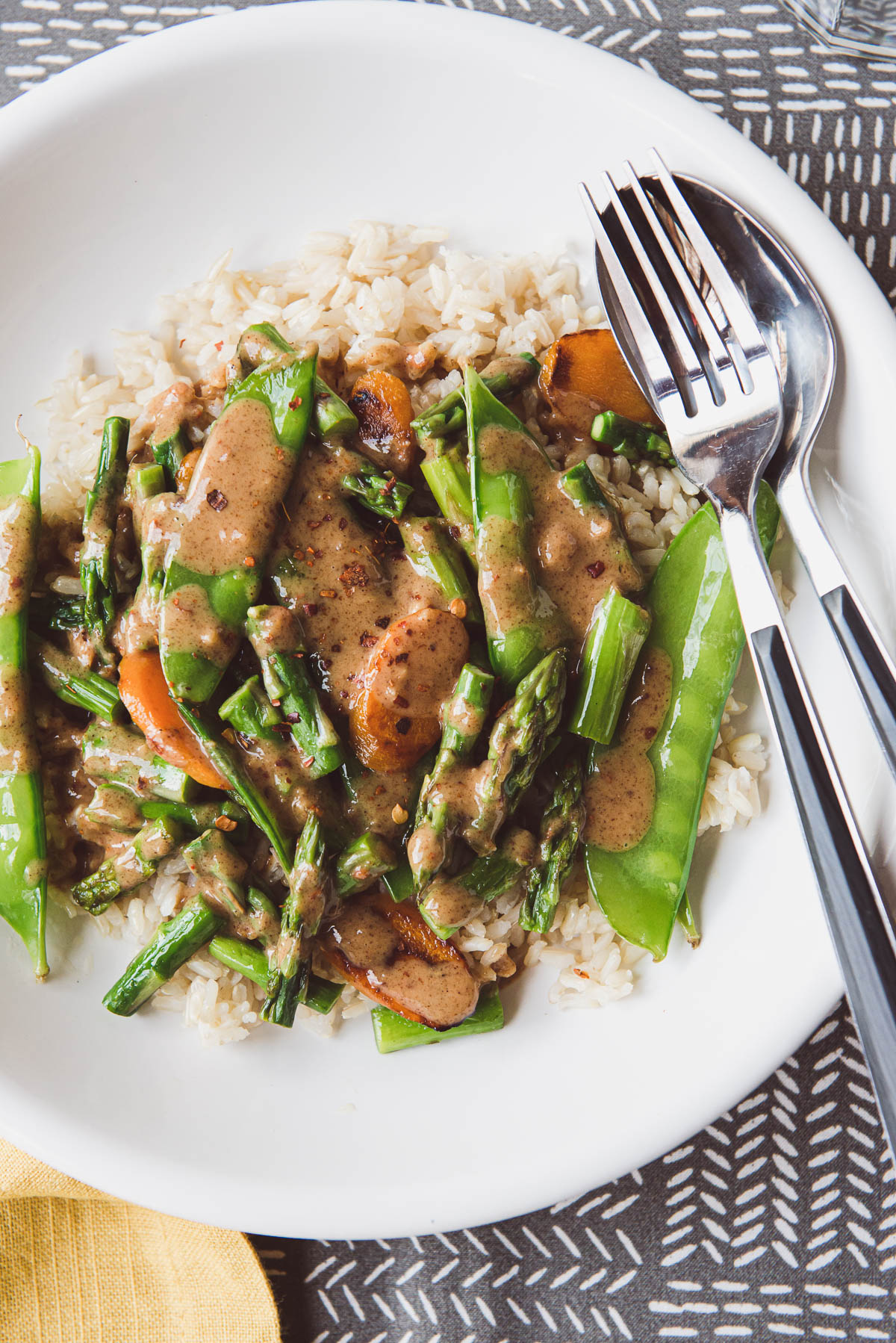 More Warm Veggie Bowl Recipes
There are so many ways to combine vegetables and make delicious and healthy vegetable recipes. Yet there's something special about combining them in a bowl over sauce with the base of your choice. If you loved this recipe then try out a few more!
Don't forget to leave a rating + review once you've made this recipe. These reviews help me out so much!
Prepare brown rice according to the package directions, set aside.

Mix sauce ingredients together, including red pepper flakes (if using), and set aside. If the sauce is too thick to drizzle, add a little water and mix again to thin it out.

In a large skillet, heat coconut oil over medium-high heat. Add the vegetables and stir-fry until the veggies are tender and crisp.

Place warm brown rice on plates. Top with equal portions of veggies and drizzle sauce on top. Serve immediately.
Swap brown rice with cauliflower rice or rice of your choice.
Swap coconut oil with avocado or olive oil.
Swap almond butter with sunflower butter to make this recipe nut free.
Calories: 394kcal, Carbohydrates: 52g, Protein: 11g, Fat: 18g, Saturated Fat: 7g, Polyunsaturated Fat: 3g, Monounsaturated Fat: 6g, Sodium: 536mg, Potassium: 634mg, Fiber: 7g, Sugar: 8g, Vitamin A: 6412IU, Vitamin C: 22mg, Calcium: 131mg, Iron: 4mg
Source link