Banana Cream Bars – My Baking Addiction
Top a buttery shortbread crust with a creamy pudding filling, slices of bananas, and whipped topping for these easy and delicious banana cream bars.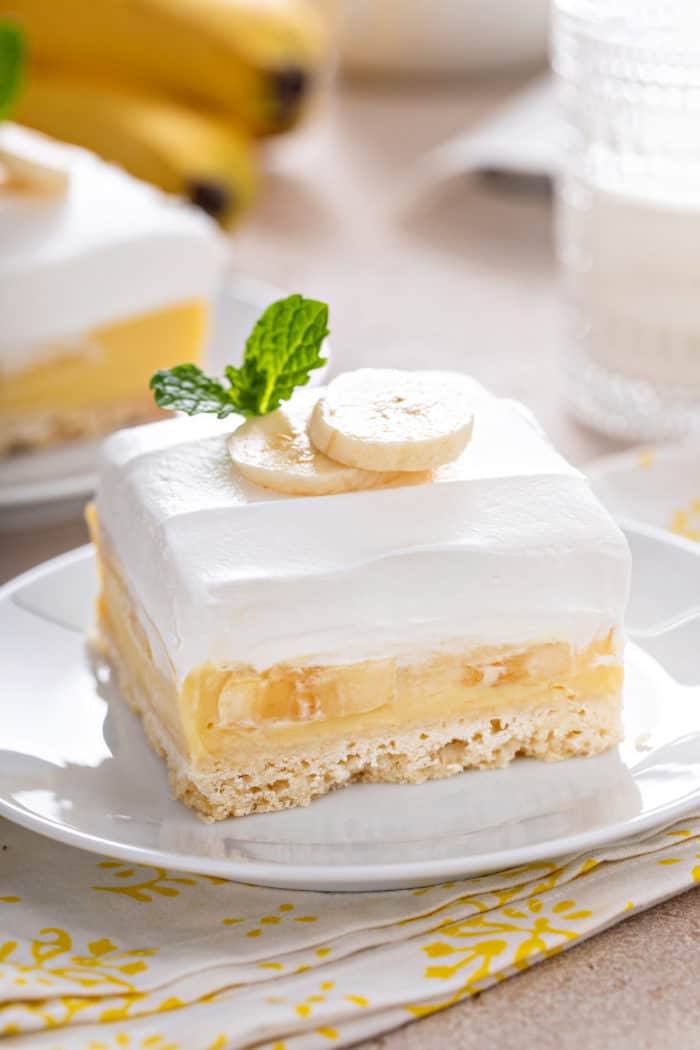 I love a cool, creamy dessert during the summer. Recipes like strawberry pretzel salad, layered pistachio pudding dessert, and brownie trifle are so sweet and delicious while also being perfect for a hot day.
These banana cream bars are totally one of those desserts. You get the flavor of homemade banana pudding in an easy, more portable form. 
Whip up these bars for a Mother's Day dessert, a graduation party treat, or your next potluck. I know they'll be a hit!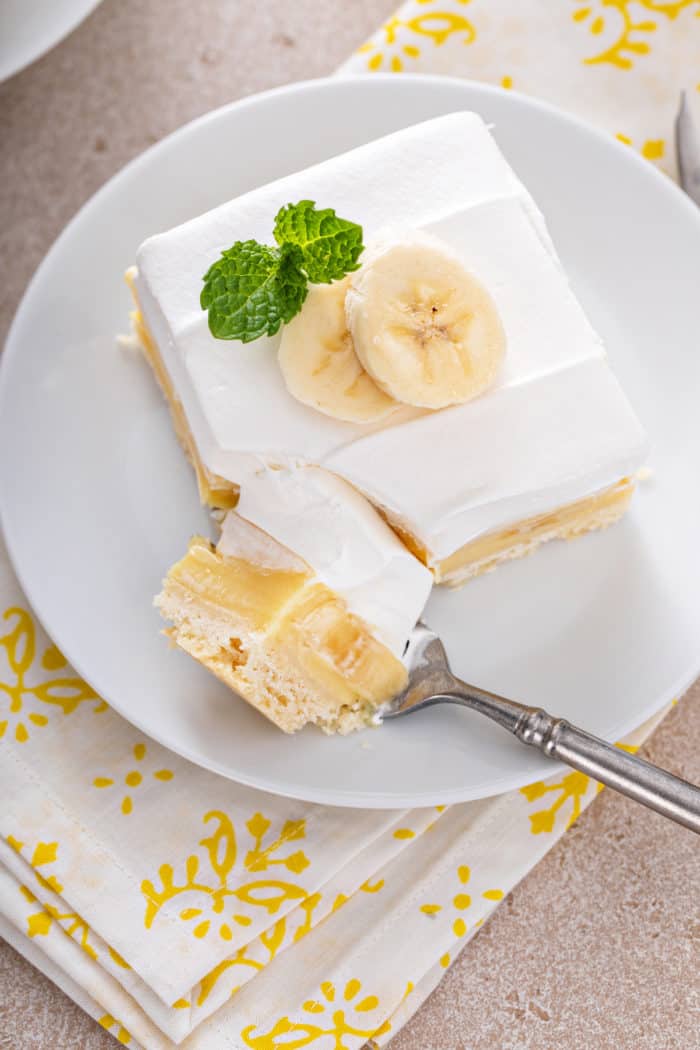 WHAT ARE BANANA CREAM BARS?
Banana cream bars are a banana version of my favorite coconut cream bars! 
I love banana cream pie, but I don't always want to make an actual pie. Besides, bar desserts  are so much easier to share with a crowd, anyway.
So I took the shortbread crust from my pecan bars and grabbed some inspiration from the Magnolia Bakery banana pudding and came up with these banana cream bars. They are cool and creamy and bursting with banana.
Basically, they're the perfect dessert to make this summer.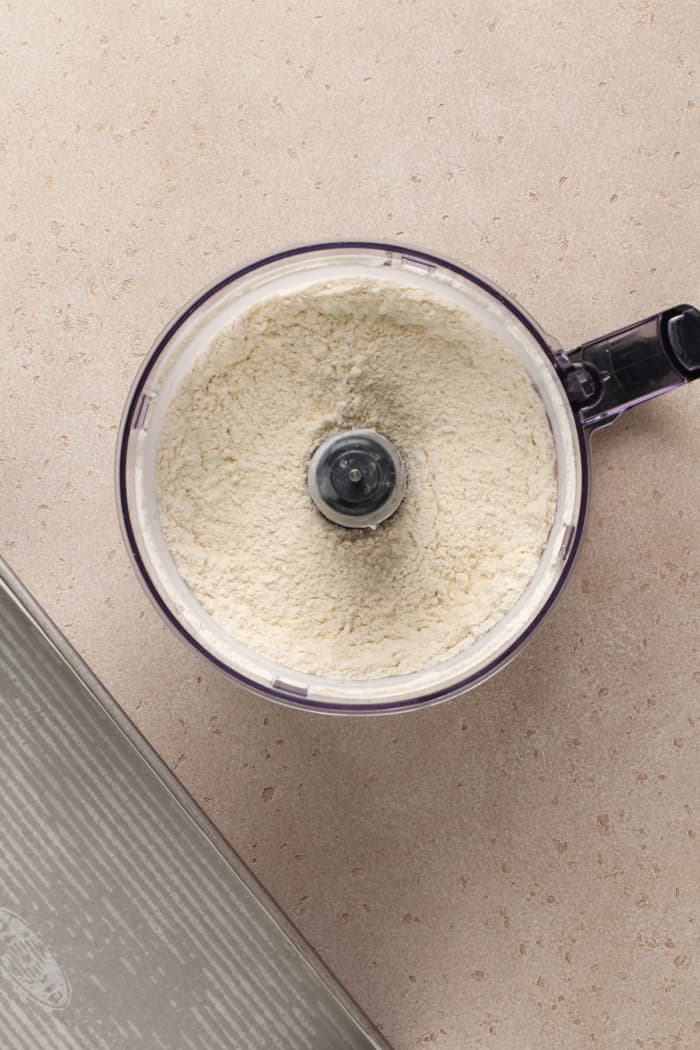 HOW TO MAKE BANANA CREAM BARS
I love making these bars because they are so dang simple and the flavors are so good. It's a big payoff for just a tiny bit of effort!
Plus, since they have to set in the refrigerator for a few hours, they are great for making ahead of time for a cookout or party.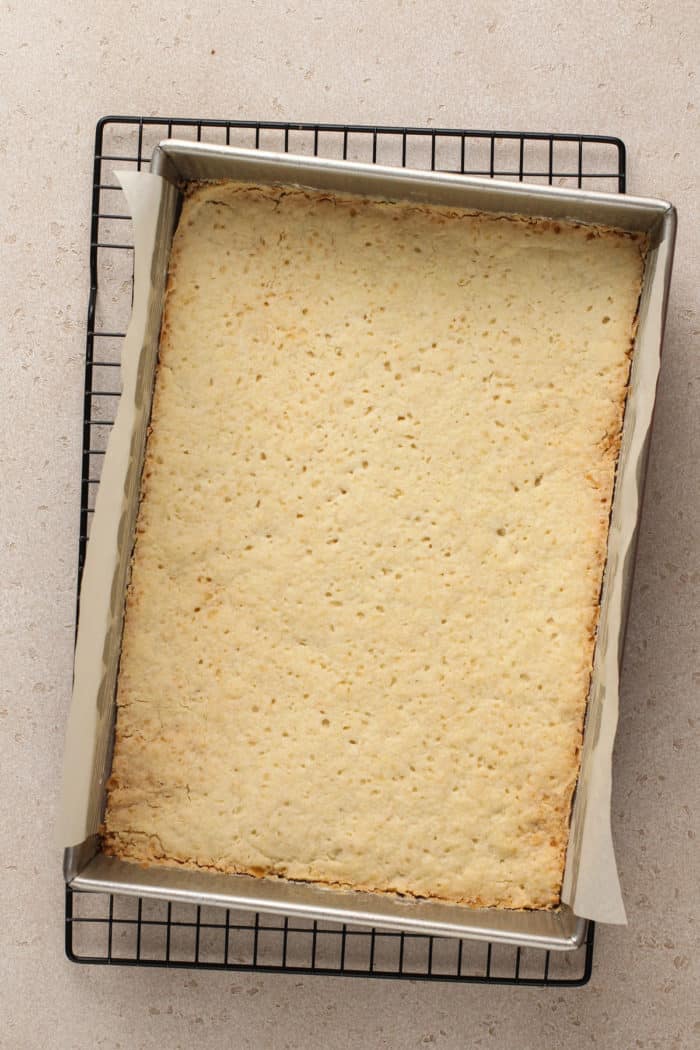 Ingredients you'll need
Like so many of my favorite recipes, the ingredients list for these banana cream bars is pretty simple:
Flour: All-purpose flour is the base of our shortbread crust. Make sure you know how to measure flour so that this crust turns out perfect every time.
Cold unsalted butter: You can't have shortbread without butter! Make sure your butter is cold for this recipe.
Powdered sugar: I like using powdered sugar in this style of crust. If you run out, check out my tips for how to make powdered sugar and save yourself a trip to the store.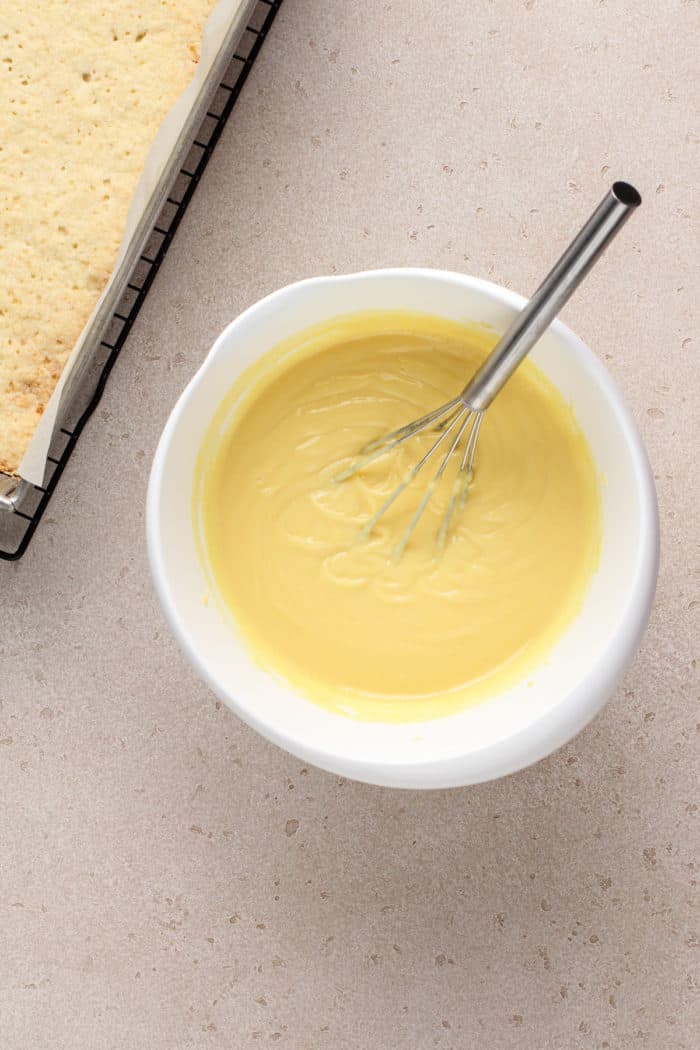 Salt: A little pinch of salt helps round out the flavor of the crust.
Sweetened condensed milk & whole milk: I use a combination of sweetened condensed milk and whole milk in this recipe. It makes the filling extra creamy and delicious. It'll taste like you made it from scratch!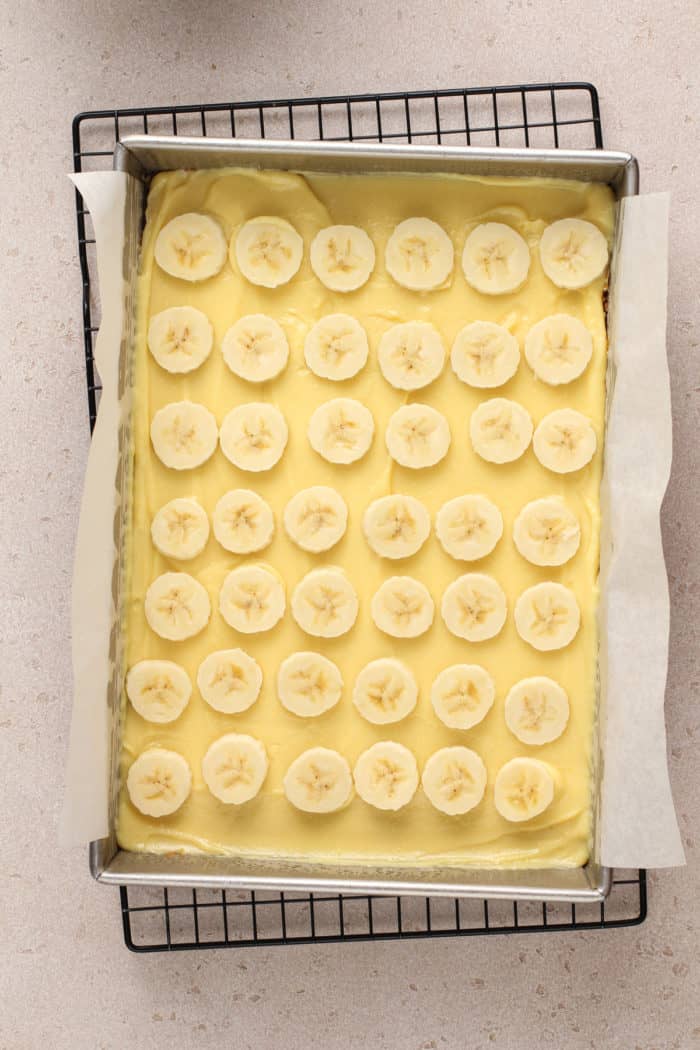 Instant vanilla pudding mix: The secret ingredient here, along with the sweetened condensed milk, is instant vanilla pudding mix. Make sure you grab instant mix, not cook and serve.
Ripe bananas: You want to make sure the bananas you use in the filling for these banana cream bars are ripe, but not mushy. 
Thawed whipped topping: You can use 1 or 2 containers of Cool Whip or TruWhip for the topping of these bars, depending on how thick you want the topping to be.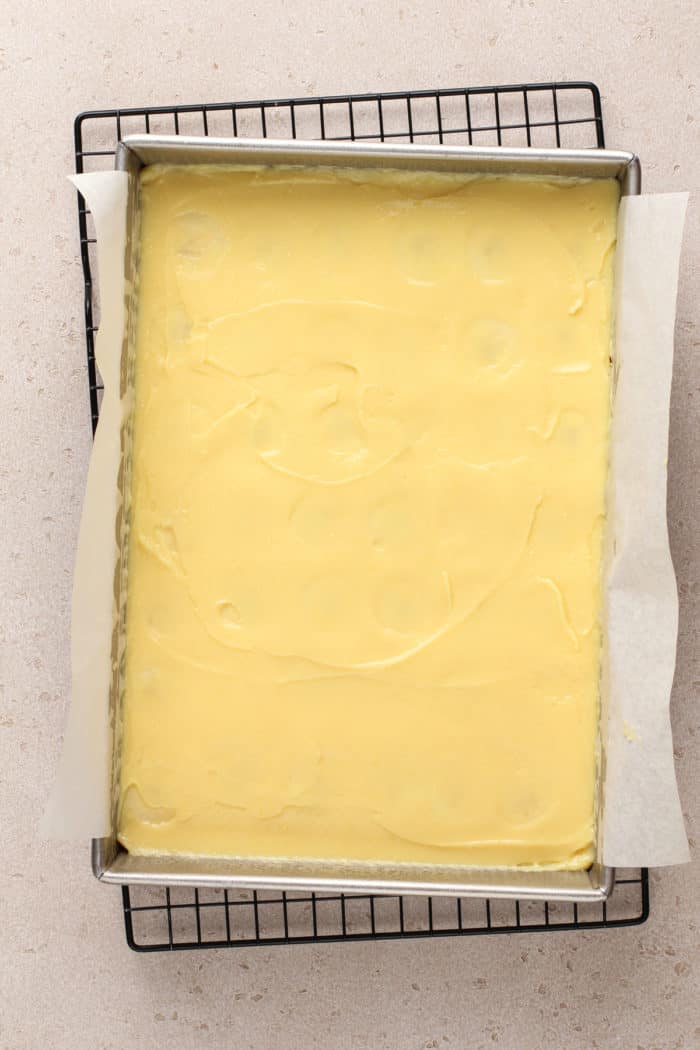 Making this recipe
The only baking required for this recipe is for the crust. Line a 13×9-inch pan with parchment paper – I like to leave an overhang on the sides to help me remove the bars from the pan later.
In a food processor, pulse together the flour, butter, powdered sugar, and salt. You'll end up with a mixture that looks like sand, not dough. Don't worry, it'll come together!
Press this mixture firmly into the bottom of the lined pan and bake for about 20 minutes. Let the crust cool completely.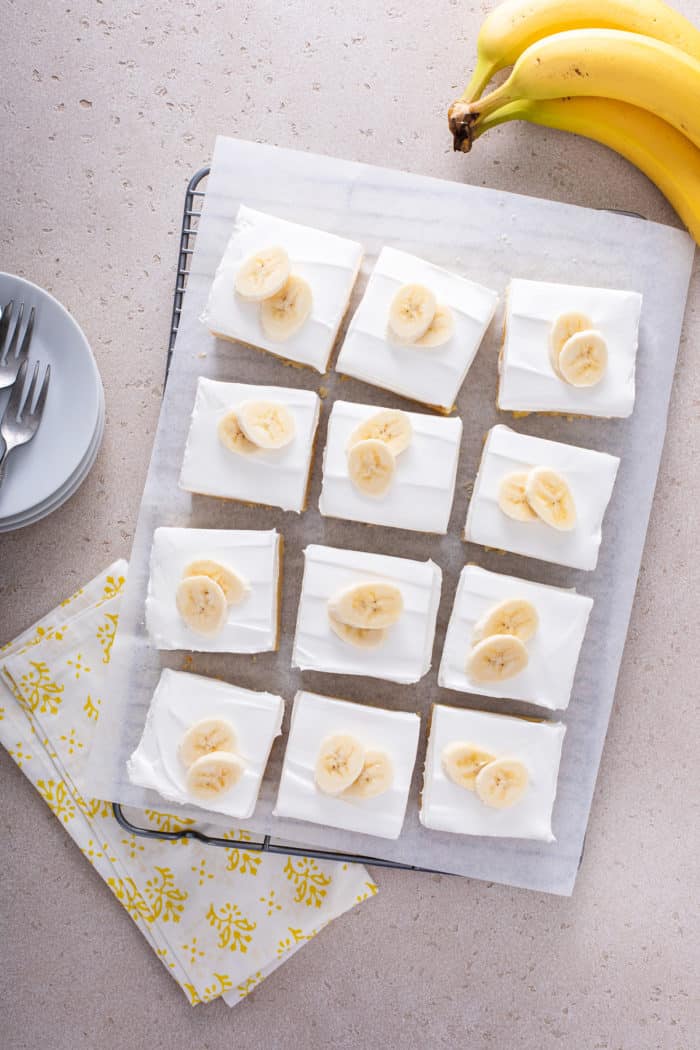 When the crust has cooled, whisk together the sweetened condensed milk and whole milk, then add the pudding mix. Whisk for two minutes.
Pour half of the pudding mixture over the crust and top with the banana slices. Spread the rest of the pudding over the top. 
Cover and refrigerate the bars for at least 2-3 hours. Spread on the thawed whipped topping. Use 1 container for a thin layer or 2 containers for a thick layer.
Before serving, garnish with more banana slices if desired. Cut into slices and serve!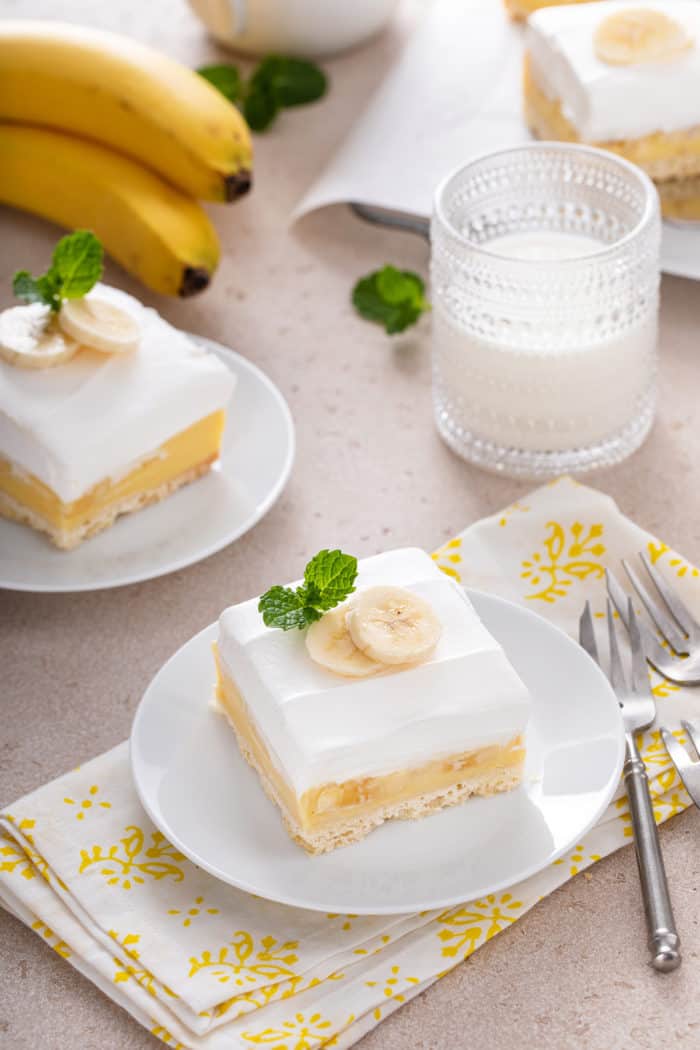 MORE GREAT BANANA RECIPES
Love bananas? Here are some more awesome banana recipes, from breakfast to dessert:
Strawberry Banana Muffins
These strawberry banana muffins are packed full of oats, fresh strawberries, and mashed bananas for a delicious breakfast or afternoon snack.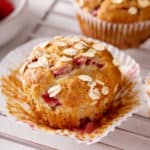 Moist Banana Cake
This super moist banana cake is topped with a tangy cream cheese frosting for a dessert or afternoon pick-me-up that's impossible to beat. You'll never believe the secret to this amazing cake: the freezer!

Zucchini Banana Bread
If you love zucchini bread and banana bread, you'll love this marriage of both! Zucchini Banana Bread is a twist on your favorite banana bread. Don't forget the crunchy sugar topping!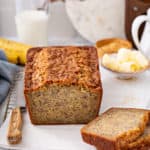 Banana Pancakes
Banana Pancakes are fluffy and perfectly sweet. Stack them up and top them off with sliced bananas, blueberries, and a drizzle of maple syrup for a comforting weekend breakfast.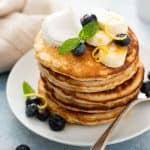 Banana Foster Bread Pudding
This Banana Foster Bread Pudding is made with sliced challah bread soaked in spiced custard mixture, topped with brown sugar bananas and caramel.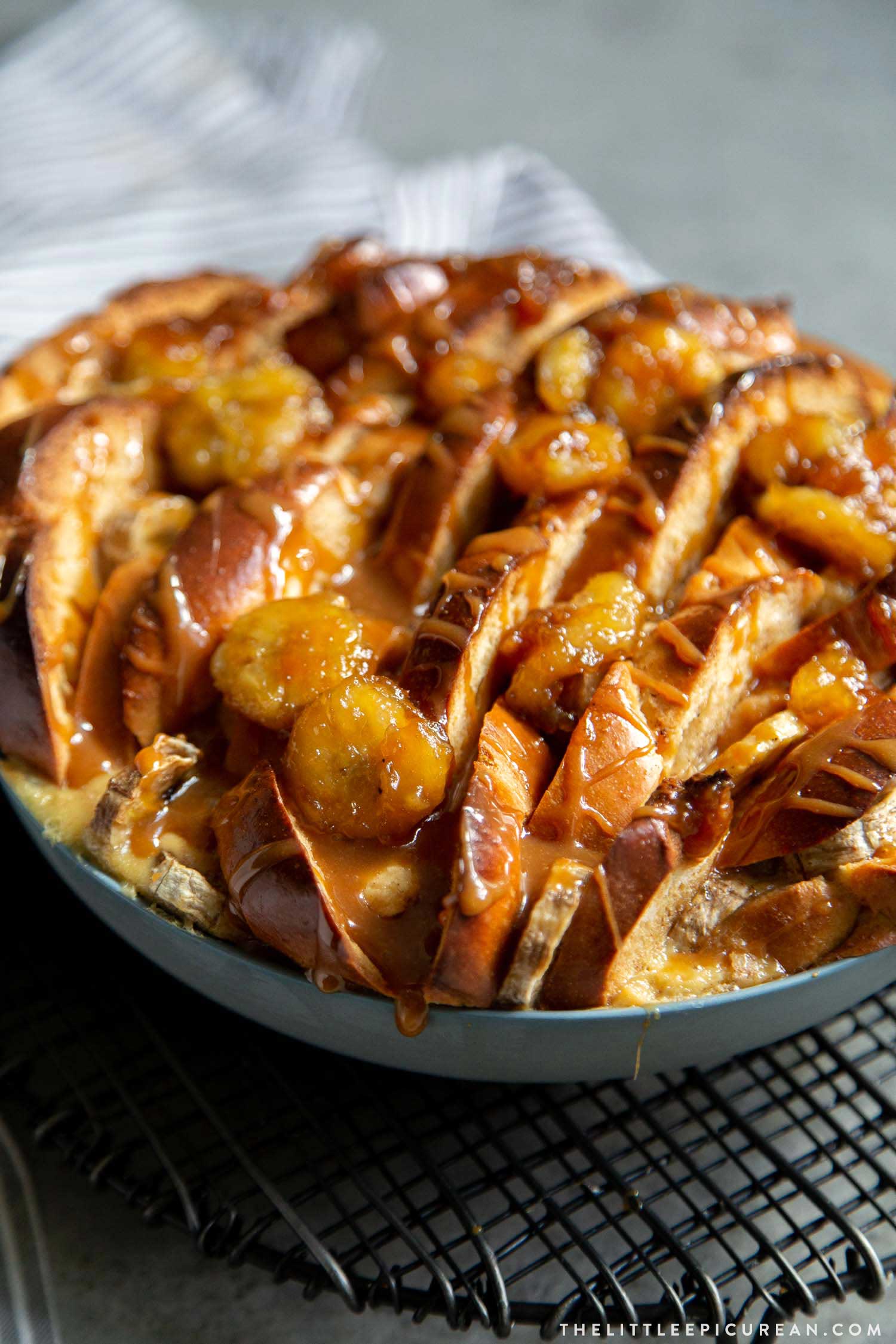 Banana Bread Mug Cake
This Banana Bread Mug Cake (Vegan) will totally blow you away! It's vegan, 5 minutes start to finish and has a delightful banana bread flavour!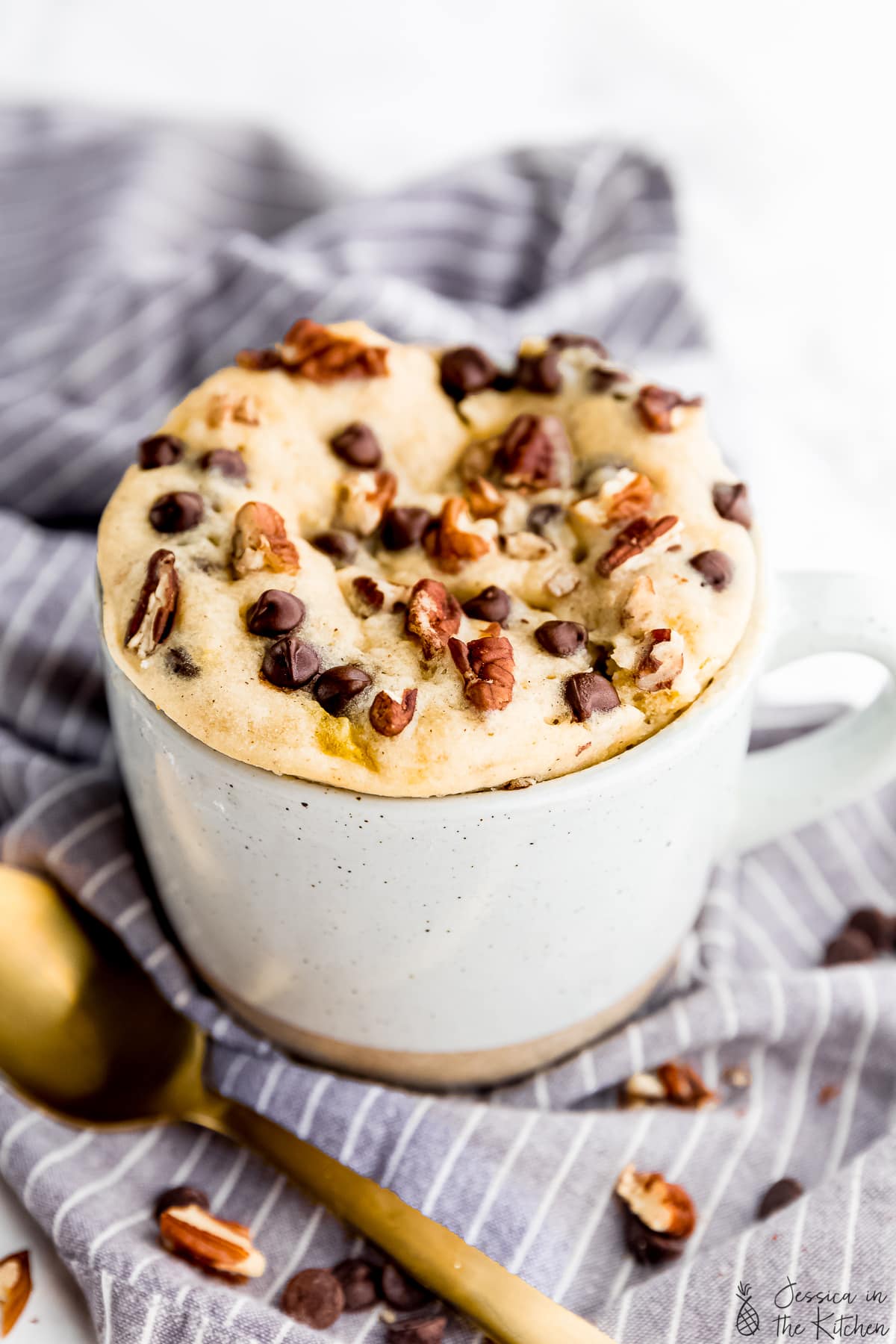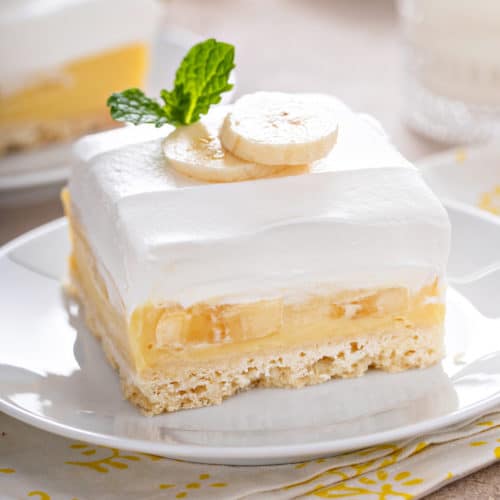 Preheat oven to 350° F.

Spray a 13×9-inch cake pan with cooking spray. Line with parchment paper, leaving an overhang over the sides. This will help you lift the bars out of the pan later.

In a food processor, blend together flour, butter, powdered sugar, and salt until the mixture resembles coarse sand. This will not look like dough – that's ok! Press firmly into the bottom of the prepared pan. Bake until the edges are golden, about 20 minutes. Let cool completely.

In a large bowl, whisk together the sweetened condensed milk and whole milk to combine. Whisk in the pudding mix. Whisk for two minutes.

Spread half of the pudding mixture over the cooled crust. Top evenly with the sliced bananas. Spread the remaining pudding over the top. Cover and refrigerate for at least 2-3 hours.

Spread the thawed whipped topping over the top of the filling.

Use the parchment paper to lift the bars out of the pan. Cut into slices and serve.

If desired, garnish with additional slices of banana or vanilla wafer crumbs just before serving.
Store covered in the refrigerator for up to 3 days.
For a thinner layer of whipped topping, just 1 (8-ounce) container instead of 2.
For cleaner slices, place the bars into the freezer for about 20 minutes before removing from the pan and slicing.
Helpful resources:
Calories: 311kcal | Carbohydrates: 43g | Protein: 6g | Fat: 14g | Saturated Fat: 8g | Polyunsaturated Fat: 1g | Monounsaturated Fat: 3g | Trans Fat: 0.3g | Cholesterol: 40mg | Sodium: 136mg | Potassium: 252mg | Fiber: 1g | Sugar: 27g | Vitamin A: 453IU | Vitamin C: 2mg | Calcium: 153mg | Iron: 1mg
The default measuring system on My Baking Addiction is US Customary. Unit conversions are provided as a courtesy; please be aware that there may be some discrepancies.
Card may contain affiliate links. As an Amazon Associate and member of other affiliate programs, I earn from qualifying purchases.
Source link