Best Detox Tea – Simple Green Smoothies
If you're looking for a caffeine-free way to wake up in the morning then you gotta try the best detox tea recipe. It uses whole food, plant based ingredients like lemon and ginger root to wake up the body and get everything moving… if you know what I mean.
This cleansing tea recipe is one of many great caffeine alternatives and I truly feel energized after incorporating it into my regular morning routine.
This cleansing tea will naturally kickstart your day. I started making this tea recipe as a part of my Seasonal Cleanse program, as it is specifically designed to reset the body, get the metabolism up and running and curb cravings.
It does have a little kick, yet that kick brings a whole host of health benefits along with it.
Table of Contents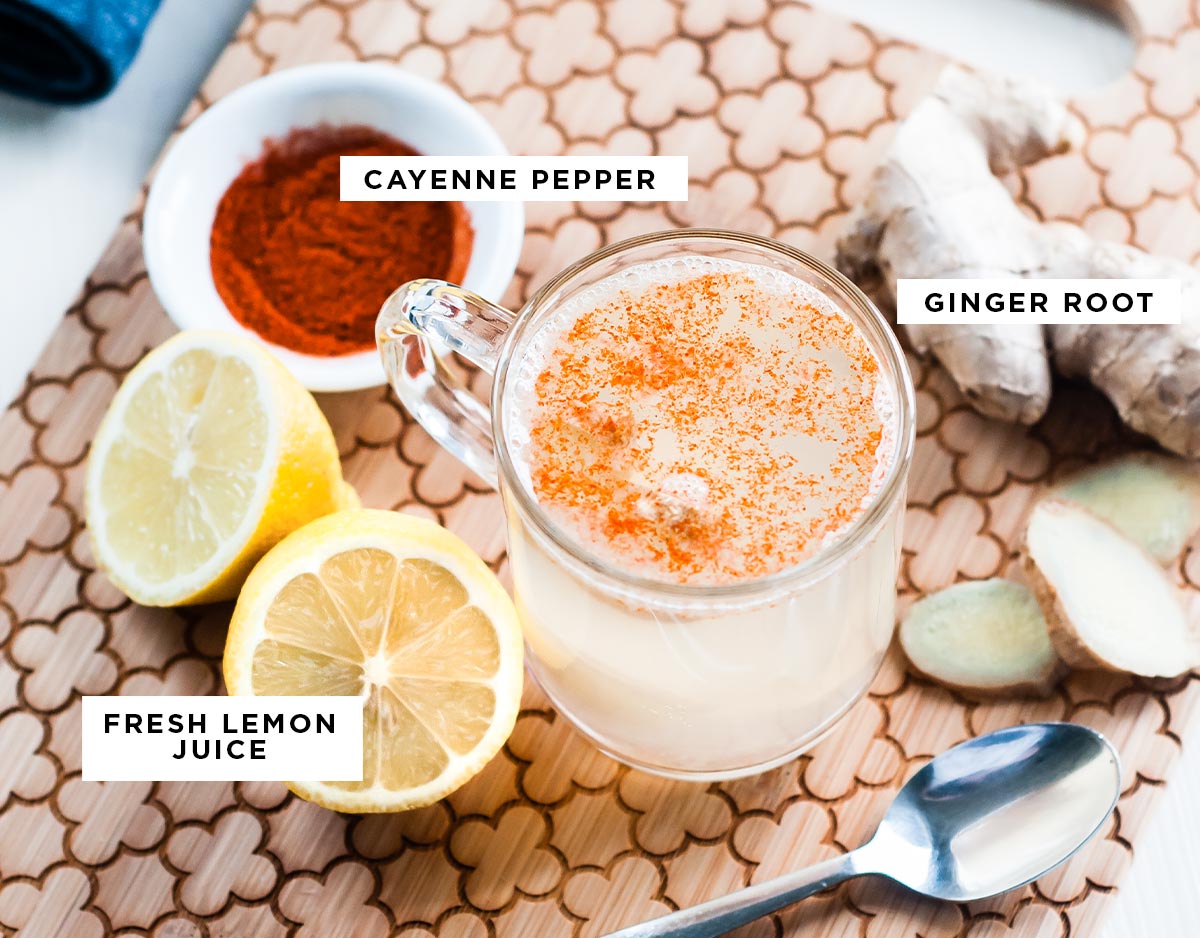 Cleansing Tea Ingredients
This simple ingredient list packs a detoxing punch when it comes to naturally promoting health and wellness within the body:
Adding more plant-based recipes into your daily lifestyle can increase your energy levels and help promote weight loss. I created this detox tea recipe, because I was sick of companies marketing cleanses that could only be done with their certain pills, supplements, and powders. Most of these supplements are filled with added gums and chemicals.
Instead, my cleansing tea is full of real, whole food ingredients that will give you the best nutrients possible.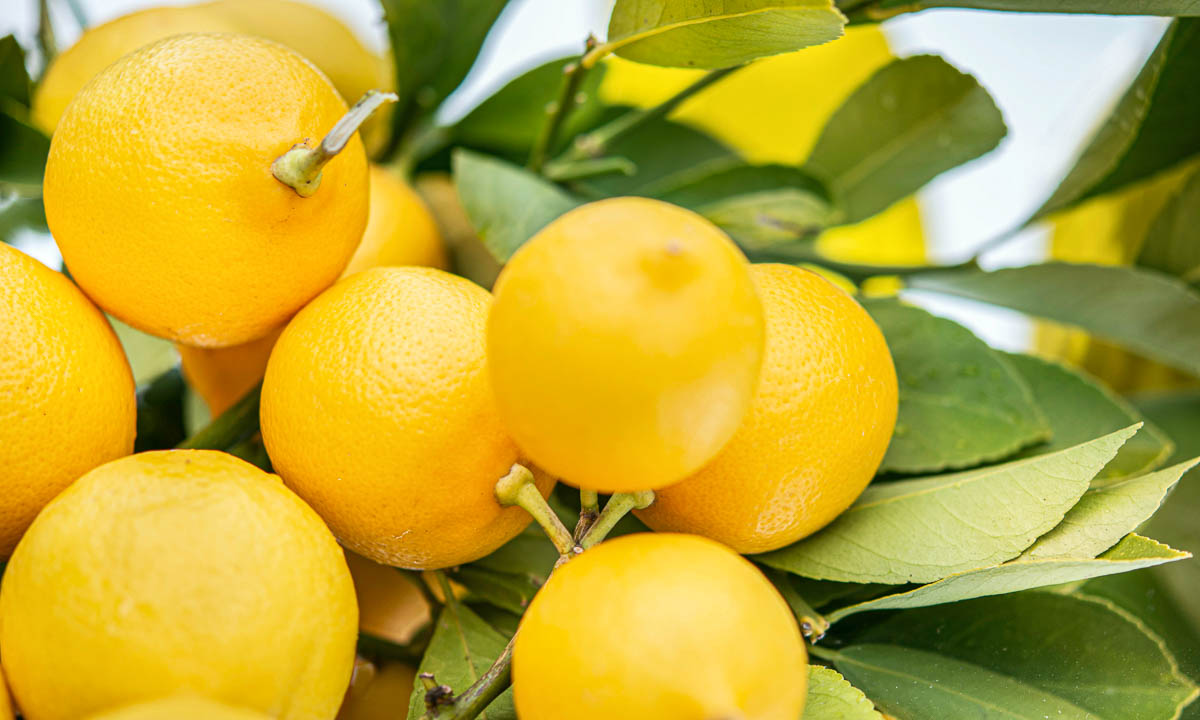 Sourcing the Right Ingredients
Let's be honest – sometimes finding that real food at a price your family can live with can be difficult. I often consult EWG's Dirty Dozen list when deciding what produce should be purchased organically.
This list really dictates how I shop, as it is updated yearly to show what foods contain the highest levels of pesticides after being washed and prepped for eating. If an ingredient isn't on this list, I feel better about purchasing the non-organic (often cheaper) version of it.
I also utilize my Costco membership, which actually has all the ingredients I need to make this tea! I found a great batch of ginger root last time I shopped, and they have beautiful, organic lemons for a great price.
Finally, I've learned that growing my own herbs cuts down a lot of cost. When I can run to the backyard and clip some parsley, vs. purchasing it each time I need it at around $3.29 per bag, I know I'm doing something right.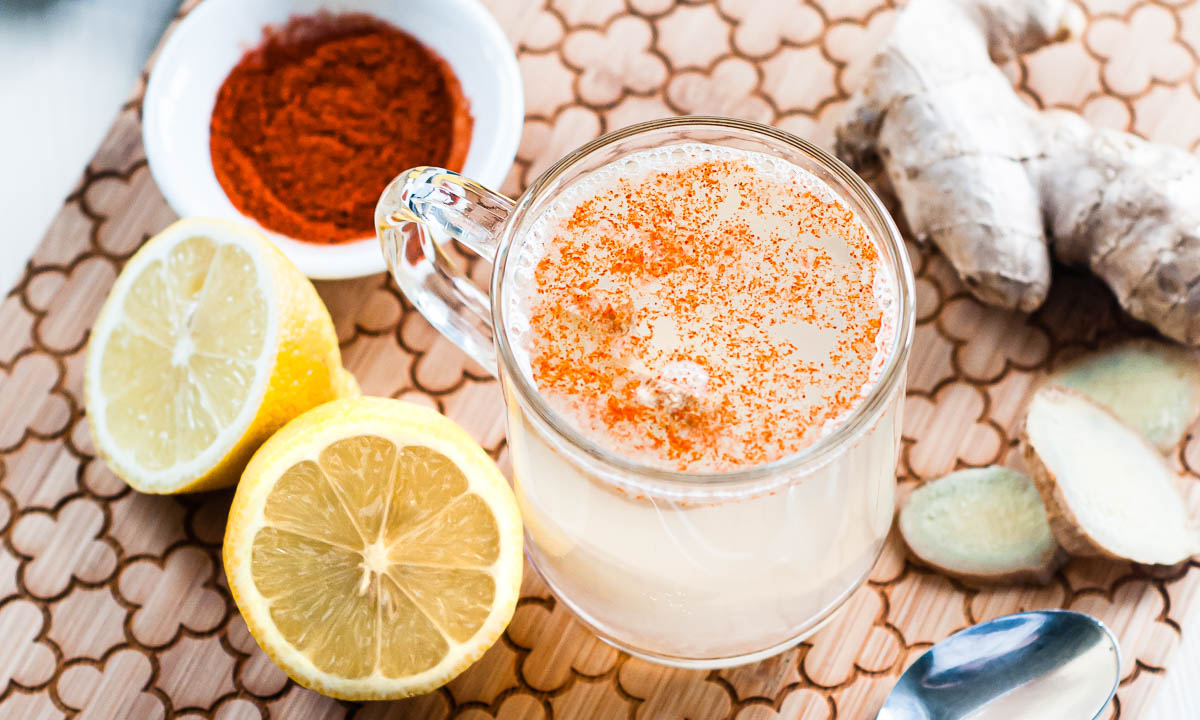 How to Make a Detox Tea
This recipe is *almost* as easy as making a tea bag yet will give you a major boost in benefits. Here's how I make the best detox tea:
Heat water, but remove from heat before it boils. Boiled water will start to breakdown the nutrients from the lemon juice and ginger root, which we don't want!
Slice ginger root and squeeze lemon juice into a mug. I like adding these before the water so that they start at the bottom of the mug.
Pour warm water into mug and allow to steep for 5 minutes. This gives the ginger time to release into the water. You can even gently press down on the soaking ginger with a spoon to help release the juices.
If using, add fresh parsley leaves and sprinkle some cayenne pepper.
Feel free to munch on the ginger root and parsley once the tea is finished. They are strong yet delicious!
Freezing Detox Tea Cubes
If your mornings are rushed, or you typically prepare your morning drinks at the office, then I've got a great hack for you! You can actually make detox tea cubes ahead of time and freeze them, then use one cube at a time when ready.
Grab an ice cube tray and measure out 1 serving per each cube of ginger and fresh lemon juice. Each rectangle should have 1 serving of ginger and 1 serving of lemon juice.
Freeze the tray for 1 hour or until the cubes are frozen solid. Remove the cubes from the tray and transfer to a freezer safe storage bag.
When you're ready to enjoy a cup of detox tea then take 1 cube and place it in the bottom of a mug. Pour warm water over it and allow it to melt. Add the cayenne and parsley, then enjoy!
To be honest, I often put the parsley leaves and cayenne pepper in the ice cube trays so I don't have any morning-of prep left aside from heating up some water. Such a time saver as well as makes the habit of this daily detox tea recipe that much easier.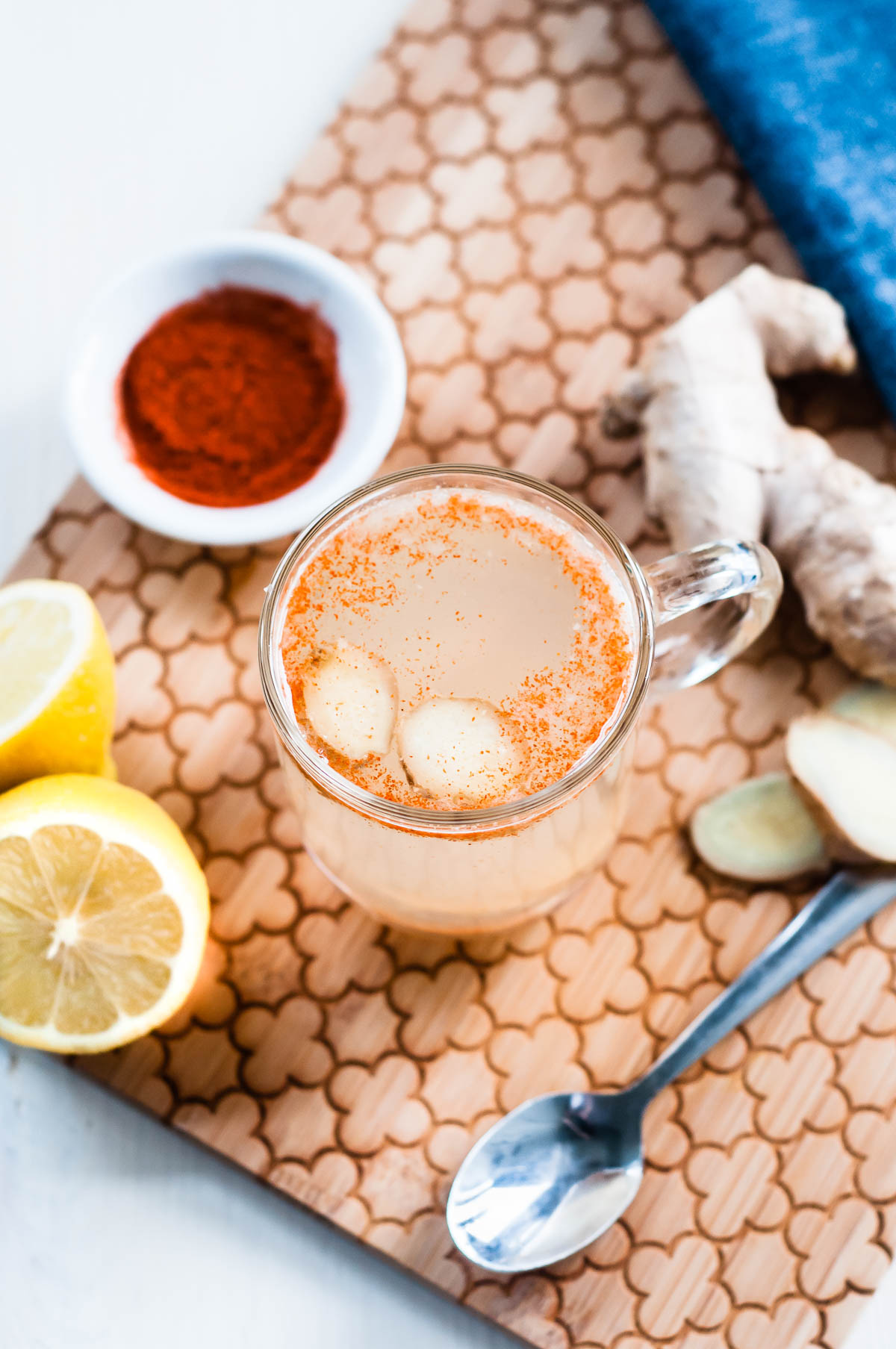 Detox Tea Recipe FAQs
What is the best tea to clean out your system?
While apple cider vinegar is a well known digestive aid, I love starting my morning with a fresh lemon tea paired with ginger, parsley and cayenne pepper. This unique combination wakes up my metabolism and gives me energy… without the caffeinated kick.
What is the main ingredient in detox tea?
Aside from water, the base of my tea is fresh lemon juice. It works well to wake up my body and let my metabolism know it's time to get to work.
Can I drink detox tea all day?
1x per day is plenty for a detox tea. Some people have a sensitivity to lemon so I suggest drinking this through a straw to protect your tooth enamel. No need to down this all day long… gone are the days of those crazy beverage cleanses! You can drink this tea as part of your morning routine and naturally benefit from all the goodness without changing your whole diet.
More Digestive Drinks
While supplements can give our bodies assistance, I believe in going straight to the natural source as much as possible. These great detox beverages all target different pain points as well as taste differently! Choose the one that sounds tastiest to you and add it to your daily routine… then let me know how you feel.
Turmeric Tea: Designed to fit inflammation throughout the body to aid in digestion and soothing comfort.
Metabolism Tea: Another great option to kick start your metabolism in the morning.
Apple Cider Vinegar Tonic: I recommend sipping this mid-afternoon for a delightful blood sugar regulator instead of another caffeinated beverage.
Don't forget to rate + review this recipe once you've sipped it. Your reviews help us out so much!
Heat water just below boiling.

Add sliced ginger and lemon juice to a mug.

Pour hot water into mug and allow to steep for 5 minutes. 

Add a dash of cayenne, and parsley, if using.
Use fresh ginger for best results. Ground ginger will taste good, yet won't give your body the benefits that fresh ginger root does.
Cayenne pepper and parsley will help with the cleansing process yet I know they are strong ingredients and can be omitted if you aren't able to tolerate them.
You want to make sure your water isn't boiling because this will start to kill off the medicinal properties of the lemon + ginger root. Warm water is just fine, or even room temp if that's easier for you.
Calories: 10kcal, Carbohydrates: 3g, Protein: 0.3g, Fat: 0.1g, Saturated Fat: 0.02g, Polyunsaturated Fat: 0.02g, Monounsaturated Fat: 0.01g, Sodium: 13mg, Potassium: 49mg, Fiber: 1g, Sugar: 0.5g, Vitamin A: 3IU, Vitamin C: 8mg, Calcium: 12mg, Iron: 0.1mg
Source link