Butterfinger Poke Cake – My Baking Addiction
Butterfinger poke cake combines a moist chocolate cake, peanut butter filling, and chopped Butterfinger candy bars for a truly decadent treat.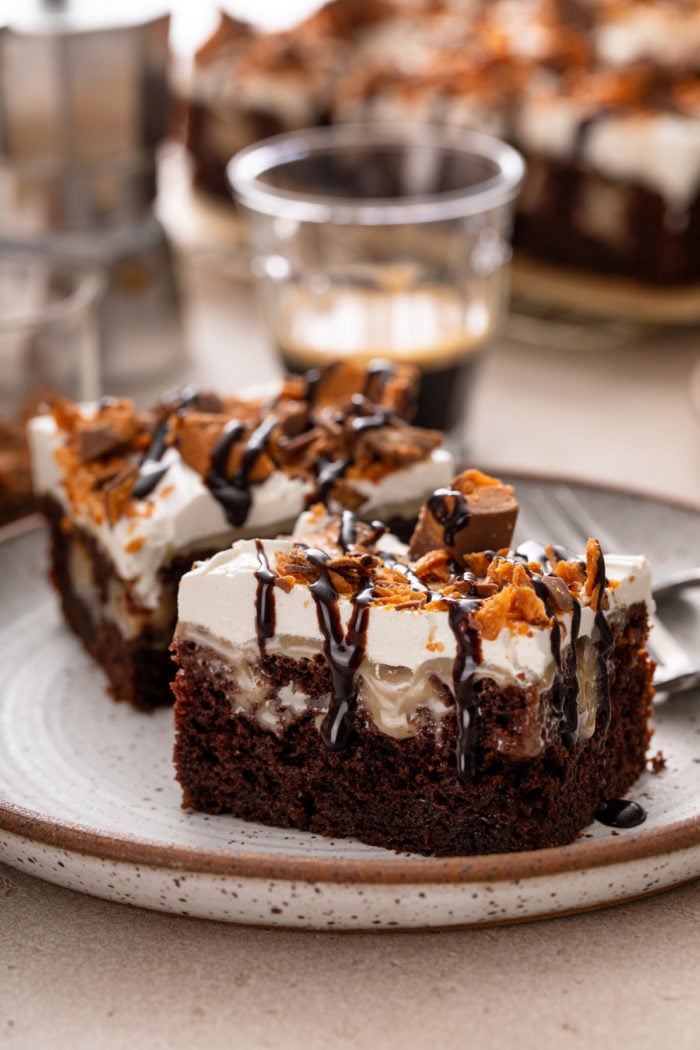 With Halloween coming up, I know I can't be the only one thinking about candy and chocolate.
Don't worry, I'm still totally into fall flavors like pumpkin, apple, and maple. But it's good to think about chocolate every once in a while, ok?
This butterfinger poke cake is a super decadent dessert that is delicious any time, but is especially great for Halloween parties. Grab a bag of fun-size Butterfingers and whip up this cake the night before your party.
Or maybe you end up with a bag of Butterfingers left over after Halloween – consider this the recipe to use them up!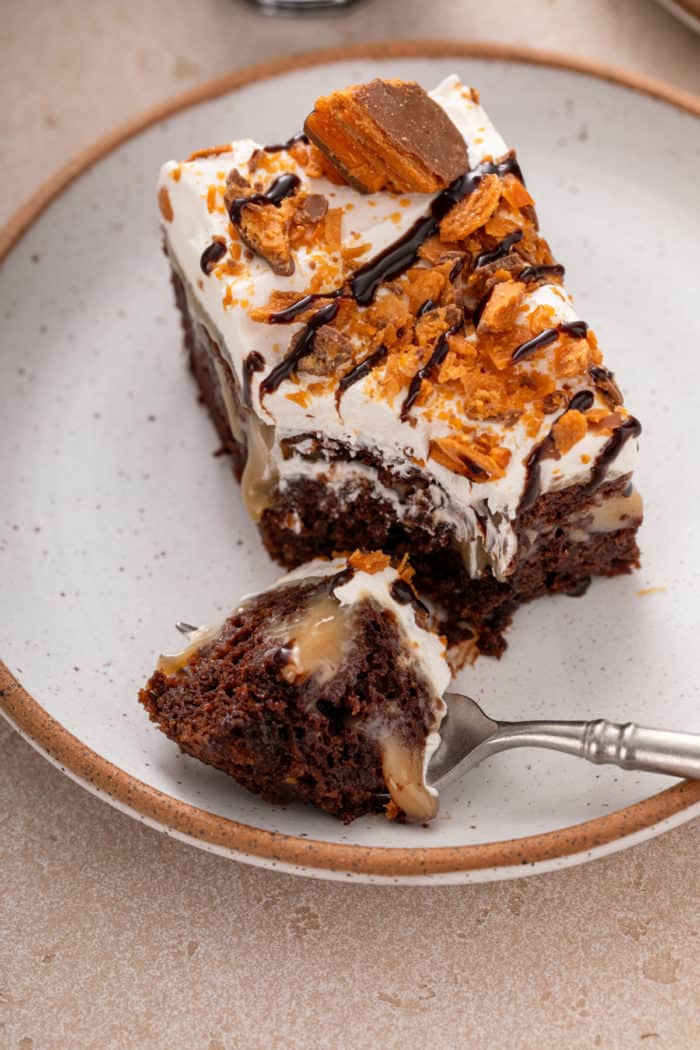 WHAT IS BUTTERFINGER POKE CAKE?
If you love peanut butter and chocolate, you probably love Butterfinger candy bars. I know that peanut butter cups are the more famous PB-and-chocolate combo, but there's something so good about the crisp center of a Butterfinger paired with the chocolate coating.
So I decided to take those flavors and turn them into a poke cake. Don't worry, I included some of the candy bars, too.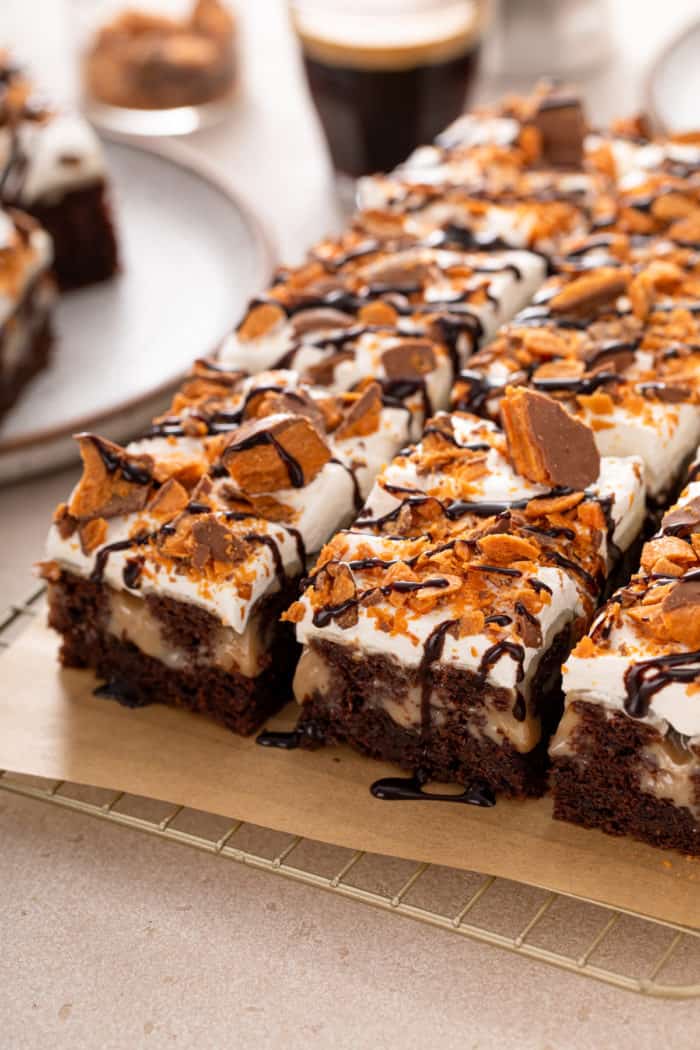 I like baking with candy bars, especially around Halloween when it's so easy to find bags of candy everywhere you go. And if you happen to have an extra bag of Butterfingers lying around after Halloween is over, now you know what to do with them!
For this cake, I whipped up a moist chocolate cake using my doctored cake mix recipe with chopped Butterfingers in the cake batter. After the cake cooled, I poked it with a straw and poured on a peanut butter filling.
I finished the cake with whipped topping and more chopped Butterfingers. A drizzle of chocolate sauce really takes it over the top for a super decadent dessert.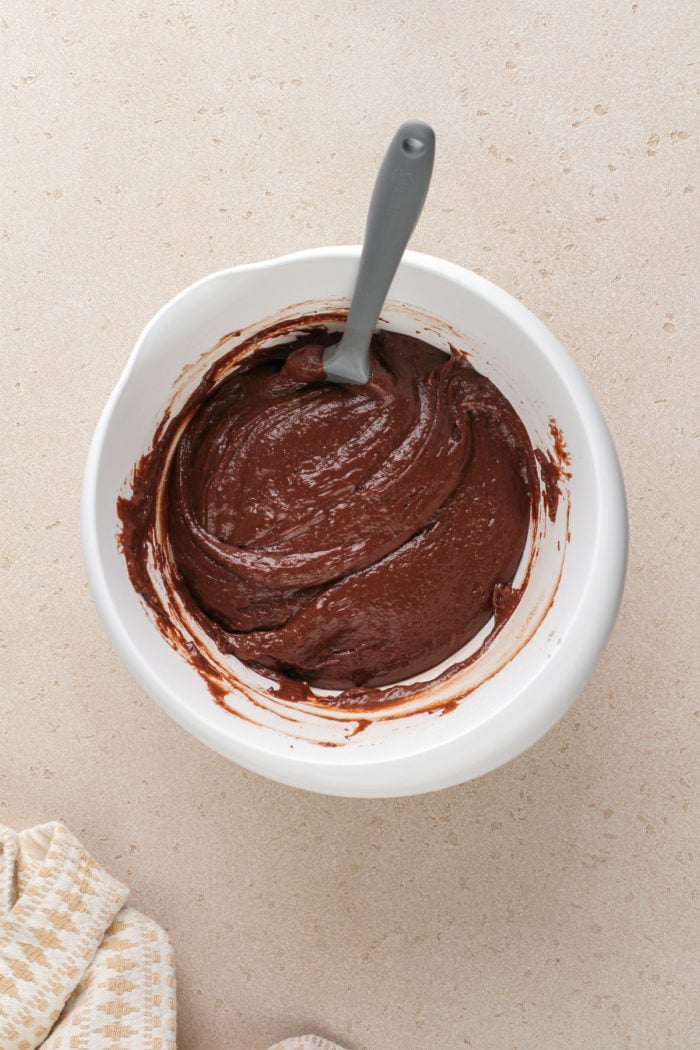 MAKING BUTTERFINGER POKE CAKE
This Butterfinger poke cake is easy to whip up and can be made ahead of time, so it's the perfect treat to make for your upcoming Halloween parties.
Ingredients you'll need
For the cake base, you'll need:
A devil's food cake mix
A package of instant chocolate pudding mix
¾ cup sour cream
¾ cup vegetable oil
3 eggs
2 teaspoons vanilla extract
½ cup warm water
Half a bag of fun-size Butterfinger candy bars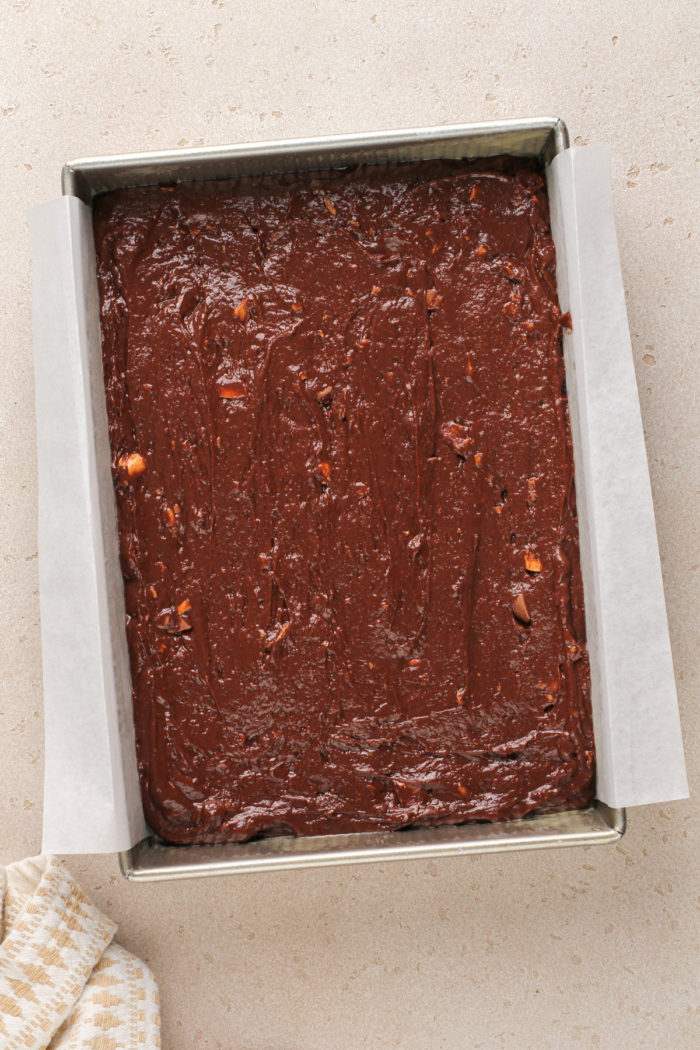 For the peanut butter filling, you'll need:
⅔ cup creamy peanut butter
A can of sweetened condensed milk
3-5 tablespoons milk
For the topping, you'll need:
A tub of thawed whipped topping, either Cool Whip or TruWhip
The rest of the Butterfinger candy bars
Chocolate fudge sauce (optional)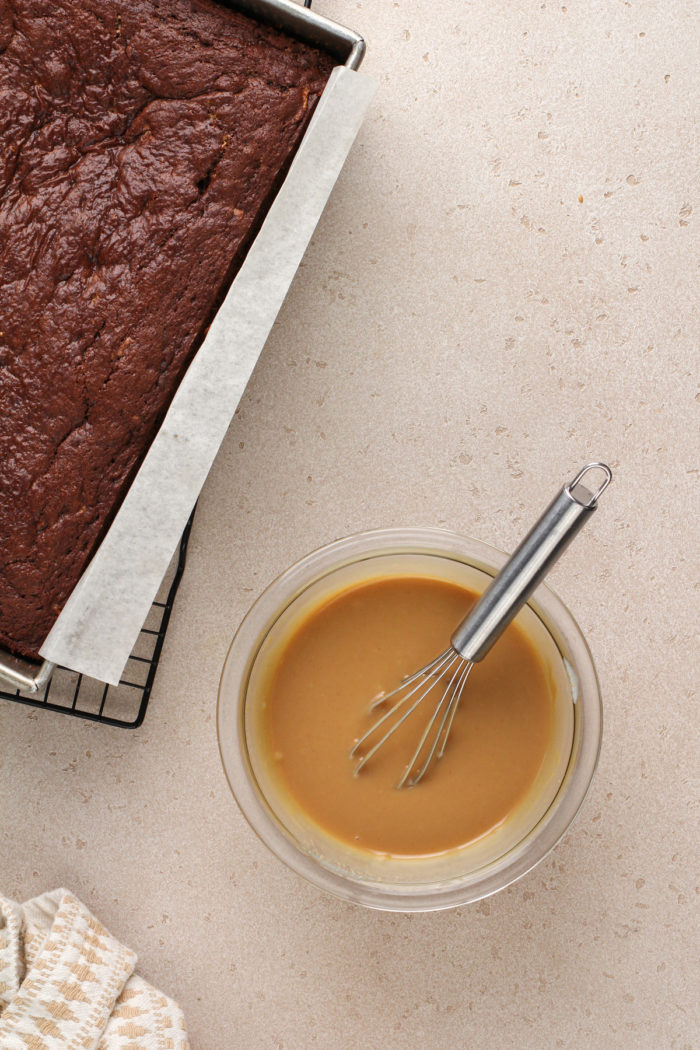 If you want to use full-size (regular) Butterfinger candy bars instead of fun-size, that's fine! Scroll down to the FAQs section for more info on how many you'll need.
If you want, feel free to use a homemade devil's food cake mix instead of a boxed mix.
You can use a homemade hot fudge sauce for the topping or your favorite jarred brand – whatever works for you!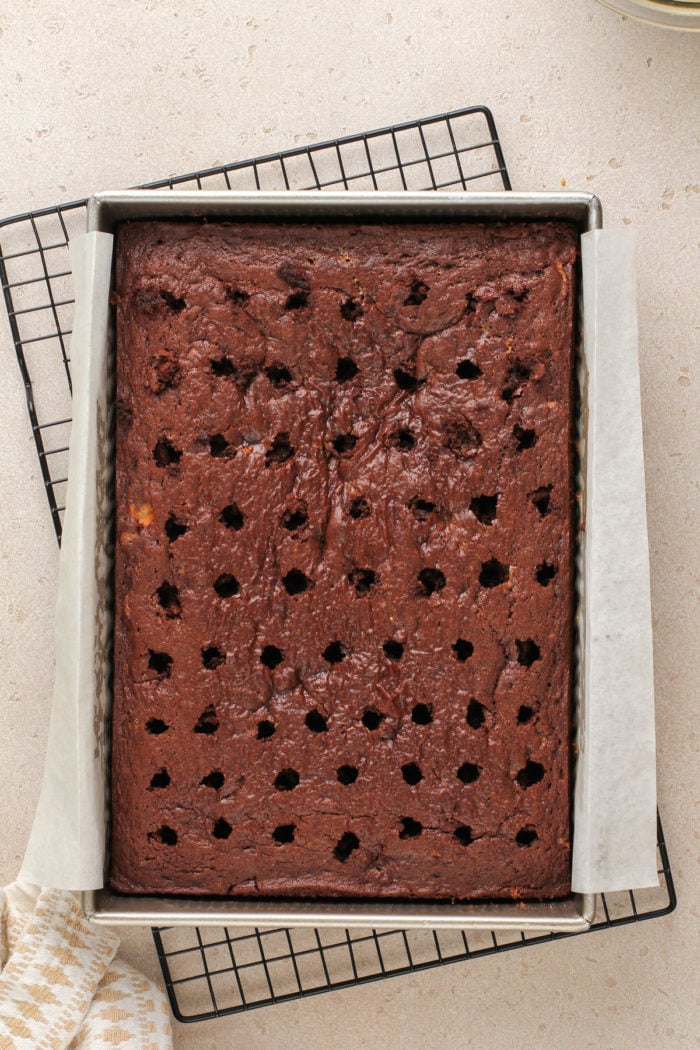 How to make this cake
Butterfinger poke cake starts with the chocolate cake base.
Using a mixer, beat together the cake mix, pudding mix, sour cream, oil, eggs, vanilla, and water until well blended, about 2 minutes. 
Coarsely chop half of the candy bars and fold them into the cake batter. The rest of the candy bars will be saved for topping the cake.
Spread the cake batter into a greased 13×9-inch cake pan; bake for 35-40 minutes. The cake is done when the top springs back when lightly touched and a toothpick inserted into the center of the cake comes out clean.
Let the cake cool for 10 minutes. While it cools, prepare the filling.
Put the peanut butter in a microwave-safe bowl and microwave fit in 15-second intervals until it is warm and drizzly. This will probably take around 30-40 seconds.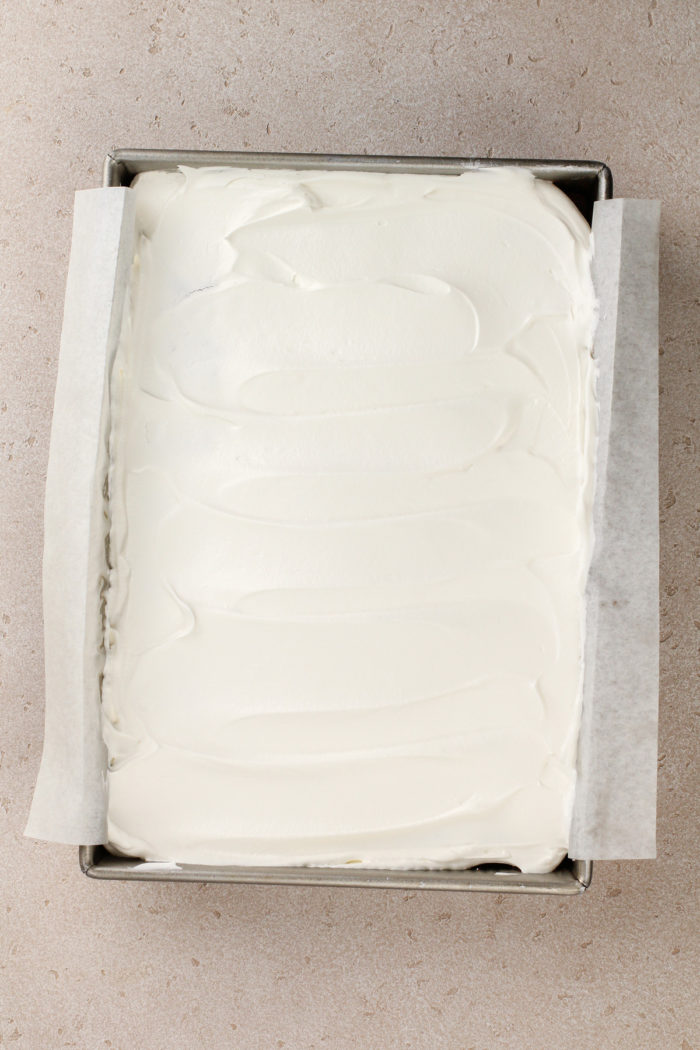 Stir in the sweetened condensed milk and 3 tablespoons of the regular milk. This mixture should be smooth and pourable – it you feel like it's too thick, add a bit more milk, a little at a time, until it is the desired consistency.
Use a large straw or the handle of a wooden spoon to poke holes across the top of the cake. Space the holes every inch or so; they should go about halfway into the cake. 
Pour your peanut butter filling all across the cake, making sure it gets into all of the holes. Let the cake finish cooling at room temperature.
Once the cake has cooled, top it with the whipped topping. Cover and chill the cake for at least 4 hours.
Before serving, garnish the cake with the rest of the candy bars and a drizzle of chocolate sauce if desired.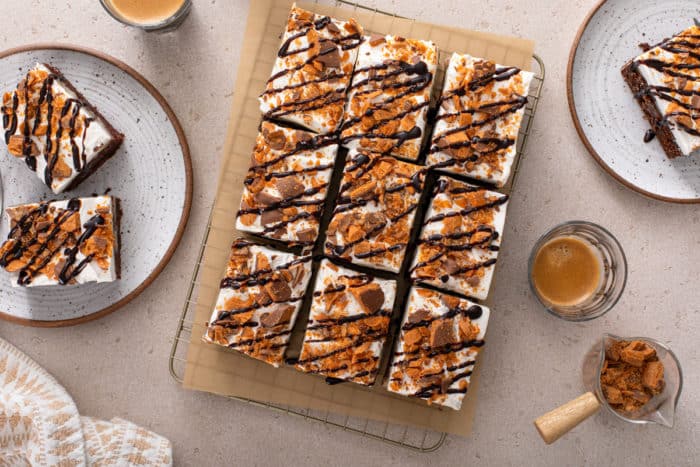 FAQS
Can I use regular-size Butterfingers instead of fun-size?
Of course! The fun-size bags are 10.2 ounces. Regular-size Butterfingers are 1.9 ounces. That means you'll need 5 regular candy bars to equal the bag of fun-size bars. 
What's the best peanut butter to use in this recipe?
You want to use creamy peanut butter, not crunchy, for this Butterfinger poke cake. I like to use a traditional Jif or Skippy. If I use natural peanut butter, I always go for a no-stir natural peanut butter.
I would avoid using the natural peanut butter that is ground right in the store like you'd get at Whole Foods. The texture is not quite smooth enough for most baking.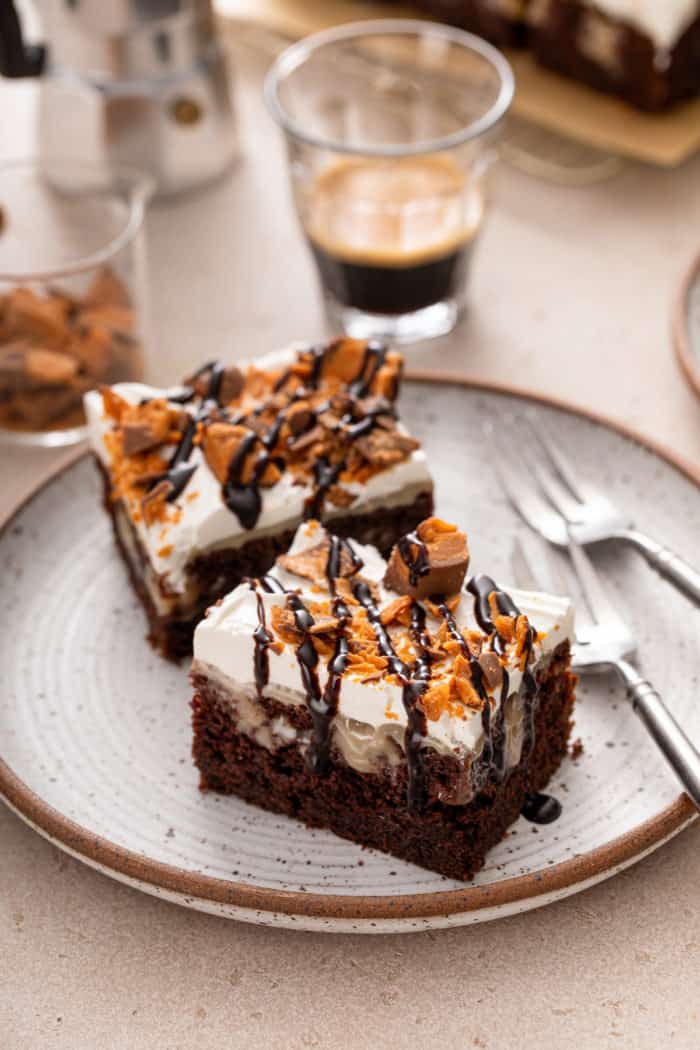 Can I use yogurt instead of sour cream in the cake?
Yes! If you don't have sour cream on hand, plain yogurt or plain greek yogurt works just fine.
I don't like whipped topping. What can I use instead?
I recommend using stabilized whipped cream frosting if you don't care for cool whip. It will hold up well during refrigeration and will last a few days.
MORE RECIPES USING LEFTOVER CANDY
Got a bunch of leftover Halloween candy you need to use up? Don't worry – I've got you covered with these recipes:
Peanut Butter Pretzel Dessert
With a sweet and salty pretzel crust, fluffy peanut butter layer, and silky chocolate pudding, this peanut butter pretzel dessert is a decadent twist on peanut butter pie.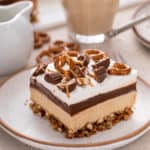 Peanut Butter Pie
This peanut butter pie is one seriously decadent dessert. Top this easy pie with mini peanut butter cups, whipped cream, and chocolate sauce to take it over the top!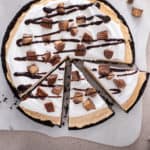 Peanut Butter Cup Brownies
Peanut butter cup brownies are a wonderful treat for any peanut butter and chocolate lover. Gooey chocolate brownies are studded with peanut butter cup pieces for a truly indulgent treat.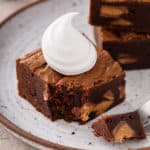 Snickers Brownies
Use up some of that leftover Halloween candy with these Snickers brownies! Super fudgy brownies filled with pieces of fun-sized Snickers bars make for a perfectly decadent treat.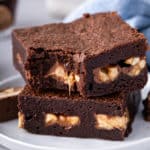 Snickers Caramel Apple Salad
Snickers Caramel Apple Salad is a deliciously sweet dessert that's perfect for Fall. Snickers candy bars are combined with Granny Smith apples, cheesecake pudding, whipped topping and salted caramel sauce – grab a spoon and dig in!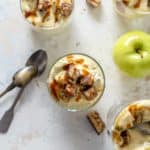 Monster Cookie Bars
Monster cookie bars couldn't be easier to make. This sweet treat is a great way to use up leftover candy and bakes up in no time to make your littlest monsters happy!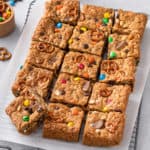 M&M Cookies
These chewy M&M cookies are loaded with crunchy M&M's for a childhood classic! Make these with all-purpose flour or follow the alternative directions for a gluten-free version.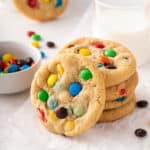 Candy Corn Cookies
Candy Corn Cookies taste like a Pay Day candy bar! Enjoy this easy fall cookie recipe with the sweet and salty goodness of peanuts, M&Ms, and candy corn.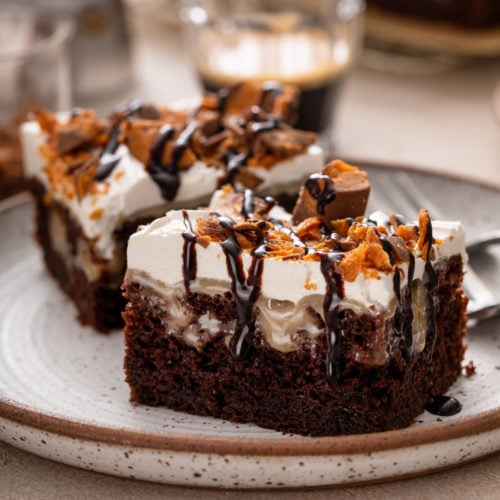 Preheat oven to 350°F and line a 9×13-inch pan with parchment paper or spray with non-stick cooking spray.

In the bowl of a stand mixer, fitted with the paddle attachment, or with a hand mixer in a large bowl, beat together the cake mix, chocolate pudding mix, sour cream, oil, eggs, vanilla and water on medium speed until well combined, about 2 minutes. Be sure to scrape the bottom of your bowl as needed.

Coarsely chop the Butterfinger candy bars and fold half of the candy into the cake batter. Reserve the remaining half for topping.

Spoon batter into the prepared pan and use an offset spatula or spoon to spread the batter into an even layer.

Bake in preheated oven for 35-40 minutes, or until the top of the cake springs back when lightly touched.

Allow cake to cool for 10 minutes.

Place peanut butter in a medium microwave-safe bowl. Microwave peanut butter in 15-second increments until warm and drizzly in texture; about 30-40 seconds. Stir in sweetened condensed milk and 3 tablespoons milk. You want this mixture to be smooth and pourable. If it is too thick, gradually add more milk, a little at a time until you reach the desired consistency.

Using a smoothie straw or the handle of a wooden spoon, poke holes across the cake, spaced every inch or so, halfway into the cake.

Immediately pour the peanut butter mixture evenly over the cake, making sure the mixture gets into the holes. Allow cake to cool completely.

Evenly spread the whipped topping onto the cake. Cover and chill for at least 4 hours.

Just before serving, sprinkle the reserved Butterfinger candy bars onto the cake and if desired, drizzle with chocolate fudge sauce.
Serving: 1slice | Calories: 532kcal | Carbohydrates: 62g | Protein: 9g | Fat: 30g | Saturated Fat: 9g | Polyunsaturated Fat: 10g | Monounsaturated Fat: 10g | Trans Fat: 0.1g | Cholesterol: 48mg | Sodium: 472mg | Potassium: 356mg | Fiber: 2g | Sugar: 42g | Vitamin A: 208IU | Vitamin C: 1mg | Calcium: 160mg | Iron: 2mg
The default measuring system on My Baking Addiction is US Customary. Unit conversions are provided as a courtesy; please be aware that there may be some discrepancies.
Card may contain affiliate links. As an Amazon Associate and member of other affiliate programs, I earn from qualifying purchases.
Source link