Chocolate Chia Seed Pudding
This creamy chocolate chia seed pudding tastes amazing and doubles as an easy make ahead breakfast or dessert. You are only looking at a short list of simple ingredients and less than 10 minutes of hands on time to make it. It also lasts for a few days in the fridge!
What is chia pudding?
Chia pudding is a simple tapioca-like pudding made with chia seeds, a creamy liquid (like almond milk), spices and a little sweetener (like maple syrup). In the case of this chia pudding recipe, we call for cocoa powder, maple syrup and a non-dairy milk to make it.
Chia seeds come from the desert plant salvia hispanica, a species of flowering plant in the mint family native to parts of Mexico, Central America and South America. While they have grown in popularity here in the last decade, chia seeds are thought to have been cultivated as a food source by the ancient Mayans and Aztecs.
Chia seeds are rich in polyunsaturated fat (as omega 3 fatty acids), fiber, protein, calcium, phosphorous and zinc. The flavor of chia seeds is subtle and they have the incredible ability to absorb a lot of liquid, which when they are added to liquid, will make them swell into small balls (similar to tapioca).
It's this characteristic that makes chia pudding thick and creamy. When you combine chia seeds with the right amount of liquid, the two ingredients come together and create a creamy, thickened pudding.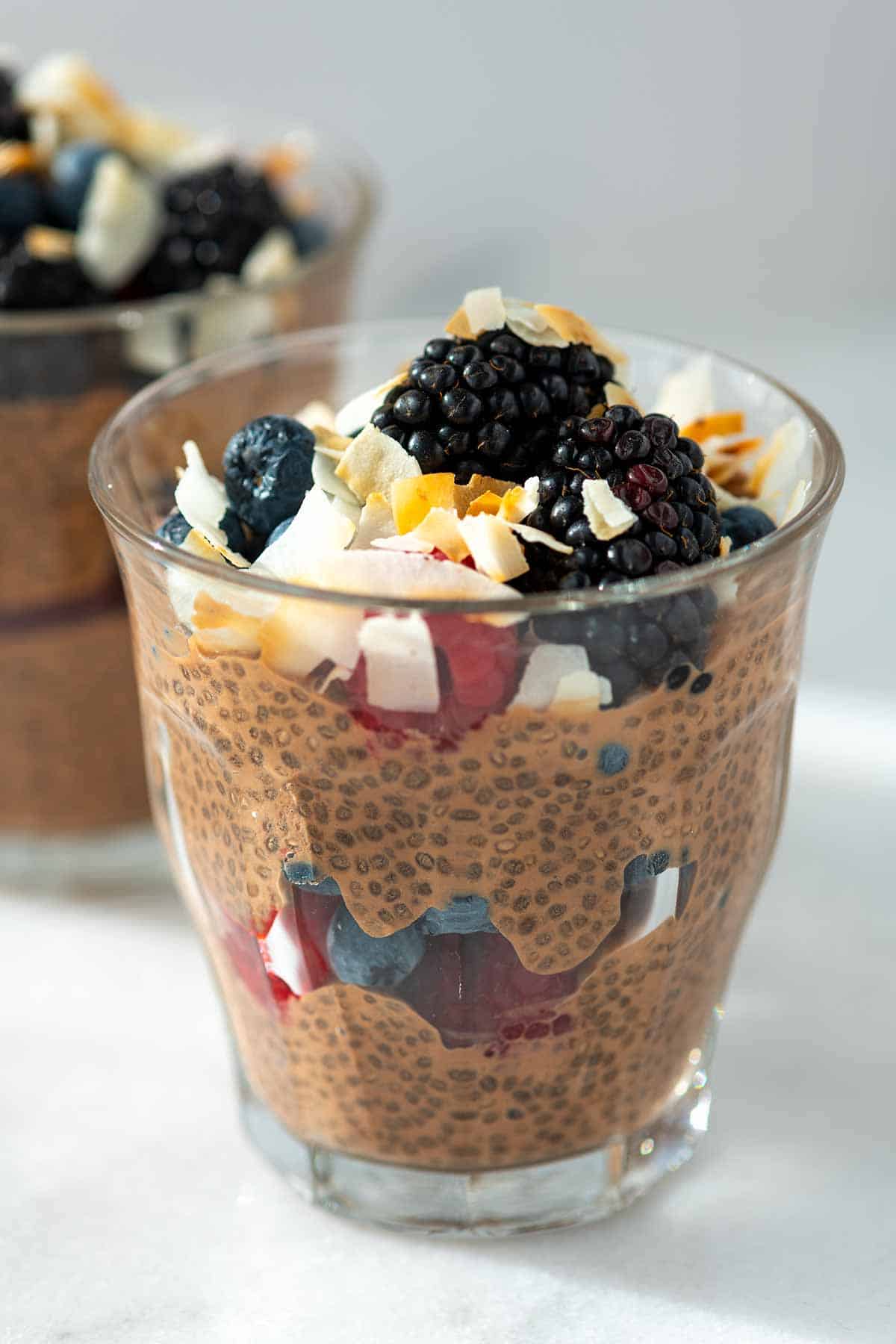 How to make chia pudding
Chia pudding is one of the most popular ways to eat chia seeds. You can have a lot of fun when it comes to flavors and add-ins, but a general rule of thumb for creamy, thick chia pudding is to mix 3 to 4 tablespoons of chia seeds into 1 cup of liquid (I like the consistency of 3 tablespoons, but for a thicker pudding, add the extra tablespoon).
When thoroughly mixed and placed into the refrigerator, the seeds will start to absorb the liquid and gel up into a pudding. This starts to happen within 20 minutes or so, but the seeds will continue to absorb the liquid and eventually the mixture will no longer be watery.
Chocolate chia pudding
Since chia seeds taste so mild, it's best to add flavorful ingredients to your chia pudding. My favorite version is this easy chocolate pudding. A full recipe is provided in the recipe area below, but here's a quick run down of the ingredients I use to make it:
Chia seeds
Unsweetened cocoa or cacao powder
Non-dairy milk like almond, coconut or cashew (dairy milk will also work)
Maple syrup and vanilla extract
Ground cinnamon and sea salt
To make it, simply whisk everything together with the exception of the chia seeds, this way we make sure that the cocoa powder is blended into the milk and not lumpy.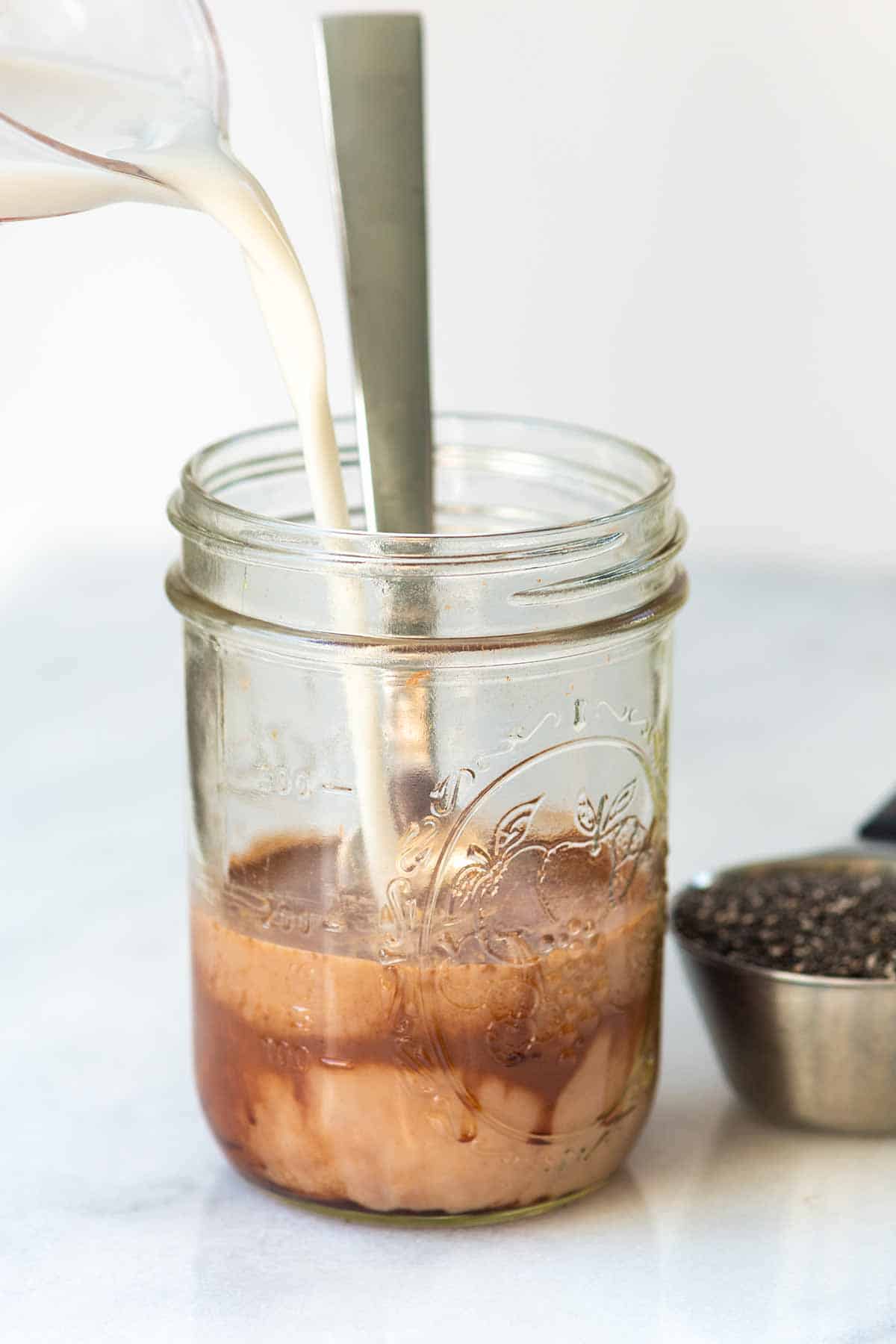 When the "chocolate milk" is whisked and well blended, stir in chia seeds, wait a minute, and then stir once more to make sure they are mixed in. Then cover and refrigerate until thick and pudding-like (2 hours or more).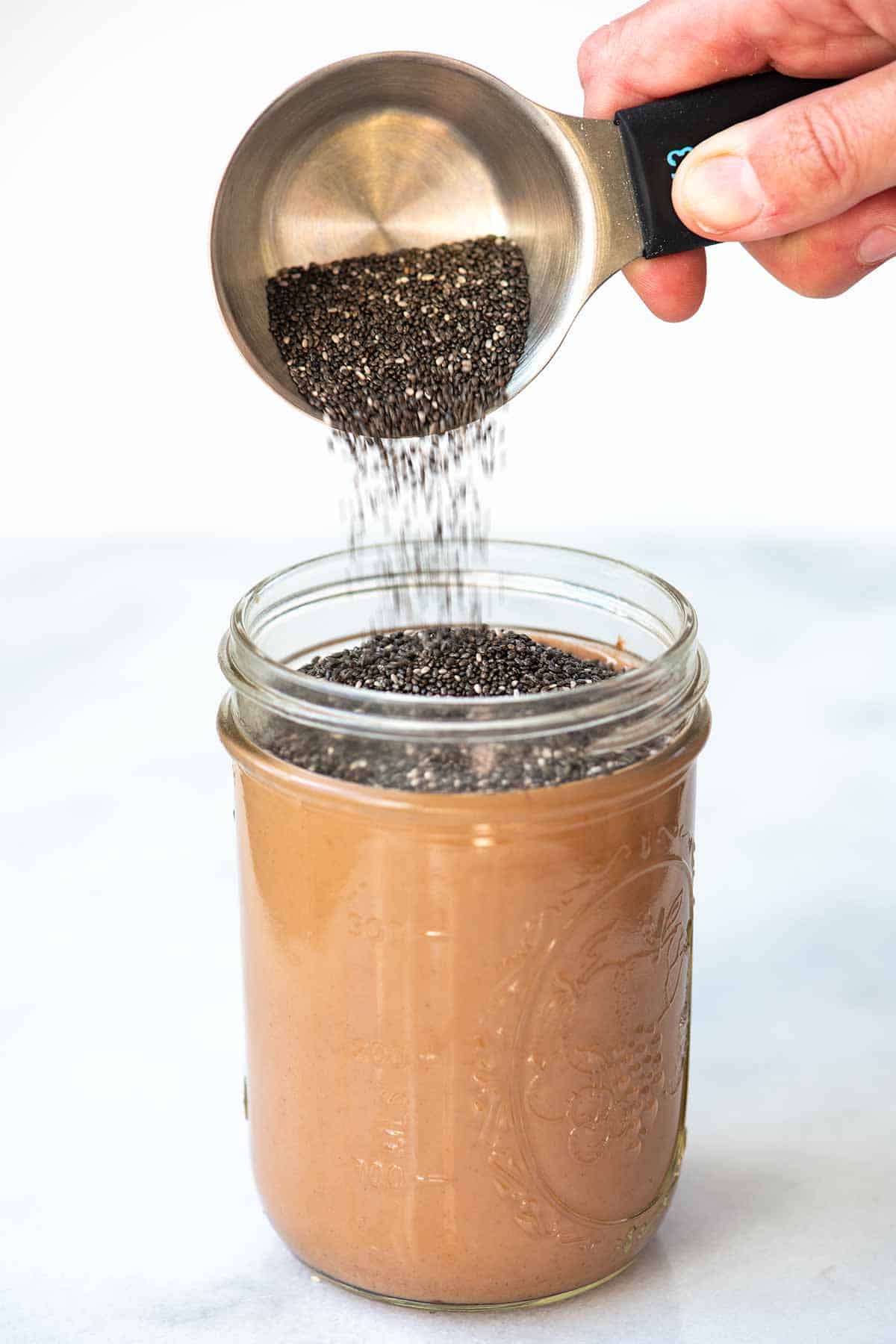 How long does it last?
When kept covered in the fridge, chia pudding will last 4 to 5 days. Before serving, I like to give it a good stir and top with some extras like berries or sliced bananas.
More recipes to try
Chocolate Chia Seed Pudding
This is my favorite chia pudding with cocoa powder, a little maple syrup and creamy non-dairy milk. You will love this healthy treat that's perfect for breakfast or dessert. It is healthy, vegan (when non-dairy milk is used) and gluten-free.
Makes 1 serving
You Will Need
1 cup unsweetened non-dairy milk like almond milk, cashew milk or light coconut milk
1 tablespoon unsweetened cocoa powder or cacao powder
1 tablespoon pure maple syrup, or more to taste (if the milk is sweetened, use less maple syrup)
1/8 teaspoon vanilla extract
1/4 teaspoon ground cinnamon
1/8 teaspoon fine sea salt
3 tablespoons chia seeds
Optional toppings: Fresh or defrosted berries, sliced bananas, toasted coconut, toasted chopped nuts or a drizzle of maple syrup
Directions
1In a small mason jar or bowl, whisk the milk, cocoa powder, maple syrup, vanilla extract, cinnamon and sea salt. Taste and then adjust with more cocoa or maple syrup.

2Whisk in the chia seeds, leave for 1 minute, and then whisk again to make sure that the chia seeds are well mixed and not clumped together at the bottom. Cover and refrigerate for at least 2 hours (or overnight), until the chia seeds have gelled up and the liquid has been absorbed. Stirring once or twice as the pudding sits in the fridge is a good idea, but not entirely necessary.

3Chia pudding will keep 4 to 5 days when covered and stored in the fridge. Before serving, stir a few times to break up any clumps of chia seeds. Top with your favorite toppings and enjoy.
Adam and Joanne's Tips
I like the consistency when using 3 tablespoons of chia seeds, but for an even thicker pudding, add 1 extra tablespoon
Nutrition Facts: The nutrition facts provided below are estimates. We have used the USDA database to calculate approximate values.
If you make this recipe, snap a photo and hashtag it #inspiredtaste — We love to see your creations on Instagram and Facebook! Find us: @inspiredtaste
Nutrition Per Serving
Calories
297
/
Total Fat
15.6g
/
Saturated Fat
1.7g
/
Cholesterol
0mg
/
Sodium
350.9mg
/
Carbohydrate
35.1g
/
Dietary Fiber
15.4g
/
Total Sugars
12.3g
/
Protein
9g

AUTHOR: 

Adam and Joanne Gallagher