Chocolate-Covered Marshmallows – My Baking Addiction
Chocolate-covered marshmallows are fun and easy treat to make for any occasion! Decorate them with seasonal sprinkles, drizzle with colorful candy melts, or turn them into marshmallows pops.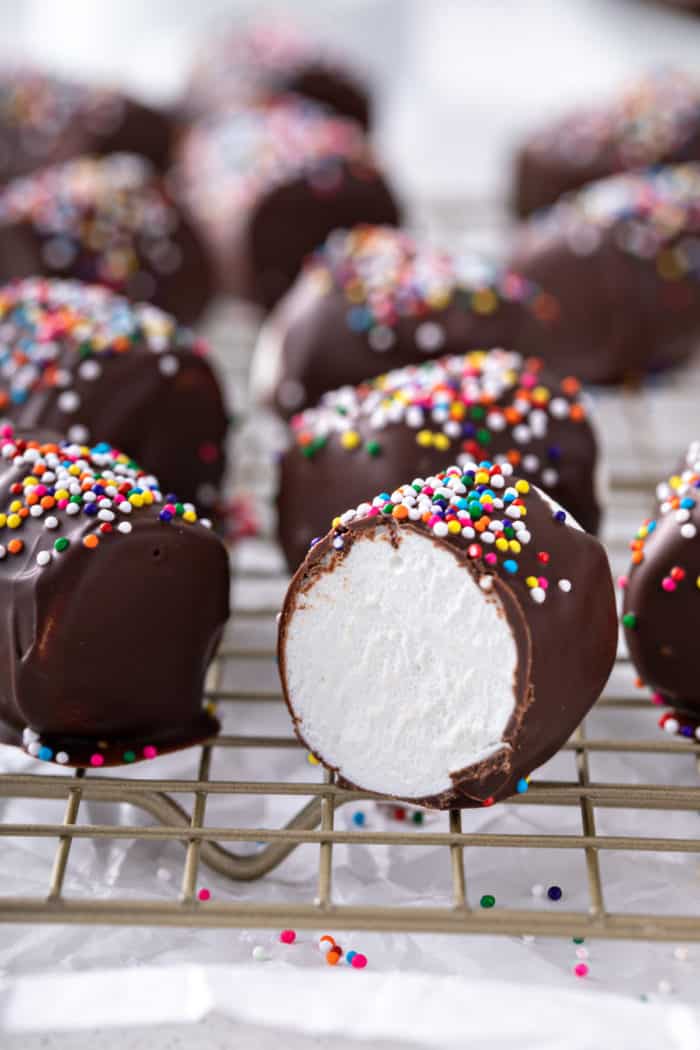 This post contains affiliate links.
By the time you have multiple kids plus multiple pets plus a job plus all of the other life stuff you have to take care of, you really go through life with "easy" as your default setting.
Obviously by "you" I mean "me" here. I'm sure there are people who go above and beyond regularly, but I'm happy to go the easy route most of the time these days.
But that doesn't mean that easy can't be cute or delicious. Red velvet crinkle cookies? Easy, cute, and delicious. Sugar cookie bars? Easy, cute, and delicious. These chocolate-covered  marshmallows?
Yeah, you get the idea. They're easy, cute, and delicious.
These are so much fun to make for literally any party or gathering. In fact, they'd be super fun to set up as an activity at a birthday party. Let them set while everyone has cake and opens presents and the kids can take them home as their party favors!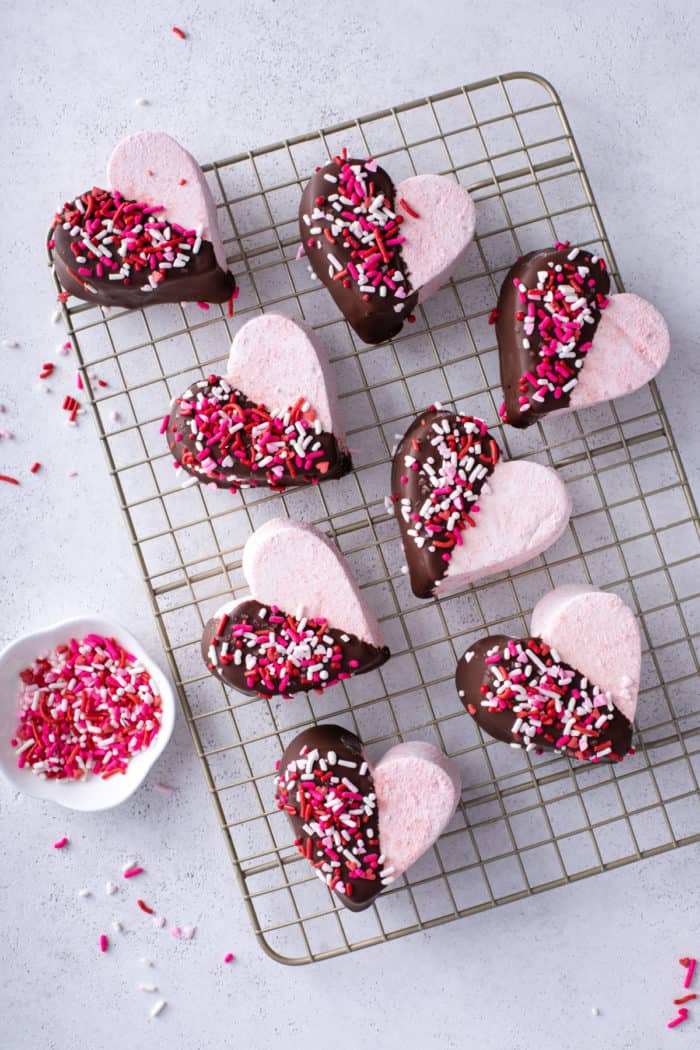 CUTE AND EASY CHOCOLATE-COVERED MARSHMALLOWS
This actually isn't the first time I've made chocolate-covered marshmallows. 
Many years ago, I made Halloween marshmallow pops by dipping marshmallows in black and orange candy melts and using Halloween-colored sprinkles. 
But then I kind of forgot about them until recently, when I realized that there's no reason not to make these for every single occasion and holiday!
Seriously, how cute are these? There are so many ways you can decorate them (head down to "decorating ideas" for some suggestions!) and you can even turn them into an upscale gift by using homemade marshmallows instead of store-bought mallows.
This is definitely a "recipe" (or more like a food craft) that you can do with kids of all ages.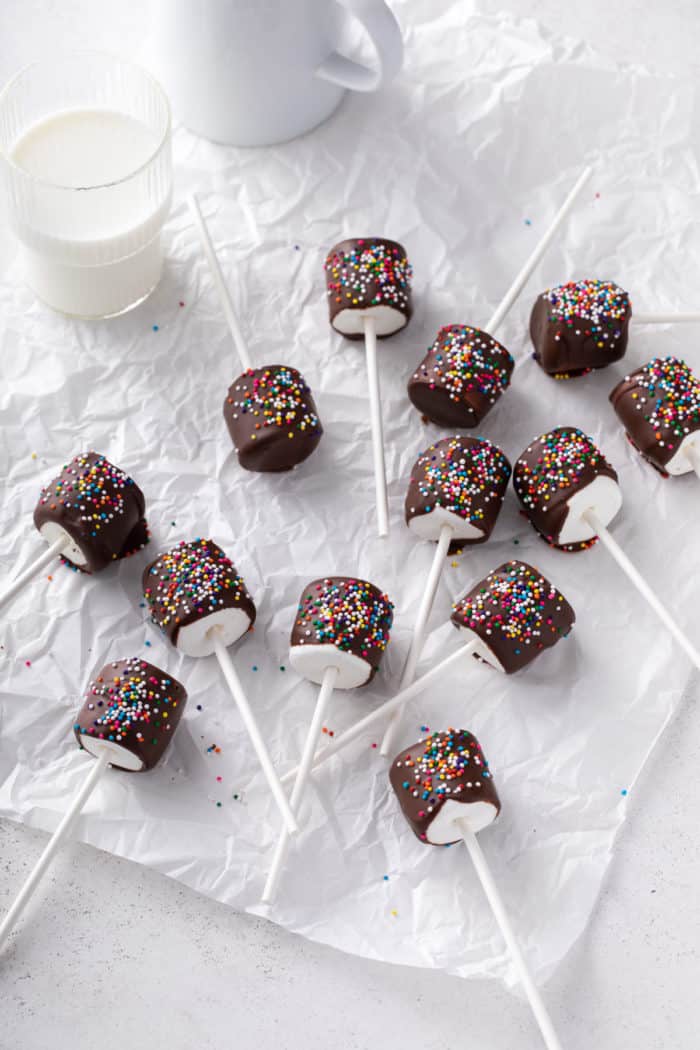 HOW TO MAKE CHOCOLATE-COVERED MARSHMALLOWS
So let's get to how to make these chocolate-covered marshmallows!
Ingredients you'll need
The main things you'll need to make these are:
Chocolate chips: I like to use semi-sweet chocolate chips, but you can use whatever you like best! For 1 bag of marshmallows, you'll need 1-2 10-ounce bags of chocolate chips. 1 bag will do for half-dipped marshmallows, and 2 is best if you want to fully cover all of the marshmallows.
Coconut oil or shortening: You will need 1 tablespoon of either coconut oil or shortening for each 10-ounce bag of chocolate chips.
Standard-size or jumbo marshmallows or homemade marshmallows: Using standard store-bought marshmallows makes for a fun and easy treat for kids, while using homemade marshmallows or strawberry marshmallows turns this into a beautiful, upscale gift for any loved one.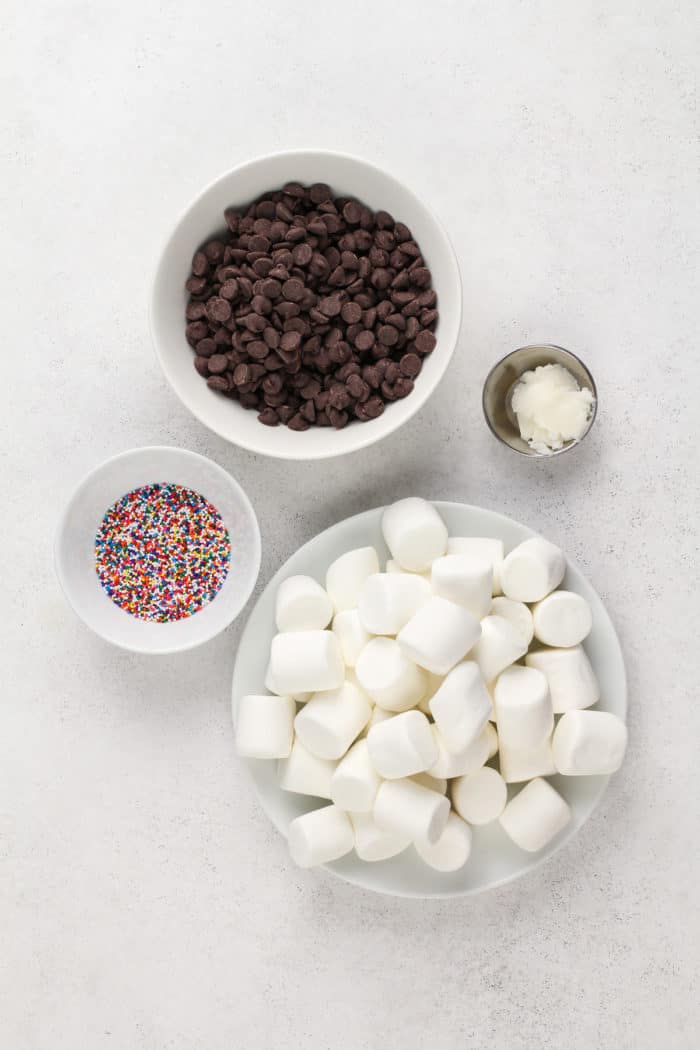 Additional decorations you can use include:
Seasonal sprinkles
Contrasting colors of melted chocolate, almond bark, or candy melts
Lollipop or cake-pop sticks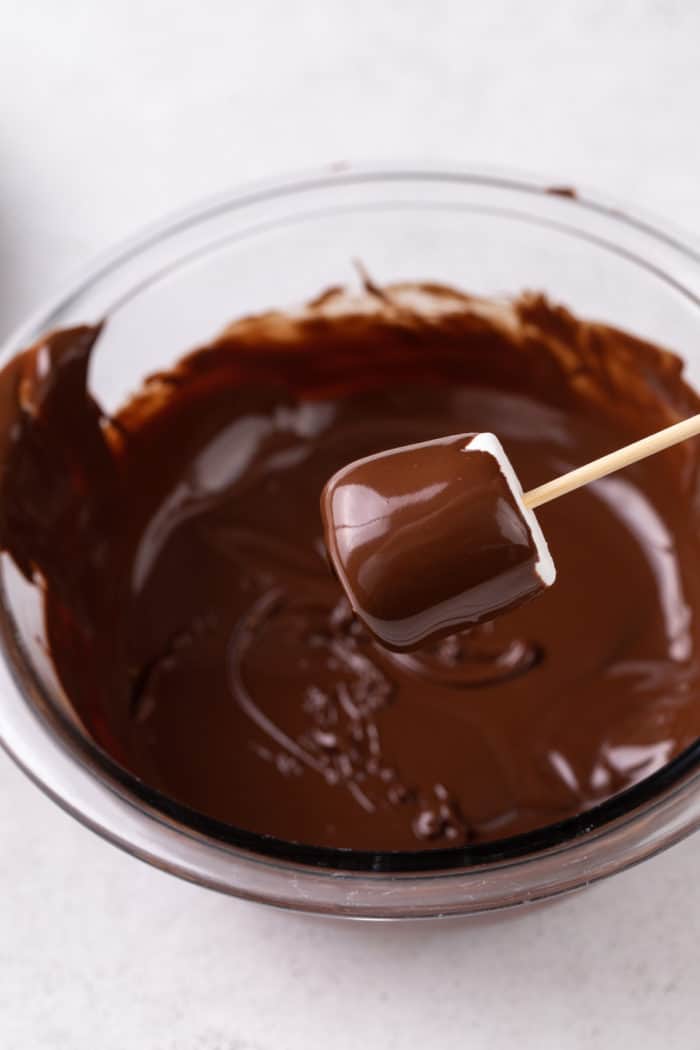 Making these treats
Before you get started, line a baking sheet with a piece of parchment paper.
Add the chocolate chips and coconut oil or shortening to a microwave-safe bowl. Microwave the chocolate for 1 minute, then stir it well.
Continue to microwave for 15 seconds at a time, stirring after each increment, until the chocolate is melted and has a nice sheen to it.
Now it's time to dip the marshmallows! Use a toothpick to pick up each marshmallow and dip it into the melted chocolate. You can dip them fully or just halfway – it's up to you.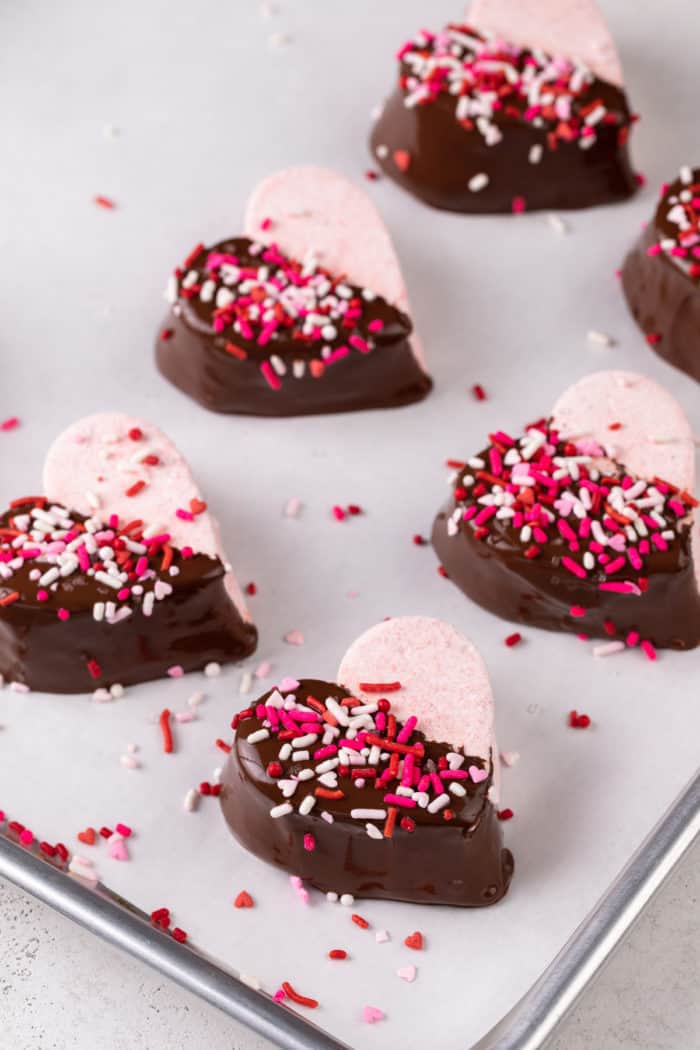 Note that if you're dipping homemade marshmallows, they are lighter and a bit more delicate, so you may need to use a fork to lift them out of the chocolate instead of a toothpick.
Use the edge of the bowl or a fork to remove any excess chocolate from the bottom of the marshmallows, then set them on the parchment-lined baking sheet.
If you want to decorate the chocolate-covered marshmallows with sprinkles, do it now while the chocolate is still wet.
Let the marshmallows rest in a cool, dry place until the chocolate is set.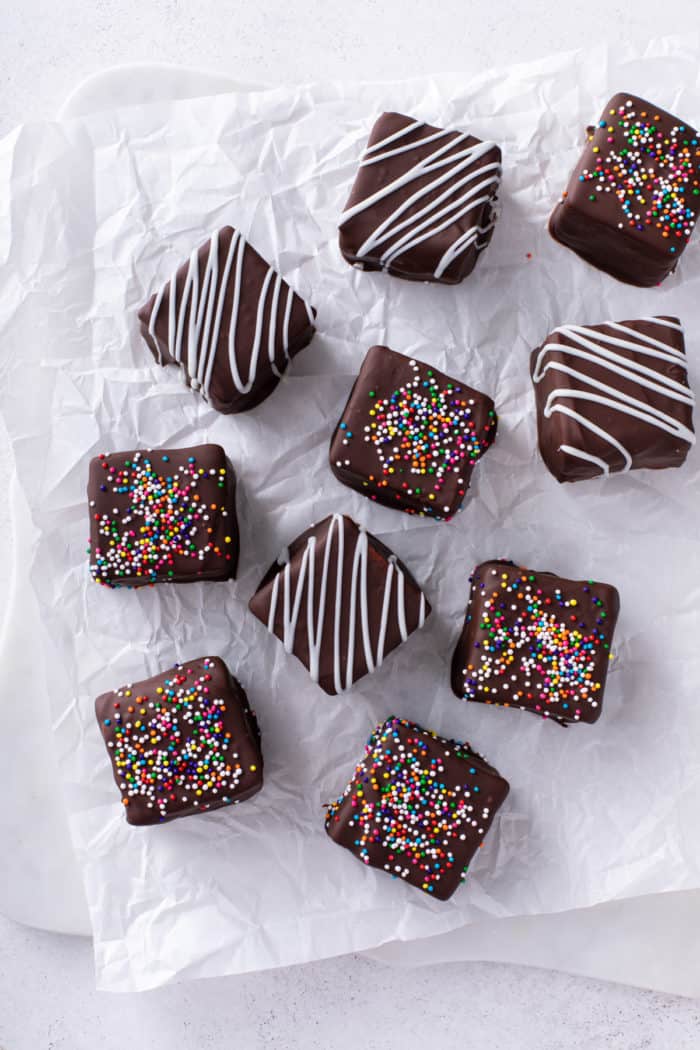 DECORATING IDEAS
One of the easiest ways to decorate your chocolate-dipped marshmallows is with festive sprinkles!
Pink and red sprinkles are perfect for Valentine's Day, orange, black and purple sprinkles are great for Halloween, and shades of green are amazing for St. Patrick's Day. And of course rainbow jimmies are a great option any time of year. 
But don't limit yourself to holidays! You can make these for game day (get sprinkles in the team colors), graduations, wedding or baby showers…the options are endless.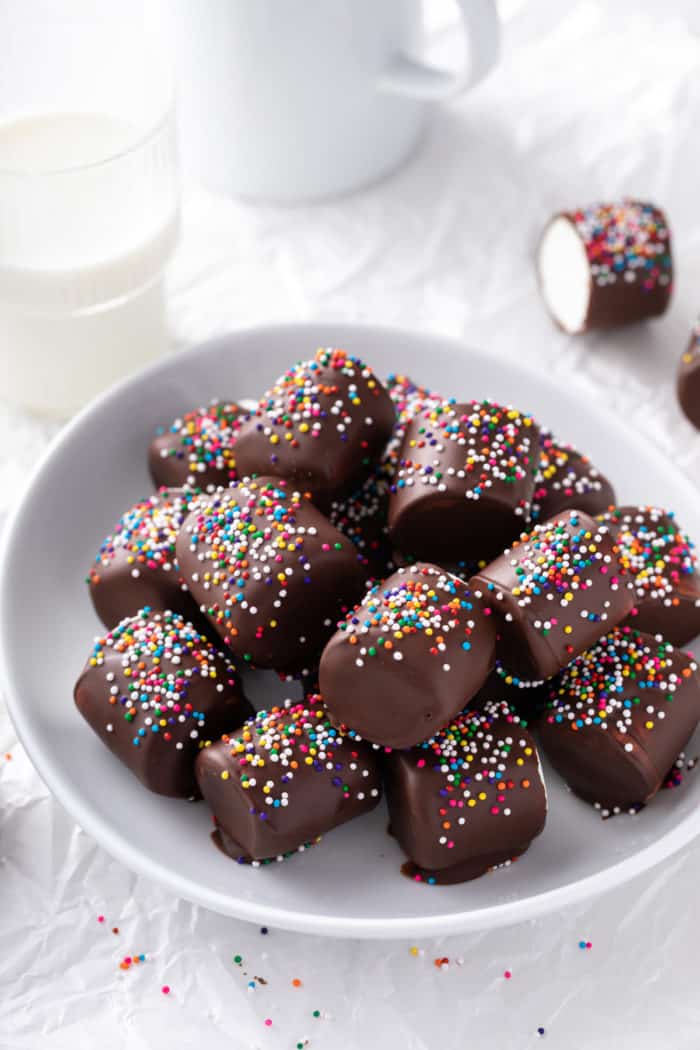 Don't want to do sprinkles? Try melting contrasting colors of chocolate or candy melts and drizzle them over the dipped marshmallows.
You can even use cake pop sticks to turn the chocolate-dipped marshmallows into marshmallow pops. Wrap them in cellophane bags for a cute and delicious party favor.
No matter the occasion, these cuties are a super easy treat you'll want to make again and again!