Chocolate Pizza – Dinners, Dishes, and Desserts
Chocolate Pizza – an easy chocolate dessert pizza just like from your favorite pizzeria! Top with your favorite toppings to make it extra tasty.
This post is sponsored by Imperial Sugar. All thoughts and opinions are 100% my own.
When you go out for pizza, depending on the place, you will sometimes see a dessert pizza or a chocolate pizza on the menu. It is one of my favorite things to try, because they all do it slightly different! It is usually made with their normally pizza crust, and then topped with a chocolate spread and then either fruit, or candy, or nuts as a topping.
The toppings is where you can really customize this and get creative! I went simple for this example, but you really can use whatever you and your family like.
Click HERE for the full recipe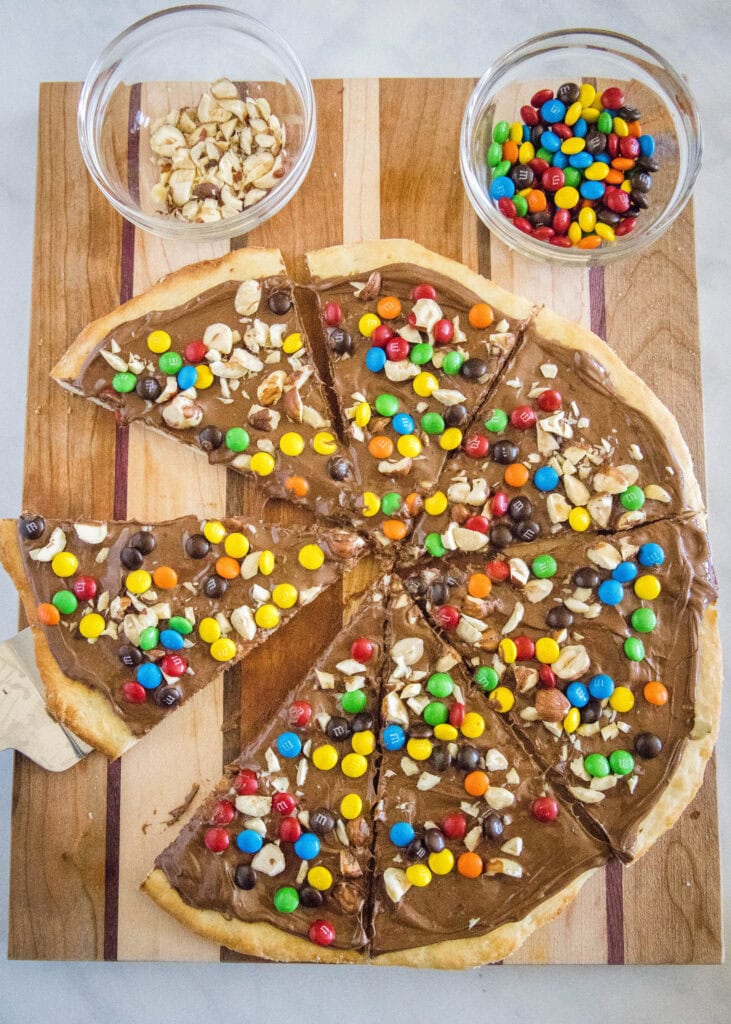 Pizza Dough
The base of this chocolate pizza does start with a pizza dough. Below I give instructions for a homemade dough, because I really think it is the best. It is a super easy NO KNEAD dough that makes about 30 minutes (including 20 minutes of letting it rest) to make. So just about 3 minutes of work, and the dough is done.
You can use any store bought dough you like. You can even pick up a ball of dough from your favorite pizzeria. Really anything will work.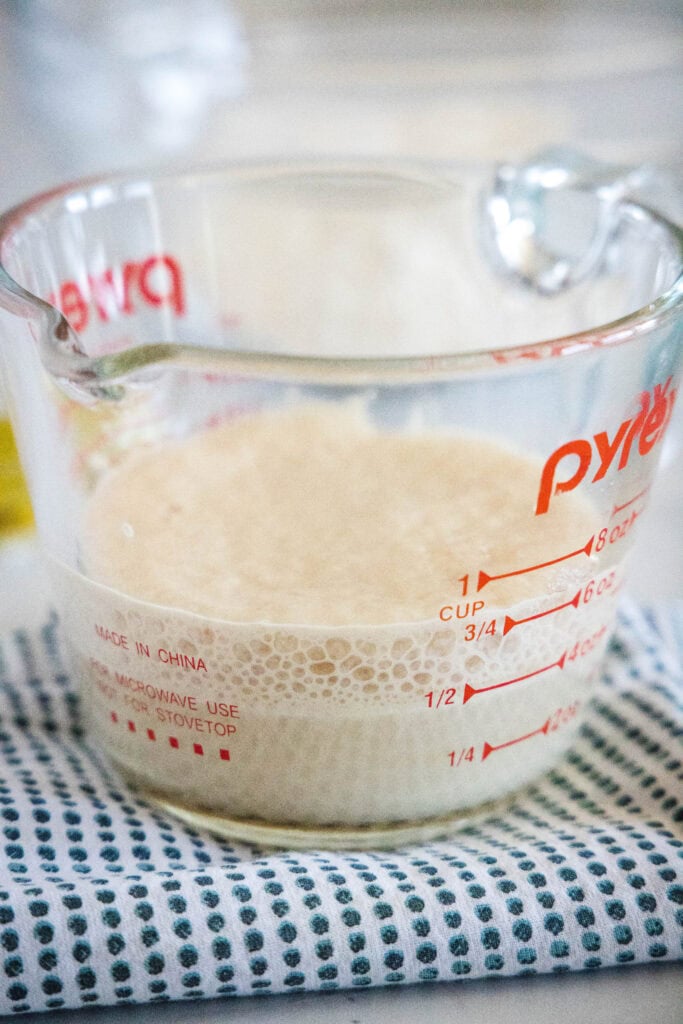 What You'll Need
For the Dough
All-Purpose Flour
Salt
Olive Oil
Warm Water
Active Dry Yeast
Sugar
For the Toppings
Chocolate Hazelnut Spread – you can use Nutella, any other brand, or you can make a Homemade Nutella.
Homemade Hot Fudge is a great chocolate topping as well.
Candy – M&M's, Reese's Pieces, Peanut Butter Cups, Chopped Snickers or Butterfinger – really anything goes!
Nuts – chopped peanuts, hazelnuts, walnuts, almonds, pecans etc.
Fruit – strawberries and raspberries are my favorite with chocolate
Miscellaneous – you can go crazy with anything. Use marshmallows and graham crackers for a S'mores theme. Use a variety of chocolate chips or drizzle with white chocolate. Lots of options to make it yours.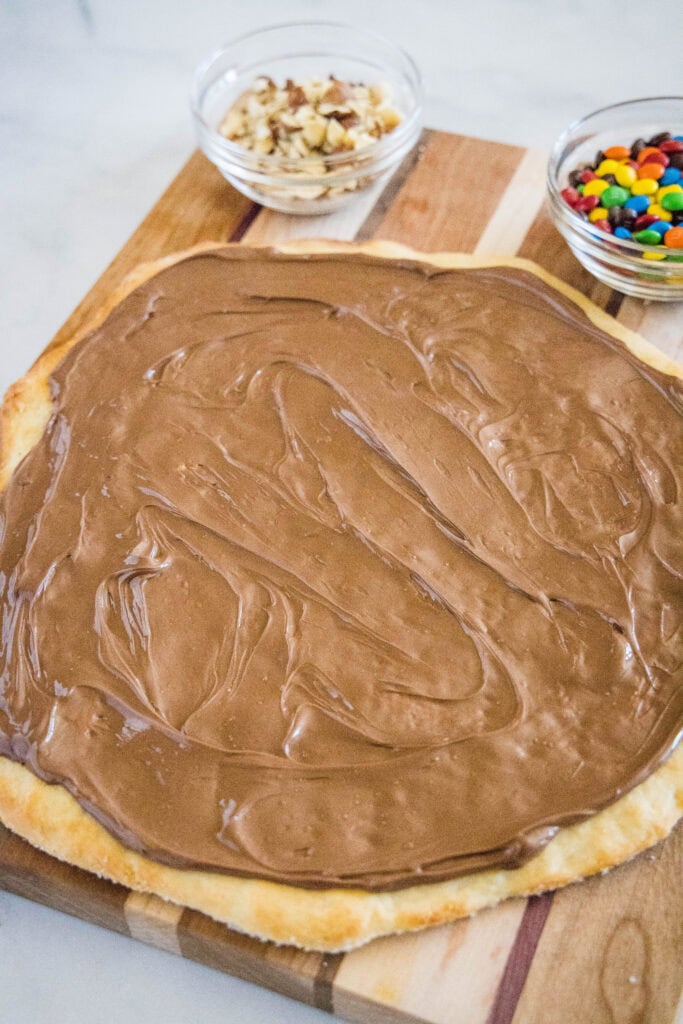 How To Make Chocolate Pizza
Click HERE to get the full recipe and instructions
In a liquid measuring cup mix together warm water, sugar and yeast. Let stand for 5 minutes until it starts to foam up.
Meanwhile, in a large bowl mix together flour and salt.
Add the foaming yeast mixture and olive oil, and mix until well combined and forms a rough dough.
Cover with a towel and let rise for 20 minutes.
Once the dough has rested you want to spread it on a baking sheet that has been greased and sprinkled with sugar. Spread the dough into a 10-12 inch circle.
Use a fork to prick holes all over the top of the dough, and brush with melted butter.
Bake crust for about 12 minutes until it is golden brown and cooked through.
Remove from the oven and let it cool for about 10 minutes, you don't want it too hot or the chocolate will just melt and slide off.
After 10 minutes, spread the chocolate hazelnut spread over your pizza crust and sprinkle with your desired toppings.
Slice into wedges and serve immediately.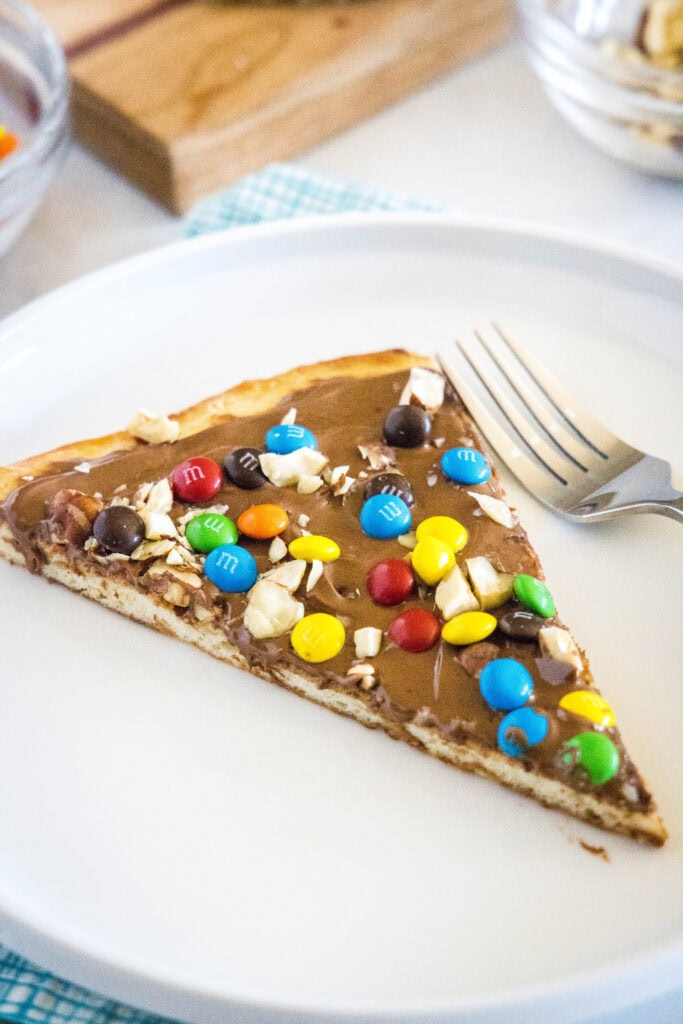 Recipe Tips
Traditionally when you bake pizza you grease your baking sheet and then sprinkle with cornmeal so it doesn't stick or get soggy. Here you use sugar! This accomplishes the same thing, but gives you the sweetness you want for a dessert. Cornmeal would just be an odd flavor with dessert, so trust me and use the sugar for the best results.
Get creative – I kept is simple for this, but it really is just a concept. Use whatever toppings you like to make it your own. In the summer, fresh berries with a little white chocolate drizzle is my favorite combo.
This really is best served right when it comes out of the oven. You can have the pizza dough ready, but it is best to bake and top when you are ready to serve dessert.
Don't skip the homemade dough! It is really super easy to make, there is no kneading involved at all. So as long as you can measure the temperature of the water, you should have an easy dough you can make over and over again for any pizza recipe.
Can I make it ahead of time?
You can definitely make the dough ahead of time and have in the fridge resting (bring to room temperature before you roll onto the baking sheet) ahead of time. But once you bake the pizza crust, and add your toppings you really want to serve immediately. It is best served slightly warm.
Can I reheat chocolate pizza?
If you bake the pizza crust ahead of time, you can rewarm that without any toppings on. But once you add the toppings, no you can not reheat. You would just melt the chocolate spread and candy on top or fruit and it would not be good.
I am sharing this recipe over at Imperial Sugar today. Click on Chocolate Pizza to get the FULL recipe.
I created a fun group on Facebook, and I would love for you to join us! It's a place where you can share YOUR favorite recipes, ask questions, and see what's new at Dinners, Dishes and Desserts (so that you never miss a new recipe)! If you'd like to check it out, you can request to join HERE.
Be sure to follow me on Instagram and tag #dinnersdishes so I can see all the wonderful DINNERS, DISHES, AND DESSERTS recipes YOU make!
Be sure to follow me on my social media, so you never miss a post!
Facebook | Twitter | Pinterest | Instagram 
Did you know there is a Dinners, Dishes, and Desserts SHOP? Check out all of my E-books as well as branded merchandise HERE! Or you can buy me a coffee to say thanks!
OTHER RECIPES YOU MIGHT LIKE: