Curry Roasted Chickpeas Snack – Savory and Spicy
If you're looking for a protein-packed snack then I've got the perfect recipe for you. This Curry Roasted Chickpeas Snack has 10 grams of protein per serving and is super easy to make! Eat as-is or use as a salad topper… I love adding these to my Kale Caesar Salad to act like croutons + plant-based protein.
They are crunchy and easy to eat… you might just go through both servings in one sitting! I love roasted chickpeas (also known as garbanzo beans) as they are light 'n airy like popcorn yet nutty in flavor.
Chickpeas are no longer just for blending into homemade hummus (though that's still yummy); they are a plant-powered protein that can be the star of a Crunchy Chickpea Salad or lovely snack of Garlic Baked Chickpeas, you choose!
Table of Contents
Recipe Ingredients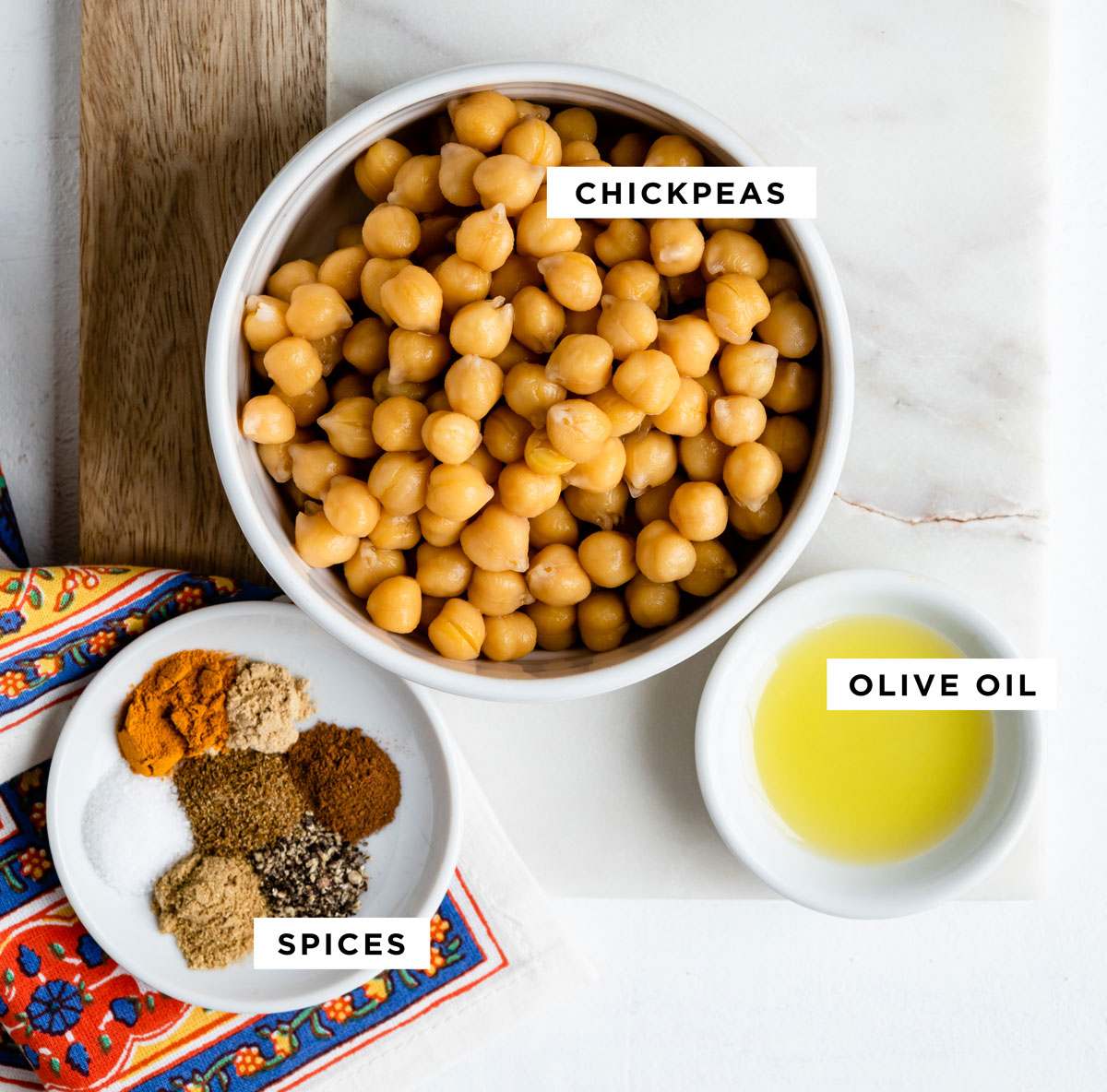 It may look like this recipe has a lot of ingredients yet most of them are spices! I played around with the amounts and types until I found the perfect curry-inspired combo to make this roasted chickpeas snack oh-so-good.
Chickpeas: Canned garbanzo beans are legumes with large amounts of folate, fiber and manganese. They can help you stay full longer and work as a great healthy snack for weight loss with healthy fat and protein. They are not a complete protein, so make sure you include a variety of plant proteins in your diet so you aren't missing out on any nutrients!
Extra virgin olive oil: EVOO is the oil of choice in this recipe yet you can use avocado or coconut oil if you want. It helps the spices stick to the beans; you don't need a lot!
Spices: I'm using a combination of ground coriander, cumin, turmeric, sea salt, ginger, cinnamon and black pepper to achieve that curry-like flavor.
Other Flavor Combinations
This vegan snack is actually super easy to make with whatever spices you want, sweet or savory! Here are a few other combos you should try:
Spicy: Paprika + garlic powder
Sweet: Maple syrup + cinnamon + maple sugar
Tangy: Onion powder + lemon zest + sea salt
Dill: Dill powder + celery salt + onion powder + parsley
I recommend using coconut oil on any sweet version you want to make as that works better with sweeter flavors.
How to Make This Roasted Chickpeas Snack
All you need to make this recipe is an oven, a rimmed baking sheet and some parchment paper. These beans tend to roll around easily, so a baking sheet with a rim keeps them from falling to the bottom of your oven.
Step 1: Preheat oven to 425°F. Line the baking sheet with parchment paper.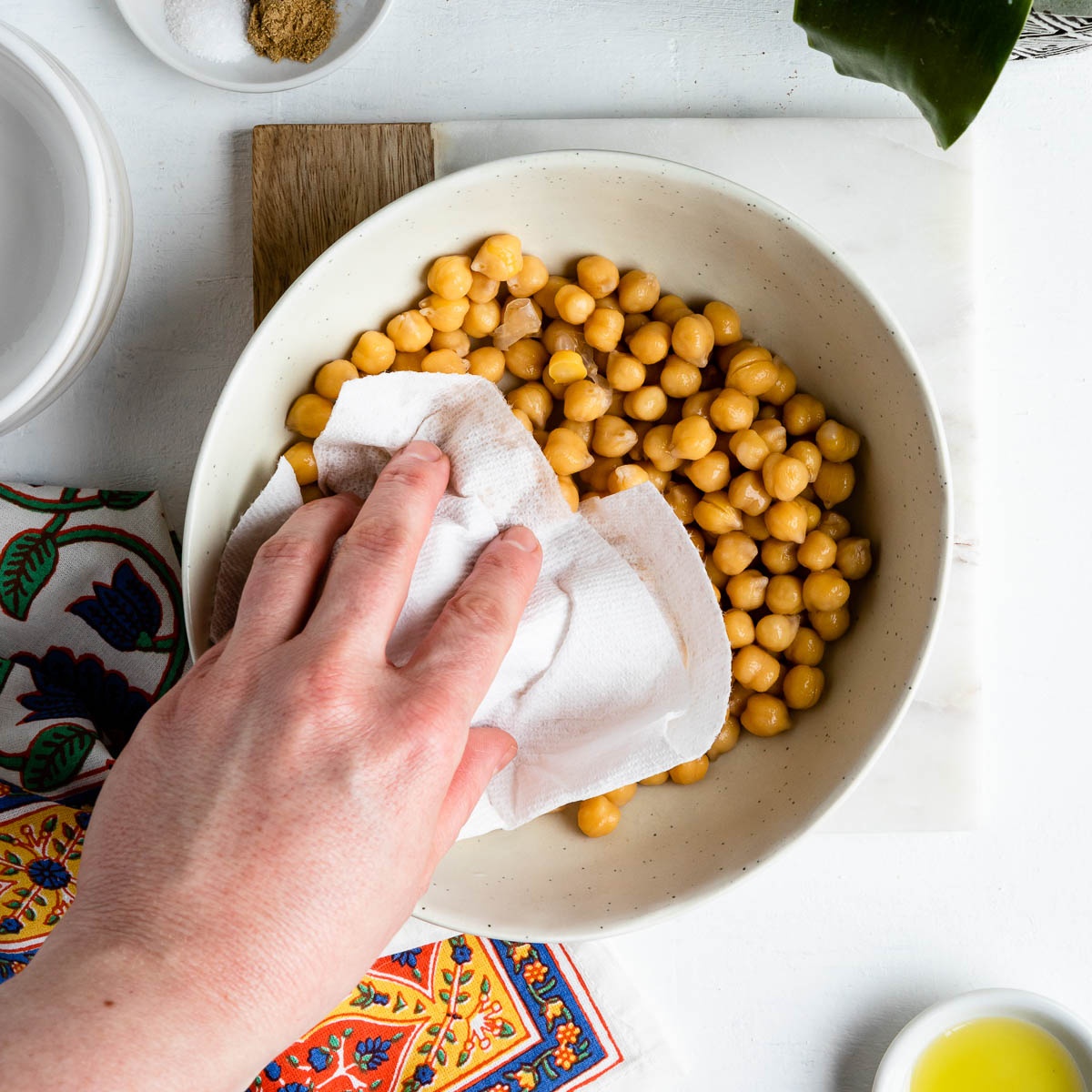 Step 2: Drain & rinse the chickpeas then pat dry with a paper towel to remove an excess liquid then transfer to a bowl.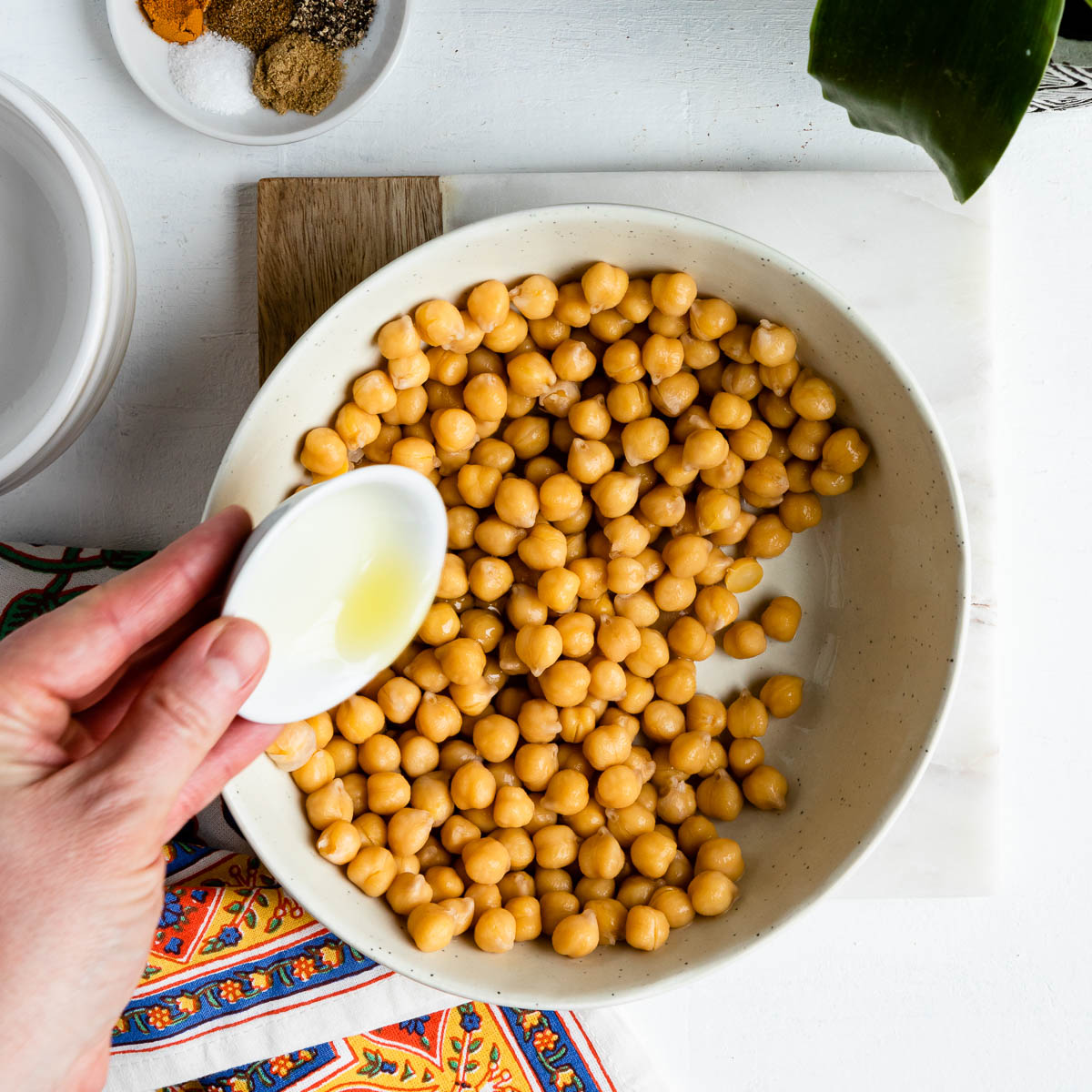 Step 3: Toss the beans with olive oil until they are evenly coated.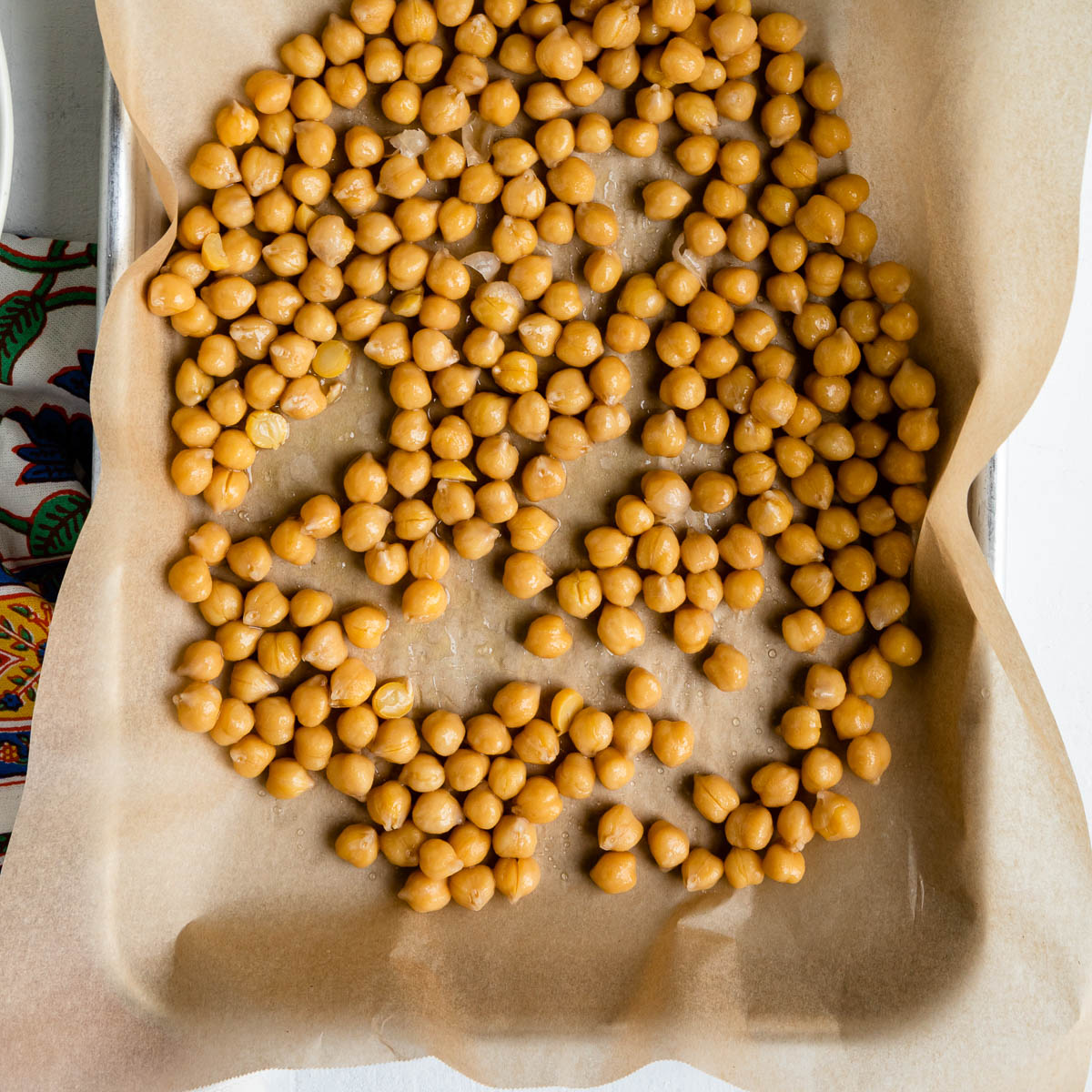 Step 4: Place on a lined baking sheet, spreading out, and bake 15 minutes.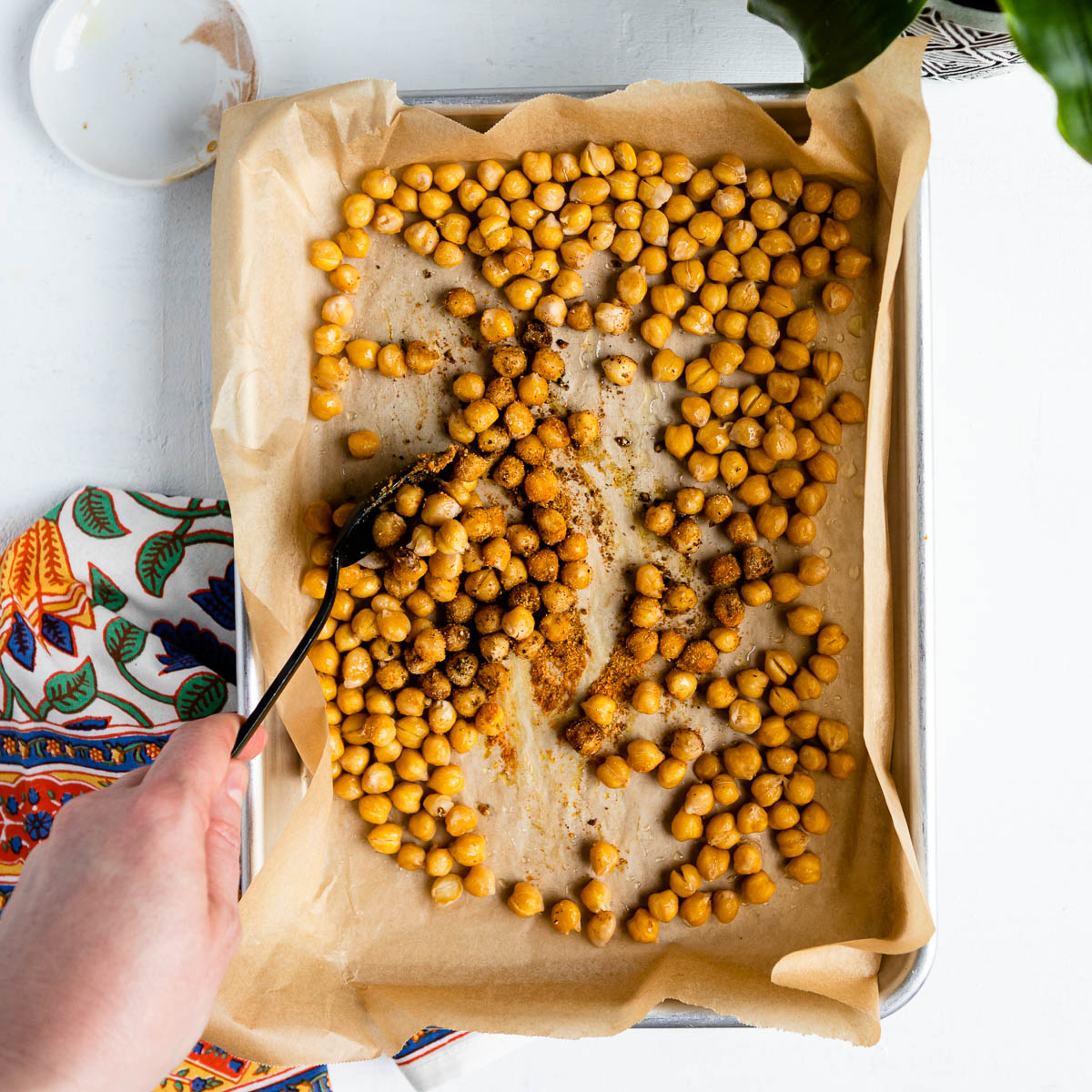 Step 5: Remove from oven and sprinkle with the spices then gently toss to coat. Be careful as they will be hot! Return to oven for 10 minutes or until the desired crispiness is reached.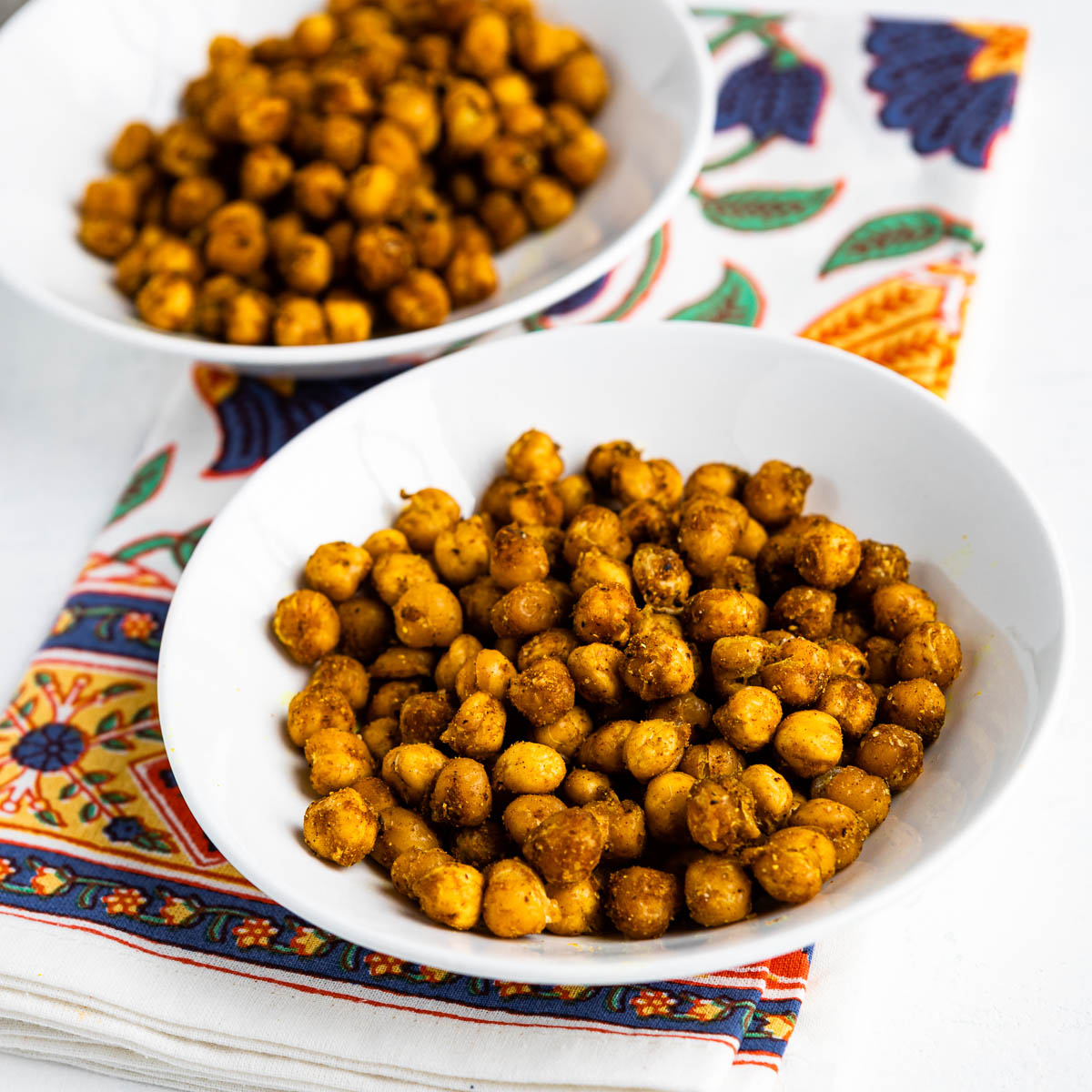 Step 6: Remove from oven and allow to cool slightly before eating.
This chickpeas recipe won't stay crispy overnight so try to enjoy them immediately. You can store them in an air-tight container then reheat in the oven, air fryer or skillet to crisp back up. Just know a microwave won't get them crispy again.
Air Fryer Edition
If you have an air fryer then you can toss this snack right in for an even crispier result. The recipe instructions change slightly so read on for the modifications:
Preheat the air fryer to 400°F.
Toss the drained and rinsed chickpeas with olive oil and spices in a bowl until well coated.
Transfer the beans to the air fryer basket and cook 12 minutes, or until the desired crispiness is reached. Remove the basket half way through baking and shake well to make sure the beans cook evenly.
Allow to cool slightly before enjoying!
Super similar to my oven-baked recipe yet takes less cook time and you don't have to pre-cook the garbanzo beans before adding the spices. Let me know if you try them this way!
FAQs
Are chickpeas a good snack?
Chickpeas aren't just a good snack, they're a great snack! Packed with 10 grams of protein per serving, you can enjoy them as is, mixed into a salad, or mixed with some trail mix. They are easy to make and easy to enjoy.
Can you eat chickpeas out of the can?
Yes! Canned chickpeas are cooked, so feel free to eat them straight from the can… after washing and rinsing. They are soft like other beans and fairly mild in flavor.
What happens if you don't drain and rinse canned beans?
Canned beans are packed with sodium, so rinsing them before consuming can cut down on the amount of sodium that you consume… if you don't need it then why eat it?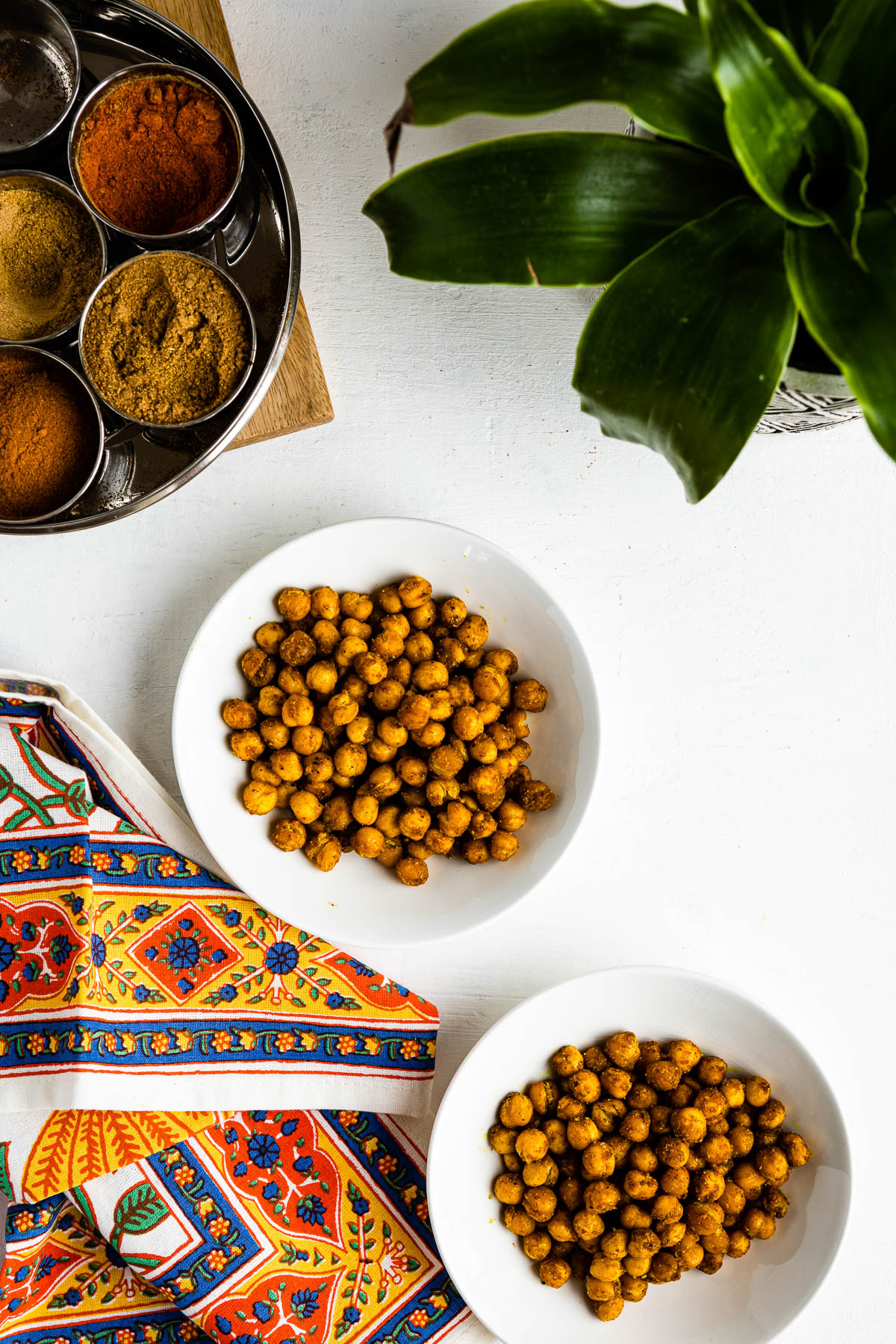 More Protein-Packed Snacks
I just have to laugh when I hear people say you can't get enough protein on a plant-based diet. Oh how wrong they are when there is so much protein to be found in plants, along with other amazing vitamins, minerals and nutrients our bodies need to thrive. Here are a few of my fav plant-based protein snacks:
I can't wait for you to try this amazing snack! Please rate + review this recipe once you do so I can know how they turned out for you.
Preheat oven to 425°F. Line a rimmed baking sheet with parchment paper.

Drain and rinse chickpeas. Pat dry on a clean towel and transfer to a bowl.

Toss chickpeas with olive oil until well coated.

Place chickpeas on baking sheet, well spread out, and bake 15 minutes.

Remove chickpeas from oven and sprinkle with spices. Return to oven for 10 minutes or until desired crispiness is reached.

Remove from oven and cool slightly before eating.
This snack is best right after cooling. They will lose their crispy texture if they sit. 
Swap the seasoning with the spices of your choice. 
Swap olive oil with avocado or coconut oil.
You can store leftovers in the fridge in an air-tight container. To re-crisp, toss in a skillet on medium heat or reheat in the oven. The microwave will not make them crispy.
You can eat this snack as is, or toss these chickpeas into a salad for the crispiness of croutons yet packed with plant-protein.
Calories: 207kcal, Carbohydrates: 26g, Protein: 10g, Fat: 8g, Saturated Fat: 1g, Polyunsaturated Fat: 2g, Monounsaturated Fat: 4g, Sodium: 823mg, Potassium: 293mg, Fiber: 9g, Sugar: 0.03g, Vitamin A: 33IU, Vitamin C: 0.3mg, Calcium: 74mg, Iron: 3mg