Easy Vanilla Bundt Cake with Cream Cheese Frosting
Topped with a tangy cream cheese frosting, this easy vanilla bundt cake is perfect for any occasion. Top it with colorful sprinkles to add a festive flair to this delicious cake.
When you become a parent, you learn to become a big fan of sprinkles.
I don't think I've ever met a kid who didn't love sprinkles. There's a reason that funfetti cupcakes are always a hit at a kid's birthday party! 
So I was really excited when I made this easy vanilla bundt cake, topped it with cream cheese frosting, and finished it with rainbow sprinkles and realized it looked like a giant donut. I knew Elle would be super excited about it, too.
I think it would be equally adorable with different seasonal sprinkles, too – orange and black for Halloween, red and green or shades of blue for the winter holidays, or even greens for St. Patrick's Day.
Life really is more fun with sprinkles and cake.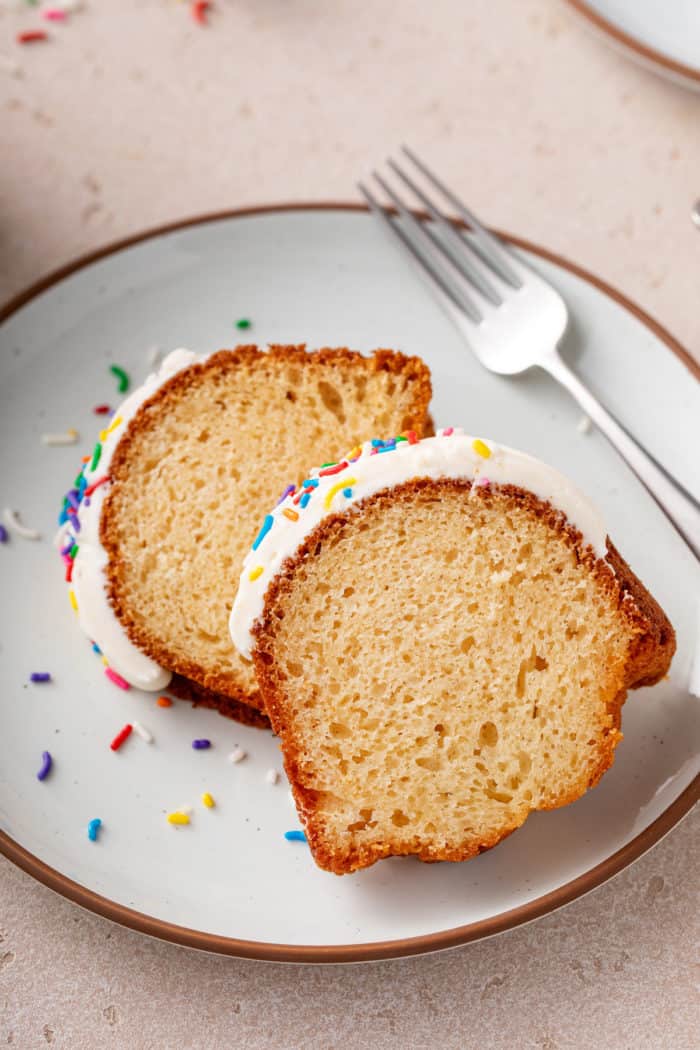 HOW TO MAKE THIS EASY VANILLA BUNDT CAKE
A lot of people wonder if you can just take any old cake recipe and turn it into a bundt cake. The answer is…sort of. 
Yes, a lot of cakes can be turned into bundt cakes, but sometimes they need a little tweaking for that.
So I really recommend starting with a recipe that is already tested as a bundt cake, such as this easy vanilla bundt cake recipe – that way you know it will work well in those beautiful bundt pans!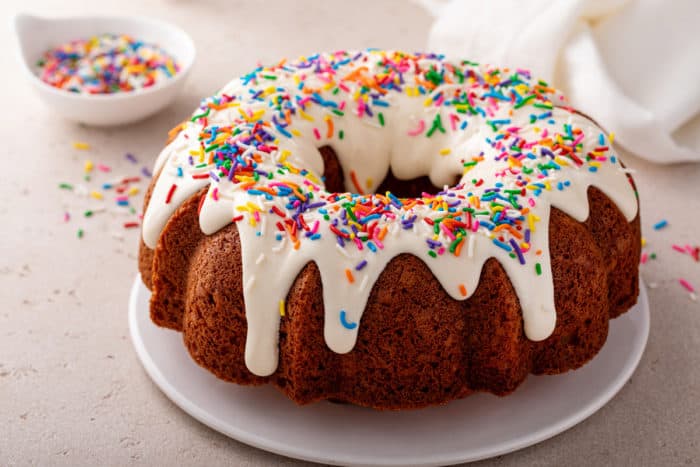 Ingredients you'll need
This is yet another doctored cake mix recipe. It might seem like I'm obsessed, and that's because I am.
I love baking from scratch – but I don't always have time. I'm a busy mom of two and sometimes I need to get a recipe in the oven FAST. That's when recipes like this easy vanilla bundt cake come in handy.
For the cake, you'll need:
1 white cake mix
1 box instant cheesecake pudding mix
¾ cup milk
¾ cup vegetable oil
4 large eggs
2 teaspoons vanilla paste or extract
1 teaspoon almond extract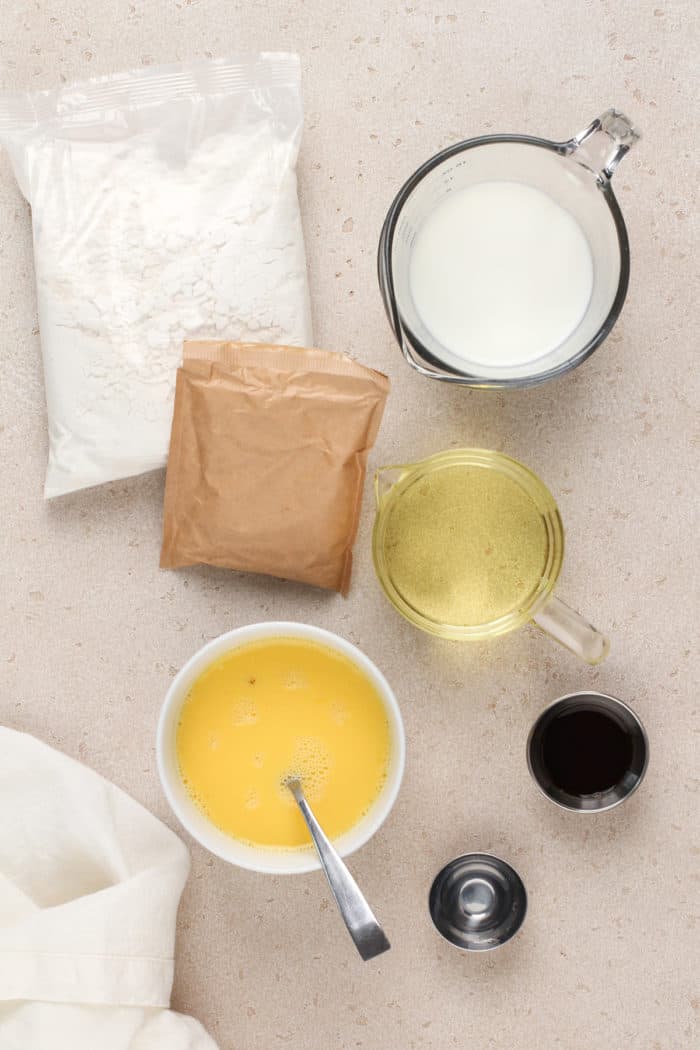 Because we're adding a cream cheese frosting to the cake, I like to use the cheesecake pudding to bring some of that tanginess into the cake itself. 
If you can't find cheesecake pudding mix, you can use a box of instant vanilla pudding mix instead.
The frosting is a smaller batch of my cream cheese frosting recipe. You'll need:
4 ounces cream cheese
2 tablespoons unsalted butter
2 cups powdered sugar
1 teaspoon vanilla paste or extract
Both the cream cheese and the butter need to be softened to room temperature. Check out my tips for how to soften butter and how to soften cream cheese.
If you're out of powdered sugar, I have a post on how to make powdered sugar that might just save you a trip to the grocery store!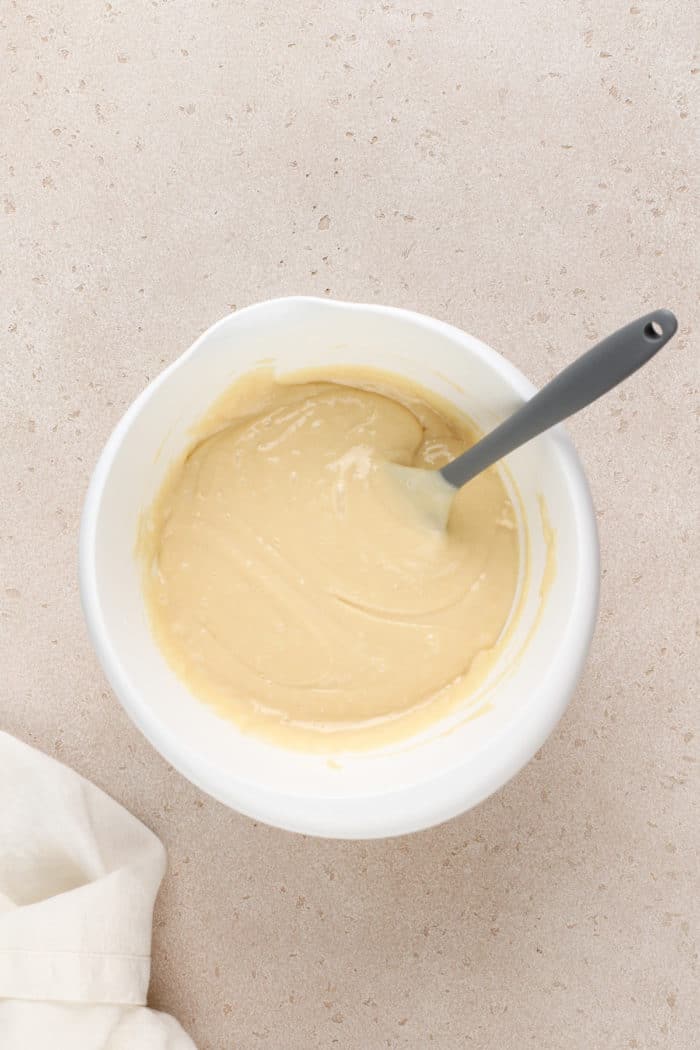 Making this recipe
To make the cake, mix together the cake mix, pudding mix, milk, oil, eggs, vanilla, and almond extract with a mixer. Beat for about 2 minutes, until well combined.
Pour the batter into a bundt pan that has been sprayed with a nonstick baking spray. Bake for 40-45 minutes – the cake is done when a toothpick or tester inserted in the center comes out clean.
Let the cake cool in the pan for about 45 minutes before turning it out from the pan to finish cooling.
Once the vanilla bundt cake has finished cooling, mix together the cream cheese frosting.
Using a stand mixer with the paddle attachment, cream the butter and cream cheese together for about 5 minutes. 
With the mixer turned to low speed, slowly add the powdered sugar. Once that is well combined and smooth, add the vanilla extract. Return the mixer to medium speed and beat for 5 more minutes.
Spread the frosting onto the cooled cake and decorate as desired with sprinkles. Rainbow sprinkles will make it look like a giant donut, or you can use colored sprinkles for different holidays.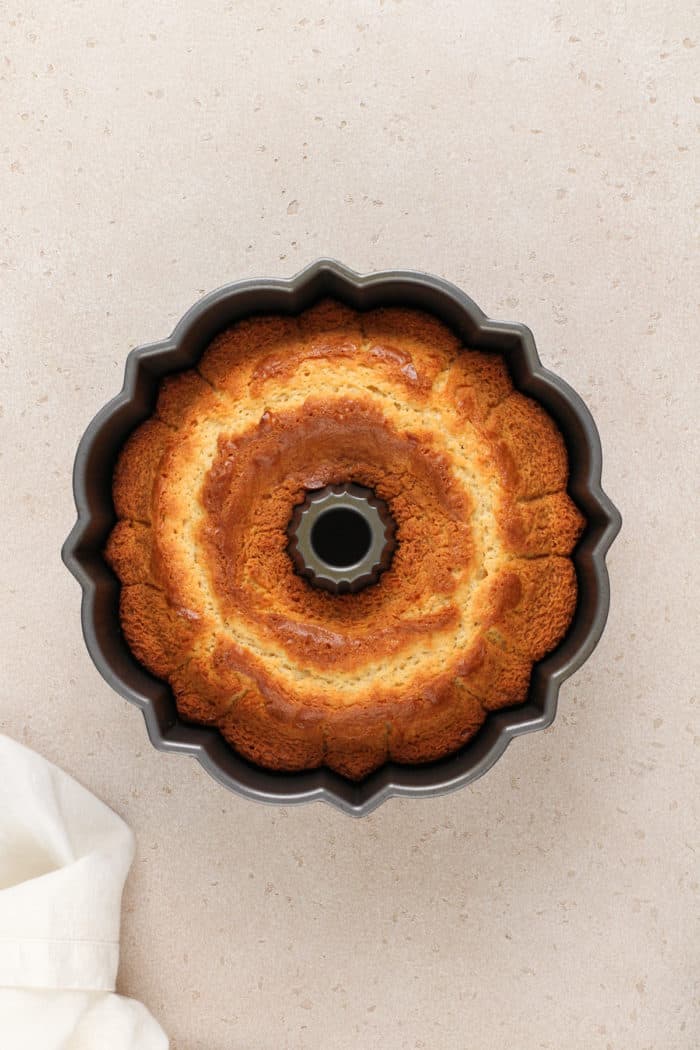 BUNDT CAKE FAQS
How do I keep my vanilla bundt cake from sticking to the pan?
Even though a lot of bundt pans have a nonstick coating on them, cakes are still pretty likely to stick because of the detailed designs.
To prevent this, I recommend using a nonstick spray that is specifically designed for baking. It will have flour in it that helps the cakes release better.
If you have a really detailed bundt pan, you may want to grease and flour the pan by hand, making sure to really focus on all of the little nooks and crannies. 
I also think it helps to let the bundt cake cool in the pan for at least 30-45 minutes before trying to turn it out from the pan.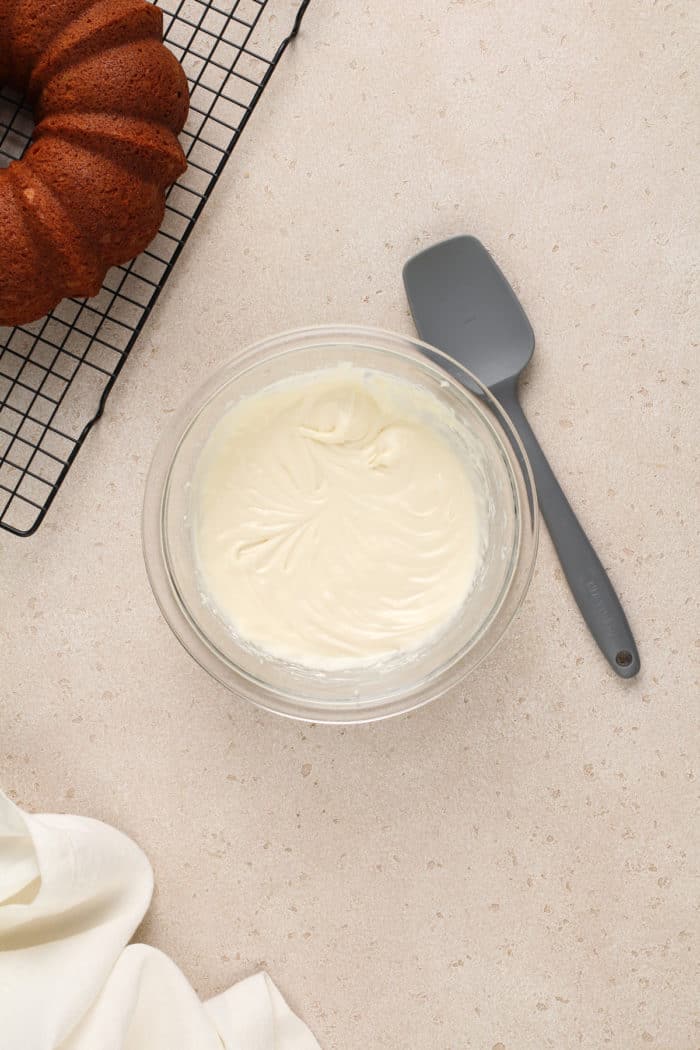 How can I change up this vanilla bundt cake recipe?
As I mentioned above, if you can't find cheesecake pudding mix, you can always use a vanilla pudding mix.
If you want to add some citrus flavor to the cake, try using a lemon pudding mix, omitting the almond extract, and adding some lemon zest to the batter.
You could even fold some mini chocolate chips or white chocolate chips into the batter. 
I don't like cream cheese frosting. Is there another frosting I can use?
Of course! You could use a classic buttercream frosting or whipped cream frosting, or swap the frosting for a simple glaze or drizzle of chocolate ganache.
Or you could leave off the frosting entirely and go with a dusting of powdered sugar!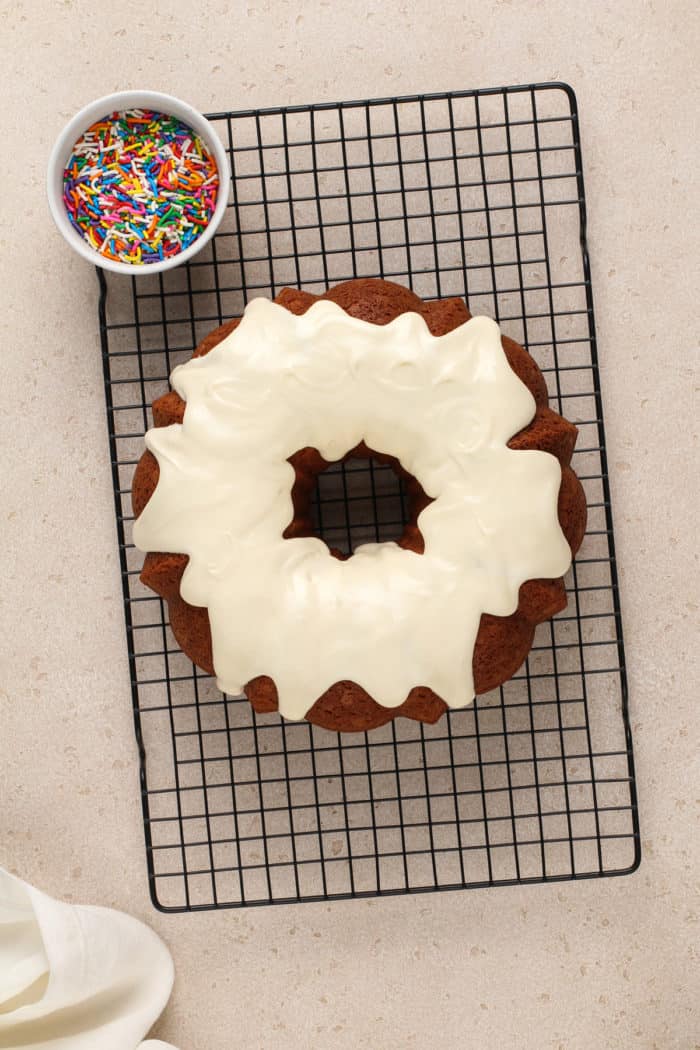 How long will this cake last?
Store this easy vanilla bundt cake in the refrigerator for up to 5 days. If you leave off the cream cheese frosting, you can store it at room temperature for up to 3 days.
Can I make this cake ahead of time and freeze it?
Yes! For the prettiest end result, I recommend freezing the cake without the frosting. Follow the instructions for freezing unfrosted cake layers in my tutorial on how to freeze cake.
You can also freeze the cream cheese frosting; place it in an airtight container and freeze for up to a month. Let it thaw in the refrigerator overnight, then come to room temperature before whipping it with an electric mixer for a minute or two.
Top the thawed cake with the frosting and no one will guess you froze it before serving it!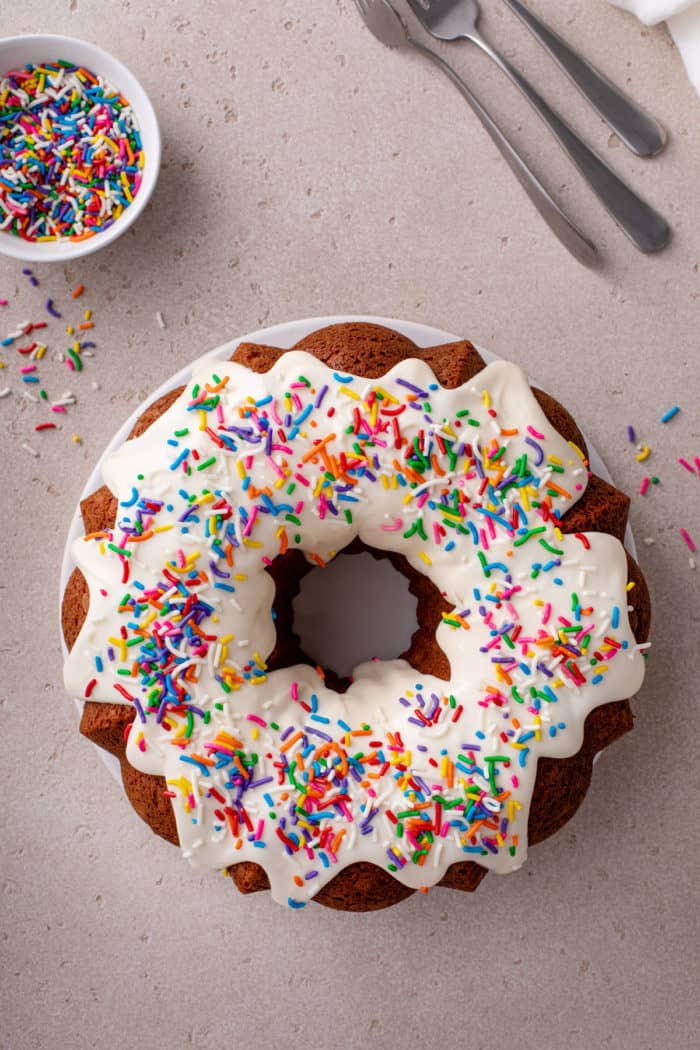 MORE DELICIOUS BUNDT CAKE RECIPES
If you love this easy vanilla bundt cake, I've got a ton of great bundt cake recipes for you to try!
Chocolate Chip Bundt Cake
This simple and delicious chocolate chip bundt cake is drenched in a chocolate ganache glaze for decadence in every bite. Even better, this recipe starts with a cake mix, so it's always easy to make!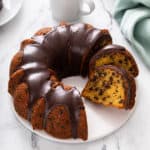 Easy Chocolate Bundt Cake
Craving a rich, decadent chocolate cake? This Easy Chocolate Bundt Cake is made by doctoring up a cake mix to turn it into an incredibly moist, perfect chocolate cake.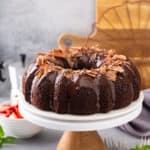 Cranberry Orange Bundt Cake
Cranberry Orange Bundt Cake is an easy and beautiful cake to feed the whole family during the holiday season. This tart and sweet bundt cake is topped with an orange glaze for the perfect finish.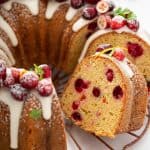 Pumpkin Bundt Cake with Cream Cheese Frosting
This Pumpkin Bundt Cake is a fall classic. Topped with cream cheese frosting with just a bit of pumpkin pie spice, this cake is a slice of comfort on a plate.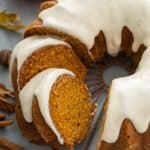 Lemon Zucchini Cake
Lemon zucchini cake is light, delicious and loaded with a bright, lemony flavor. Enjoy it with a cup of tea for breakfast or snack time – or both!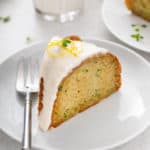 Cream Sherry Bundt Cake
This cream sherry bundt cake is my favorite part of the holiday season. It's super simple to make and only uses 6 ingredients! Lightly dust with powdered sugar before serving.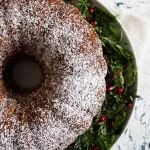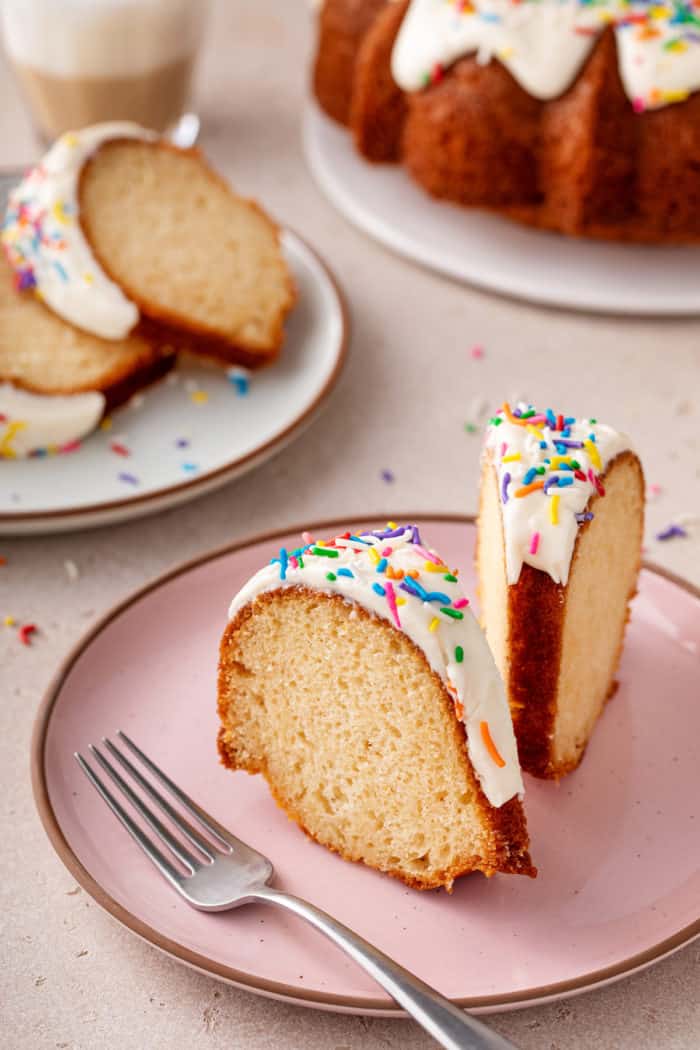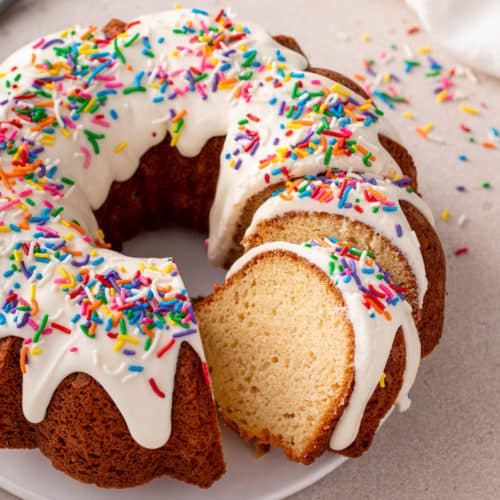 For the Cheesecake Frosting:
Preheat oven to 350°F. Spray a 12-cup bundt pan with nonstick cooking spray – preferably one for baking. This will help ensure a clean release of the bundt cake from the pan.

In the bowl of a stand mixer, fitted with the paddle attachment, or with a hand mixer in a large bowl, beat together the cake and pudding mixes, milk, oil, eggs, vanilla and almond extracts. Beat for about two minutes on medium speed until well combined.

Pour batter into prepared pan and smooth the top with a spoon or spatula.

Bake in preheated oven for 40-45 minutes, or until a toothpick inserted into the center comes out clean. Allow the cake to cool on a wire rack for 45 minutes before inverting onto a serving plate.

Once the cake has cooled completely, prepare the cream cheese frosting.

In the bowl of a stand mixer fitted with the paddle attachment, cream together cream cheese and butter until well combined, about 5 minutes, scraping the sides of the bowl with a spatula as necessary.

With the mixer on low, gradually add the confectioners' sugar until thoroughly incorporated and smooth. Add vanilla and mix to combine. Turn the mixer to medium speed and mix for approximately 5 more minutes, scraping the sides and bottom of the bowl with a spatula as necessary.

Spread onto cooled cake. If desired, top with sprinkles – the cake will look like a giant donut with sprinkles.
My favorite brand of cake mix for these doctored cake mixes is Betty Crocker.
Serving: 1slice | Calories: 475kcal | Carbohydrates: 65g | Protein: 5g | Fat: 22g | Saturated Fat: 7g | Polyunsaturated Fat: 9g | Monounsaturated Fat: 5g | Trans Fat: 0.4g | Cholesterol: 71mg | Sodium: 467mg | Potassium: 84mg | Fiber: 0.5g | Sugar: 46g | Vitamin A: 289IU | Calcium: 131mg | Iron: 1mg
The default measuring system on My Baking Addiction is US Customary. Unit conversions are provided as a courtesy; please be aware that there may be some discrepancies.
Card may contain affiliate links. As an Amazon Associate and member of other affiliate programs, I earn from qualifying purchases.
Source link