Essential French Onion Soup
Say hello to the most delicious homemade French onion soup we've ever made. Thanks to a simple broth, caramelized onions, garlic-rubbed bread, and melted cheese, it's the perfect comfort food. Jump to the French Onion Soup Recipe
Before researching how to make French onion soup, I assumed it was difficult with a long list of ingredients. But, to my surprise, French onion is relatively straightforward to make at home. All you need are a few tips for success!
How to Make the Best French Onion Soup
So what makes for the best French onion soup? The onions. The secret to making rich, intensely flavored soup is how we cook the onions. Caramelizing onions is a simple process:
Thinly slice a lot of onions (by a lot, we need 6 to 7 medium onions for a soup that serves four).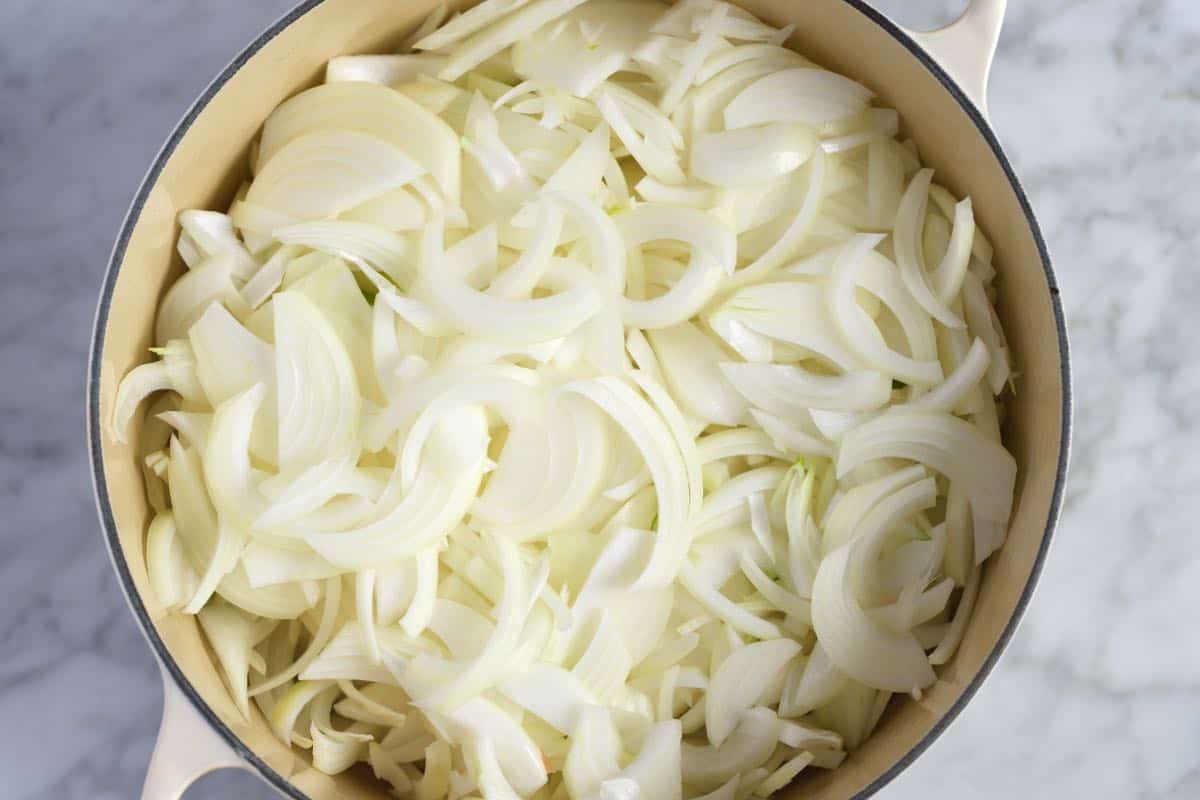 Sweat the onions in butter with the lid ON for about 12 minutes. This step starts the process and releases some liquid from the onions, helping us slowly caramelize the onions later on.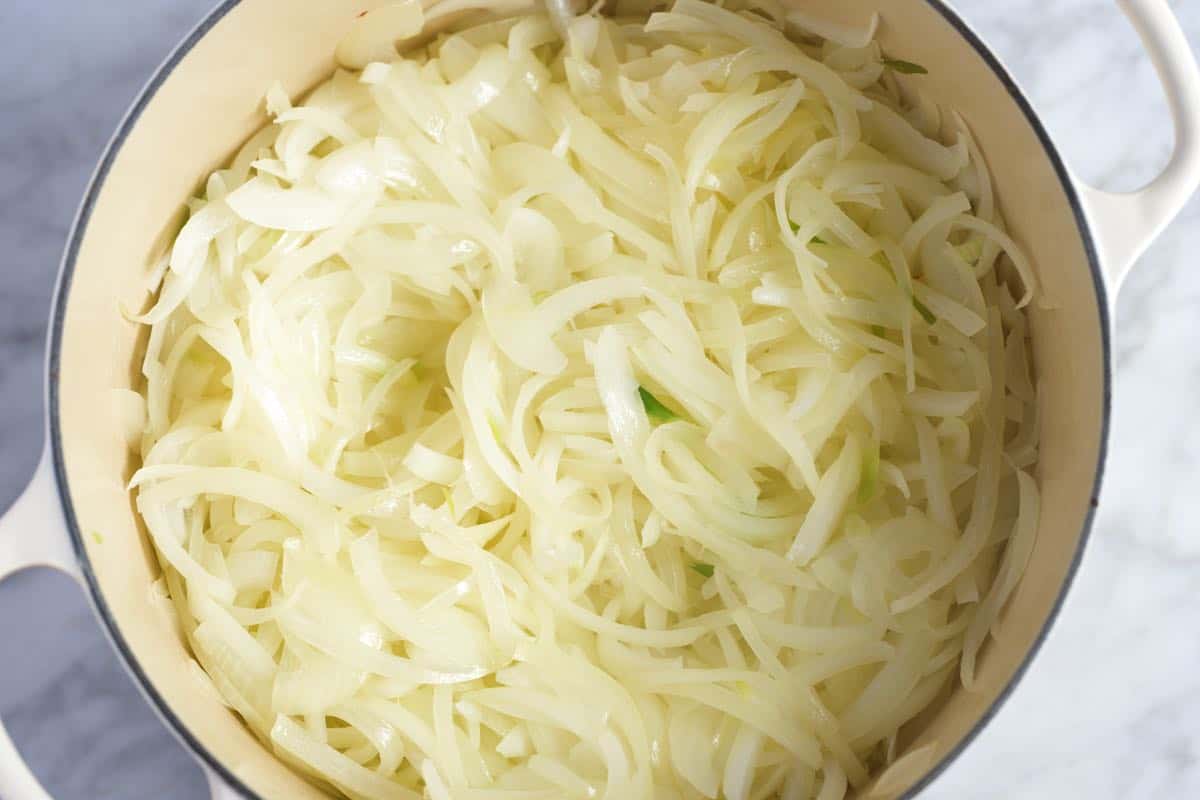 Cook the onions over medium heat, stirring often, until they look golden and caramelized — this takes me somewhere between 40 and 50 minutes. Do you see why we started with so many onions? They cook down a lot!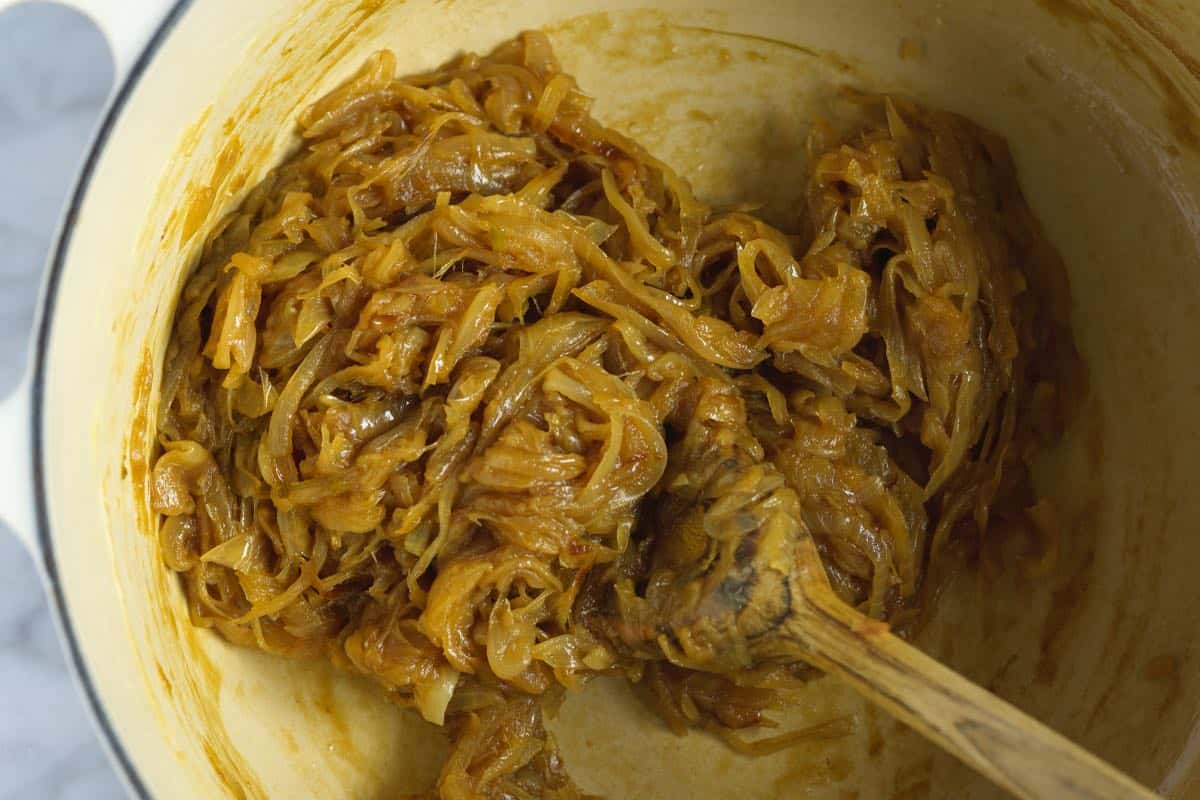 I know that's a bit of a process, but trust me, focus on the onions, and you're 99% there to some of the best-tasting French onion soup you've had.
Here are a few more tips when caramelizing the onions:
Use a wide heavy-bottomed pot, like a Dutch oven, or a wide stainless steel pot, like a Rondeau. Both of these options work well for caramelizing onions.
Stir the onions often, and ensure you scrape up any browned bits stuck to the bottom and sides. Incorporating those browned bits helps add color (and flavor) to the onions.
Pay more attention 20 minutes into cooking, since they cook more quickly at this stage. They can go from browned to burnt if you don't keep a close eye.
Use our photos as a guide for when the onions are ready. They will look golden brown and smell caramelized.
When your onions caramelize, you are 99% there. Now it's time to turn them into a delicious soup. First, we deglaze the pot with sweet vermouth and dry white wine (or my favorite, Lillet Blanc). The vermouth and wine add complexity to the soup. For tips on substituting or leaving them out, see below.
Finishing the Soup
Now it is time for some broth — we love using this chicken broth — fresh thyme and a bit of salt. The broth simmers with the onions for five minutes, and then we turn off the heat and let everything steep like tea while we prepare the bread and cheese.
We typically use a French baguette, but you can use any simple rustic bread. Slice it into 1/2-inch slices, toast it, and then rub it with garlic. The garlic is a game-changer, and I honestly don't know if I could ever enjoy a bowl of French onion soup without garlic-rubbed bread.
For the cheese, we use Gruyere, and I love it, but you can add or substitute parmesan cheese and possibly a fontina or mozzarella if that is all you have.
This soup is thick, thanks to the bread and all those delicious caramelized onions. Traditionally, French onion soup was a peasant dish using stale bread and onions. Our version isn't brothy, and the longer the bread sits in the soup, the less broth you'll have since it soaks it all up (yum).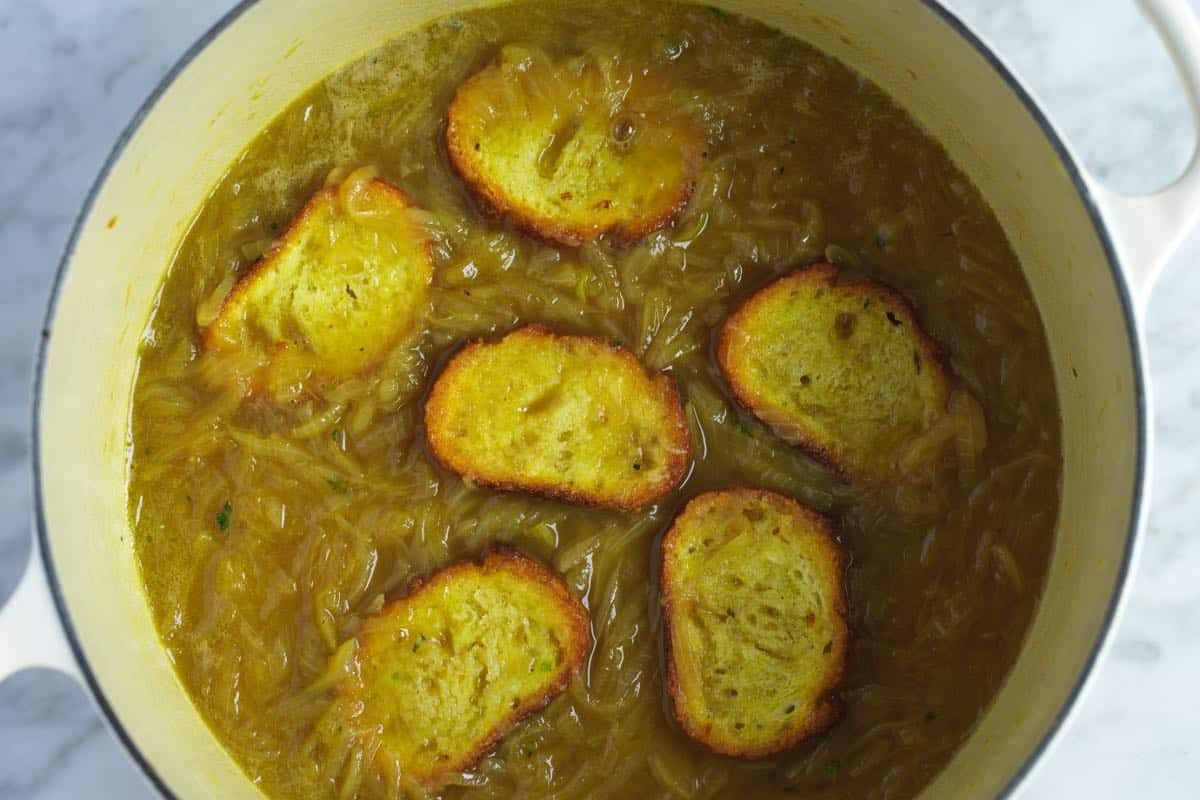 To slow this down a little, before assembling the soup bowls, we dunk our toasted and garlic-rubbed bread slices in the soup. This way, when you ladle your soup into the bowls, the broth won't completely disappear on you. You can thank Chef Richard for that tip! It's such a great idea.
And there you have it, the most delicious homemade French onion soup we've ever made. I genuinely hope that you try it! This French onion soup recipe is part of our chef series, where we share recipes from our friend and renowned chef, Richard Hattaway. He knocked this one out of the park!
Alternatives to the Alcohol
Our recipe calls for sweet vermouth (or brandy) and dry white wine. If you would prefer to leave out the alcohol, you can. The wine and vermouth make the soup taste more exciting and complex, but it is still quite delicious without them. If you leave them out entirely and find that the soup is missing something, try adding a splash of sherry vinegar and possibly a little Asian fish sauce (I know it sounds odd, but it does wonders in the flavor department of savory dishes like French onion soup.)
On a similar note, if you only have one or the other — say, for example, you have a dry white wine but not sweet vermouth on hand, use what you have. You will lose a bit of complexity, but the soup will still be lovely.
Essential French Onion Soup
This recipe for French onion soup makes the most delicious French onion we've ever made. Take care to caramelize the onions since that's where the rich onion flavor will come from. Use homemade broth (chicken or beef) or substitute it with store-bought chicken broth. Unfortunately, we do not recommend store-bought beef broth since we've not found one we enjoy (I find them more salty than flavorful).
Serves 4
You Will Need
3 ½ pounds yellow onions, peeled and thinly sliced (6 to 7 medium)
4 tablespoons (57 grams or 2 ounces) European-style salted butter, like Kerrygold, plus more for bread
1/4 cup (2 ounces) sweet vermouth, sherry, or brandy
1/4 cup (2 ounces) dry white wine or Lillet Blanc; see notes
4 to 5 cups chicken broth or homemade beef stock; see notes
1 teaspoon fresh thyme leaves
1/4 teaspoon fine sea salt, plus more to taste
1 French baguette or rustic loaf, sliced into 1/2-inch slices, 12 slices
2 cloves garlic
1 cup (114 grams or 4 ounces) grated Gruyere cheese
Directions
Make Soup

Melt the butter in a wide pot over medium heat — use a heavy-bottomed or stainless steel pot like a Dutch oven or rondeau.

Stir in the onions, and then cover with a lid. Cook, over medium heat, until the onions look translucent, 12 to 15 minutes.

Uncover the pot, and continue to cook the onions, stirring occasionally and scraping up any stuck browned bits from the bottom and sides. The onions take 45 to 60 minutes to caramelize. Keep a close eye on them. When you notice they begin to brown, stir them more often to keep them from burning.

When the onions are golden and smell caramelized, stir in the vermouth and white wine. Cook, scraping the bottom and sides of the bowl, for about 2 minutes. Continue to the next step when you no longer smell strong alcohol and instead smell sweet onions with the aromas of the vermouth and wine.

Stir in the broth, thyme, and 1/4 teaspoon of salt. Cover the pot with its lid and bring the soup to a simmer. Simmer for 5 minutes. Taste and then season with additional salt if needed. While Chef Richard suggests 4 cups of broth, we enjoy a bit more liquid and use 5 cups of broth, instead.

Turn off the heat, and allow the soup to steep (covered) while you prepare the bread.

To Serve

Set aside four oven-safe soup bowls (we use cocottes from Le Creuset).

Heat the oven to 400° Fahrenheit. Butter the bread slices, and then line them up on a baking sheet. Bake until golden, 5 to 6 minutes. Allow to cool for a few minutes.

Rub the toasted bread with the garlic cloves, and then quickly dunk the bread into the soup. Dunking the bread first helps to prevent the bread from soaking up all the broth in your bowl when serving.

Place one slice into the bottom of each oven-safe soup bowl and sprinkle a little Gruyere cheese on top. Ladle soup into the bowls and top with two more slices of bread. Top with remaining cheese. Broil until the cheese is bubbly and golden brown.
Adam and Joanne's Tips
Onions: Try this recipe with sweet onions (like Vidalia or Walla Walla) for a slightly sweeter soup. We have noticed that sweet onions brown more quickly than yellow onions, so be careful to keep close when the onions are caramelizing so that they do not burn.
Broth: This soup is excellent with this homemade chicken broth or a high-quality store-bought chicken broth. We have not found a store-bought beef stock we enjoy (most lack flavor and taste salty), so we don't recommend it for this recipe. If you want to use beef broth/beef stock, use homemade.
Alcohol: We use sweet vermouth (Dolin) and Lillet Blanc. Substitute sweet vermouth with sherry (not sherry cooking wine) or brandy. The Lillet Blanc is similar to dry white wine but more aromatic. Your favorite dry white wine is perfectly acceptable. For a non-alcoholic version of French onion soup, leave the alcohol out altogether and season to taste with a splash of sherry vinegar and possibly a dash of fish sauce. When deglazing the pan, use broth. You will lose some complexity in the flavor, but the soup will still be tasty.
Nutrition facts: The nutrition facts provided below are estimates. We have used the USDA database to calculate approximate values.
If you make this recipe, snap a photo and hashtag it #inspiredtaste — We love to see your creations on Instagram and Facebook! Find us: @inspiredtaste
Nutrition Per Serving: Serving Size 1/4 of the recipe / Calories 596 / Total Fat 24.2g / Saturated Fat 13.4g / Cholesterol 67.4mg / Sodium 907.8mg / Carbohydrate 64.2g / Dietary Fiber 7.7g / Total Sugars 21.8g / Protein 22.4g
AUTHOR: Adam and Joanne Gallagher