Fresh Peach Smoothie – Simple Green Smoothies
Indulge in the ultimate summer delight with a sip of pure refreshment! My sweet Peach Smoothie pairs perfectly with a warm, Summer day. Grab your blender, embrace the summer vibes and treat yourself to this heavenly fresh peach smoothie – a pure delight for your taste buds and a refreshing companion for those sunny days ahead.
Peaches are one of summer's best gifts. I love taking my kids to pick ripe, juicy peaches directly from the trees. And it's not just because I love that they directly connect with where their food comes from and who produces or grows it, but because it's so much fun!
Because we end up with a plethora of peaches, I often get them ready for the freezer so I can enjoy refreshing beverages all year or some peach mango sorbet.
Table of Contents
Recipe Ingredients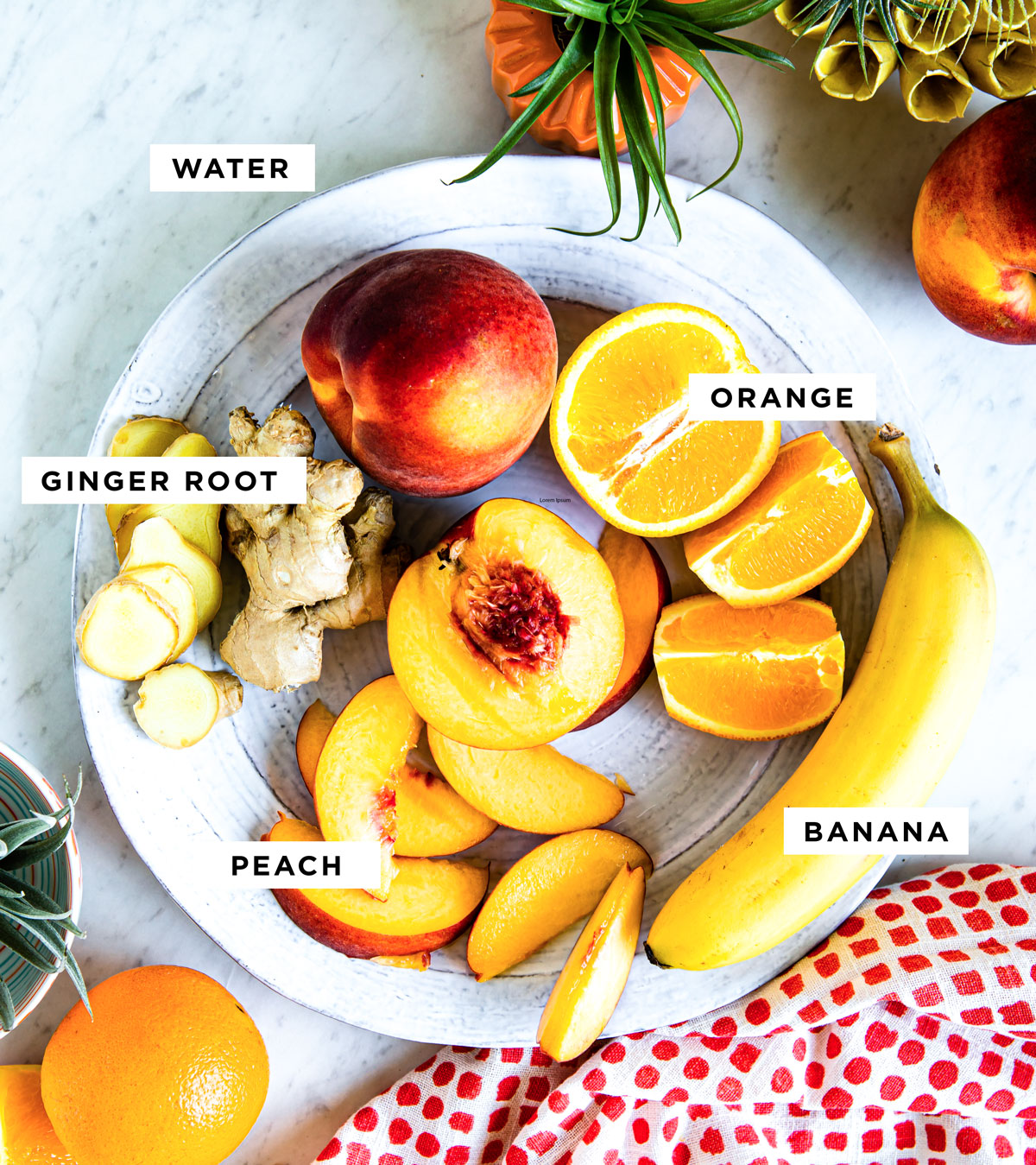 The bright taste of this smoothie can't help but bring a smile to your face as you sip it. I chose ingredients for a tangy yet sweet refresher that will help you beat the heat in the ultimate fashion. Here's what I'm blending in this peach smoothie recipe:
Orange: Fresh orange lightly peeled, still leaving on much of the white pith, brings a whole lot of vitamin C and fiber to this beverage.
Water: I'm keeping it simple by using a liquid base I already have on hand. Since the orange acts as a both a liquid and a fruit, I don't need as much liquid.
Frozen peaches: Fresh peaches work great, yet frozen peaches eliminate the need for ice to cool off this smoothie. If you buy already frozen peaches, you'll get ones that are picked at the height of ripeness, so they will be guaranteed sweet. You can also freeze fresh peaches when they're in season for the best taste.
Ginger root: Adding easy boosters to smoothies can be tasty and beneficial. Ginger is naturally anti-inflammatory plus has a punchy flavor, so adding it into this fresh smoothie is a no-brainer good choice.
Since this smoothie is lighter on the protein and heavier on the natural fruit sugar, I also add in a scoop of my homemade protein powder to boost it by 10 grams of protein and 6 grams of fiber. This takes the smoothie from a snack to a meal.
If you don't have protein powder on hand you can use chia seeds or hemp hearts to add protein + healthy fat.
Smoothie Variations
I know I'm a broken record at this point by saying that I love smoothies because they are so versatile… but it's true! I'll keep shouting it from the rooftops until I see everyone sippin' them. Here are some great ways to zhuzh up this smoothie recipe:
Some smoothies are naturally super thick… this is not one of those. Yet you can easily and a creamy texture by adding in unsweetened greek yogurt, vegan yogurt or canned coconut milk + vanilla.
If the bite from the ginger is a bit too much then tone it down with the natural sweetness from a bit of honey or maple syrup.
If you want to use fresh peaches that aren't frozen, go for it! Add in ice cubes to replace the frozen fruit and ensure you're still sipping a refreshing beverage.
Berries are also ripe and plentiful during Summer, so I often toss in some raspberries or blueberries into this smoothie for a slight flavor variation.
Feel free to swap the water with almond milk or oat milk for a slightly different flavor, while still keeping this smoothie vegan.
How to Blend a Fresh Peach Smoothie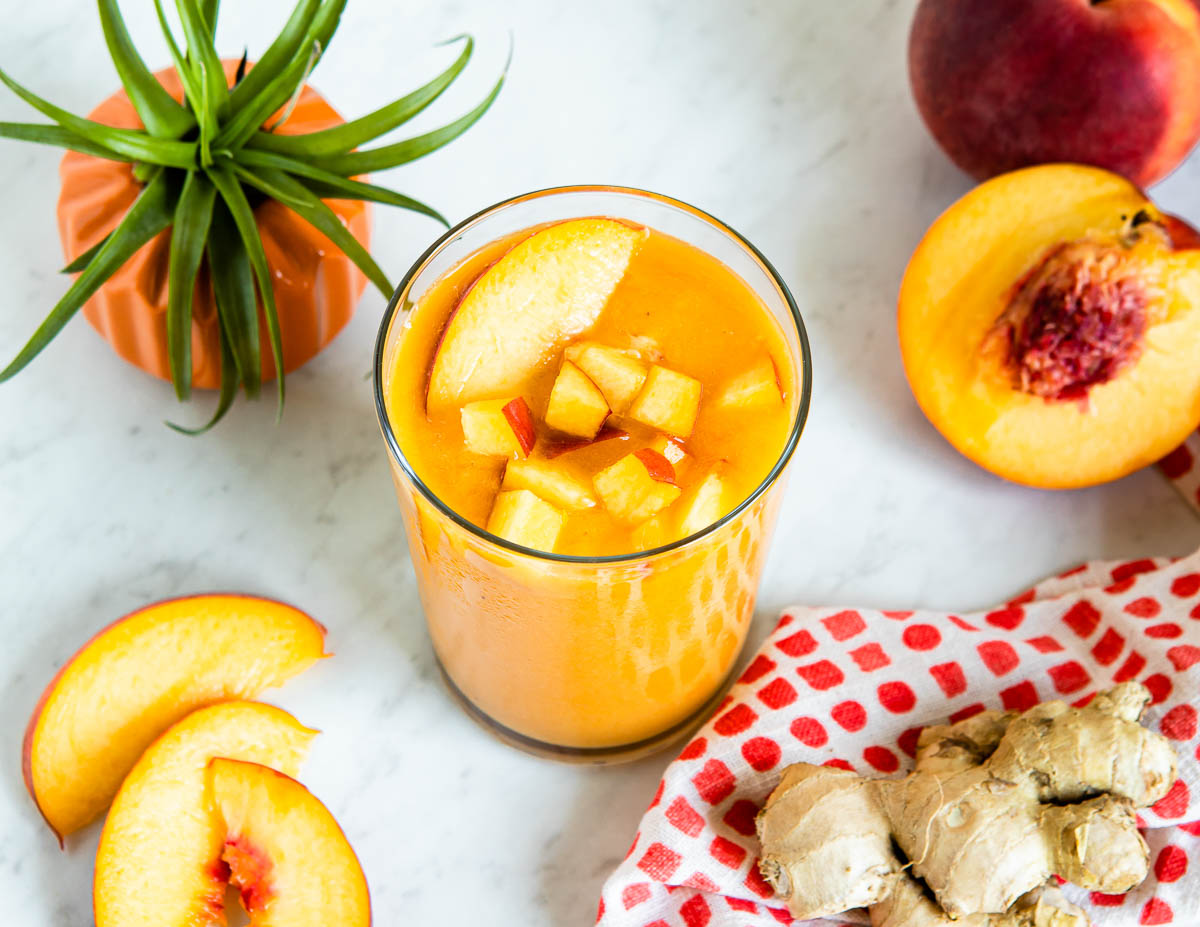 You'll be blending this healthy smoothie on repeat, it's such a good one. And, it takes 5 minutes to put together!
Toss all the ingredients into a blender and blend on high until smooth. Stop and scrape down the sides as needed to eliminate any chunks.
Pour into a glass with your fav straw and enjoy!
Since I'm not using leafy greens in this smoothie, I'm not going to blend it twice. Yet if you do want to make this a green smoothie, then start by blending the leafy greens, orange and water first, then add in the remaining ingredients and blend again for the smoothest texture.
Tools for the Best Smoothie Experience
Texture can change wildly for this smoothie depending on what type of blender you use. I recommend using a high-powered blender for the best results as this will help you enjoy a pulp-free, non-gritty beverage. Vitamix is hands down my fav blender and what I use every single day for blending.
If you aren't using a high-powered blender, you can still create a delicious smoothie with a few tweaks. First, peel your peaches with a paring knife or a great peeler. You'll also want to use that knife to get most of the white pith off your fresh oranges before blending them so that you eliminate those chunks.
Second, sip your smoothie through a good reusable straw. This will protect your teeth and investing in reusable straws can help eliminate waste from plastic or paper straws. Plus, they're super cute and fun!
FAQs
What fruits mix well with peaches?
Ripe peaches pair well with a variety of fruits. If you're looking for a peaches n' cream vibe then blend them with coconut, bananas or avocado. They also pair well with sharper flavors as they provide a sweet balance to foods like ginger or citrus like oranges.
Do you have to peel peaches for smoothies?
Peaches do not have to be peeled for smoothies. While you can if your blender doesn't do a great job blending up the skin, you can totally leave it on for even more nutrients.
What is the best liquid to put in a fruit smoothie?
Liquids for smoothies are often chosen based on the other ingredients you're blending. Try to stick to ones without added sugar like plain water, unsweetened nut/seed milks, or dairy milks if you can tolerate them. I don't often add fruit juice to my smoothies as I find fruit sweetens them enough, and I don't need the added sugar from fruit juice. Unsweetened coconut water or unsweetened tea also work great.
More Peach Recipes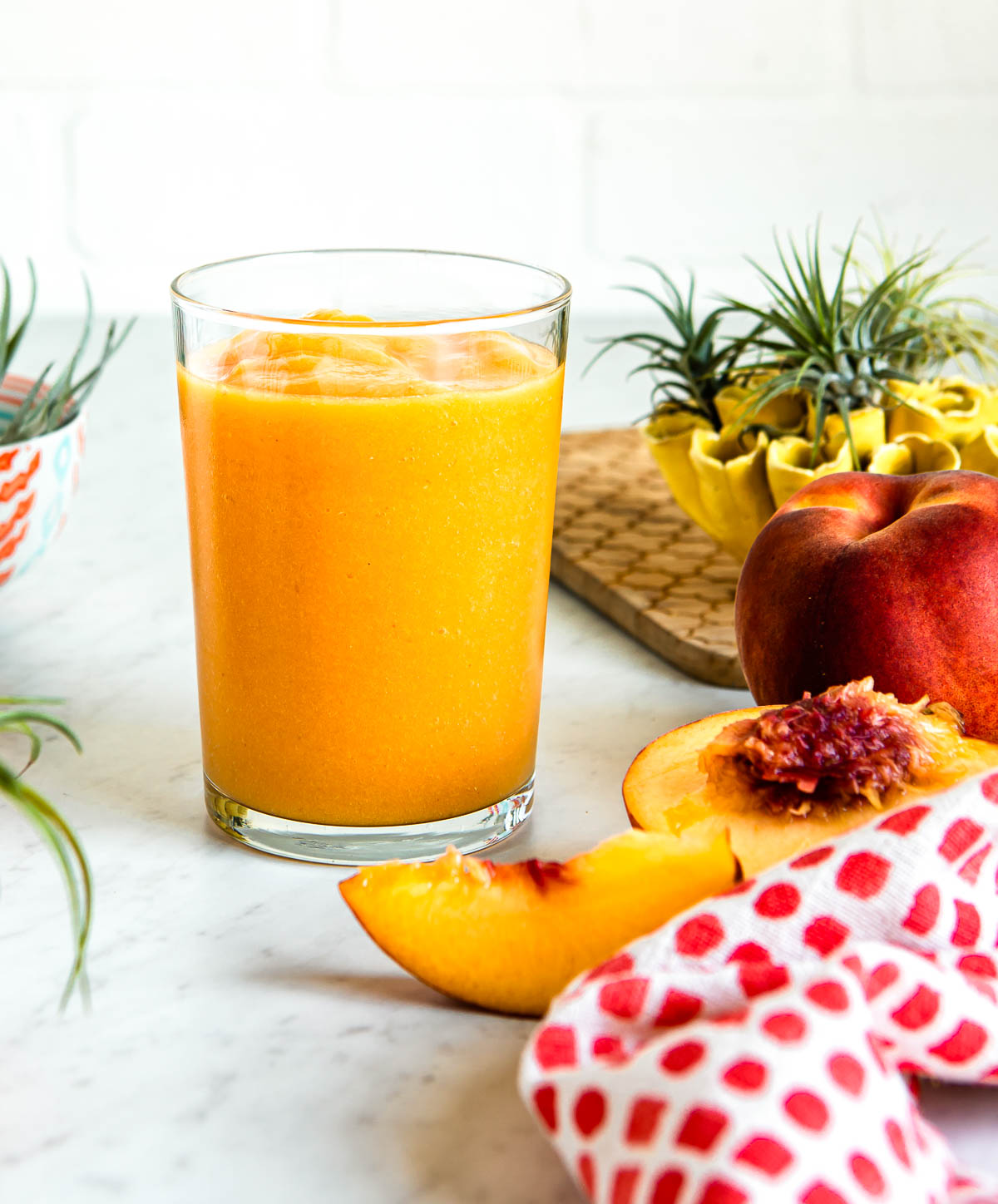 Peach season is way to short in my opinion, which makes eating all sweet fruit I can get my hands on during summertime a top priority. Here are a few ways I like to blend them up:
These all have that token peach flavor while using different ingredients to make each their very own. Try any of these variations then let me know what you think!
Don't forget to rate + review the recipe below, I'd love to hear your thoughts!
Add all ingredients to blender. Blend until smooth, stopping to scrape down the sides as needed.

Pour into a glass and serve immediately.
Other stone fruit can be substituted for the peaches such as plums, nectarines, apricots, pluots, etc.
Omit ginger and add a good pinch of nutmeg and cinnamon for a smoothie that tastes reminiscent of peach pie.
Swap water unsweetened, dairy-free milk 
If your blender is having a hard time blending these ingredients, add just a bit more water.
Calories: 122kcal, Carbohydrates: 30g, Protein: 3g, Fat: 1g, Saturated Fat: 1g, Polyunsaturated Fat: 1g, Monounsaturated Fat: 1g, Sodium: 6mg, Potassium: 566mg, Fiber: 5g, Sugar: 26g, Vitamin A: 900IU, Vitamin C: 50mg, Calcium: 44mg, Iron: 1mg