Fudgy Gluten Free Brownies – The Most Indulgent Vegan Brownies
Rich, fudgy brownies, coming right up! These may be gluten-free brownies yet the thick, rich texture is oh so enjoyable. It's not hard to whip up homemade, dairy-free brownies and this gluten-free brownie recipe has been shared with many of my friends and family…. it really is a winner.
If you've been searching for a recipe for gluten free brownies, then I've got the perfect one for you! This recipe is vegan as well, but that doesn't mean it skimps on flavor or texture. Lean in and I'll share the secret to these magical brownies.
Table of Contents
Ingredients for Gluten-Free Brownies
You'll recognize most of the ingredients in this gluten-free brownie recipe, with a few of my own modifications to keep this as natural as possible:
Gluten-free flour blend: a good blend will have a few different flours mixed in to best mimic a regular flour with gluten.
Almond flour: adds moisture + a nutty flavor.
Sea salt: the perfect way to enhance all the flavors.
Baking powder: adds leavening (a fancy word for helping the brownies fluff up instead of flatten while baking.
Semisweet chocolate chips: I always choose semisweet over milk chocolate for a better, less sweet chocolate flavor.
Coconut oil: my fav oil for, well, everything! Swap with avocado or olive oil.
Cacao powder: the best way to make a rich and fudgy brownie.
Flaxseed egg: this little hack gives you a vegan egg that works like a regular egg!
Coconut sugar: a lovely way to sweeten without using refined sugar.
Maple syrup: provides a deep, richer flavor.
Vanilla extract: a little vanilla goes a long way in finishing this brownie recipe the right way.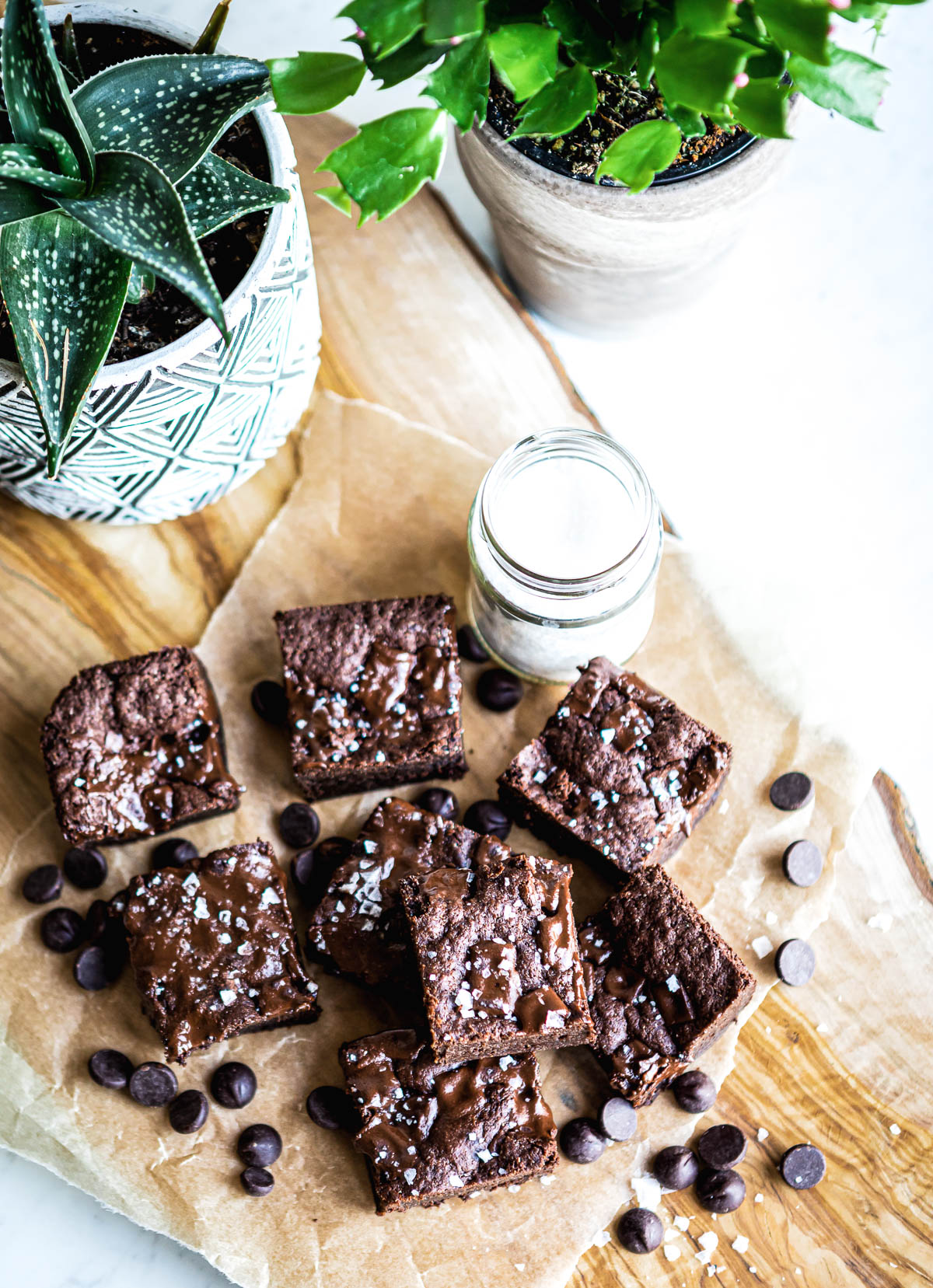 Best Gluten-Free Flours
Using a gluten-free flour blend will give you the best results in this recipe. I like using either King Arthur gluten-free flour or Trader Joe's gluten-free blend. I also add in 1/2 cup of almond flour for extra density, a nuttier flavor and moisture. What is your fav gluten-free flour blend?
Delicious Brownie Add-Ins
Brownies can't be too chocolate-y in my opinion so I love sprinkling some extra chocolate chips on top and gently pressing them into the batter before baking. This gives you ribbons of chocolate throughout the mix.
If you love adding nuts in your dairy-free brownies, then go for it! Both walnuts and pecans are great, rich nuts in brownies. Just make sure they are chopped up and gently pressed into the batter before baking, so that they don't burn before the brownies are finished.
I also can't get over a good sweet-savory mix so adding some coarse sea salt after baking is a great finishing touch.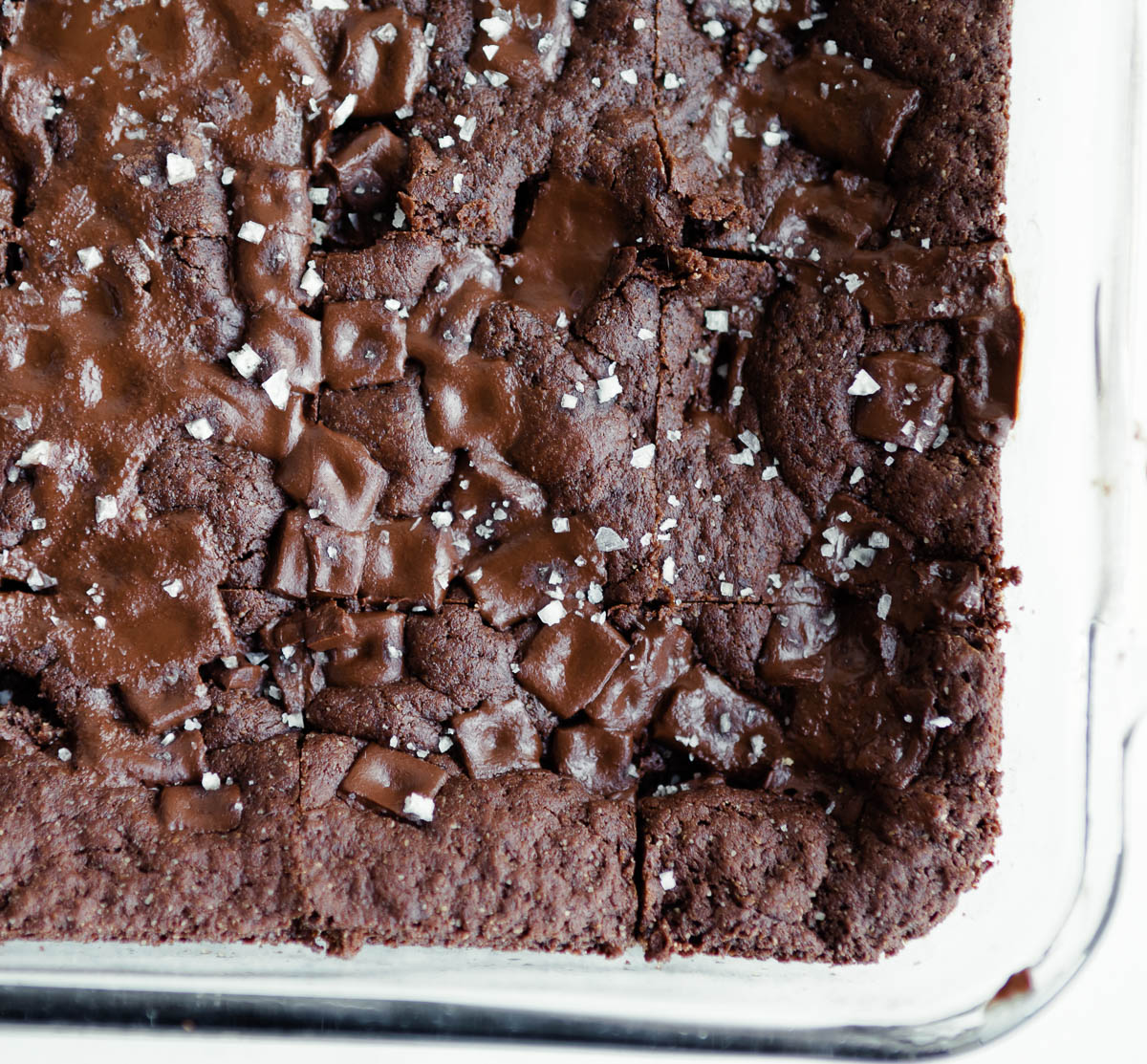 Dairy-Free Brownie Recipe
Whisk together your dry ingredients first. I like to mix the flours together first then add in the sea salt and baking powder for a second good whisk.
Melt the chocolate chips + coconut oil in a sauce pan over medium low heat. Make sure to whisk constantly so that the ingredients don't burn. Once they are melted, turn off the burner and whisk in the flax egg, coconut sugar, maple syrup and vanilla. Pour the wet ingredients in with the dry ingredients and mix until just combined. You don't want to over mix or the brownies won't rise + they will be too stiff.
Spread out the mixture into a greased or parchment lined square pan and use a spatula to fill the pan evenly. Before baking, you can add any extras you want, like chocolate chips or nuts… or both! Gently press them into the batter using the spatula so they can bake into the brownies.
When the dairy-free brownies are thoroughly baked, the center may still look a bit undercooked, but the edges will be dry and set. There may even be a cracked top, though this isn't necessary.
Pro tip: for super clean cut pieces, place the brownies in the fridge to cool before slicing into bars.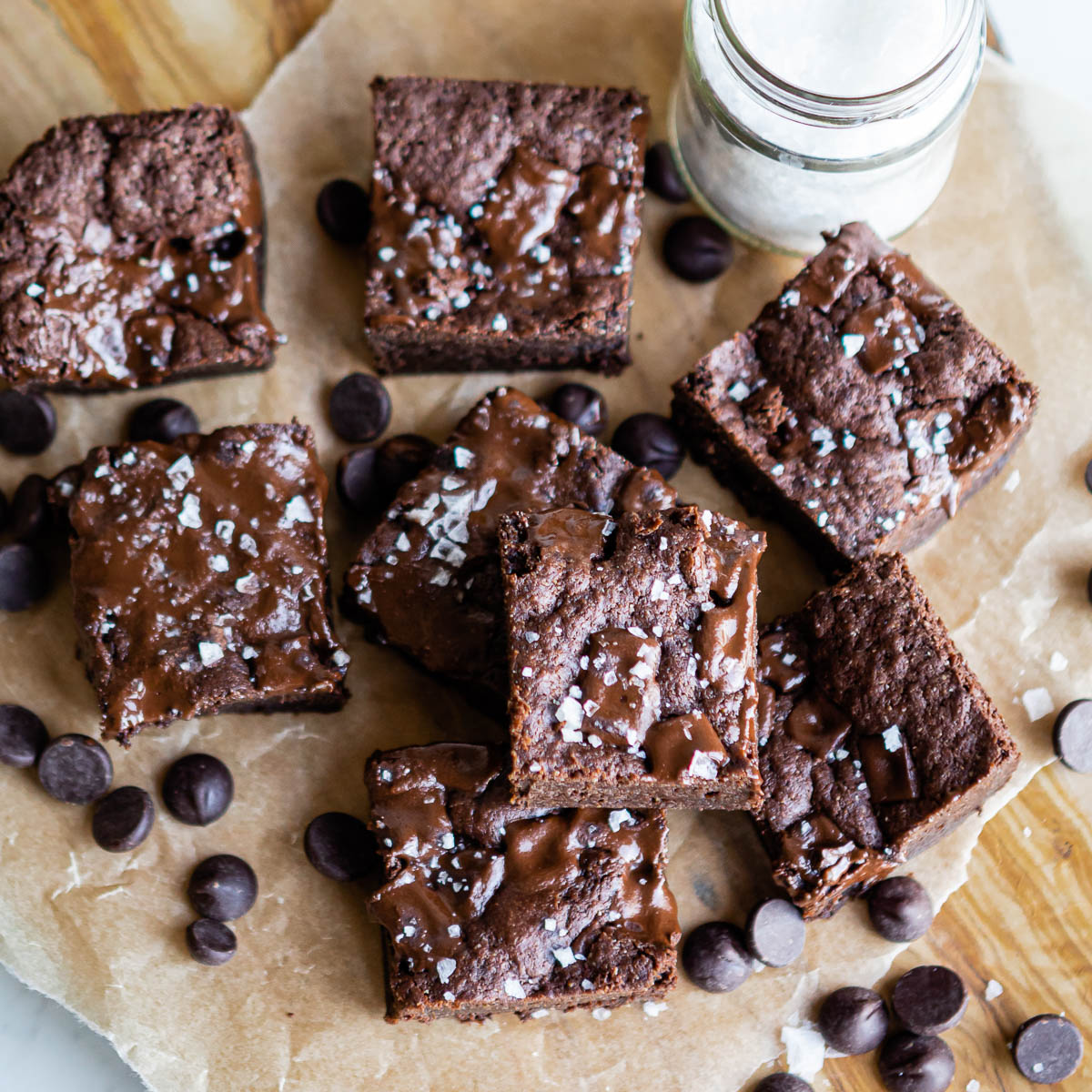 Gluten-Free Brownies FAQs
What's in gluten-free brownies?
My recipe includes a mix of a gluten free flour blend + almond flour. If you want these to be nut free, replace the almond flour with certified gluten free oat flour.
Do regular brownies have gluten in them?
Yes. Most brownie recipes use some kind of flour with gluten in it. Yet my gluten-free brownies are so fudgy you won't even notice the difference!
How do you make brownies fudgy?
Fudgy brownies contain a higher ratio of fat to flour and conversely, cakey brownies have less fat to flour. The amount of sugar and eggs don't make as much of a difference (in fact, my brownies have flax eggs in them!), though brownies made with a small amount of sugar have a tendency to be more dry and brittle.
More Gluten-Free Dessert Recipes
If these gluten free brownies have turned you onto plant based desserts, then check out this list of more great dessert options:
Don't forget to leave a comment + rating to let me know what you think of this gluten free, dairy free brownie recipe!
Preheat oven to 350° F. Lightly grease an 8- by 8-inch square pan. (A 9-inch square pan can also be used, if needed.)

Whisk the gluten-free flour and almond meal together. Whisk in sea salt and baking powder. Set aside.

In a medium saucepan set over medium-low heat, melt chocolate chips and coconut oil together, stirring constantly to avoid burning. Turn off heat and whisk in the cacao powder until smooth. Whisk in the flax egg, coconut sugar, maple syrup and vanilla. Add wet ingredients to dry and mix until just combined.

Spread the batter evenly in the prepared pan. Sprinkle the extra chocolate chips on top and gently press into the batter.

Bake 14-17 minutes or until center looks slightly 'raw' and edges look dry and set. The top should have a dry appearance and may even crack in places. Remove from oven and sprinkle with a small pinch of sea salt over the top. Let cool before cutting into bars.
For extra clean squares, chill brownies before cutting.
1 large egg can be used in place of the flaxseed + water, if you don't want them to be vegan.

Store covered at room temperature or in the refrigerator for up to one week. Can be frozen in an airtight container for up to several months.

Feel free to mix in chopped walnuts when adding the chocolate chips right before baking.
Calories: 222kcal, Carbohydrates: 24g, Protein: 3g, Fat: 14g, Saturated Fat: 8g, Polyunsaturated Fat: 0.5g, Monounsaturated Fat: 2g, Trans Fat: 0.01g, Cholesterol: 1mg, Sodium: 92mg, Potassium: 131mg, Fiber: 3g, Sugar: 13g, Vitamin A: 8IU, Vitamin C: 0.1mg, Calcium: 35mg, Iron: 2mg
Source link