Healthy Green Pear Smoothie – Simple Green Smoothies
Summer is often a time for lighter food fare, and this bright pear smoothie recipe is no exception. It's only 4 ingredients, lighter on the calories and not as thick as some of my more filling healthy breakfast smoothies. Yet it's also sweet, refreshing and perfect for a warm day.
You can easily boost this smoothie to make it a meal replacement, or drink it as-is for a lovely snack. I usually buy a large box of pears as they can be eaten fresh, cooked or tossed in a pear salad. So this smoothie is the perfect way to use up any stragglers.
Or choose your fav green apple smoothie recipe and switch it up with pears! So easy to swap into a variety of recipes.
One sip of this refreshing Pear Smoothie can make all your worries go away… at least for a moment.
Table of Contents
Recipe Ingredients
One reason I love blending this dairy-free recipe is that it's just 4 ingredients! Super simple and easy to toss into the blender. You can boost it in a variety of ways to make it work best for your day, or enjoy it as-is and sip into snack heaven. Here's what I'm blending: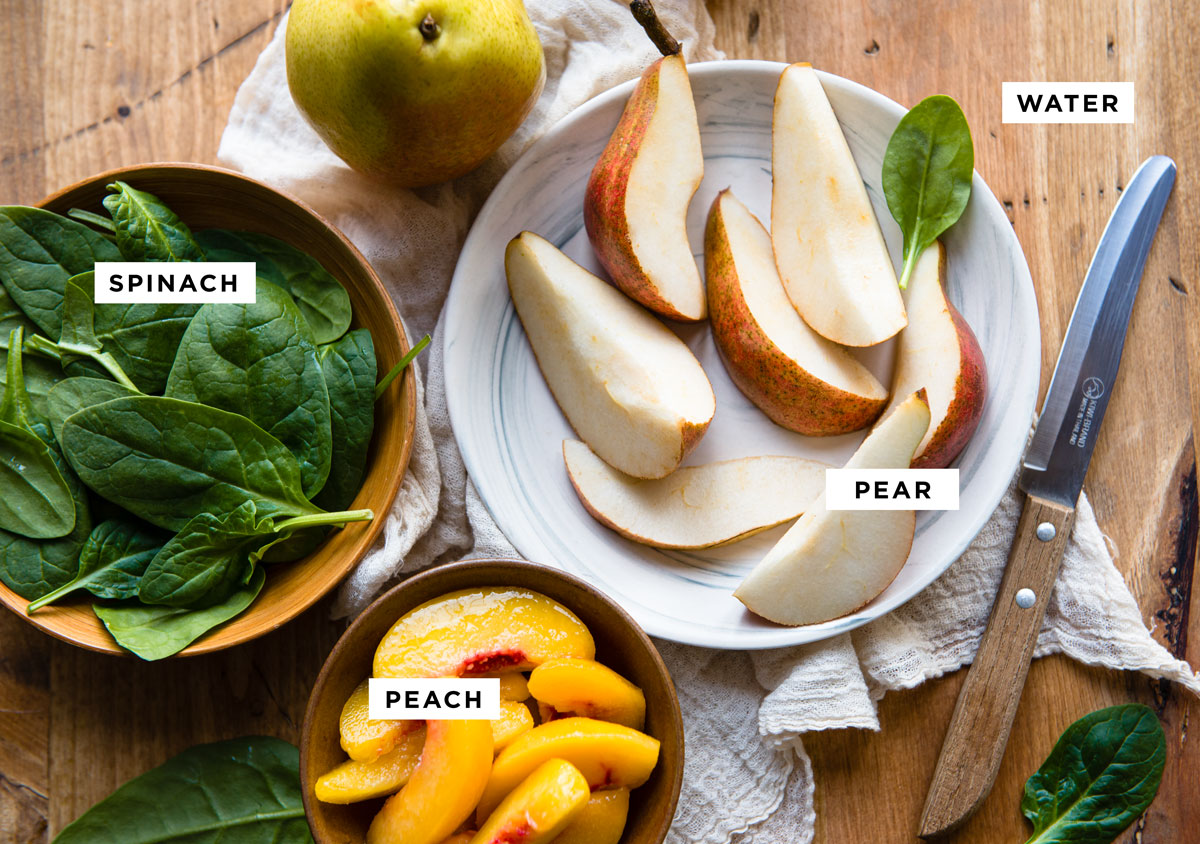 Water: This is the easiest liquid to add to smoothies. You don't need any fancy nut milks (though you can use those!); water really does work great as a liquid base.
Spinach: Packing in those leafy greens can help you get in some great nutrients + protein. Spinach contains 34% of the RDI in 1 serving, plus it's mild flavor blends in nicely.
Pear: This fiber-rich fruit is fairly mild in flavor and not too sweet in my opinion. Pears are full of antioxidants that help fight inflammation, so I love eating them throughout the summer.
Peach: Since pears are mild and not super creamy, peaches help thicken this smoothie as well as provide some natural sweetness.
That's it! Easy to source ingredients make blending a daily smoothie that much easier to achieve.
Easy Smoothie Boosters
Sometimes I make smoothies that are naturally boosted with ingredients to make them protein-dense, full of healthy fat or particularly fiber-full. Yet this one is plain and simple, so you can enjoy it right away or boost how you see fit. Here are some easy ideas to boost this pear smoothie and turn it into a filling snack or meal:
Nut butter: adding a scoop of almond butter or peanut butter can give your body healthy fat to turn the natural fruit sugar into useable energy. This gives your snack smoothie the ability to fill you up.
Homemade protein powder: I utilize this simple mixture in almost all my smoothies to quickly add 10 grams of protein as well as a fiber boost and turn that smoothie into a meal. It's super easy, virtually tasteless and gives me smooth energy without the sugar crash.
Superfoods: If you aren't ready to dive into the world of protein powders then try adding in 1-2 tablespoons of your fav superfood. I love hemp hearts, chia seeds or flaxseed because they are easy to find at the store and easy to toss into a smoothie.
Flavor boosters: To change up the flavor, add in a bit of vanilla extract or cinnamon to bring some warmth, or spice it up a bit with some fresh ginger root.
How to Ripen a Pear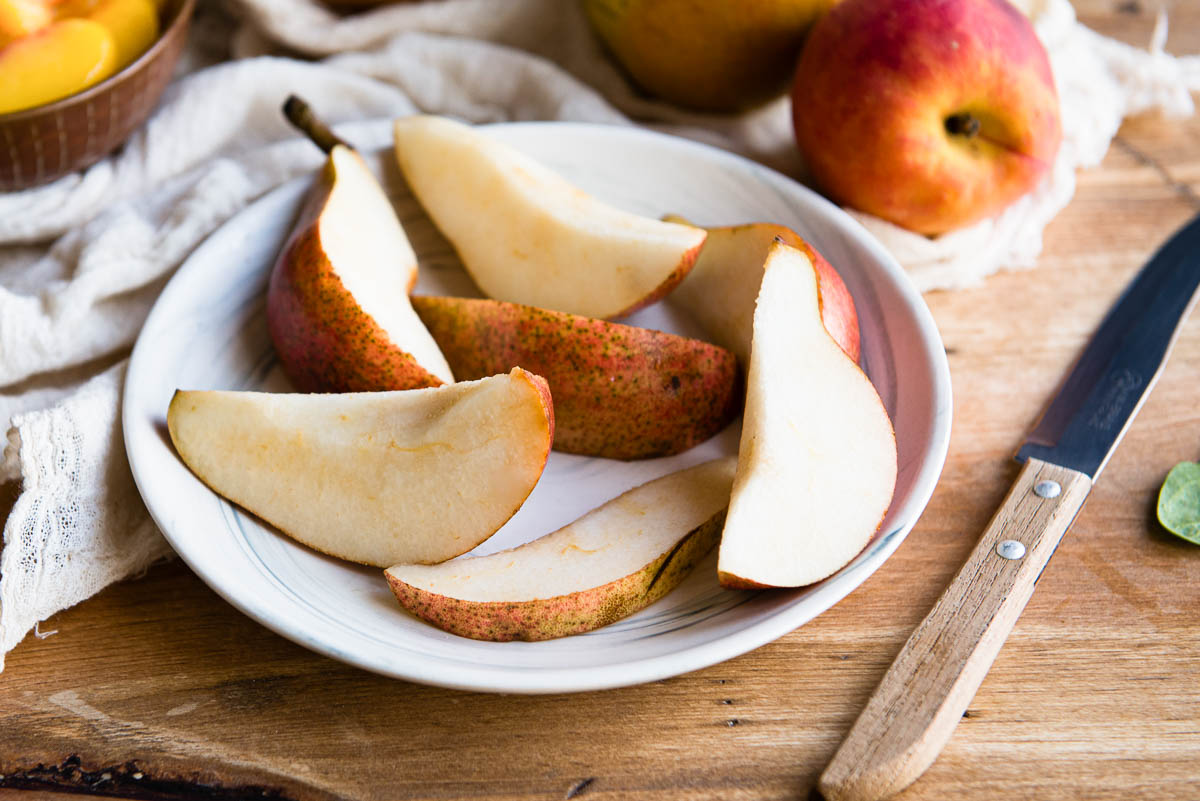 The secret to a good pear smoothie recipe is making sure your pear is ripe so it releases the sweet + juicy goodness your smoothie deserves.
Pears are one of the most underrated fruits out there, though I have a feeling it has to do with how difficult it can be to find a ripe one then enjoy it before it goes bad. Here are a few tips to picking the best pears, and ripening them at home:
Grocery stores often sell super hard pears that need to ripen at home before you enjoy them. Find ones that don't have any cuts or bruises as those will spoil quickly.
To speed up the ripening process, I put pears in a brown paper bag and close tightly. As the pears ripen, a hormone known as ethylene is produced and emitted as a gas that is now trapped in the bag. This allows the fruit to ripen faster and evenly.
If the paper bag isn't doing the trick then try adding a banana in there! Bananas produce ethylene gas and can ripen all the fruit around them.
Its true: The window of perfection is short, yet if you time it right it's spectacular! And trust me, it's worth giving it a shot for this pear smoothie recipe.
How to Blend a Pear Smoothie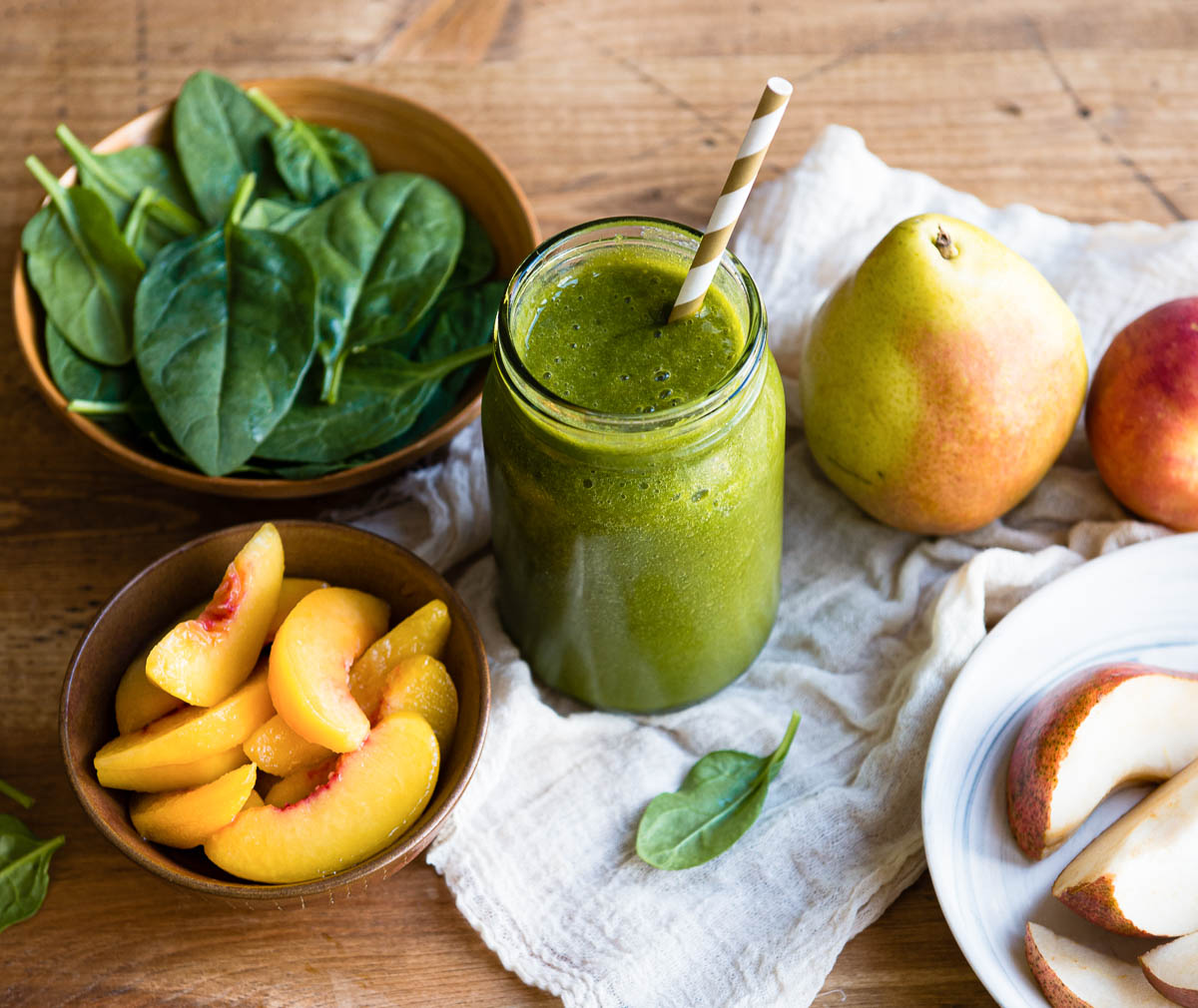 When blending green smoothies I like to use a 2-blend method to ensure the smoothest consistency, even if you're using a high-powered blender.
First, add the water and spinach to the blender and blend on high until there are no leafy chunks left. Stop and scrape down the sides as needed.
Then, add in the peaches, pears and any boosters you want and blend again until smooth. If you add in hemp seeds or chia seeds, it might take a bit longer to blend smoothly, yet it's worth the wait!
In about 5 minutes, you've got a no-fail smoothie!
Fast Ingredient Swaps
As with any smoothie, use what you have on hand or what is easily available. If you want a creamier result, swap water with dairy-free milk like almond milk or oat milk. Make it a super creamy concoction by using canned coconut milk or plain greek yogurt.
To make your smoothie taste sweeter, toss in 1/2 a frozen banana or a touch of honey or maple syrup.
Swap spinach with kale or Swiss chard… or any leafy greens you have on hand. Carrot tops also work great in this recipe, and pair surprisingly well with pear + peach.
FAQs
Is pear and banana a good combination?
Pear + banana pair great together! You're combining the mildly sweet pear with a super creamy and sweet banana. Blend this into a smoothie for a sweet treat.
What fruits go best with smoothies?
Whatever fruit you have on hand can go great in a smoothie. The best combinations are what taste best to you! Feel free to mix and match until you find the flavors you like best. I use the 1.5 + 1 + 1 method: 1.5 cups fruit + 1 cup leafy greens + 1 cup liquid. It is an easy formula to follow and allows me to mix and match fruit with ease.
How often should I drink a fruit smoothie?
I drink a daily smoothie and sometimes 2 per day! Listen to your body and determine what works best for you, or talk with your physician about a good eating plan for you. My body loves a green smoothie in the morning that's boosted with protein powder to keep me full longer. Then at lunch I often drink a smaller green smoothie alongside some hummus + veggies or crackers, or something else.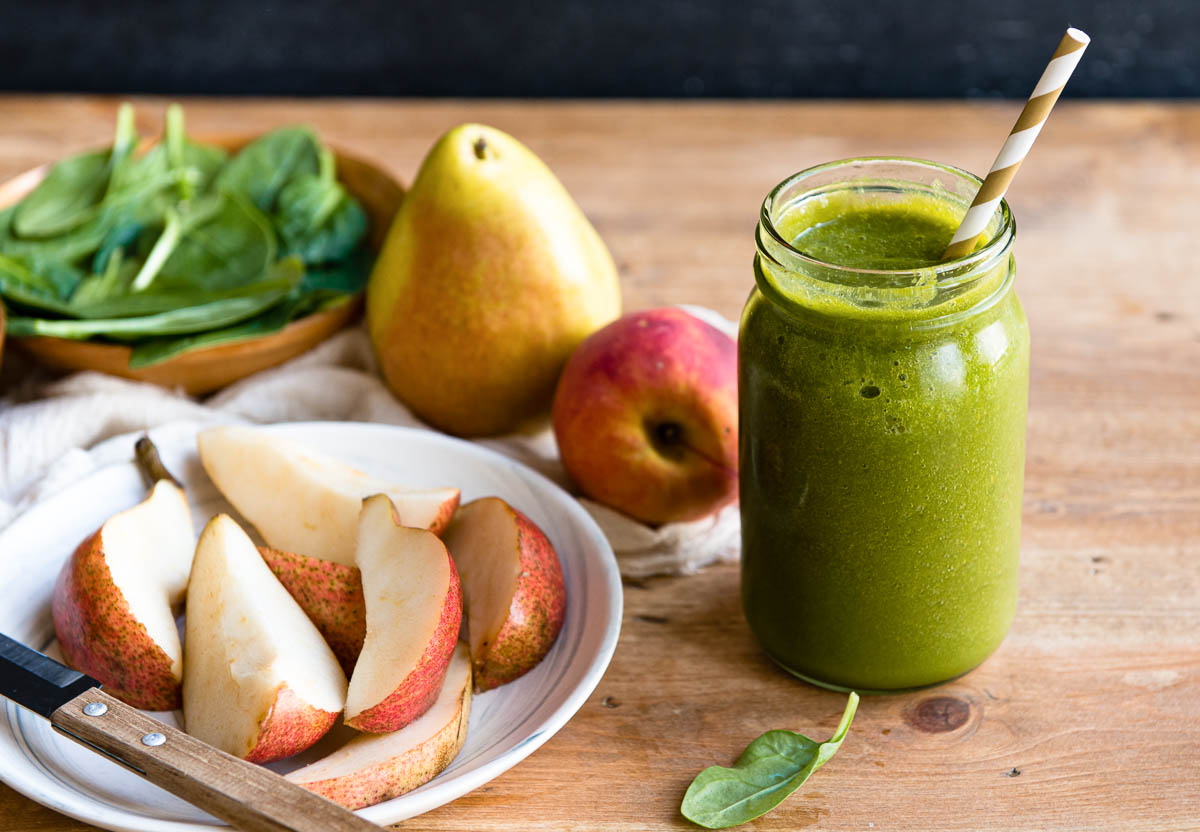 More Recipes with Pear
Do you ever find that fruit bought at the same time often ripens at the same time?! If you've got 4 pears on hand about to ripen together then you need some ways to use them all up before they spoil. Here are a few ideas:
Will you please rate + review this smoothie once you blend it? I wanna hear how yours turns out!
The more ripe your pear, the creamer the smoothie will be.
Use frozen peaches for a refreshingly cool smoothie. 
Swap in the leafy greens of your choice for the spinach.
This is a light smoothie, calorie-wise. If you want a meal replacement, add in some plant-based protein powder to add protein, healthy fat and fiber to turn this into a meal replacement.
Calories: 141kcal, Carbohydrates: 36g, Protein: 2g, Fat: 1g, Saturated Fat: 0.1g, Polyunsaturated Fat: 0.3g, Monounsaturated Fat: 0.2g, Sodium: 47mg, Potassium: 468mg, Fiber: 7g, Sugar: 24g, Vitamin A: 3109IU, Vitamin C: 19mg, Calcium: 56mg, Iron: 1mg