Honeydew Smoothie – Natural sweet + hydrating
Hydration is the name of the game with this Honeydew Smoothie. It's only four ingredients and will sweeten your summertime up just right. I love blending a watermelon smoothie or a cantaloupe smoothie so why not try this lighter melon?
Now that I know the best way to cut a melon, I'm putting that new skill to use along with my Summer produce haul to make smoothies that will help me beat the heat and stay hydrated.
Table of Contents
Recipe Ingredients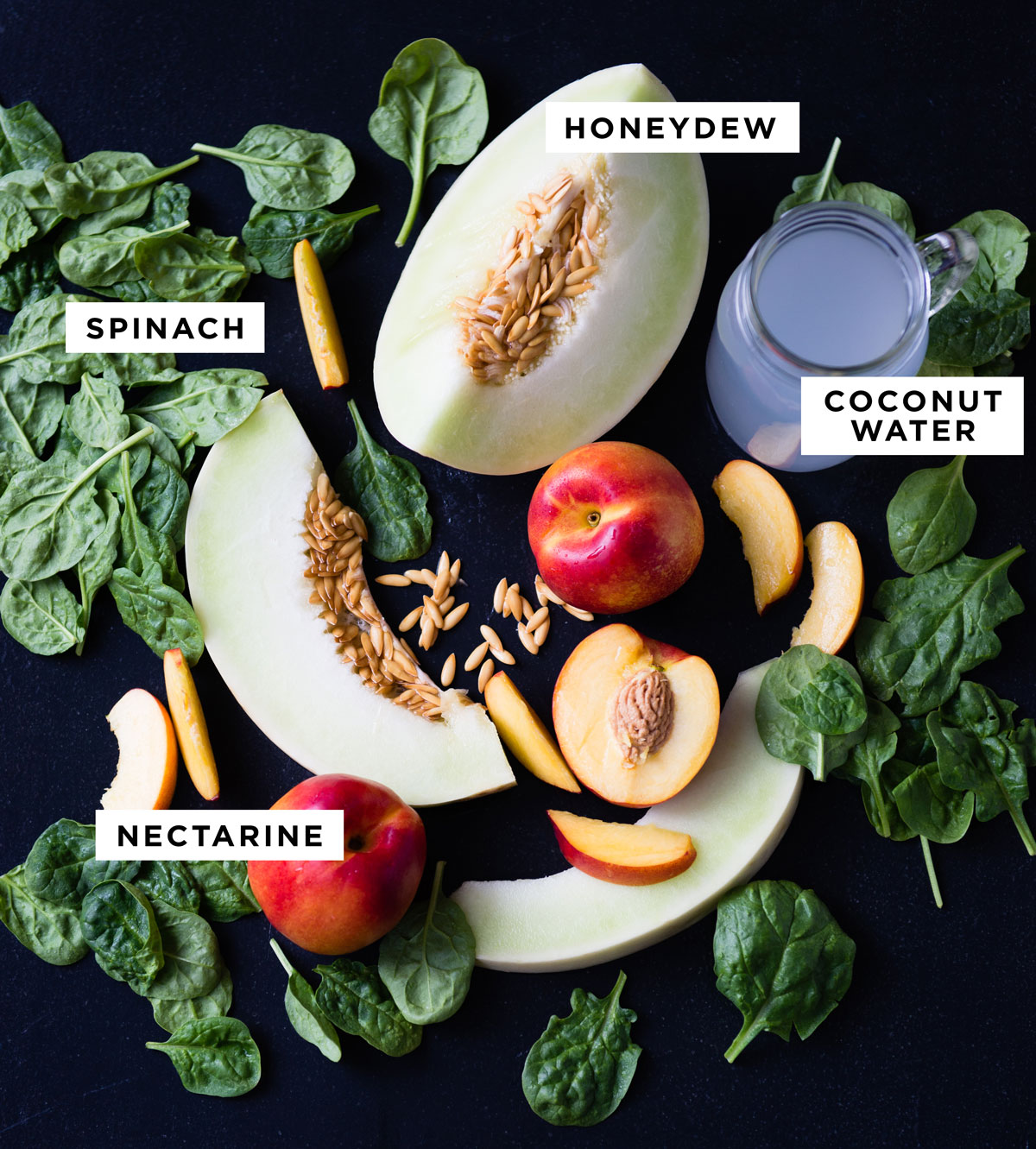 This recipe is just four ingredients and is so quick to blend once you get that melon cut up. Here's what I'm tossing into the blender for this honeydew melon smoothie:
This is a great smoothie to blend up after a workout to help your body get back those electrolytes and provide another form of hydration aside from straight water.
As always, you can add in vegan homemade protein powder to turn this lighter honeydew smoothie recipe into a meal replacement by adding in protein and healthy fat.
Easy Ingredient Swaps
While honeydew is in the name, it doesn't have to be in the smoothie! You can swap it out for cantaloupe to keep the texture and amount of water or swap it out with watermelon (just lower the amount of coconut water to ensure you still have a creamy result.
Speaking of creamy, toss in 1/2 banana or 1/4 avocado to cream up this smoothie a bit more. Depending on how much water is in your melon, you might want a thicker result.
If you have trouble finding nectarines, use peaches or apricots instead. Spinach can be switched out for the leafy greens of your choice. Swiss chard is a great substitute!
Coconut water gives your body natural electrolytes, yet doesn't have to be in this smoothie if you can't find it. Use green tea for a natural energy boost (allow it to cool before adding) or plain water works great.
Since the sweetness in this smoothie comes from the nectarine then you better have some tasty ones! You can also add in a squeeze of honey or maple syrup to help sweeten things up just a bit more.
How to Make a Honeydew Smoothie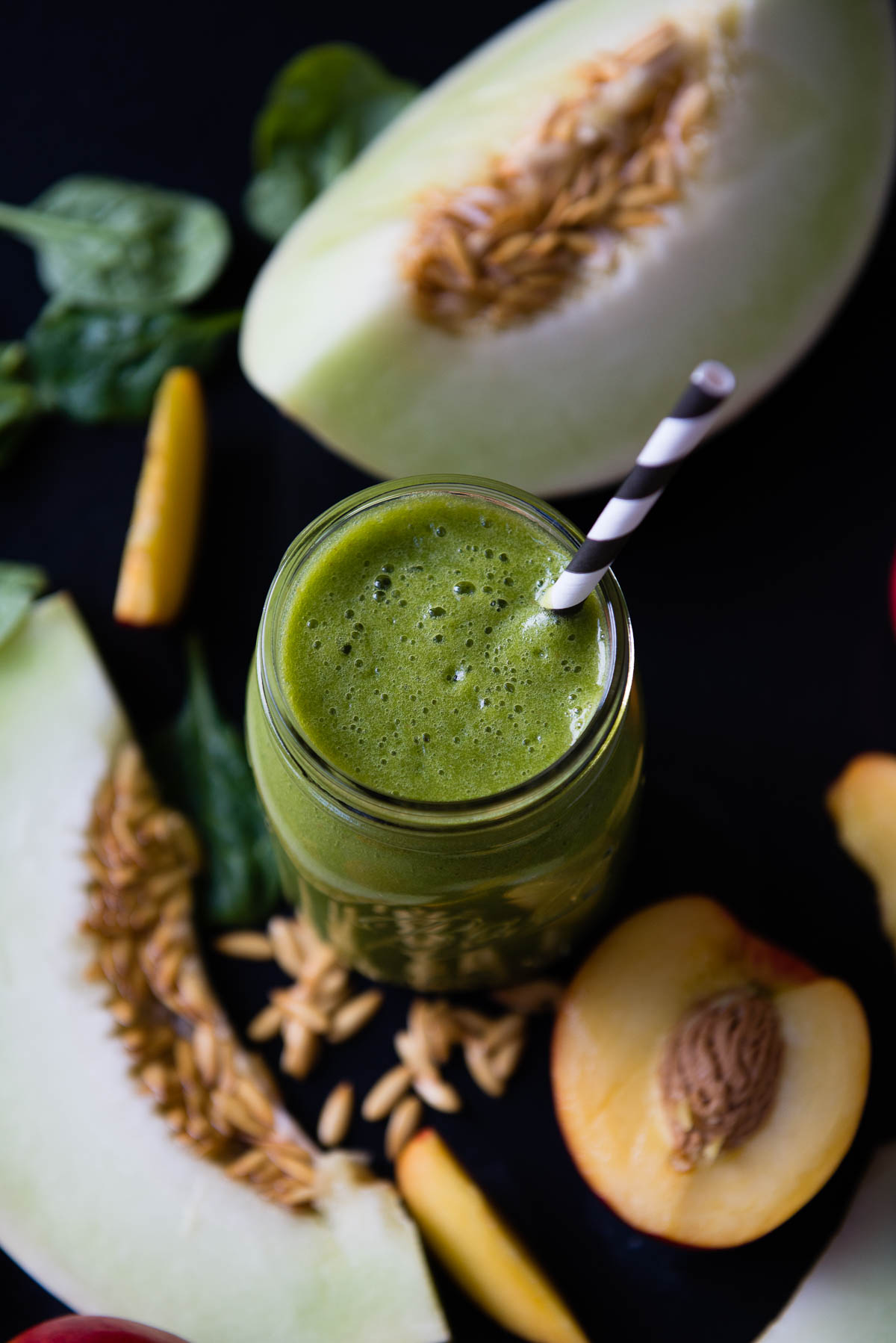 Since this is a green smoothie I like to blend it using my no-fail method. It might sound silly to blend in two steps, especially if you've got a blender like a Vitamix, but trust me when I say it's worth it. You'll never have a chunky smoothie again!
Start by blending spinach and coconut water on high until there are no leafy chunks left.
Then add in the remaining ingredients and blend again until smooth. You can stop and scrape down the sides as needed, or use the tamper that comes with your machine to keep pushing the ingredients back towards the blades until there are no chunks left.
Pour into your favorite glass and enjoy!
I use this smoothie formula as it takes the leafy greens the longest to get chopped up and it ensures I am drinking the smoothest beverage I can get.
FAQs
What fruit goes well with honeydew?
I think honeydew has a refreshing flavor like cucumber. It's not as sweet as cantaloupe but the texture is similar. It pairs well with almost any stone fruit like apricots, nectarines and peaches which will help give it a bit more sweetness. It's also a bit earthy, so pairing it with cooler flavors like mint or other herbs is quite delicious as well.
How do you use unripe honeydew melon?
If you get an unripe honeydew, go ahead and toss it into a smoothie. It will have a super mild taste and still give you some great hydration and nutrients, even if it isn't completely ripe.
Will a honeydew melon ripen after cutting?
Unfortunately, if your honeydew melon isn't ripe when it was harvested, it won't ripen more the longer you let it sit. This also goes for cutting it. If you find it's not great for eating, toss it into your next smoothie! It will give you good hydration and nutrients and you won't even know it's there.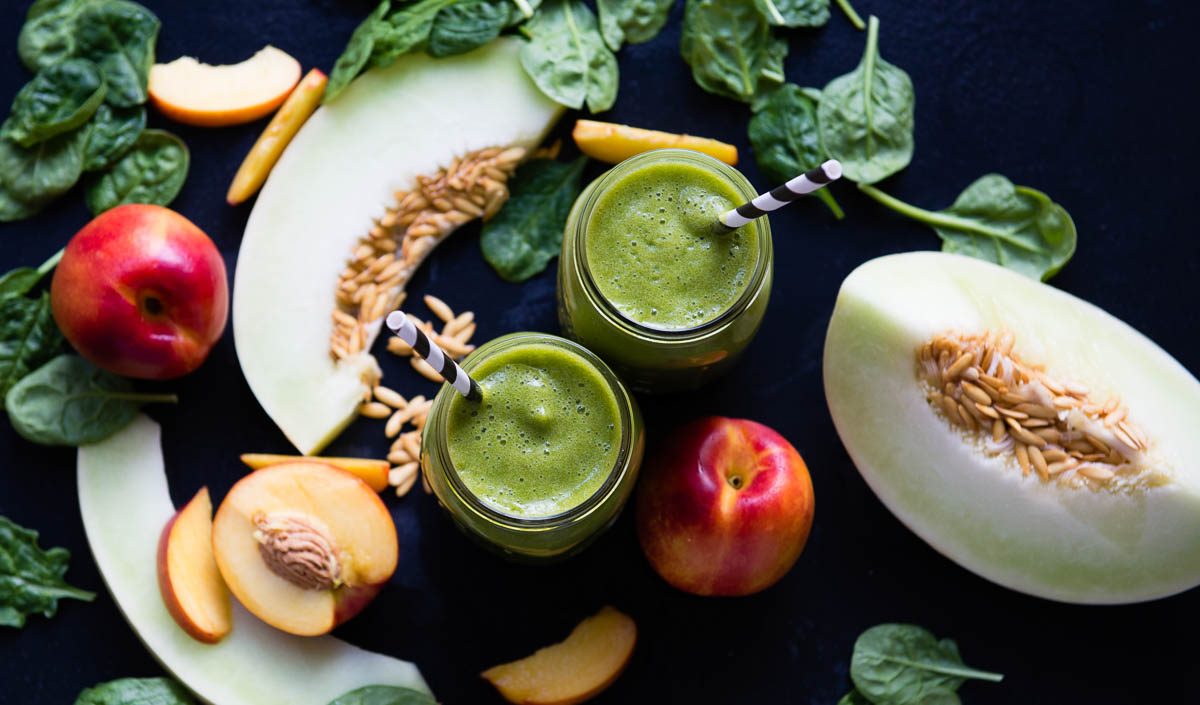 More Melon Smoothies
I love buying melons throughout the Summer, yet one yields so much fruit! While my family can definitely eat our way through fruit like nobody's business, we sometimes struggle to eat melons before they go bad.
Smoothies are a great way to use up extra and give you hydration on those hot days. Here are my favorite smoothies:
Will you please rate + review this smoothie once you make it? I know it's a bit unique but trust me, it's worth it!
Blend spinach and coconut water until smooth.

Add remaining ingredients and blend again until smooth.

Pour into your favorite glass and enjoy!
Use at least one frozen fruit for a refreshingly cool smoothie.
Swap spinach with the leafy greens of your choice. 
Remove the seeds from the honeydew before blending. Need help? Learn how to cut melon.
Swap coconut water with green tea (chilled) or plain water.
Calories: 142kcal, Carbohydrates: 32g, Protein: 4g, Fat: 1g, Saturated Fat: 1g, Polyunsaturated Fat: 0.2g, Monounsaturated Fat: 0.03g, Sodium: 316mg, Potassium: 1249mg, Fiber: 6g, Sugar: 20g, Vitamin A: 3135IU, Vitamin C: 47mg, Calcium: 99mg, Iron: 2mg