How to Peel Kiwi in 2 Steps
Kiwi is a funny, furry fruit that is delicious to eat and so odd. If you've avoided this fruit because you don't know how to access it then this guide's for you! Learn how to peel it properly to access all that tropical goodness just waiting inside. I'm showing you how to peel kiwi in just two steps.
While I added the peel or skin of many fruits to my smoothies, I learned how to cut kiwi so I didn't have to add the hairy layer. Let's keep that kiwi smoothie hair-free! It's a super fun topping for a pineapple smoothie bowl, so let's get learning.
Table of Contents
Kiwi is native to China and was originally called a gooseberry. It gained worldwide popularity during WWII. New Zealand is now the biggest grower of kiwi, though it is grown around the world.
While I love eating kiwi straight out of the skin, it's also a fun way to top almost any fruit smoothie bowl or use as an edible garnish in a berry salad or other fruit salads. There's really no wrong way to enjoy this tropical fruit!
Equipment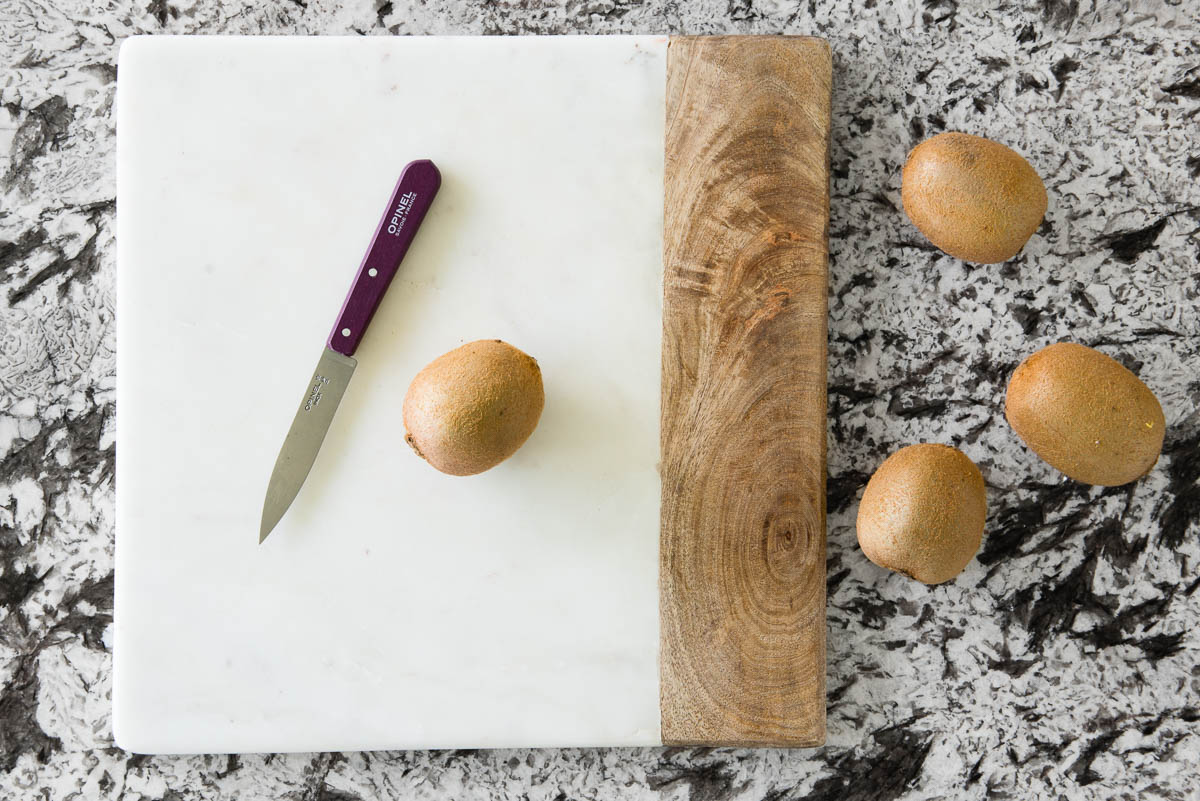 I learned how to cut mango using a glass and how to cut melon using a good chef's knife, so will you be surprised when I tell you I conquered this fruit with a spoon? Seriously, just a regular spoon from your kitchen will do the trick. Here's what you need to start peeling:
Paring knife
Cutting board
Spoon
Alternatively, you can use a vegetable peeler and I'll give you that method, too.
Peeling Kiwi in 2 Steps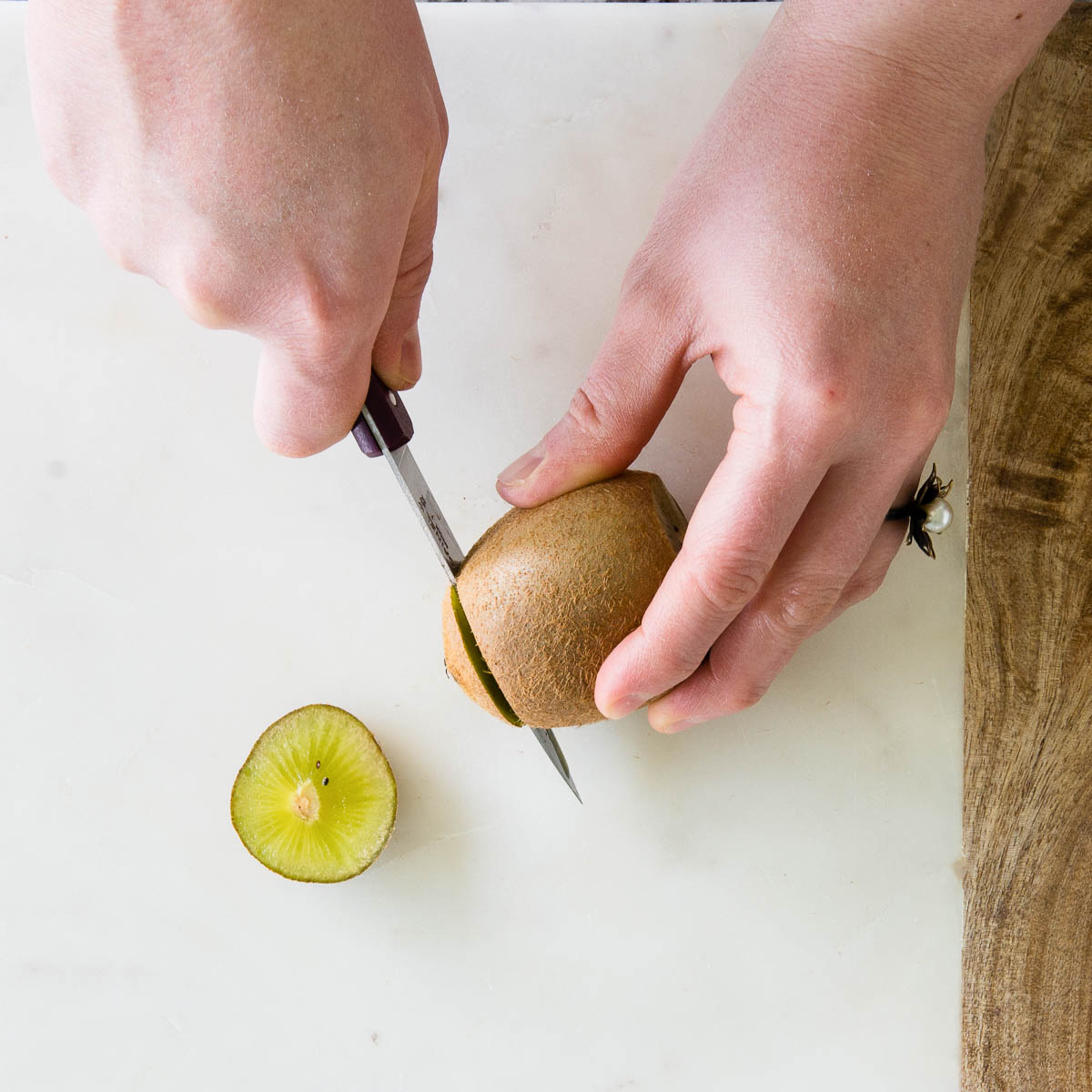 Step 1: Start by cutting both ends off the kiwi with a paring knife to create two flat surfaces. Make sure you've got a cutting board under the fruit since its juices will get everywhere.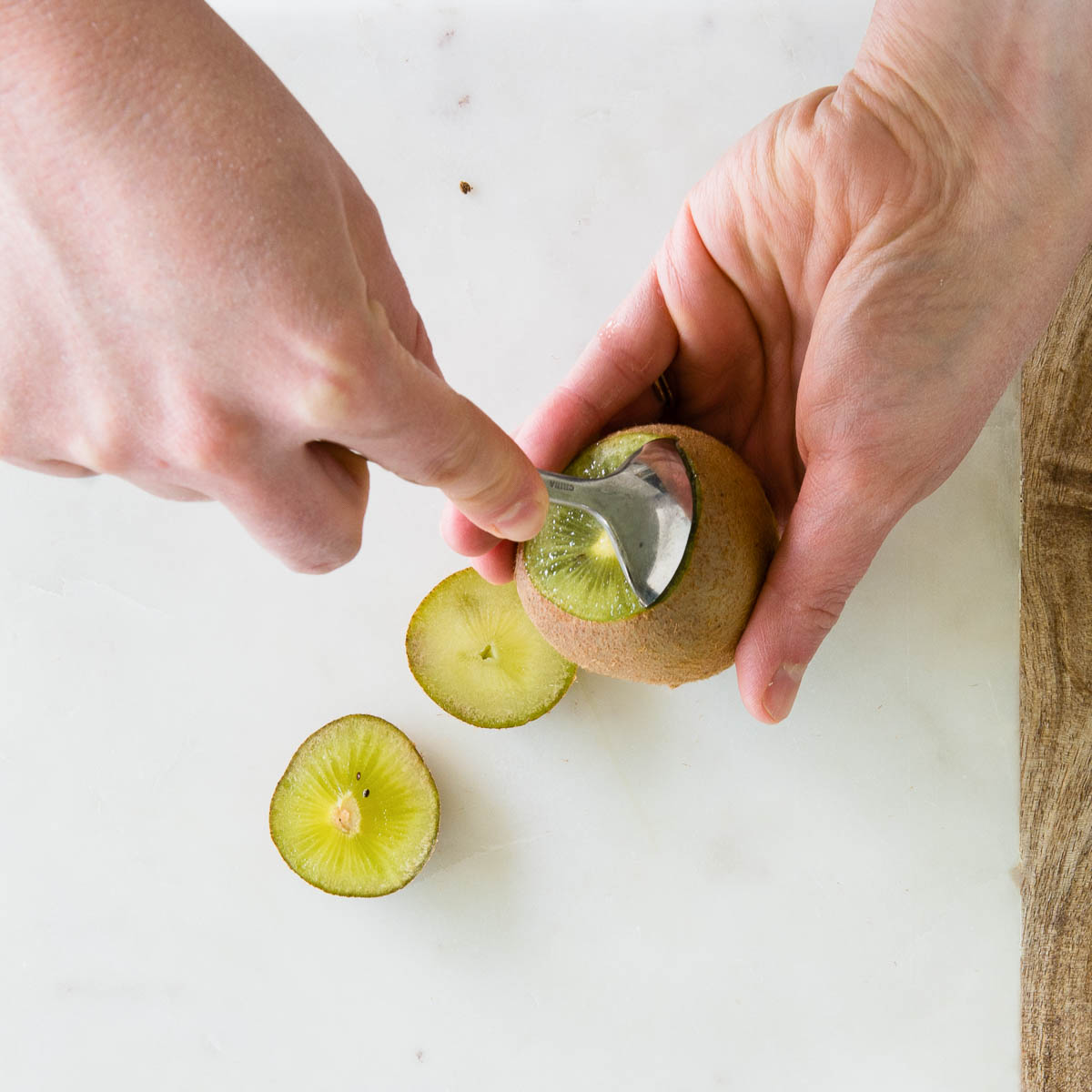 Step 2: Next, place the tip of a spoon where the skin and flesh meet. Apply pressure with the spoon against the skin until it's completely between the skin and the flesh of the fruit. Rotate the kiwi as you continue to apply pressure and pull away once the fruit is completely free.
That's it! You can also use a vegetable peeler. After Step 1, take a peeler and peel away the skin from top to bottom, working in sections until the fruit is clean.
Now you can choose to slice kiwi into those well-known disks or you can dice it into smaller bits depending on the recipe. If I'm using it for a smoothie, I just toss the whole fruit, sans skin, right in the Vitamix!
No matter if you end up with cubes or wedges, store them in an airtight container in the fridge until you're ready to enjoy. Peeled kiwi does go bad faster than other fruits, so try to use it within two days of refrigerating.
How to Eat Kiwi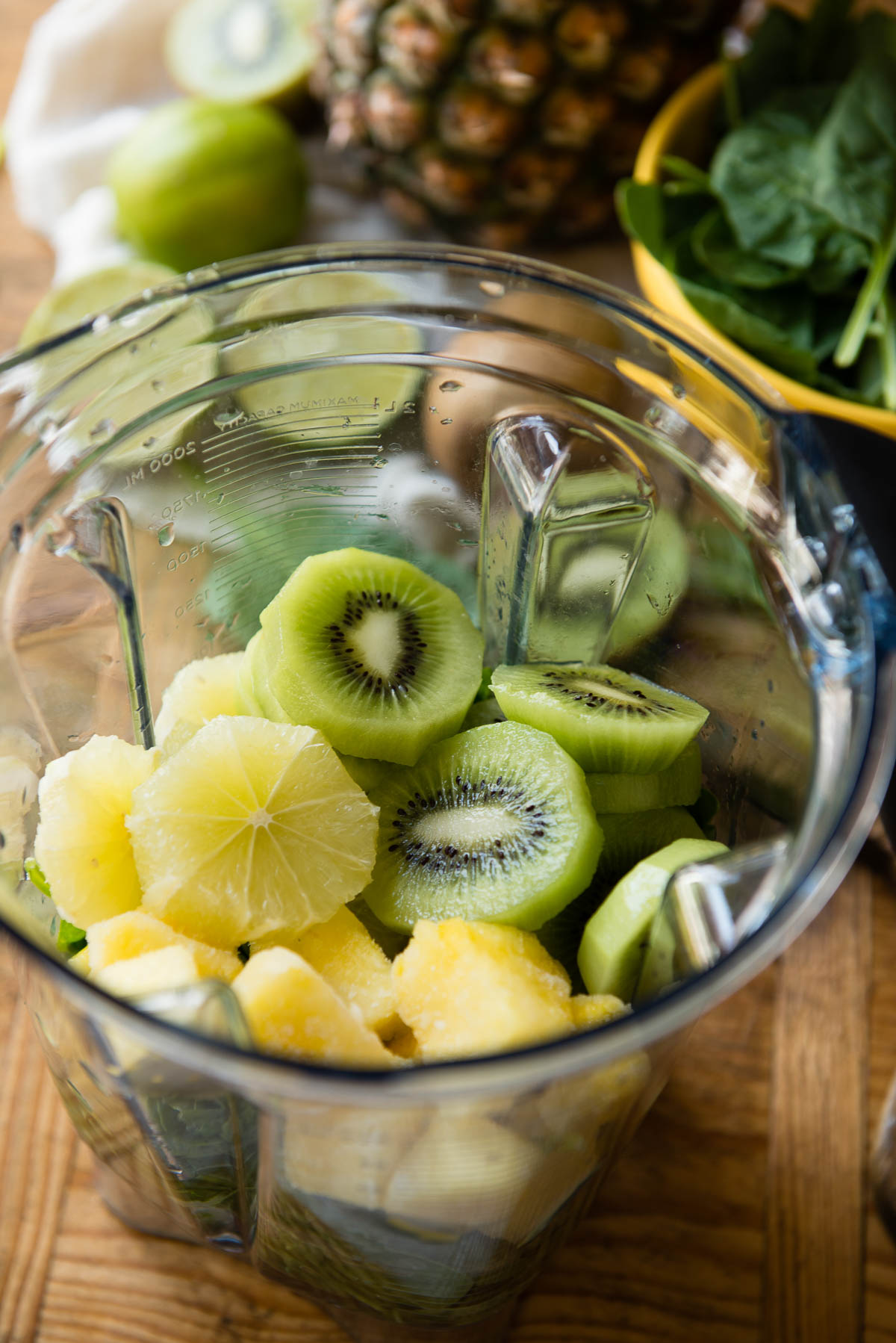 While many people enjoy eating kiwi due to its uniqueness, it's actually super nutrient-dense, too! Kiwi contains 83% of the RDI of vitamin C. It's also got 34% of the RDI of vitamin K. It's full of antioxidants and anti-inflammatory properties. Let's talk about how to eat this bright fruit.
The most common variety of kiwi found in the United States is green. While you can eat one like an apple, skin and all, the green variety has pretty tough skin. I recommend peeling it first. If you're able to score a yellow/golden variety, these have softer skin that is easier to eat if you want.
The tartness of kiwi makes it a great pairing with berries or melons. You can also easily blend it into a smoothie, or toss it into a salad. I love using it as a topping for smoothie bowls because it's both bright and full of flavor.
FAQs
Is there a trick to peeling kiwi?
Kiwi can look daunting since it has that odd, outer peel that appears tough, yet you can enjoy this fruit in just two easy steps, First take a paring knife to both ends of the fruit to create some flat surface. Next, take a spoon and place it right on the inside of the skin with the outside curved edge against the inside of the skin. Apply pressure to separate the skin from the flesh then take the spoon all the way around the fruit until you've scooped out the whole inside. Now you've got some kiwi to eat!
Can you peel kiwi with a potato peeler?
Yes! I recommend cutting off both ends with a paring knife and then using a potato peeler to remove the rest of the skin. I find it's a little harder than using a spoon to scoop out the flesh yet it still works and can quickly be done.
Should kiwi be peeled or unpeeled?
While you can eat the skin of a kiwi, the green ones consumed most commonly in the United States are tough. It is easier to eat the skin on the yellow/golden variety. Kiwi skin is also high in oxalates, so if you struggle with kidney stones then it's best to enjoy this fruit without the hairy outer layer.
More How-To Guides
When I started exploring the world of whole food plant-based recipes, there were a lot of new-to-me foods! I Googled several ingredients to learn where to find them and how to wash/cut/cook you name it. If you want to try something new yet don't know how to prep or cook it then you're definitely not alone.
Here are a few simple guides I created to help you master some fun produce and use it more:
How do you like to peel + eat your kiwi? Drop a comment and let me know!
Set the kiwi on a cutting board and cut off both ends with a paring knife to create 2 flat ends.

Take the spoon in one hand and the kiwi in the other and carefully slide the spoon just inside the hairy peel. Work the spoon around the skin until the green fruit is completely separated from the peel.

Cut the fruit into thin slices and enjoy!
To turn the kiwi into a "kiwi cup": chop the kiwi in half with a paring knife through the fattest part. Take 1 half and scoop out pieces with a spoon and eat. So easy!
Kiwi are quite juicy so make sure you use a cutting board to keep the juices from running wild. 
There is a white center of a kiwifruit that looks like a core, yet it's edible. Feel free to toss kiwi into smoothies, smoothie bowls or just into your mouth. 
Calories: 53kcal, Carbohydrates: 13g, Protein: 1g, Fat: 0.4g, Saturated Fat: 0.03g, Polyunsaturated Fat: 0.3g, Monounsaturated Fat: 0.04g, Sodium: 5mg, Potassium: 180mg, Fiber: 3g, Sugar: 8g, Vitamin A: 79IU, Vitamin C: 68mg, Calcium: 32mg, Iron: 0.2mg