Marinated Celery Salad – Simple Green Smoothies
This light and bright marinated celery salad is the latest creation on my quest to eat more Mediterranean-inspired dishes. It starts with a flavor-exploding marinade soaked into celery + chickpeas and ends on a bed of delicate arugula. Each bite makes my taste buds dance like I'm three margs in with Livin' on a Prayer on the dance floor.
Yep, this is definitely going to be a go-to dish this season. With 18 grams of protein and 14 grams of fiber per serving, it makes a great plant-based meal or hearty side dish. Ready to start chopping?
This recipe is sponsored by Duda Farm Fresh Foods.
Table of Contents
Recipe Ingredients
Salads are meant to be fresh and flavorful. To achieve that, I've created a robust marinade for the celery and garbanzo beans to soak up. It doesn't end there! The salad toppings brighten the dish and add additional protein and crunch. All the ingredients are equally important in a salad as memorable as this.
For the Marinade: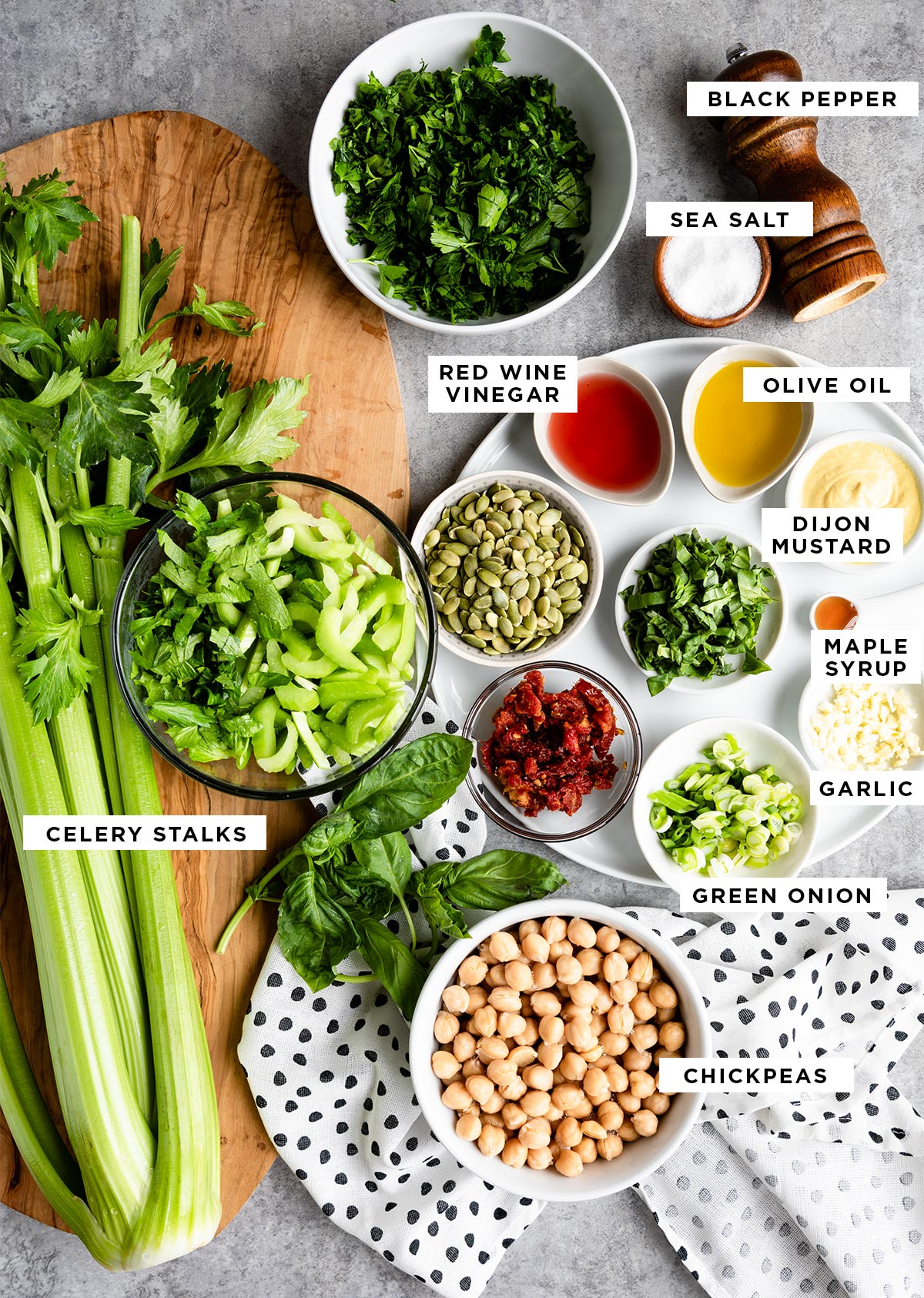 Red wine vinegar: While you can swap with another vinegar, red wine vinegar has a brighter, more fruity flavor mixed in with the tang of the vinegar, making it a great addition to a marinade.
Dijon mustard: This is another tangy addition to my recipe. It levels up the marinade and provides just the right amount of spice.
Maple syrup: A little natural sweetener provides the perfect balance to the savory parts of this recipe and pairs really well with the veggies.
Sea salt: An easy flavor enhancer. Add a bit to the marinade, then add to taste for the finished result.
Black pepper: You don't need a lot of pepper in this recipe since the Dijon mustard is added, yet a little extra is perfect.
Garlic cloves: I know using fresh whole garlic takes a little extra effort, but the fragrant punch it adds is totally worth it.
Olive oil: I suggest using extra virgin olive oil to keep the flavor robust and embrace the Mediterranean ways.
Chickpeas: This adds plant-based protein that turns this dish into a great meal option.
Celery stalks: Celery adds wholesome bulk and extra crunch to this dish. I'm using Duda Farm Fresh Foods, Dandy® organic celery in this recipe for the crispiest, tastiest result. It's the sweeter, crispier, crunchier and less stringy celery brand on grocery store shelves.
Green onion: Add a fresh pop of color for serving, along with an additional savory crunch that I love with a salad.
For Serving: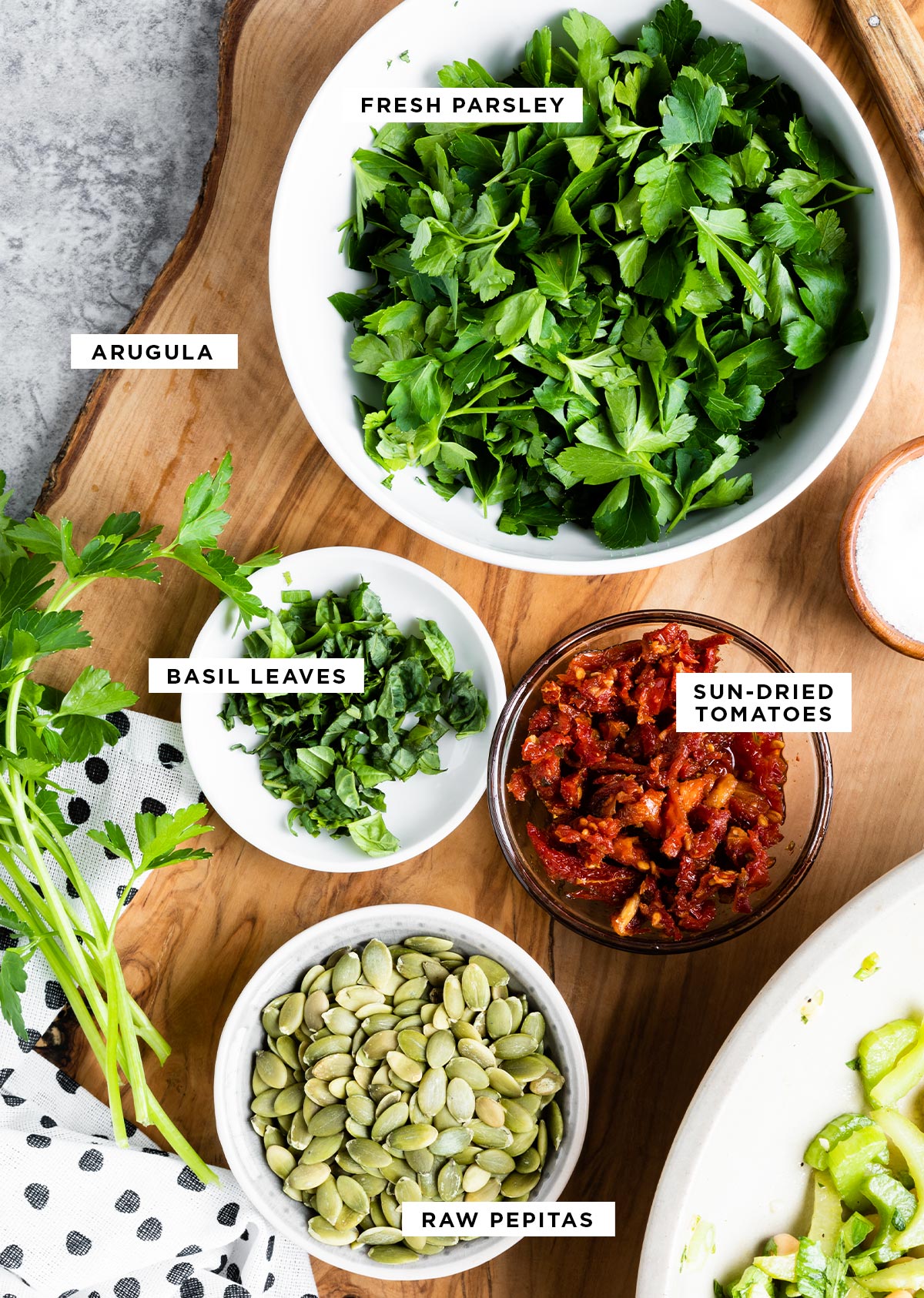 Fresh parsley: I like the earthiness that fresh parsley brings, without adding another sharp flavor. If your celery came with leaves, you can easily use those leaves instead of, or along with, parsley.
Sun-dried tomatoes: The intensity of sun-dried tomatoes soaked in oil elevates this whole salad. Trust me, you don't want to leave these guys out.
Basil leaves: Use fresh leaves for the best flavor.
Raw pepitas: Another way to add crunch and protein is through pepitas.
Arugula: While you don't *need* leafy greens in this dish, the sharp peppery arugula is the perfect finish.
I know it may sound like a lot of ingredients. I bet you have most of these on hand and can easily find the rest. Now, let's dive into the process of creating a salad that you're excited to make again and again.
How to Make a Marinated Celery Salad
To get the most flavor in the salad, you need to allow the marinade to work its magic. Once that's done, it's super simple to pull together and only takes 10 minutes of hands-on time.
Step 1: Start with assembling the marinade. Whisk together vinegar, mustard, garlic, maple syrup, salt and pepper. Slowly whisk in the olive oil until well incorporated.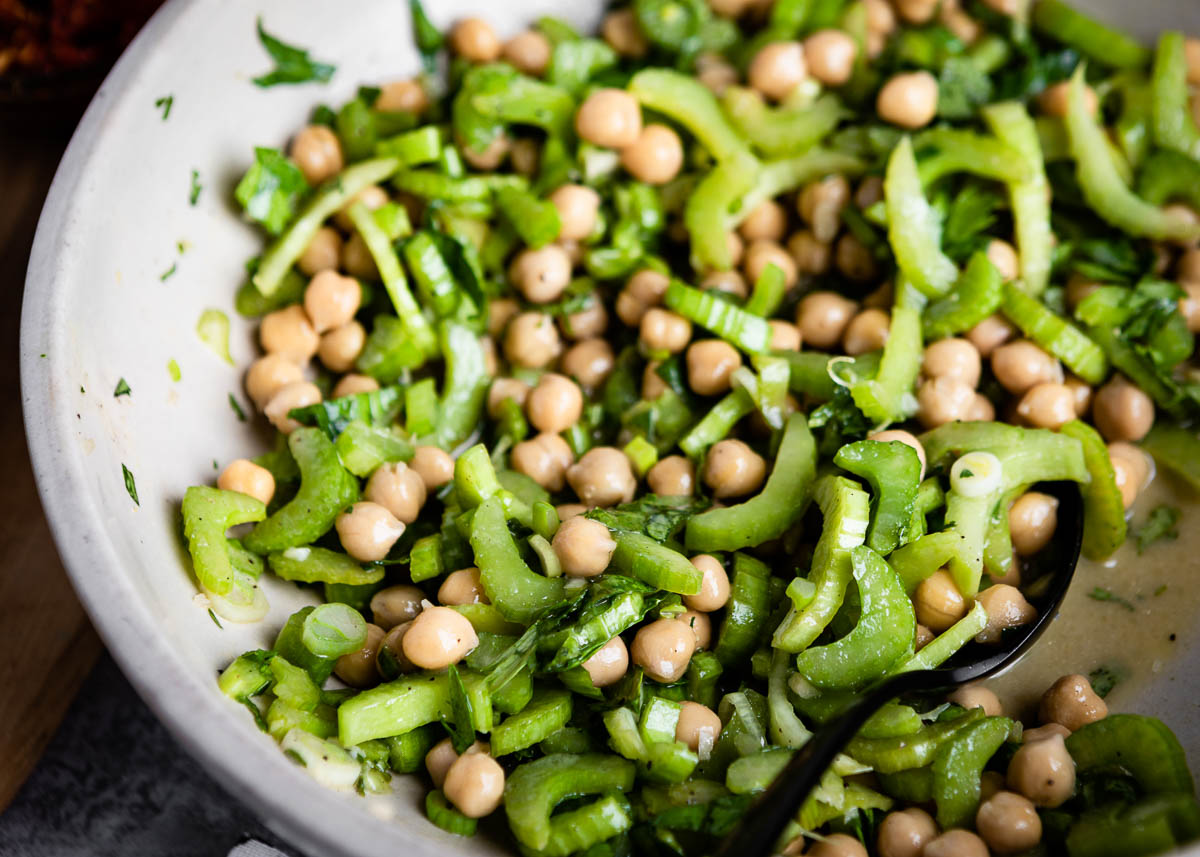 Step 2: Stir in the chickpeas, celery and green onions. Cover and refrigerate for at least 2 hours so all the flavors can soak in.
Step 3: When you're ready to serve, toss parsley, tomatoes, basil and pepitas into the marinated mixture. Serve over arugula for a leafy finish.
That's it! You can even make the marinade a day ahead to allow the flavors to soak up even more. Do you know how lasagna is always better the next day? The same idea applies here.
Celery 101
Celery is found in the produce section, usually near carrots. If you can find organic celery, such as Duda Farm Fresh Foods, I recommend getting it because it's usually not much more expensive. l love supporting companies that practice organic farming and go the extra mile to make the world a healthier place for us all.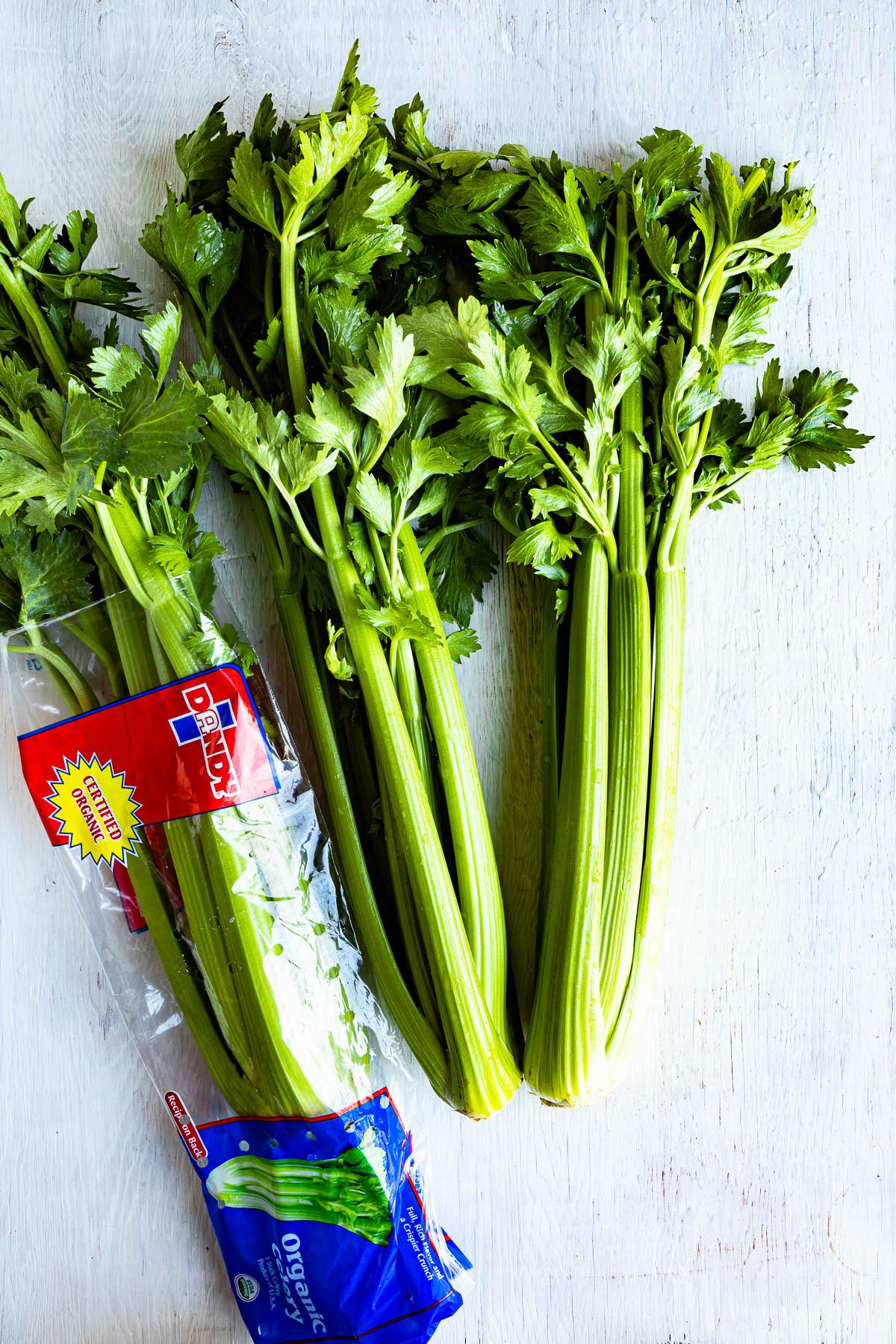 Remember the days of pre-cut celery, a slather of peanut butter and raisins on top? I avoided the big stalks, at all cost. It just screamed "extra work" and that wasn't me. 
That was before I started drinking a daily green smoothie and transformed into a rawkstar. Now, I get excited to find the big bushy stalks because I can use all of them in salads, soups and smoothies. There's so much flavor packed into the celery leaves!
If you can find gorgeous organic stalks as I did above, you definitely want to snag them for this celery salad. Simply wash the whole stalk (leaves and all), then remove the leaves. Chop the stalks up to add to the marinade and save the leaves to mix in before serving.
If you're a serious celery lover like me, try my apple celery smoothie. You can keep the leaves on and blend them right into the smoothie. Bam!
Fun Celery Salad FAQs
Can you eat celery raw in a salad?
Yes! Raw celery is packed with fiber and flavor. Wash the stalks thoroughly first, making sure to scrub them to remove any dirt. Gently dry, then chop into desired sizes. You can use both the leaves and the stalk so there's minimal waste.
What can I do with extra celery?
Celery can go in so many dishes! If you've got leftovers after making a celery salad, then save those stalks to add to smoothies, soups or grab your favorite nut butter and dip them for a deliciously filling snack. You really can't go wrong with this mild hearty vegetable.
How do you cut celery for a salad?
I like thin slices in my salad for easy chewing and no weird strings. After washing and drying the stalks, use a paring knife and cut down the stalk length-wise. I cut off the very small top end (it's usually dried out) and the whitest part of the big end. The rest is fair game for whatever recipe I'm making. If your stalks have leaves, remove those before chopping.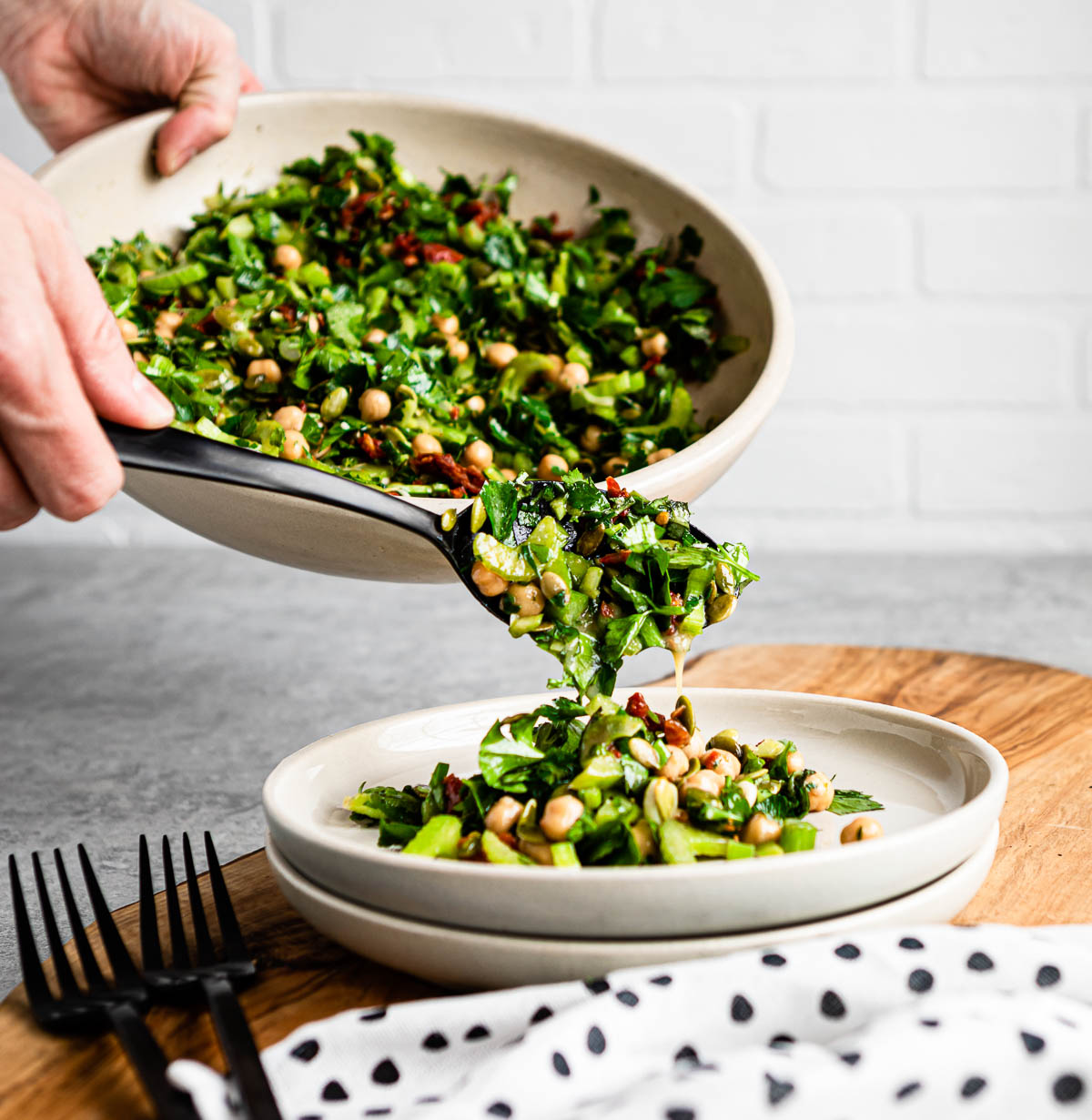 More Flavor-Packed Salads
With a hint of Spring in the air, I'm ready to start gearing my menus toward the brightly fresh produce of Springtime. Here are some great salad recipes to include in your meals this season:
Don't let these "salad" titles deter you; these are not your average piles of leafy greens! They're full of lovely produce as well as dressings and sauces that turn each bite into the ultimate "yum!" for your tastebuds.
Don't forget to rate and review the recipe below and let me know how you liked it!
In a large bowl whisk together vinegar, mustard, garlic, maple syrup, salt and pepper. Slowly whisk in olive oil.

Add chickpeas, celery and green onions. Stir well then cover and refrigerate for at least 2 hours to allow the flavors to absorb.

Before serving toss parsley, tomatoes, basil and pepitas into the marinated mixture. Serve over arugula.
If your celery has leaves on it, you can wash and use those in place of the parsley.
Swap arugula for the leafy greens of your choice.
The marinade can stay refrigerated overnight, just don't mix in with remaining ingredients until ready to serve.
Visit Duda Farm Fresh Foods to find Dandy celery in stores near you.
Calories: 480kcal, Carbohydrates: 45g, Protein: 18g, Fat: 28g, Saturated Fat: 4g, Polyunsaturated Fat: 7g, Monounsaturated Fat: 15g, Trans Fat: 0.01g, Sodium: 484mg, Potassium: 1069mg, Fiber: 14g, Sugar: 8g, Vitamin A: 2329IU, Vitamin C: 43mg, Calcium: 170mg, Iron: 7mg
Source link