Nourishing Creamy Lime Popsicles
Snack like a pro with my lime popsicles. You'd never know they are packed with 100% whole food, plant-based ingredients after sinking your teeth into them. Yet I'm blending summer popsicles with six great ingredients that will hydrate, replenish and fuel you for all that this warm weather has to offer.
There's nothing quite like cooling off with a popsicle after the pool, soccer camp or a hike in 90+ degree heat. They make me feel like a kid again and I can't help but smile when I enjoy one.
I also want my treats to do some good for me, so I've created a win-win with these lime popsicles. They are seriously delicious yet also packed with fruits and vegetables packaged in a creamy, lovable pop.
Table of Contents
Recipe Ingredients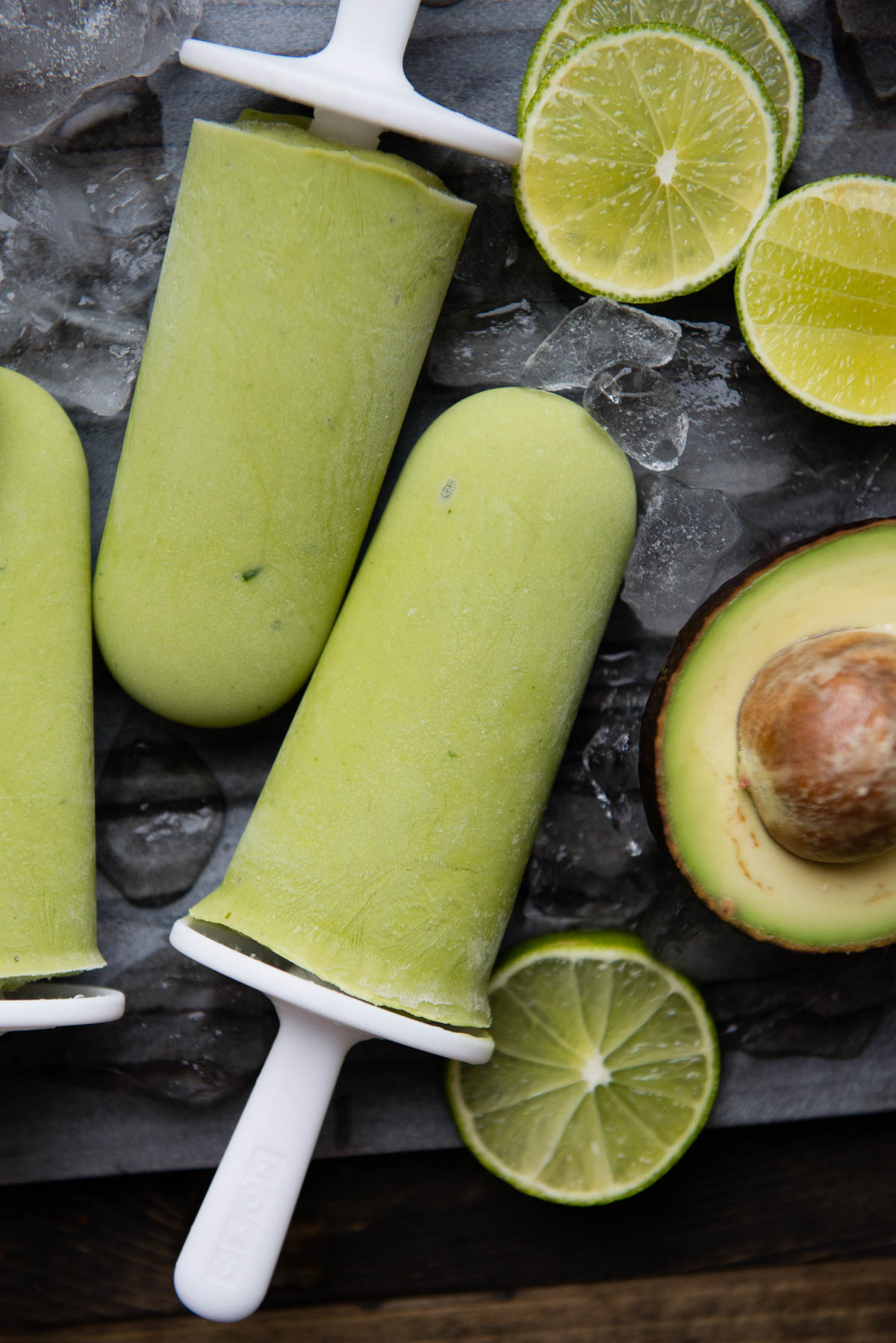 You might hesitate after reading the ingredient list but hear me out. These homemade lime popsicles are key lime flavored and super creamy and they have no dairy and only a hint of sweetener in them! Here's what I'm blending into some heavenly goodness:
Avocado: The easiest way to cream up any popsicle while also adding healthy fat to help your body process the natural fruit sugars. Plus, this mild ingredient doesn't take away from the lime flavor.
Spinach: Yes! These lime green pops get their color from spinach, yet you won't even taste it.
Canned coconut milk: I'm serious about a creamy texture and there is no better "liquid" for popsicles than canned coconut milk. Look for one that has limited ingredients and whisk in that top fat layer into the liquid below before adding it to your blender for the best results.
Fresh lime juice: Use regular limes or go wild with some key limes for this recipe. It does take a few to make 1/4 cup of juice, yet it is so worth it. Don't skimp and get the weird green bottle unless it is 100% just the lime juice and nothing else.
Maple syrup: This adds a touch of sweetness without going overboard. Feel free to substitute with honey, agave or your favorite natural sweetener.
Vanilla extract: This brings warmth to balance the lime juice and is the cherry on top if you will.
If this ingredient list reminds you a bit of a green smoothie, you're not wrong! I actually created these pops for my Seven-Day Summer Cleanse as a plant-powered snack and watched it quickly become a favorite to so many others.
Popsicle Molds
Since I created this lime popsicle recipe to be a filling snack, I used full-size molds for one serving. Feel free to make this miniature if you want, or use the paper cup + wooden stick method for freezing if that's easier for you.
If your molds take up a lot of freezer space then use freezer storage bags once your popsicles are completely frozen to help them take up less room.
This is a recipe my kids love yet I have to make sure I have enough molds if I want to double this recipe! Keep that in mind if you want to increase the number of servings.
How to Make Lime Popsicles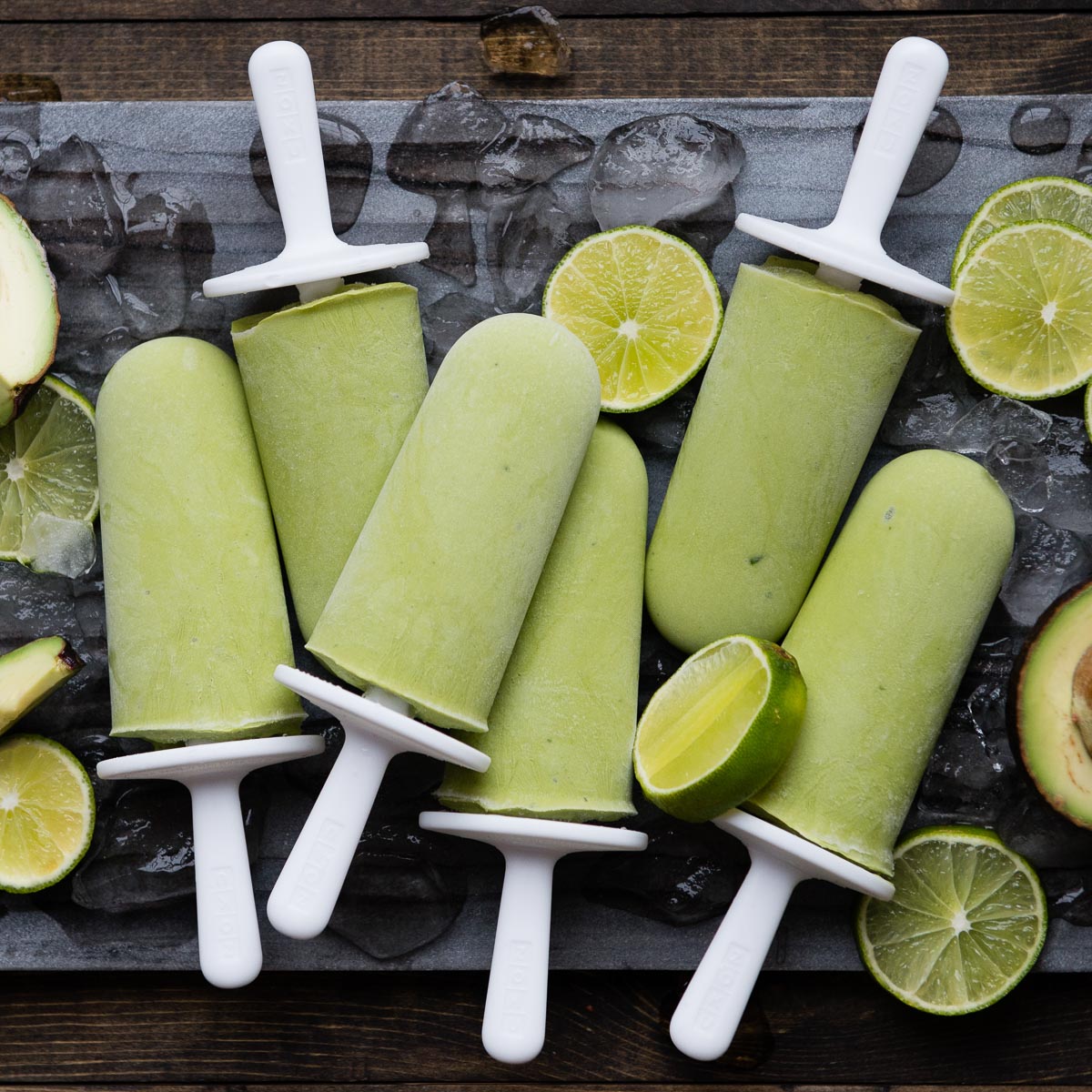 This is a super simple recipe. Grab your blender and preferred popsicle molds and let's get started!
Blend all ingredients until smooth. Stop and scrape down the sides as needed to make sure you get all the leafy chunks.
Pour the lime popsicle mixture evenly between your molds and freeze for four hours or until they are completely solid. Make sure your molds are sitting upright in the freezer so the liquid doesn't leak out while freezing.
Depending on the type of mold you use, it might be helpful to run the sleeves under warm water to release the popsicles from the sides before you try to remove them. Just don't keep them under the warm water too long. You don't want to melt the popsicle before you enjoy your refreshing treat!
FAQs
How do you make popsicles creamy and not icy?
I add healthy fats to my popsicles to make them creamy instead of icy. For these lime popsicles, the canned coconut milk serves as the healthy fat and keeps the popsicle from turning into a flavored ice cube.
What gives popsicles their texture?
Popsicles change in texture based on what you put in them. If you want a super slippery pop without creaminess, then just blend up fruit and pour the mixture into popsicle molds. They will be fairly icy when you eat them. Alternatively, you can add healthy fats like canned coconut milk, raw cashews coconut oil or avocado to a popsicle mixture for a creamier texture.
How do you make homemade popsicles that aren't rock-hard?
Making popsicles that turn out creamy instead of rock-hard comes down to the ingredients you blend. Use canned coconut milk or make sure there is another healthy fat blended into the mixture before freezing to ensure you get a creamy result.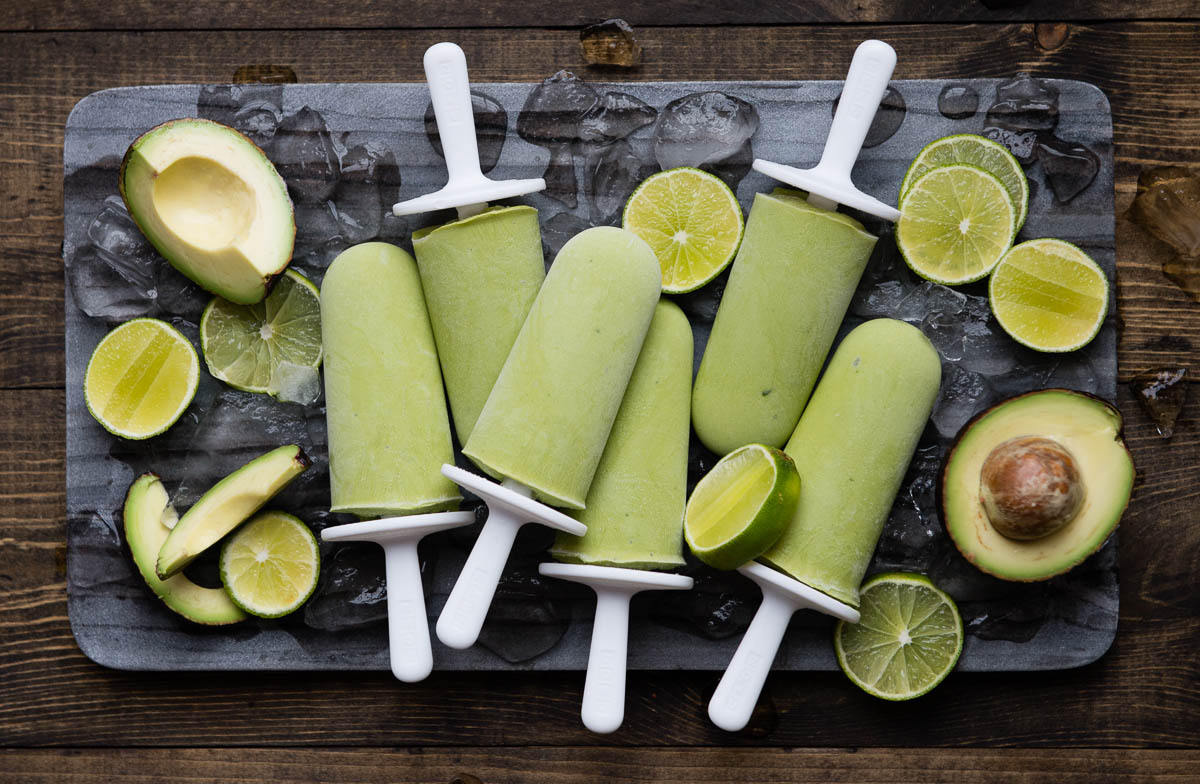 More Summer Popsicles
If you want to fill your freezer with snacks your family will actually grab during these hot days then try any of my delightful summer popsicle recipes. They are easy to make and share, and taste great!
Don't forget to rate + review this recipe once you try it; I can't wait to hear how yours turn out!
Puree the ingredients in a blender until very smooth.

Pour into popsicle molds or paper cups with wooden popsicle sticks.

Freeze until firm, at least 4 hours, preferably overnight.
Full-fat canned coconut milk will get you the creamiest texture (it's silky magic!)
Swap canned coconut milk with cashew milk or oat milk.
Swap spinach with the leafy greens of your choice.
Calories: 208kcal, Carbohydrates: 10g, Protein: 2g, Fat: 19g, Saturated Fat: 13g, Polyunsaturated Fat: 1g, Monounsaturated Fat: 4g, Sodium: 16mg, Potassium: 364mg, Fiber: 2g, Sugar: 4g, Vitamin A: 523IU, Vitamin C: 8mg, Calcium: 30mg, Iron: 3mg