Our Favorite Chocolate Cupcakes
Look no further. This simple, quick chocolate cupcakes recipe is rich and chocolaty with a moist and soft center. These are perfect for birthday celebrations, bake sales or anytime when you need chocolate cake in your life. These easy homemade cupcakes are dairy-free and egg-free (making them naturally vegan) and this is still our favorite recipe! Jump to Our Favorite Chocolate Cupcakes Recipe
Watch The Video
Why We Love This Chocolate Cupcakes Recipe
We've made a lot of chocolate cakes and cupcakes and so far, this ridiculously easy chocolate cupcakes recipe is our favorite.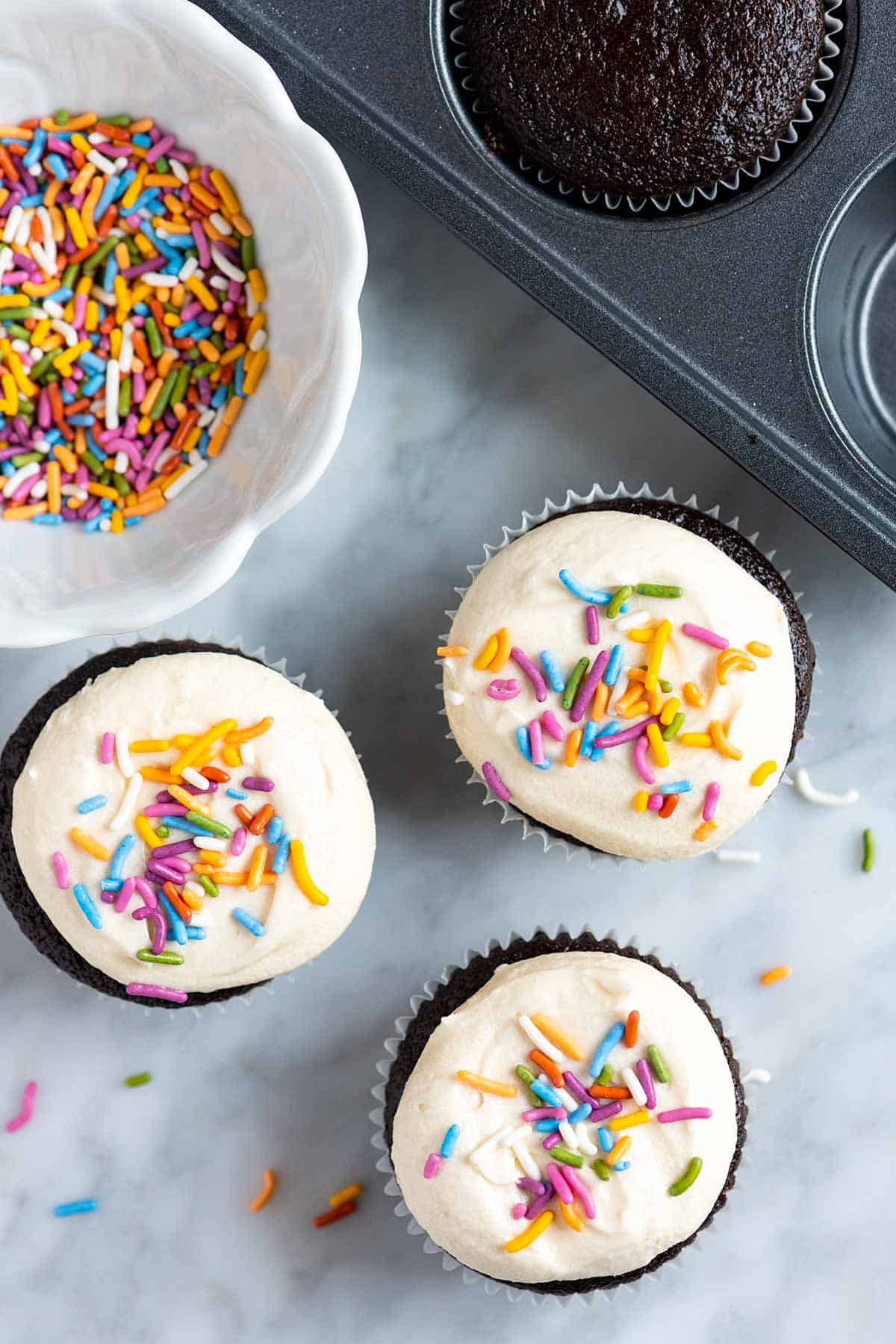 Here are a few reasons why:
They have a deep rich, chocolate flavor.
Thanks to oil in the batter, they are soft and moist in the middle.
No eggs or dairy are required! (This is my personal favorite since it means I can still make amazing cupcakes when I'm out of eggs!)
No mixer is needed to make them. You only need a whisk, spatula (or spoon) and bowls.
This recipe makes excellent vegan cupcakes! The cupcake batter is naturally vegan and we have included tips in the recipe below for making the buttercream vegan-friendly.
How to Make Our Favorite Chocolate Cupcakes (Only three steps!)
This recipe couldn't get much easier. The batter comes together quickly and requires simple, everyday ingredients. Here's a quick overview of how to make them (the full recipe is below):
Whisk or sift dry ingredients together (we call for all-purpose flour, baking soda, salt and cocoa powder).
Mix oil, vinegar, vanilla extract and sugar, and then add to dry ingredients — A spoon or spatula is perfect for this. The batter will be thick, but this step makes sure that the flour gets coated in the oil, which means that your baked cupcakes will be light, soft and very moist in the middle.
Stir in very hot water or coffee — This is a common trick when making chocolate cake. The hot liquid helps the cocoa bloom, which just means it will have a deeper, more rich chocolate flavor when baked. Coffee and chocolate are baking superstars. You won't taste the coffee in the cupcakes, but you will have a more rounded, flavorful chocolate cupcake.
FAQ: Why do you add vinegar to the cupcakes batter? Vinegar reacts with the baking soda and makes the baked cupcakes extra fluffy and more airy than if we were to leave it out. You don't taste the vinegar, but it's a game changer for texture in these cupcakes!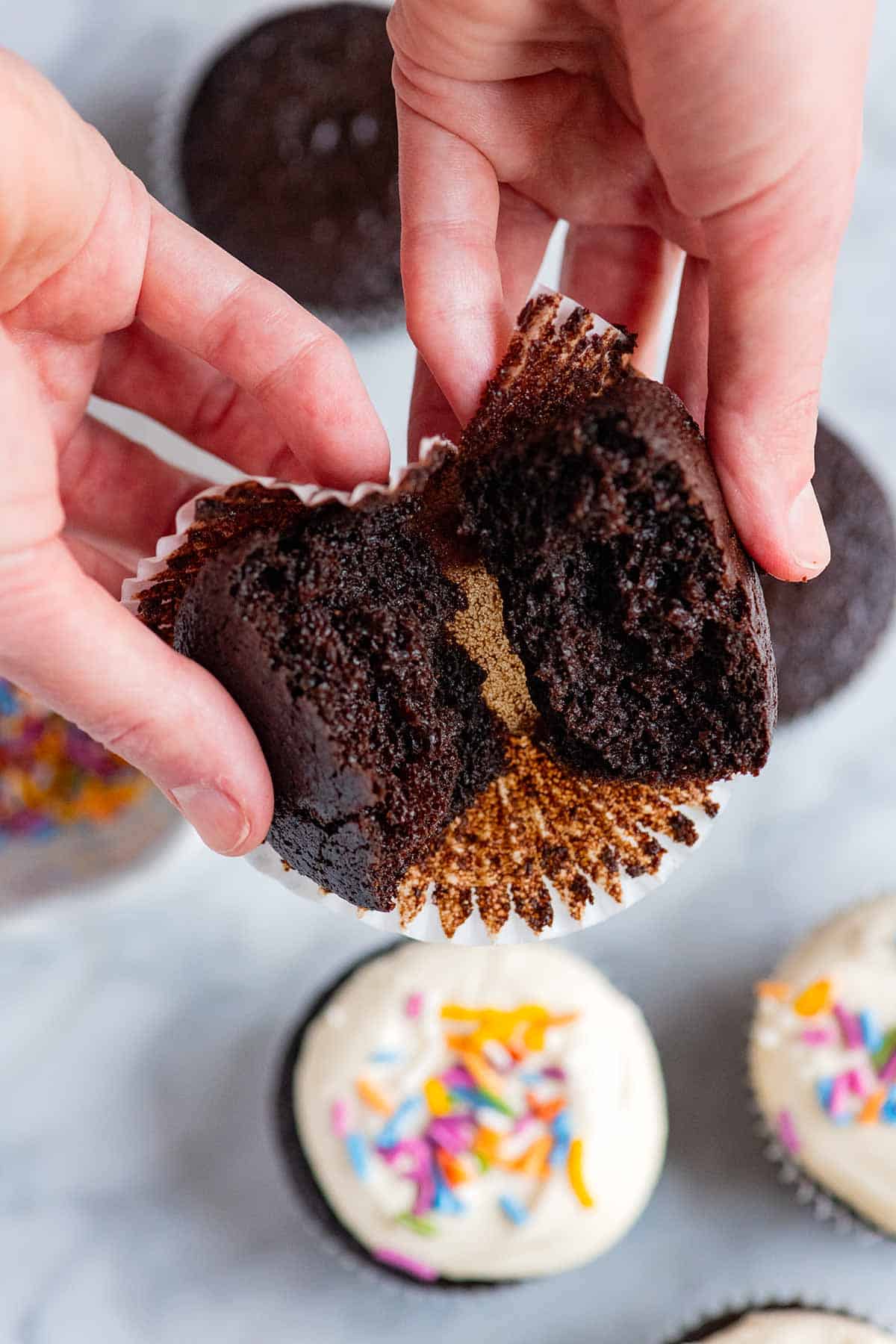 The cupcakes bake for around 20 minutes in the oven. When you take the cupcake pan out of the oven, leave the cupcakes in it until they are cool to the touch. When the cupcakes have cooled, remove them from the pan and frost with your favorite frosting. (We've included a simple vanilla buttercream in the recipe below that can be made vegan if needed.) Or you can take a look at some of our other cupcake recipes that have different frostings on top: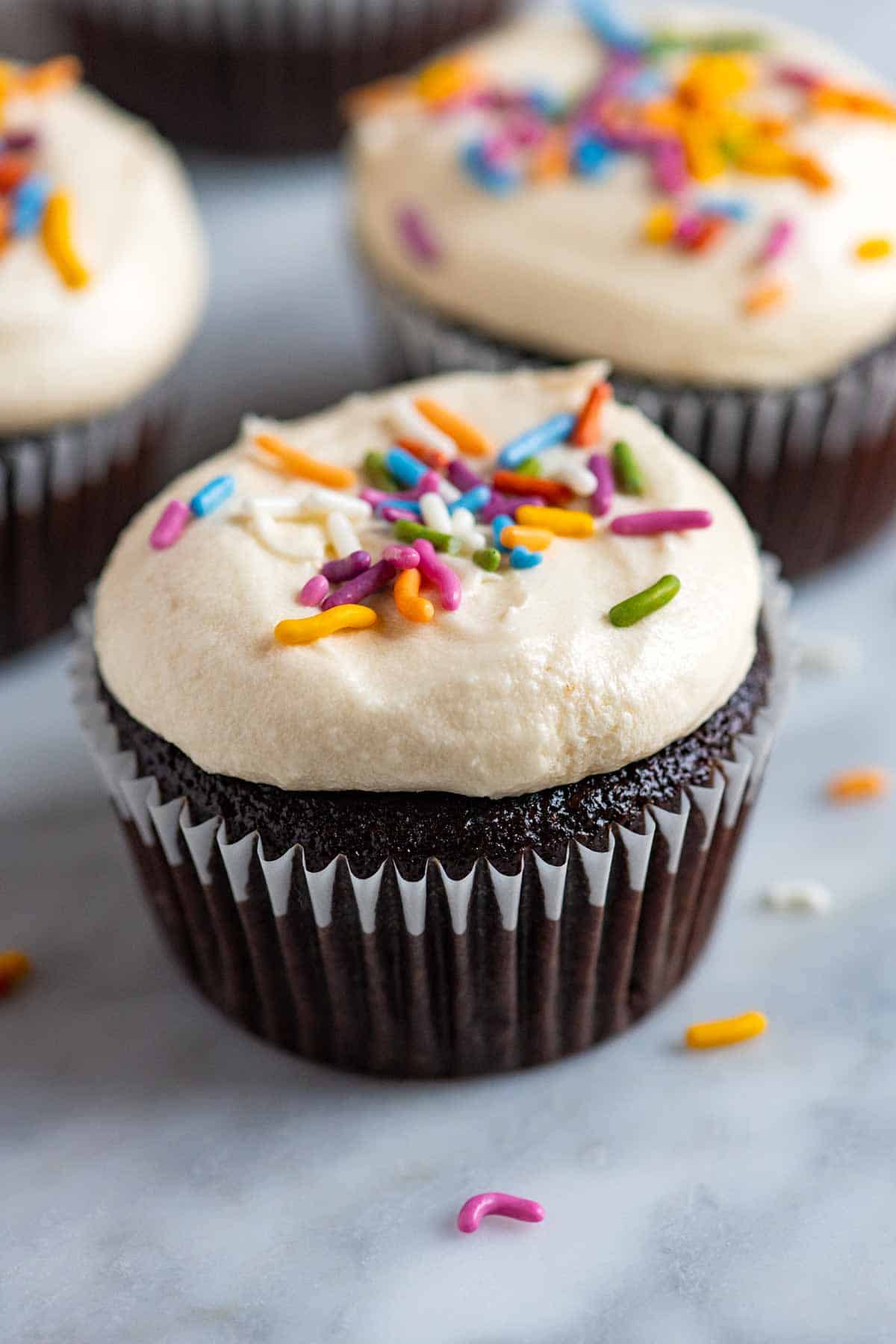 Storing Cupcakes
This recipe makes about 16 cupcakes. Here are our tips for storing them:
Store unfrosted cupcakes in an airtight container at room temperature for 2 to 3 days.
Freeze unfrosted cupcakes in an airtight container up to two months. Bring them to room temperature before frosting (about 2 hours).
Store buttercream frosting up to 5 days in the refrigerator. Allow it to warm up slightly before frosting the cupcakes.
Store frosted cupcakes in the refrigerator for 3 to 5 days.
Freeze frosted cupcakes up to two months. To do this, partially freeze them by placing them on a baking sheet and leaving them uncovered in the freezer until the frosting has hardened (30 minutes to an hour). Then transfer the cupcakes to an airtight container, being careful to leave some space between each cupcake. Bring them to room temperature before serving (about 2 hours).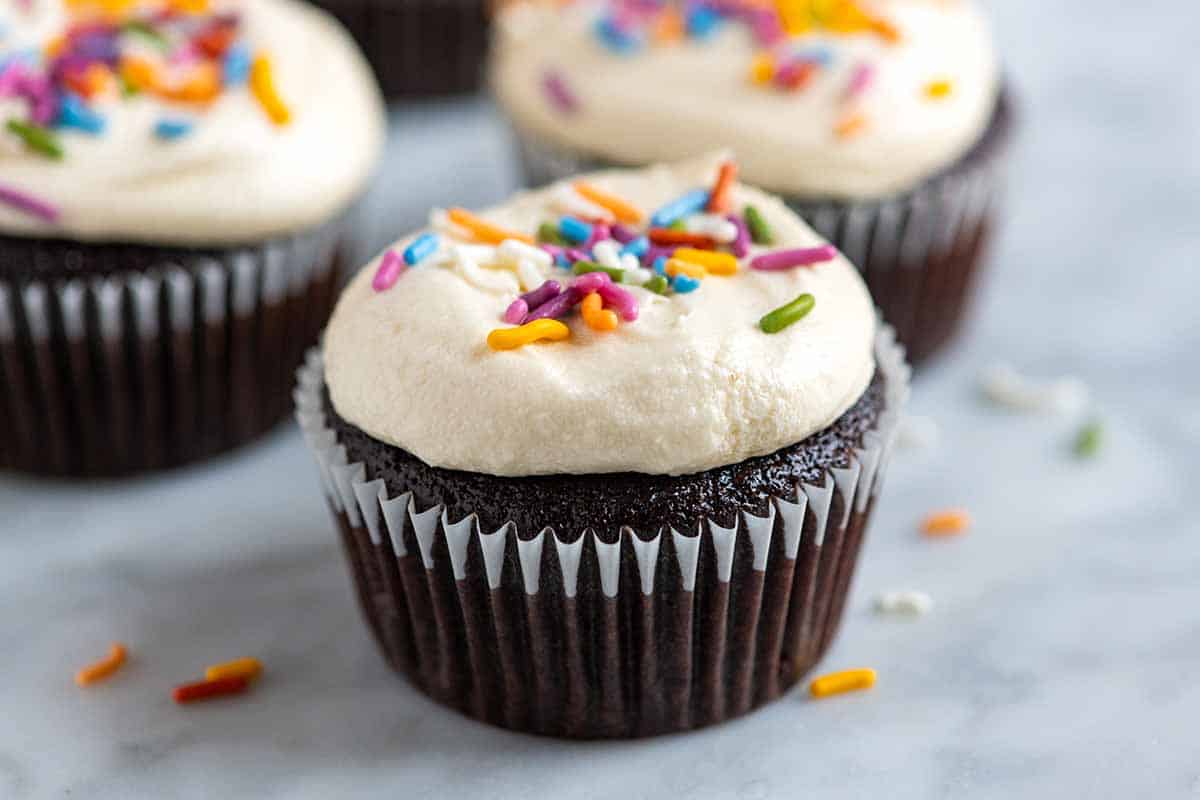 Our Favorite Chocolate Cupcakes
This simple, quick homemade chocolate cupcakes recipe is rich and chocolaty with a moist and soft center. These are perfect for birthday celebrations, bake sales or anytime when you need chocolate cake in your life. The batter for these easy cupcakes is dairy-free and egg-free (making them naturally vegan). Vegan-friendly tips are shared for the frosting below.
Makes about 16 cupcakes
Watch Us Make the Recipe
You Will Need
Chocolate Cupcakes
1 ½ cups (195 grams) all-purpose flour
3/4 cup (75 grams) unsweetened cocoa or cacao powder, sifted if needed
1 ½ teaspoons baking soda
1/2 teaspoon fine sea salt
3/4 cup (150 grams) granulated sugar
3/4 cup (150 grams) brown sugar
1/2 cup (120 ml) neutral oil or light and fruity olive oil
2 tablespoons (30 ml) apple cider vinegar or white vinegar
1 teaspoon vanilla extract
1 ½ cups (355 ml) hot coffee, can substitute hot water
Simple Vanilla Buttercream
1 cup (230 grams) unsalted butter or vegan butter sticks, softened to room temperature
4 cups (480 grams) confectioners' sugar (powdered sugar)
2 to 4 tablespoons (30 to 60ml) heavy cream, milk or non-dairy milk at room temperature
2 teaspoons pure vanilla extract
1/8 teaspoon fine sea salt
Directions
Make Batter

Heat the oven to 350 degrees Fahrenheit (176C). Line a 12-cup muffin pan with cupcake liners.

In a medium bowl, whisk the flour, cocoa powder, baking soda and salt until well blended. If your cocoa powder is lumpy, sift these ingredients instead.

In another medium bowl, whisk the sugars with the oil, vinegar and vanilla extract.

Switch to a large rubber spatula. Scrape the sides and bottom of the bowl then add the dry ingredients in two parts, gently stirring until they disappear. The batter will be very thick — that's okay.

Pour in the hot coffee (or water) and stir until blended and the batter is mostly smooth.

Bake Cupcakes

Pour or spoon the batter into the liners, filling about 3/4 of the way to the top. Gently tap the pan on the work surface a few times to remove any large air bubbles from the batter, and then bake until the tops of the cupcakes are springy when touched and when a toothpick inserted into the center of the cake comes out clean, 20 to 25 minutes.

Cool cupcakes in the pan then frost or store, in an airtight container, at room temperature for 2 to 3 days, in the refrigerator 4 to 5 days or in the freezer up to two months.

Make Buttercream

This recipe makes enough frosting to generously frost the cupcakes. We typically have frosting leftover since we prefer our cupcakes with a bit less frosting on top. If you are swirling the frosting on using a piping tip, this recipe should be plenty.

Add butter (or vegan butter sticks) to a bowl and beat until light and fluffy using a handheld mixer (or use a stand mixer fitted with the paddle attachment).

If the powdered sugar is lumpy, sift it.

Add the vanilla, salt and sugar until well incorporated and the frosting is fluffy. If it seem too thick, thin it out with a splash of cream, milk or non-dairy milk. If it is too thin, add 1/4 to 1/2 cup more powdered sugar.

Store the frosting in an air-tight container for up to 5 days in the refrigerator or freeze up to two months.
Adam and Joanne's Tips
Vegan Chocolate Cupcakes: These cupcakes are naturally vegan, however, make sure that the sugar you use is labeled as vegan. To make the buttercream vegan-friendly, substitute the butter for vegan butter sticks.
What kind of cocoa powder to use? We use natural unsweetened cocoa powder (or cacao powder). Dutch process cocoa will work in the recipe, however, we do prefer the flavor of natural cocoa since it is richer. When using Dutch cocoa these cupcakes take on an almost Oreo-like quality (which still tastes great, just not as rich).
Making Mini Chocolate Cupcakes: This recipe will make about 3 dozen mini cupcakes. Bake them for 10 to 12 minutes in a 350 degree Fahrenheit oven.
Nutrition Facts: The nutrition facts provided below are estimates. We have used the USDA database to calculate approximate values.
If you make this recipe, snap a photo and hashtag it #inspiredtaste — We love to see your creations on Instagram and Facebook! Find us: @inspiredtaste
Nutrition Per Serving: Serving Size 1 cupcake / Calories 409 / Total Fat 19.2g / Saturated Fat 8.5g / Cholesterol 30.5mg / Sodium 198.2mg / Carbohydrate 60.9g / Dietary Fiber 1.5g / Total Sugars 49g / Protein 2.2g
AUTHOR: Adam and Joanne Gallagher