Peanut Butter Pie – My Baking Addiction
This peanut butter pie is one seriously decadent dessert. Top this easy pie with mini peanut butter cups, whipped cream, and chocolate sauce to take it over the top!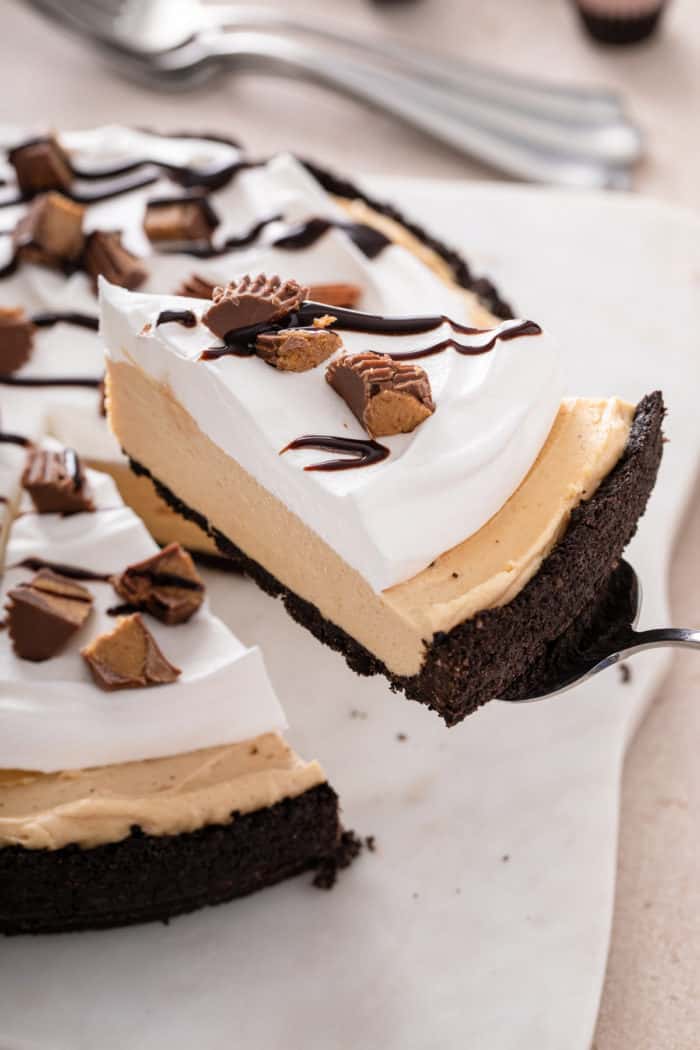 When I was 15, I worked at a family-owned diner that made a killer peanut butter pie. 
I always wanted to replicate it at home and a few years ago, I finally got to work on it. I made 3 versions in one week and I must say, I totally nailed it.
The original recipe used a traditional pie crust, but I think this version is even better because it uses a chocolate cookie crust.
After all, what goes together better than peanut butter and chocolate?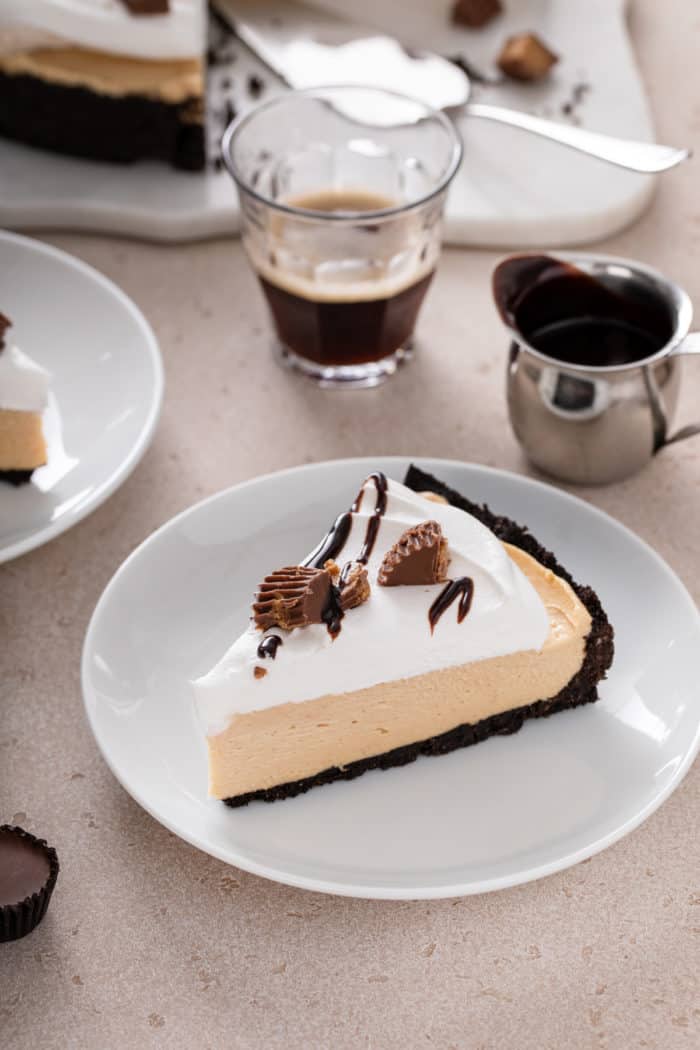 WHAT IS PEANUT BUTTER PIE?
Peanut butter pie is an old-fashioned dessert that never gets old if you ask me. 
Peanut butter pie filling is traditionally made from creamy peanut butter, cream cheese, powdered sugar, and whipped cream.
Sometimes you'll see it made with a homemade pie crust (like you might use for pecan pie or apple crumb pie), but you can also find it with a graham cracker crust. 
Personally, I prefer it made with a chocolate cookie crust. It's like a pie version of chocolate-covered peanut butter balls!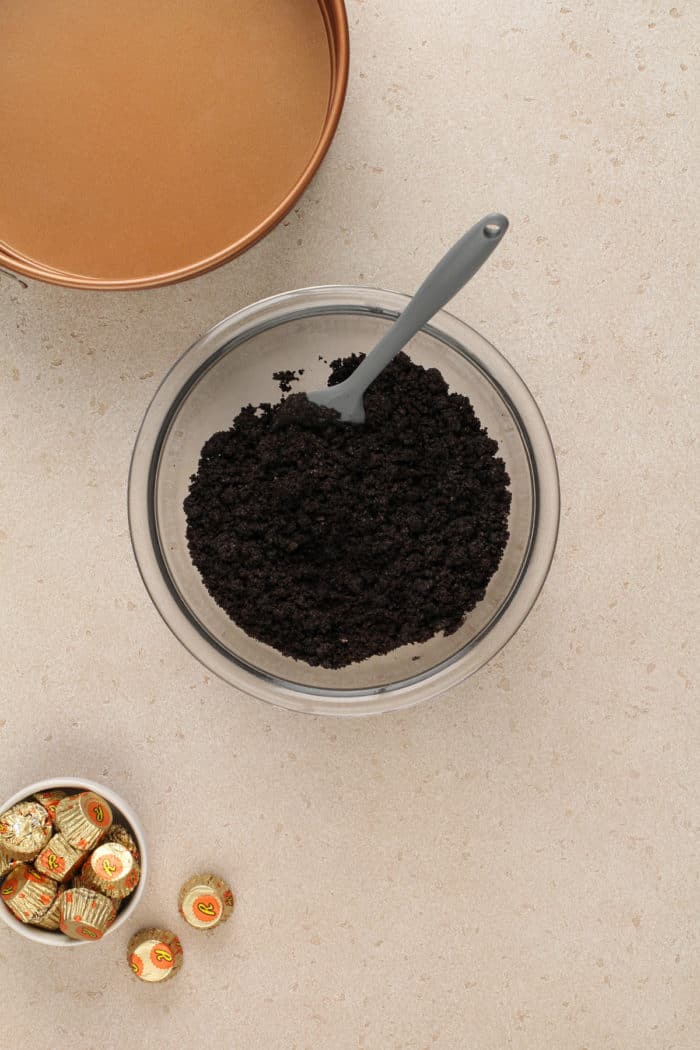 HOW TO MAKE THIS EASY PEANUT BUTTER PIE
This peanut butter pie is super easy to make and the filling only requires a handful of ingredients. It's one of those recipes that I consider a "low-bake" recipe, since you only need to bake the crust. 
It's also a great make-ahead dessert since the filling needs to chill in the refrigerator before serving.
Ingredients you'll need
For this recipe, you will need:
20 whole Oreo cookies, crushed in a food processor until they form fine crumbs
3 tablespoons unsalted butter, melted
1 cup heavy cream
8 ounces cream cheese, room temperature
1 cup creamy peanut butter
1 cup powdered sugar, sifted
2 teaspoons pure vanilla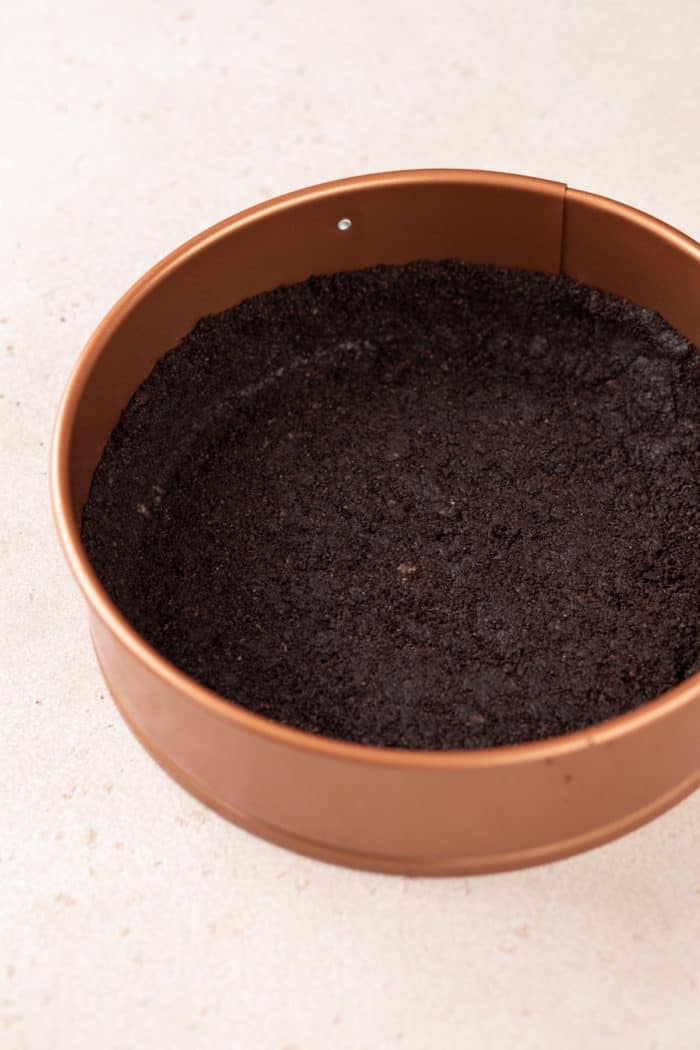 For the crust, you will use the entire Oreo cookies, filling included. Just toss the whole cookies in the food processor to make the crumbs!
I like to use homemade whipped cream for this pie filling instead of Cool Whip. It takes a few extra minutes, but it's worth it! 
If you run out of powdered sugar, check out my post on how to make powdered sugar. It'll make a substitute you can easily use in this recipe.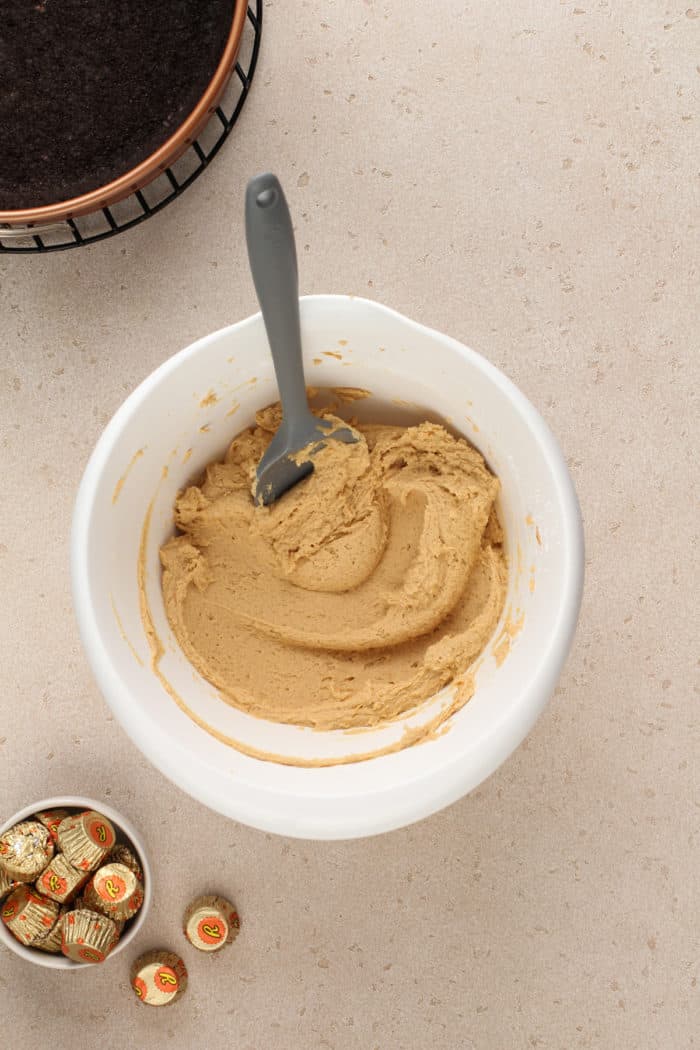 What kind of peanut butter should you use?
Make sure that you use creamy peanut butter in your peanut butter pie filling. You definitely don't want to use crunchy peanut butter!
I also recommend being careful with natural peanut butters. I do not recommend using the type of peanut butter that is only ground peanuts and nothing else. The texture tends to be pretty grainy and won't make for a super smooth pie filling.
If you want to use natural peanut butter, use a no-stir natural peanut butter. The texture will be much smoother and better for this recipe.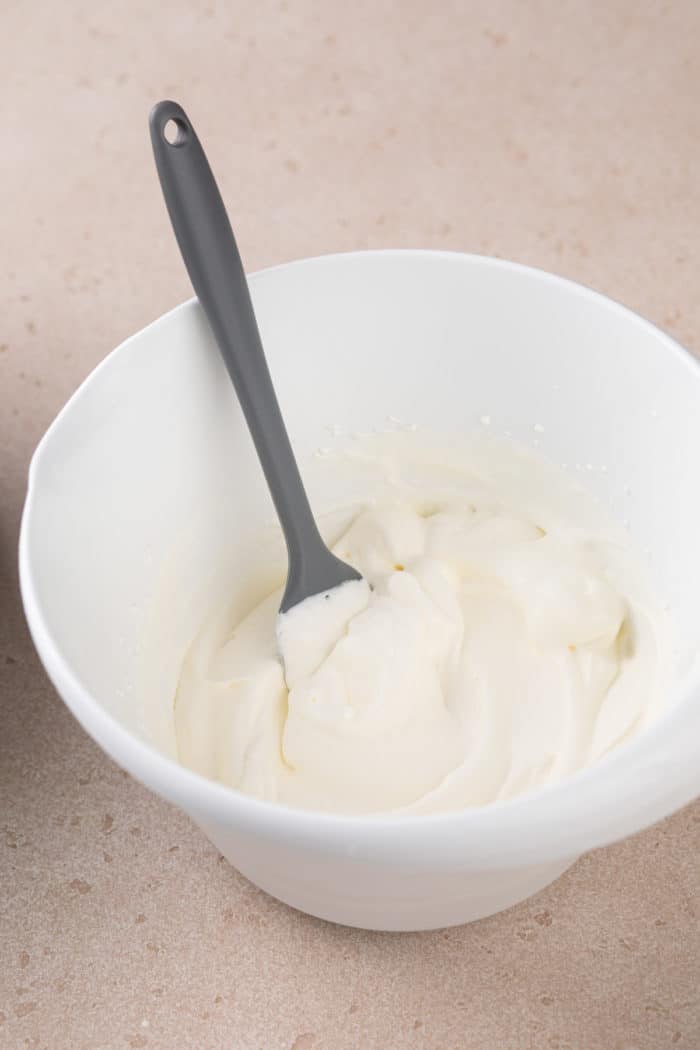 Making this recipe
To make the chocolate crust, mix together the Oreo cookie crumbs and the melted butter, then press this mixture into the bottom and up the sides of a 9-inch springform pan. 
Bake the crust for 10 minutes, then let it cool completely before adding the filling.
When the crust has cooled, use the whisk attachment on your stand mixer (or a hand mixer) to beat the cream until stiff peaks form. Set the whipped cream aside for now.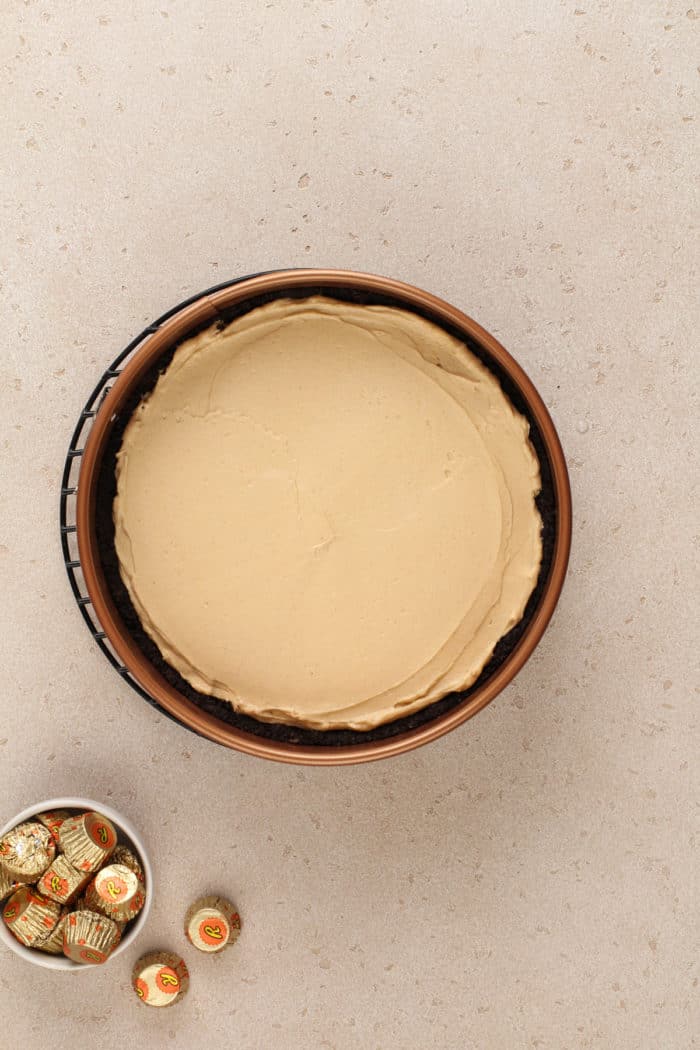 Now working with the paddle attachment, beat the cream cheese and the peanut butter for about 2 minutes on medium-high speed. Add the powdered sugar and vanilla extract and beat for another 2 minutes.
Use a rubber spatula to fold the whipped cream into the peanut butter mixture. To do this, cut down the middle of the bowl with the spatula. Bring the spatula up and around the bottom of the bowl. Turn the bowl 90 degrees and repeat until no streaks remain.
Spoon the filling into the cooled crust and chill for at least 4 hours before serving.
When ready to serve, top as desired with additional whipped cream or whipped topping, chocolate sauce, and/or mini peanut butter cups.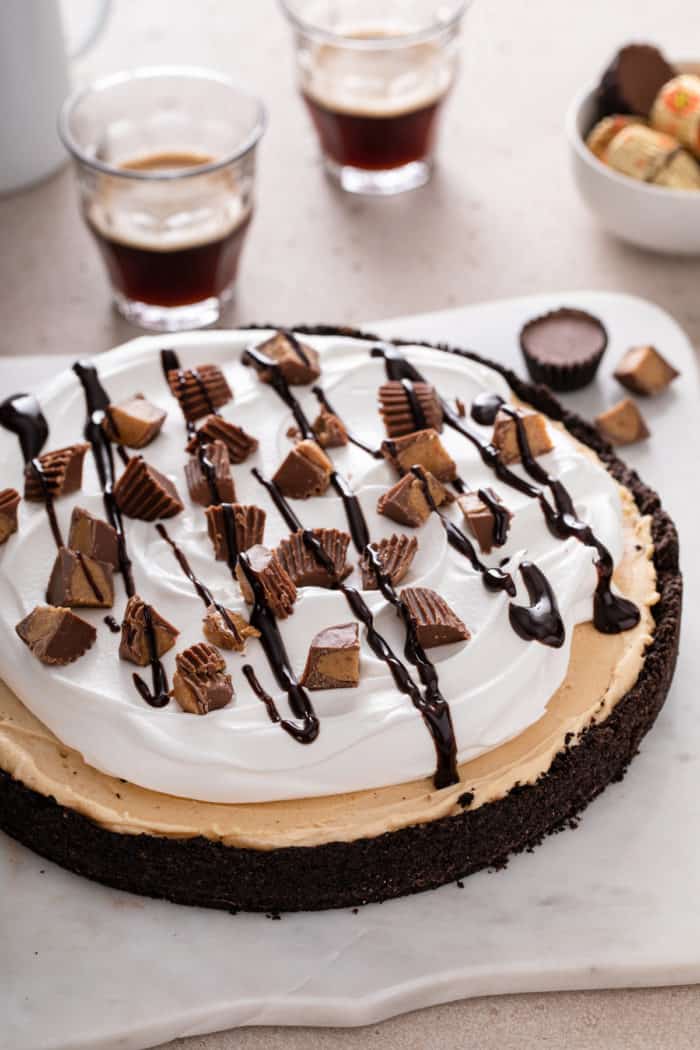 FAQ
Still have a few questions about making this peanut butter pie? Don't worry – I've got answers.
Does this pie need to be refrigerated?
Yes, you need to store this pie, covered, in the refrigerator until ready to serve so that the filling does not melt. 
Can you freeze peanut butter pie?
Yes, this pie will freeze nicely. Place the pie in the freezer to set the filling, then cover tightly with plastic wrap followed by a layer of foil. Freeze for up to a month. 
Be sure to let the pie thaw in the refrigerator overnight before serving.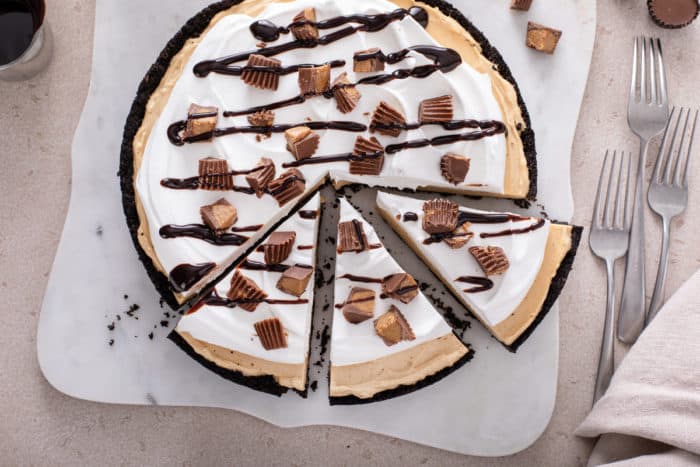 Is peanut butter pie gluten free?
The filling for this peanut butter pie is gluten free, but the crust is not. If you need this recipe to be gluten free, make sure you use gluten-free Oreos or a similar chocolate sandwich cookie.
Can you make this a no-bake pie?
If you want a fully no-bake peanut butter pie, grab a pre-made chocolate pie crust from the grocery store and use that instead of the included crust recipe. 
The store-bought crusts are a bit smaller so you will likely have some filling leftover, but you can always pipe it into a ramekin and enjoy it as a snack for yourself later! 
Whether you whip up this peanut butter pie up for a special occasion or on a Monday afternoon, I promise you'll want to eat the light, fluffy filling right off of a spoon.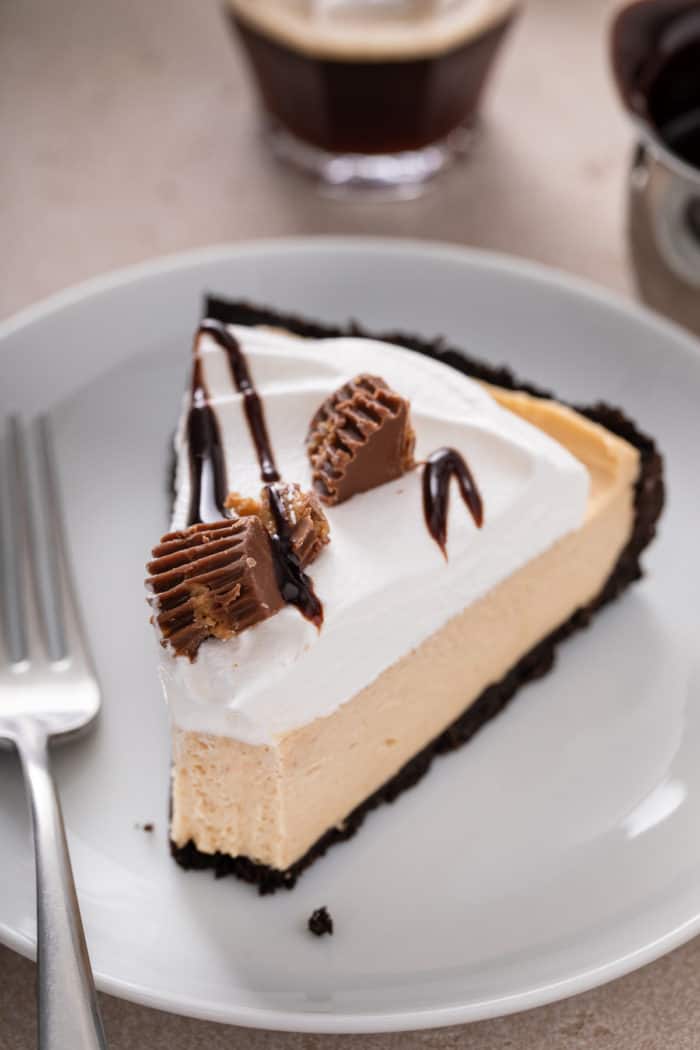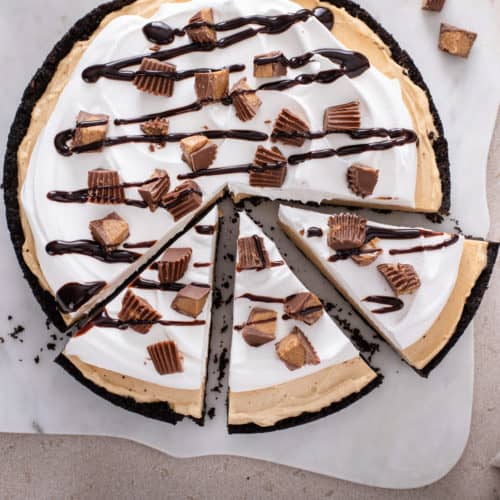 Preheat oven to 350°F.

Mix together the Oreo crumbs and melted butter. Press the crumbs into the bottom and 1 inch up the sides of a 9-inch springform pan.

Bake for 10 minutes and cool completely on a wire rack.

In a stand mixer fitted with the whisk attachment, whisk the cream at high speed until it forms stiff peaks. Transfer the whipped cream to another large bowl and set aside.

Change the whisk attachment to the paddle attachment and beat the cream cheese and peanut butter at medium-high speed for 2 minutes.

Add in powdered sugar and vanilla and beat an additional 2 minutes.

Use a rubber spatula to fold the whipped cream into the peanut butter mixture until combined and no streaks remain.

Spoon the filling into the cooled cookie crust, cover and refrigerate for at least 4 hours.

Just before serving top with whipped cream, mini peanut butter cups and chocolate sauce.
If you run out of powdered sugar, check out my post on how to make powdered sugar. It'll make a substitute you can easily use in this recipe.
Store covered in the refrigerator for up to 2 days.
Serving: 1slice (without toppings) | Calories: 505kcal | Carbohydrates: 37g | Protein: 9g | Fat: 38g | Saturated Fat: 16g | Polyunsaturated Fat: 5g | Monounsaturated Fat: 14g | Trans Fat: 0.2g | Cholesterol: 59mg | Sodium: 282mg | Potassium: 257mg | Fiber: 2g | Sugar: 26g | Vitamin A: 760IU | Vitamin C: 0.1mg | Calcium: 57mg | Iron: 3mg
The default measuring system on My Baking Addiction is US Customary. Unit conversions are provided as a courtesy; please be aware that there may be some discrepancies.
Card may contain affiliate links. As an Amazon Associate and member of other affiliate programs, I earn from qualifying purchases.
Source link