Super Simple Chicken Broth
This easy chicken broth recipe has just five ingredients (plus salt and water), starts with one whole chicken, and makes some of the nicest chicken broth we've made in our kitchen. This homemade broth tastes like pure chicken. Use it in any recipe that calls for broth or stock. It's delightful. Jump to the Homemade Chicken Broth Recipe
Why We Love This Broth
If you've been following us for a while, you might have seen our recipe for chicken stock. We still love it, but have fallen hard for this easy chicken broth. Here are a few reasons why:
It only calls for FIVE ingredients, plus salt and water.
It takes LESS THAN two hours to make from start to finish (most stocks take around four hours).
It starts with one whole chicken, so you get an incredible broth and a whole cooked chicken at the end.
The broth is all about the chicken — no carrots or extra herbs, just pure chicken. So it is lovely in almost every soup you can imagine.
So far, we've used this chicken broth to make French onion soup, potato and leek soup, and noodle soups. In all cases, we love the simplicity of this broth compared to more complex stocks.
We also don't mind the whole poached chicken we enjoy after making it. The chicken comes out juicy and tender since it simmers for just over an hour (3 hours less than our stock). It's such a fantastic bonus!
I love how delicate and chicken-forward this broth tastes. Thanks to the whole chicken, all you taste is chicken, not other herbs or vegetables. I'm not saying that broths and stocks made with other ingredients like onions, carrots, and celery aren't great, but I've fallen hard for this version's simplicity.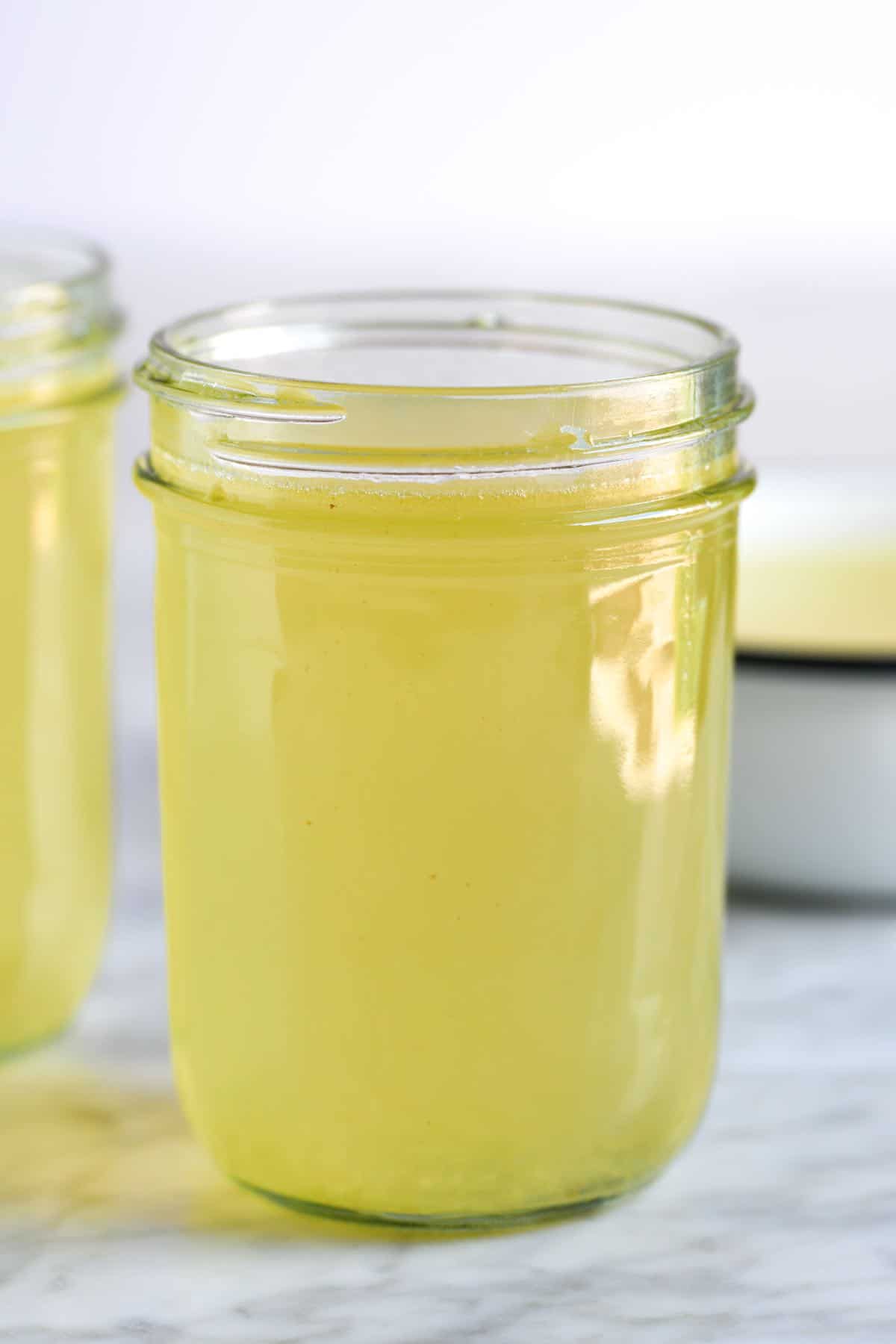 How to Make Chicken Broth From Scratch
This is one of the easiest broths we've made. Here's what you'll need:
One whole chicken
Peppercorns
Fresh thyme
Garlic cloves
One Bay Leaf
That's it! We cover everything with cold water in a pot and simmer for just over an hour. The broth tastes like pure chicken. Use it in any recipe that calls for broth or stock. It's delightful.
This recipe is part of our chef series, where we share recipes from our friend and renowned chef, Richard Hattaway. Richard shared this simple chicken broth with us and we knew we needed to share it with you. We genuinely love it, and we hope you do too.
To make the broth, we place a whole chicken, breast-side-down, in a pot, and then add garlic cloves, peppercorns, fresh thyme, a bay leaf, and a bit of salt. Finally, we barely cover it with cold water.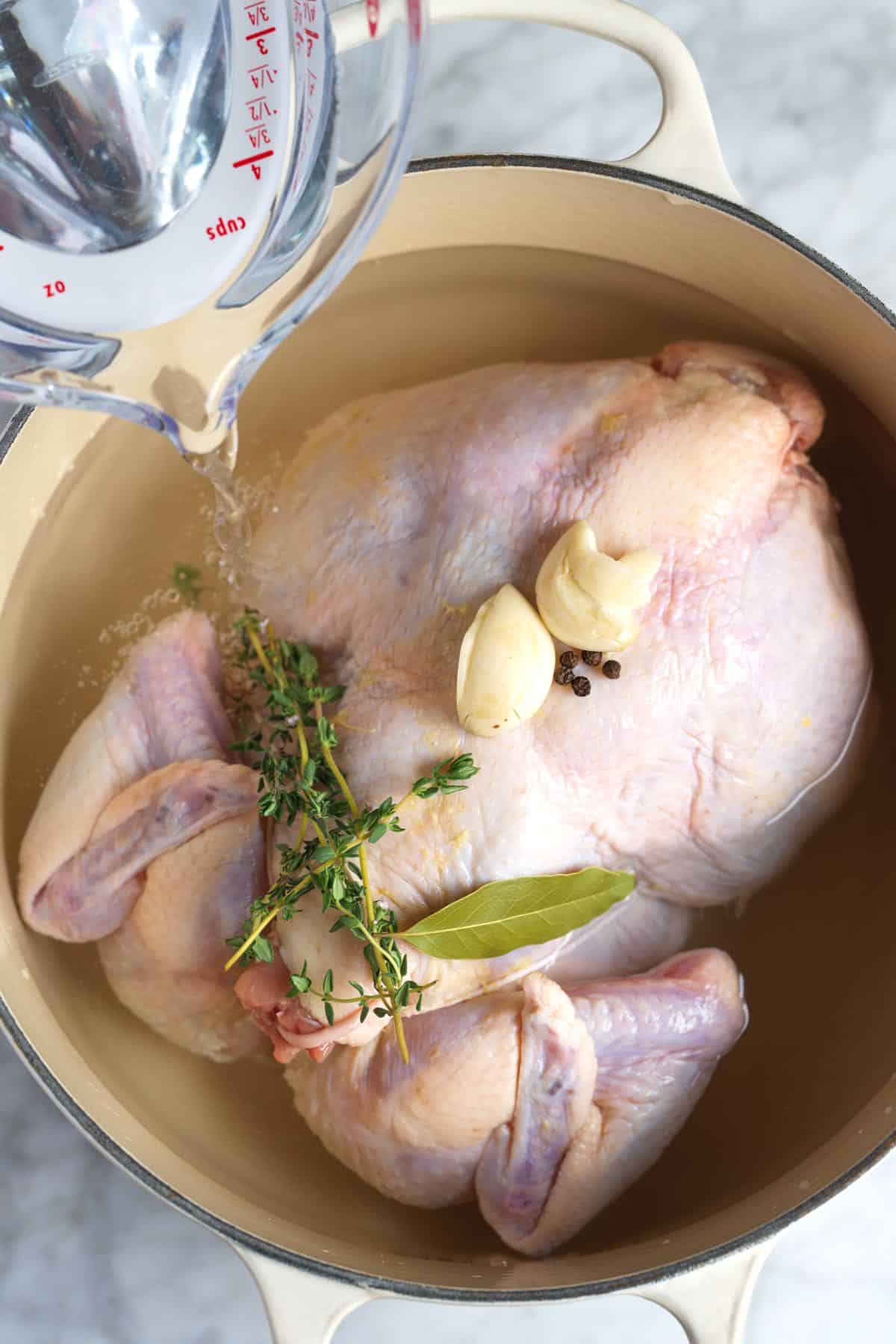 We want to bring the water to a boil and then reduce it to a simmer. Some scum and foam rise to the top as the water heats up. Skim that off the top using a slotted spoon or a soup skimmer.
Cover the pot and allow the broth to simmer for an hour and fifteen minutes.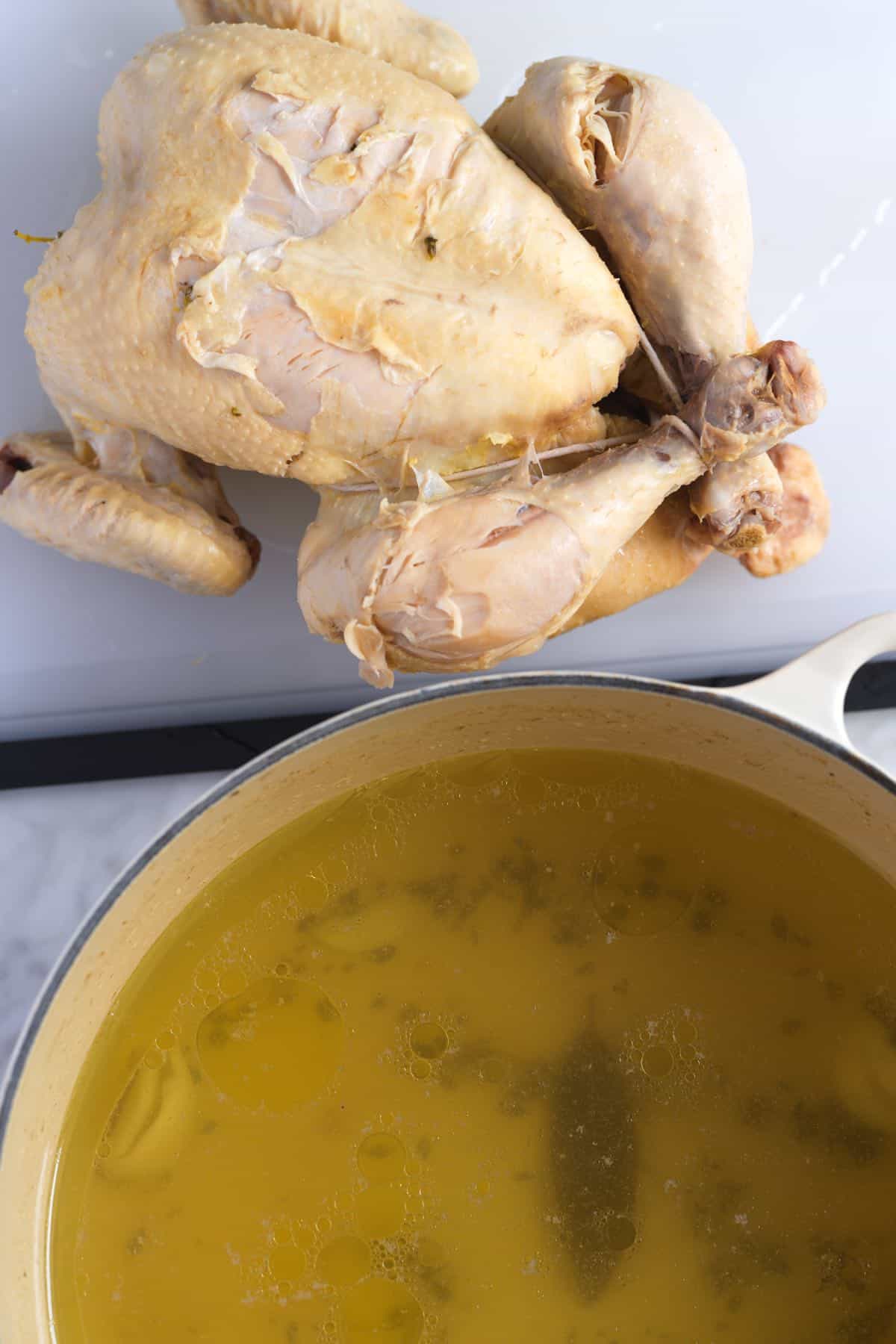 Uncover, remove the chicken, and pour the broth through a fine mesh strainer. Now it is ready to use, or store your homemade chicken broth in jars for another day. It keeps in the fridge for four days and in the freezer for a few months.
Use the tender cooked chicken for other dishes, like chicken salad, enchiladas, and more!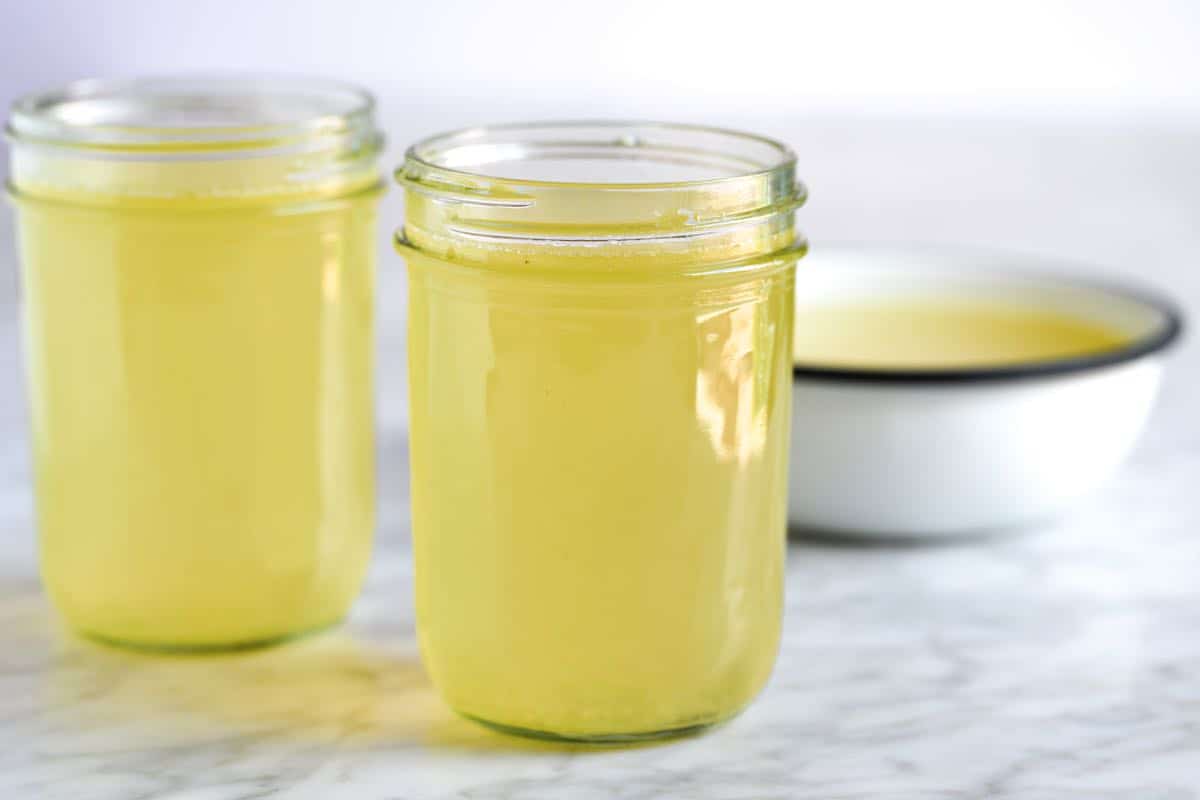 FAQ: What is the difference between stock and broth?
Nowadays, we often see the words "broth" and "stock" used interchangeably (especially on the boxes of store-bought options). In almost every circumstance, you can use either — so don't worry too much about it.
With that said, here's our take: stock tends to require longer cook times and achieves most of its flavor from bones, whereas broth typically takes less time and calls for more meat (like the whole chicken in our broth recipe below).
Neither stock or broth should be confused with bone broth, which takes much longer. The longer cooking time helps more collagen and nutrients dissolve into the broth. You can see our bone broth recipe, here.
Vegetable Broth: We also love this homemade vegetable broth. It is so tasty, I sip it like tea.
Super Simple Chicken Broth
This easy chicken broth recipe has just five ingredients (plus salt and water), starts with one whole chicken, and makes some of the nicest chicken broth we've made in our kitchen. The broth tastes like pure chicken. Use it in any recipe that calls for broth or stock. It's delightful.
This broth keeps in the fridge for up to 4 days and in the freezer for up to 3 months.
Makes 2 quarts (8 cups)
You Will Need
1 whole chicken, 4 to 5 pounds
5 whole peppercorns
4 sprigs fresh thyme
2 garlic cloves, smashed
1 bay leaf
1/4 teaspoon fine sea salt, plus more to taste
Cold water
Directions
Place the whole chicken, breast-side down, in a pot that is just large enough to fit the chicken — we use our 5 ½ quart Dutch oven.

Add the peppercorns, thyme, garlic cloves, bay leaf, and 1/4 teaspoon of salt. Barely cover the chicken with cold water — depending on your pot, you will need 7 to 9 cups.

Bring to a boil, and reduce to a simmer. Use a mesh skimmer or slotted spoon to skim any foam that floats to the surface.

Cook at a low simmer, covered with a lid, for 1 hour and 15 minutes.

Use tongs or two chopsticks tucked under the wings to transfer the chicken to a plate. Allow the chicken to cool and save it for another dish.

Ladle the stock through a fine mesh strainer and transfer it to one-quart jars. Use immediately or save for later. Note that this broth might taste light at first, I find it tastes better after cooling in the fridge a bit. Another option is to continue simmering the broth to further reduce the flavor.

Refrigerate for up to four days or freeze for up to three months. After the stock has chilled, fat will rise to the surface. We usually leave this, but you can reserve the fat and use it like oil or butter in other dishes.
Adam and Joanne's Tips
Nutrition facts: The nutrition facts provided below are estimates. We have used the USDA database to calculate approximate values. It was difficult to estimate actual numbers for this recipe, but we have done our best.
Recipe updated, originally posted September 2009. Since posting this in 2009, we have tweaked the recipe to be more clear. – Adam and Joanne
Nutrition Per Serving: Serving Size 1 cup / Calories 12 / Protein 1g / Carbohydrate 1g / Dietary Fiber 0g / Total Sugars 0g / Total Fat 0g / Saturated Fat 0g / Cholesterol 0mg / Sodium 343mg
AUTHOR: Adam and Joanne Gallagher
How to Use Chicken Broth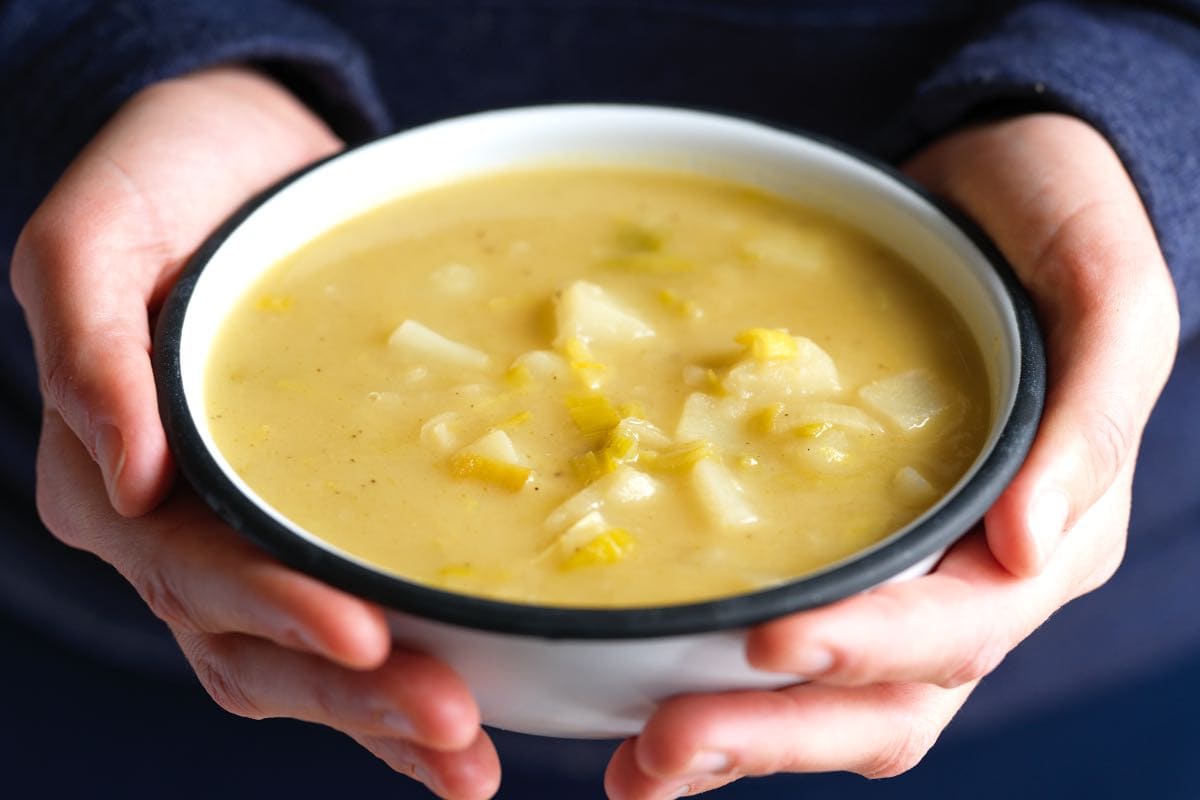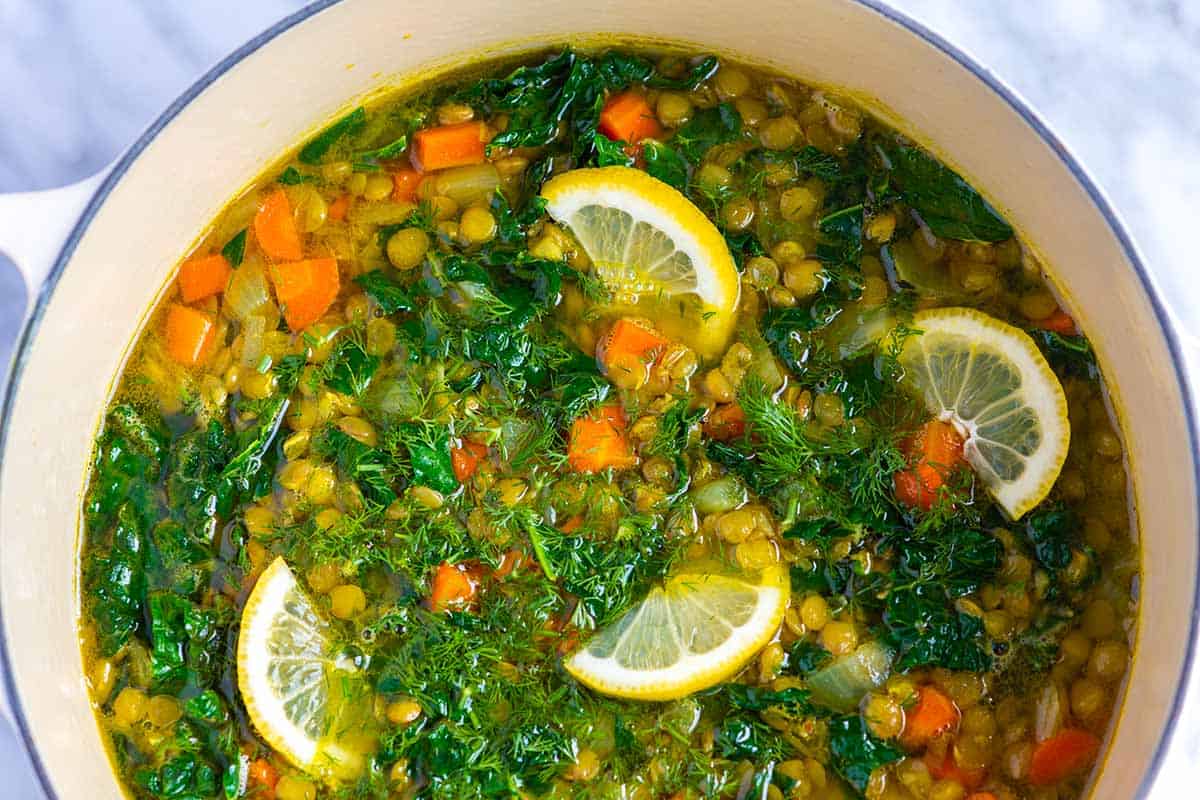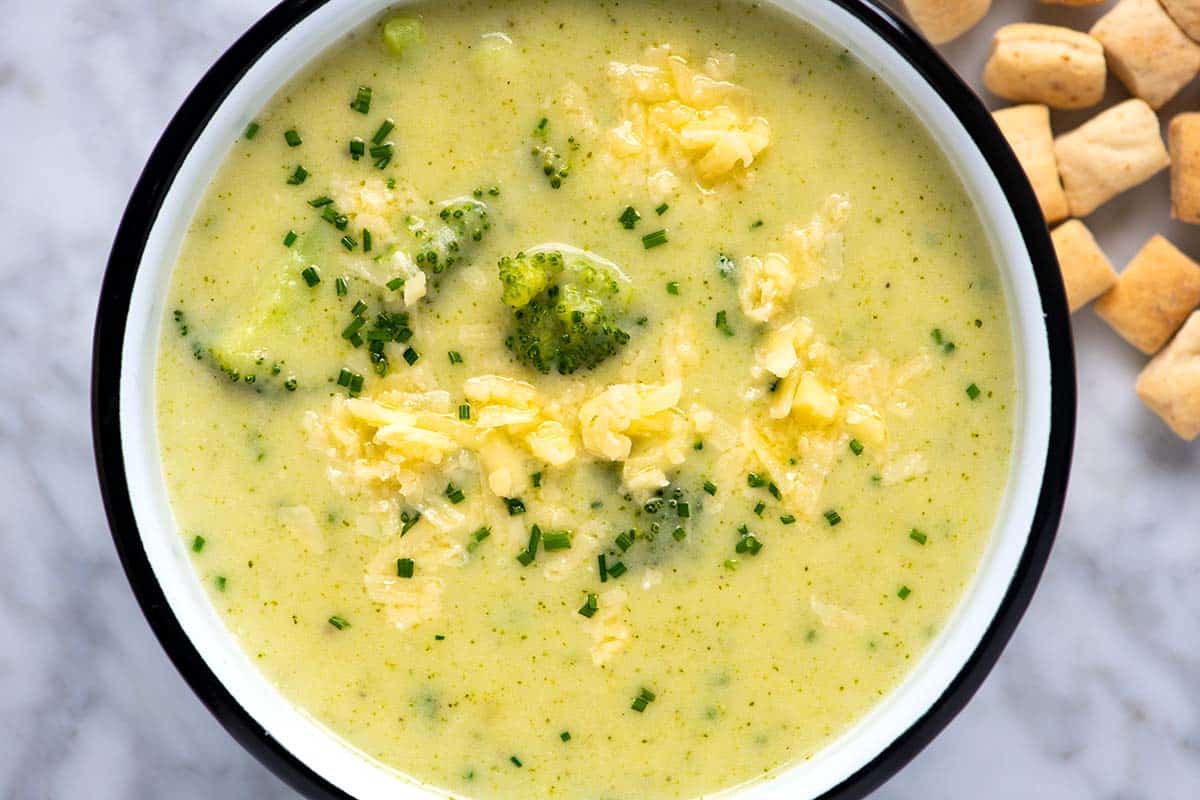 Source link