Sweet Potato Smoothie – Simple Green Smoothies
This sweet potato smoothie is the perfect transition into Fall. It's still nice and refreshingly cool because we aren't quite into fall-ish weather, yet seriously tastes like Thanksgiving in your mouth… which is my original name for this treat. I know a smoothie with sweet potato might sound a bit odd but you gotta give it a try.
Moving to Oklahoma from Florida, I was reminded that most of the United States has actual seasons and Fall is such a beautiful one. From the start of school and Friday night football games to cooler weather and bonfires, this season holds so much.
I can get stuck in a rut blending the Best Green Smoothie during this busy time so this fun and funky smoothie is the perfect way to get out of that rut and start transitioning into seasonal eating, Autumn edition.
If you find yourself in the midst of this crazy time as well then blend along with me; you really won't regret it. It might not be cool enough for Roasted Red Pepper Soup or a Hemp Hearts Veggie Bowl but we can def still blend smoothies!
Table of Contents
Recipe Ingredients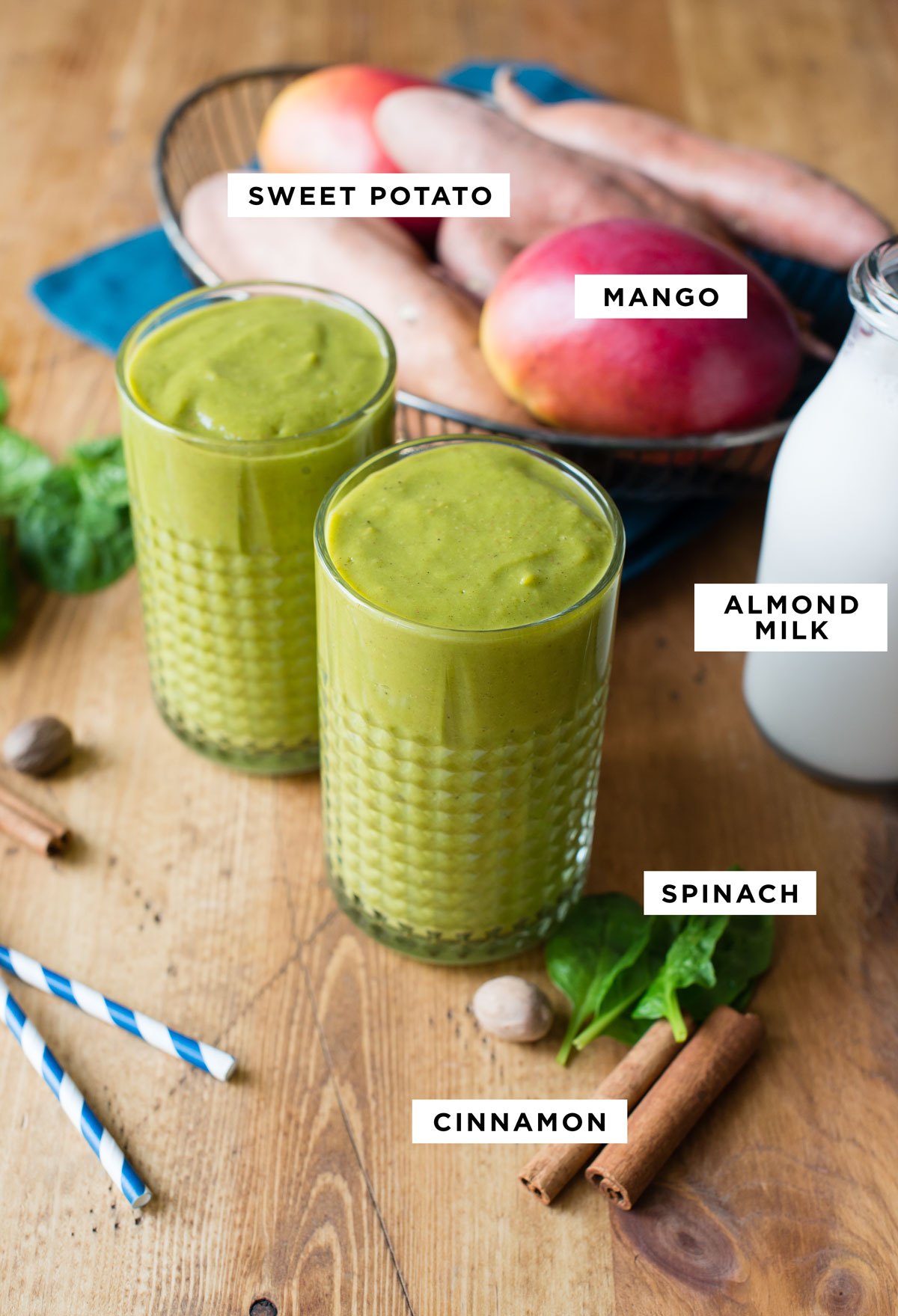 This smoothie recipe offers a rawkstar list of ingredients that will fuel your day:
Adding Protein
While this smoothie recipe contains 5.9 grams of protein per serving, I like to add a bit more if I'm using it as a meal replacement. I suggest adding my homemade protein powder, because it is the cleanest, plant-based protein powder on the market.
Made with just hemp protein, chia seeds and flaxseed, this is the cleanest powder I can find… which is why I make my own.
It offers 10 grams of additional protein, as well as 5 grams of healthy fat. Since this is already a creamy smoothie, I add in a little extra liquid if boosting with protein powder to help my blender still easily blend.
How to Blend Smoothie with Sweet Potatoes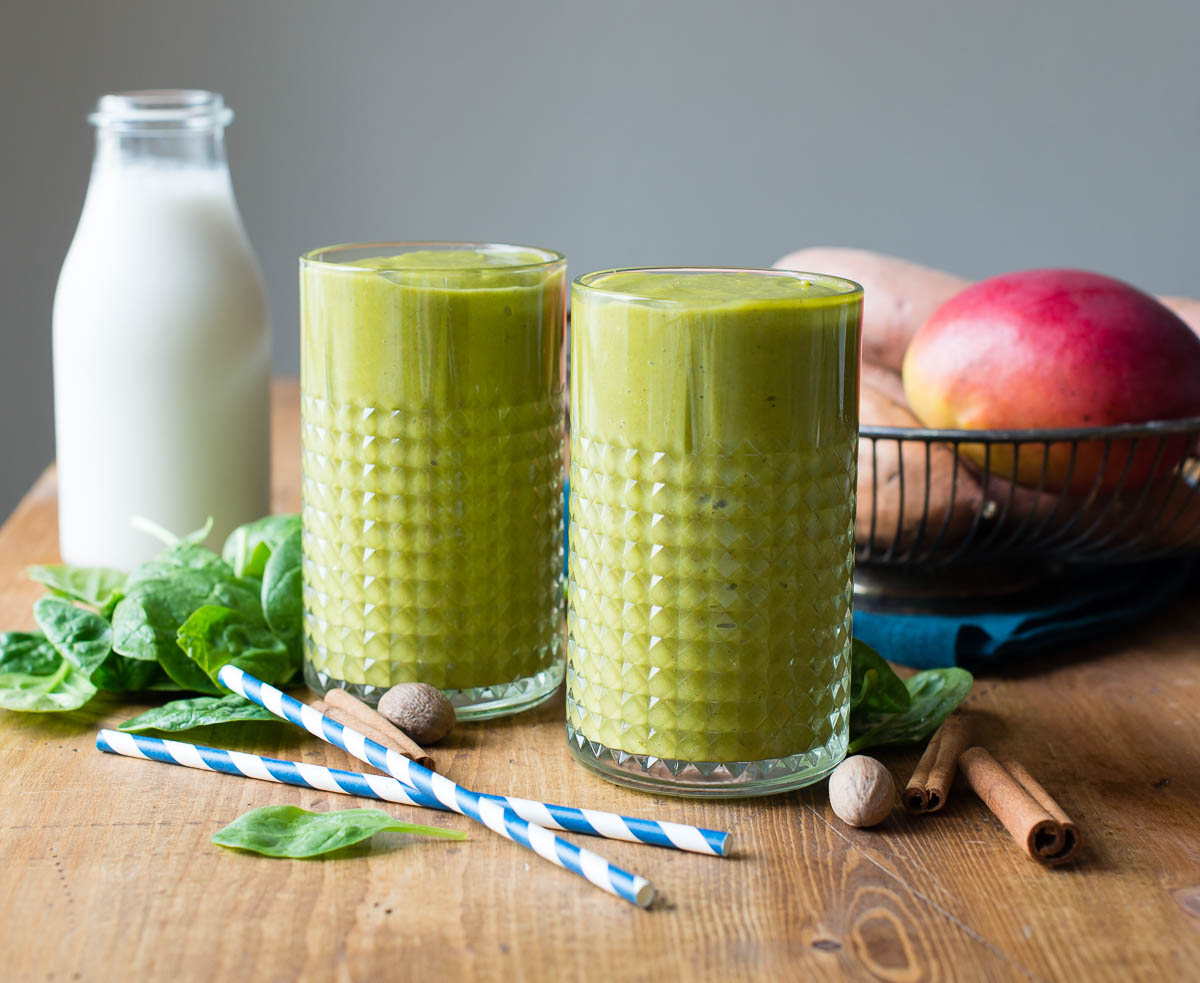 Most of my smoothie recipes take 5 minutes or less to blend. This one does have a bit of prep as you need a tender potato. Here's how I make this sweet potato smoothie:
Either bake the sweet potato in an oven at 400°F for 45 minutes or microwave it for 5 minutes until tender, to start. No matter how you heat it up, make sure to poke holes through the skin to ensure nothing explodes while baking. You want a cooked sweet potato for this recipe.
Blend the spinach and almond milk until there are no leafy chunks left.
Add the remaining ingredients and blend again until smooth. You choose whether to peel your cooked potato or keep the skin on during blending… I've had it both ways!
Pour into your fav glass and enjoy!
This is a no banana smoothie yet it doesn't skimp on creaminess or sweetness!
Easy Add-Ins
This smoothie is a thick one so be sure to add in more liquid with each of these additions to ensure you blender can still easily blend up a good result.
As-is this is a filling snack smoothie. Yet if you want a heartier version, add in almond butter (or the nut butter of your choice) or Greek yogurt. Keep it dairy-free by adding in some vegan yogurt.
To add in more natural sweetener, use a frozen banana, maple syrup or even just some vanilla extract.
FAQs
Can you eat raw sweet potato?
While you can eat a sweet potato raw, I recommend using a cooked one for a smoothie. You can actually batch cook sweet potatoes then freeze them in single servings for future use; it's easy! Just bake at 400°F for 45 minutes or until fork tender. Or microwave for 5 minutes. Just make sure to poke holes in the potatoes so they don't explode while baking.
What smoothies are good for pregnancy?
You should always consult your certified practitioner to know what foods will help you during pregnancy. Look for ingredients rich in folate and iron, as well as any other nutrients you want to capitalize on while pregnant to keep you energized, regular, and both you and your baby thriving.
What flavors taste good with sweet potatoes?
Sweet potatoes are so much fun to use as they pair well with both sweet and savory ingredients. I am choosing sweet ones for this smoothie and am pairing my sweet potato with almond milk, mango, cinnamon and nutmeg.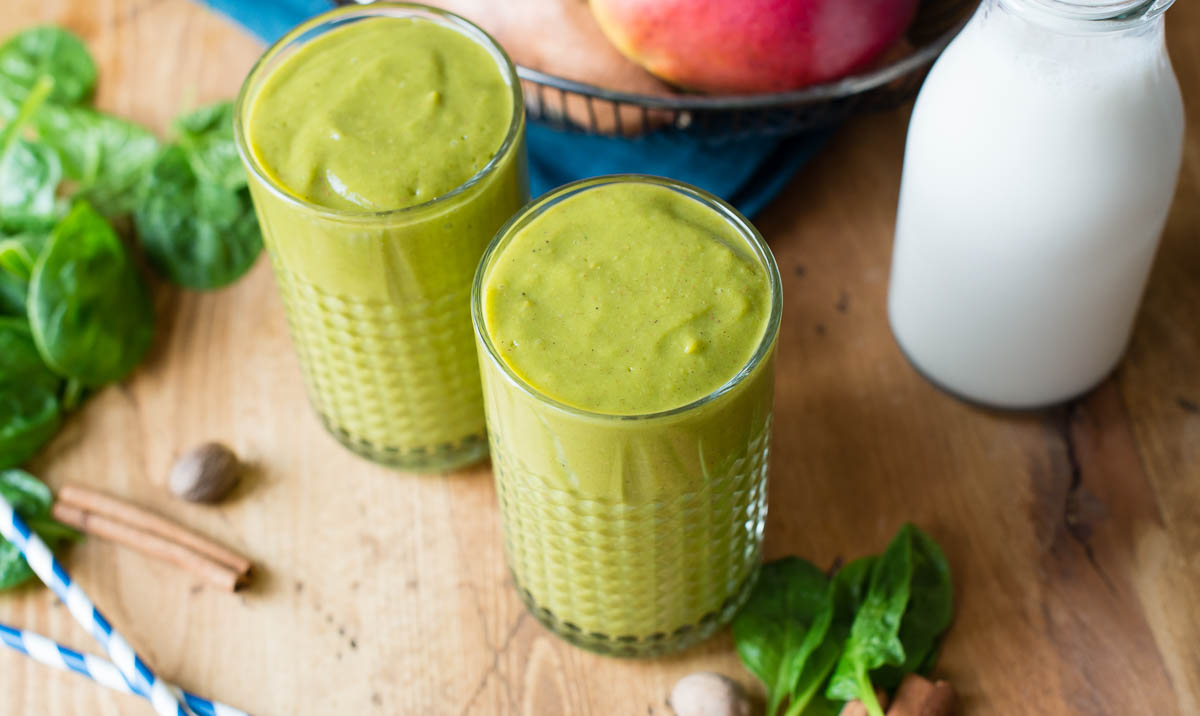 More Autumn Smoothie Recipes
I try to eat as seasonally as I can. Fall is an easy time to do this with a wide variety of fun and delicious produce to choose from. Here are a few of my fav smoothies to blend this season:
What are some of your fav fall recipes? I'd love it if you shared them in the comments below! Oh, and let me know if you give this sweet potato smoothie a sip.
Blend spinach, almond milk and water until smooth.

Next add remaining ingredients and blend again.
To cook sweet potato: Line a baking sheet with parchment paper. Scrub sweet potato with water, then dry and poke all over with holes using a fork. Bake at 400°F for 45 minutes or until potato is fork tender. Then chill in fridge until ready to use. Alternatively, scrub sweet potato and poke with holes then microwave for 5 minutes or until fork tender.
Use at least 1 frozen ingredient for a refreshingly cool smoothie.
Swap spinach for the leafy greens of your choice.
Feel free to add in some homemade protein powder or plant-based vanilla protein powder; make sure to add extra liquid if doing this to ensure your blender still has an easy time.
Calories: 243kcal, Carbohydrates: 50g, Protein: 5g, Fat: 4g, Saturated Fat: 1g, Polyunsaturated Fat: 2g, Monounsaturated Fat: 2g, Sodium: 414mg, Potassium: 829mg, Fiber: 8g, Sugar: 28g, Vitamin A: 20631IU, Vitamin C: 71mg, Calcium: 384mg, Iron: 2mg