Vanilla Cupcakes Recipe | My Baking Addiction
Don't overlook the classics! These vanilla cupcakes are sweet and tender and full of vanilla flavor. Top them with your favorite frosting for the perfect treat.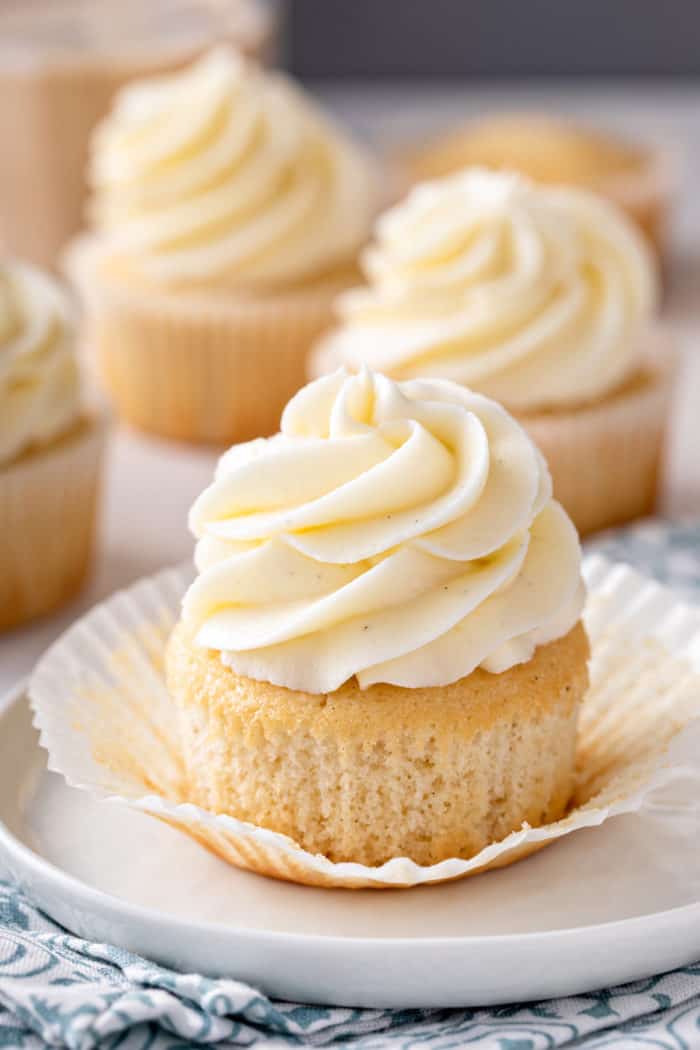 I know that everyone is all about flavored cakes and cupcakes: chocolate, lemon, strawberry, peanut butter…the list goes on.
But don't overlook vanilla! 
If you don't think vanilla cupcakes are anything special, then you don't know what you're missing. If you use really good vanilla and know how to make a super tender cake, you are in for a real treat!
So don't sleep on this vanilla cupcake recipe. I can promise it'll make you ask for vanilla cupcakes all of the time.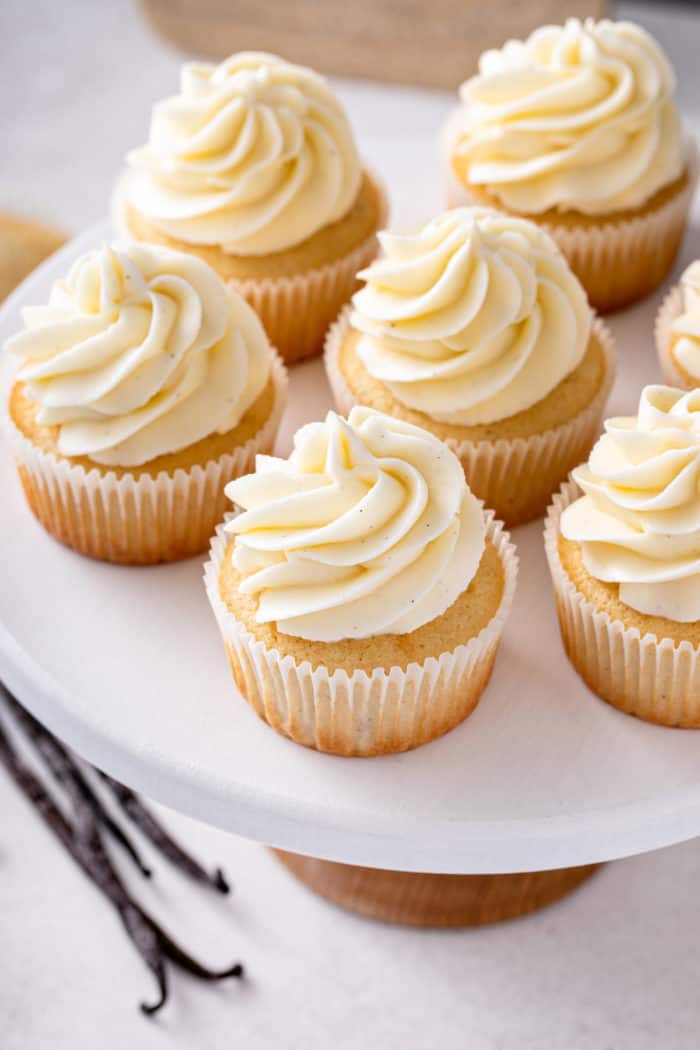 THE BEST VANILLA CUPCAKE RECIPE
Don't let anyone tell you that vanilla is "boring." That probably just means they haven't had a good vanilla cake or cupcake before! 
The truth is that vanilla cupcakes are a classic, and when they are done right they can be really flavorful on their own or make a great slate for pairing with your favorite frostings and fillings (see "frosting and filling ideas" below).
These vanilla cupcakes are tender, moist, and packed FULL of vanilla flavor thanks to both a vanilla bean (or vanilla bean paste) and vanilla extract. They will totally make you rethink how you see vanilla!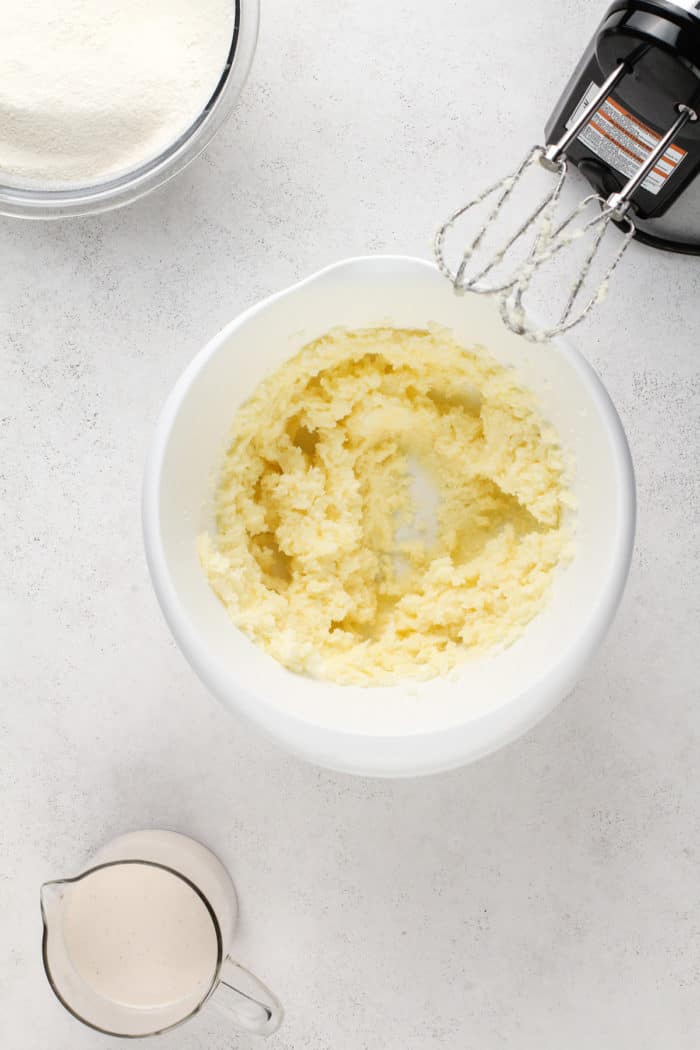 HOW TO MAKE VANILLA CUPCAKES
If you've made my funfetti cupcakes, this recipe might look familiar to you. That's because they're really similar! 
The funfetti version obviously includes sprinkles, while the vanilla version includes two different types of vanilla! 
Ingredients you'll need
This vanilla cupcake recipe is simple, but that just means that all of the ingredients are important! 
Cake flour: Cake flour makes for a super tender crumb. I really like Swan's Down cake flour, but you can also use my cake flour substitute if you don't have any on hand. Make sure you also know how to measure flour properly before starting.
Baking powder: Baking powder is our leavening for this cupcake recipe.
Kosher salt: I usually use kosher salt in this recipe, although I have also used fine sea salt. Check out my guide on the types of salt for more info.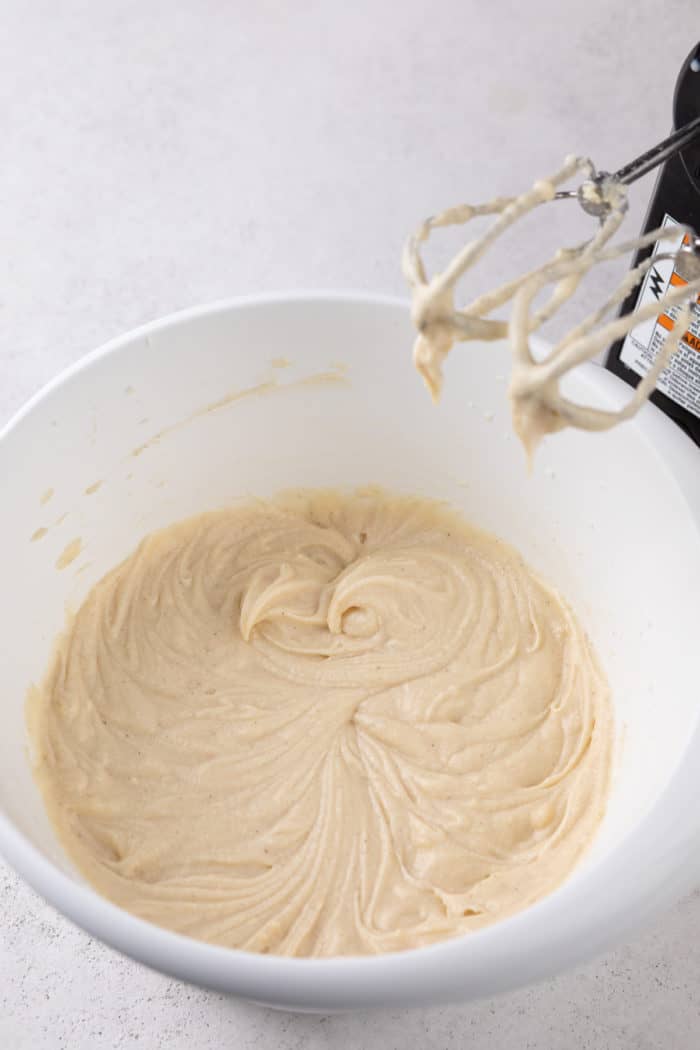 Whole milk: I prefer to use whole milk in this recipe, but you could probably use a non-dairy milk substitute just fine.
Vanilla bean or vanilla bean paste: Is there anything better than seeing little flecks of vanilla bean in a recipe? If you don't have vanilla beans, feel free to use your favorite vanilla bean paste in this recipe instead.
Vanilla extract: We want tons of vanilla flavor in these cupcakes, but let's be real: vanilla beans can be pretty expensive. So I like to use one vanilla bean or a bit of paste for those gorgeous vanilla bean flecks and combine it with vanilla extract to boost that flavor.
Make sure to use a really good quality vanilla extract in these cupcakes, though. Don't use artificial vanilla here!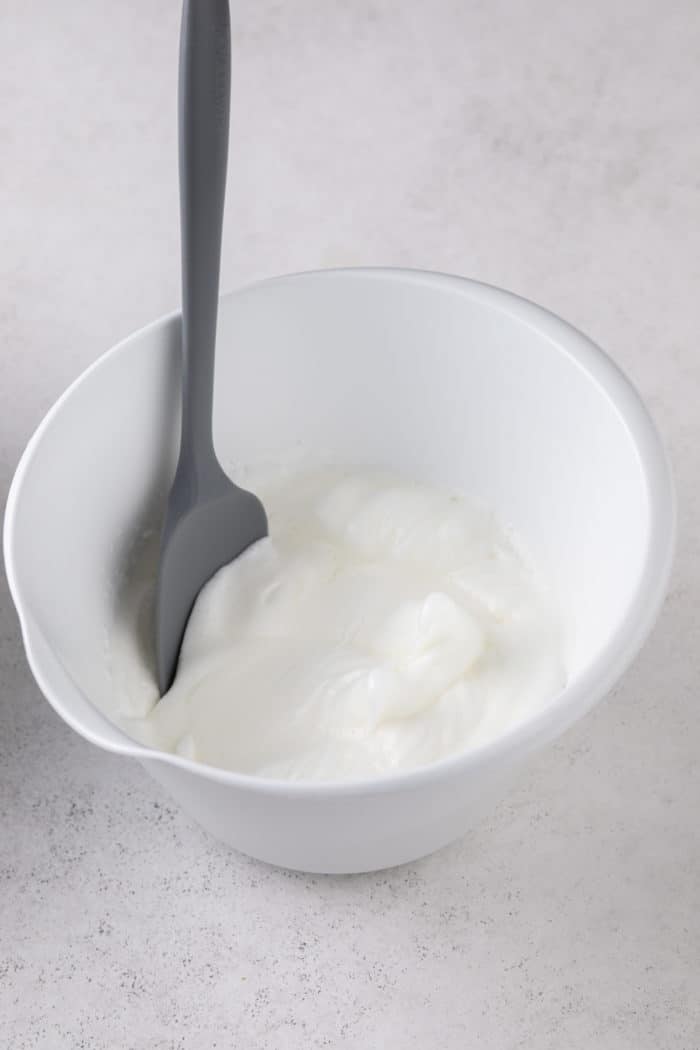 Unsalted butter: Make sure your butter is at room temperature before you get started. Learn how to bring butter and eggs to room temperature. 
Granulated sugar: Granulated sugar gives us the sweetness we need in these cupcakes. They're just sweet enough to balance well with a sweeter frosting.
Egg whites: For this recipe, we are just going to use the whites of the eggs, not the yolk. Beating the egg whites and folding them into the batter helps to lighten the batter and make for a tender cupcake.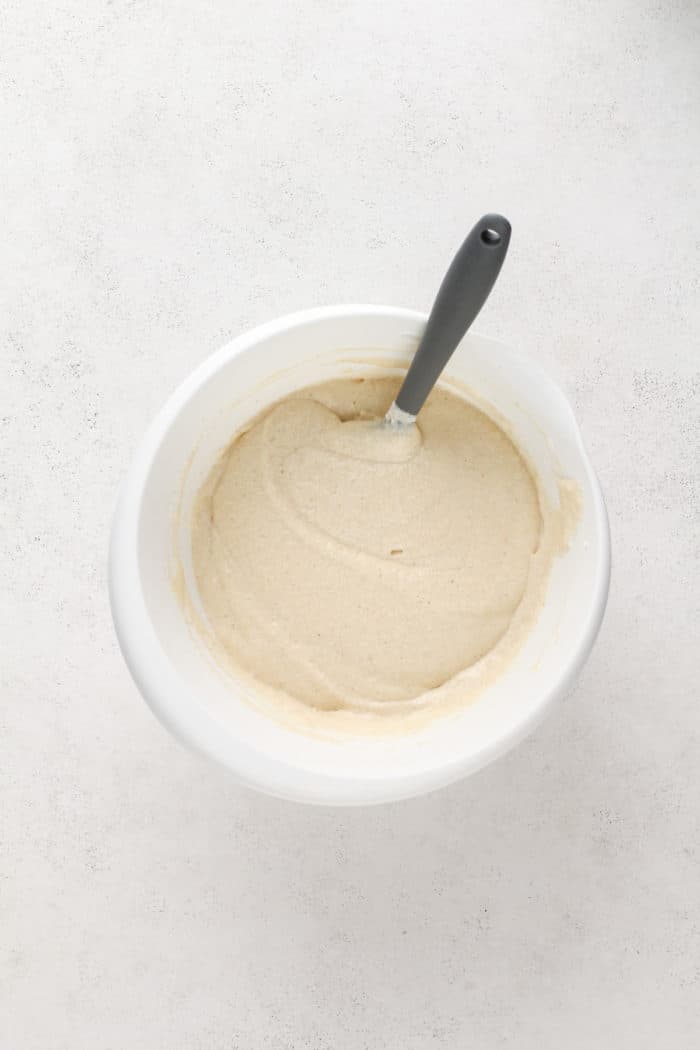 Making this recipe
This recipe makes 24 cupcakes, so line two standard cupcake pans with paper liners.
To prep the dry ingredients, sift the flour, baking powder, and salt into a bowl.
To prep the wet ingredients, whisk the milk and vanillas together in a measuring cup.
Using a mixer, beat the butter and sugar together for about 3 minutes, until light and fluffy. Alternate adding the flour mixture with the milk mixture, beginning and ending with the flour. Mix until just combined after each addition.
Beat the egg whites with a hand mixer on medium-high speed until stiff peaks form.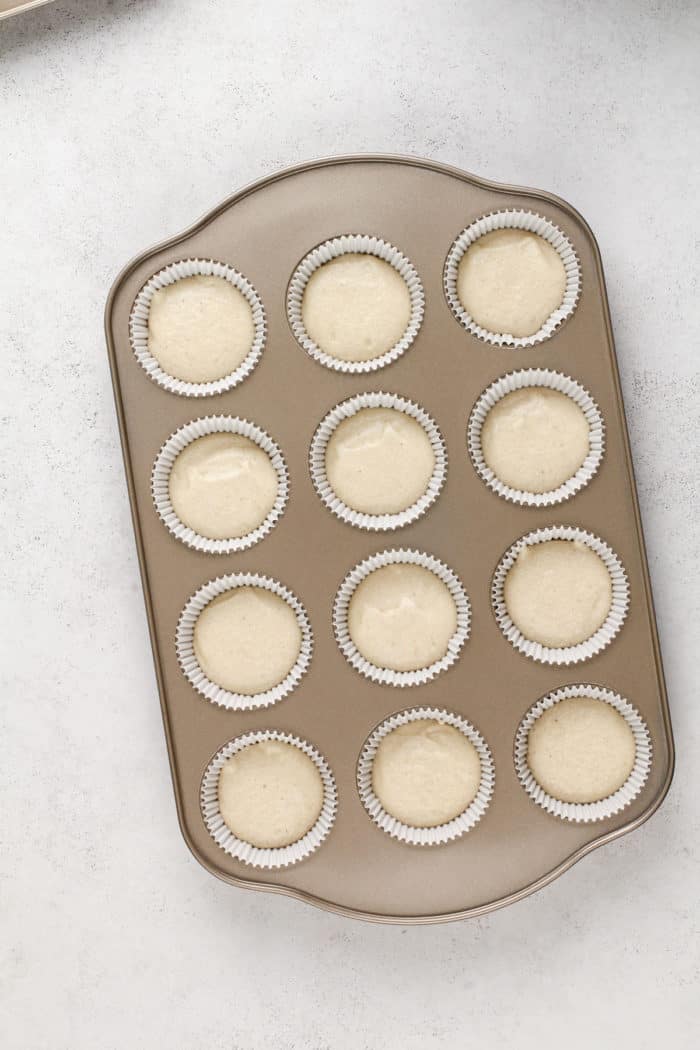 Stir ¼ of the egg whites into the batter. This helps to lighten the batter so we can fold in the rest of the whites. 
Gently fold in the remaining whipped egg whites, one half at a time, by cutting the spatula down the middle to the bottom of the bowl, then sweeping it around, up and over. Turn the bowl 90 degrees and repeat until no streaks of egg whites remain.
Divide the batter between the prepared cupcake tins and bake for 18-24 minutes. Let the cupcakes cool completely before decorating.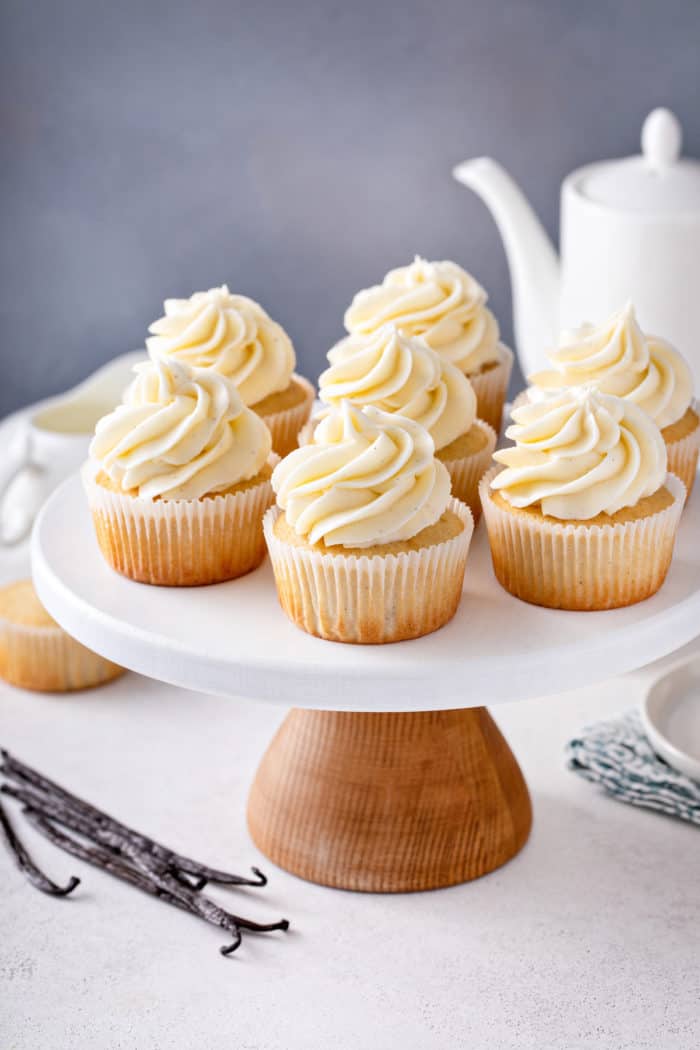 FROSTING AND FILLING IDEAS
These classic vanilla cupcakes make a great base for adding all of your favorite fillings and frostings. These cupcakes bake up just the perfect height for topping with a beautiful swirl of frosting.
Some of my favorite classic frostings include my homemade buttercream frosting, homemade chocolate frosting, and strawberry frosting.
But don't be afraid to get creative with your frosting flavors! The lemon-lime frosting from my lemon-lime cupcakes or the nutella frosting from my banana nutella cupcakes are two great examples.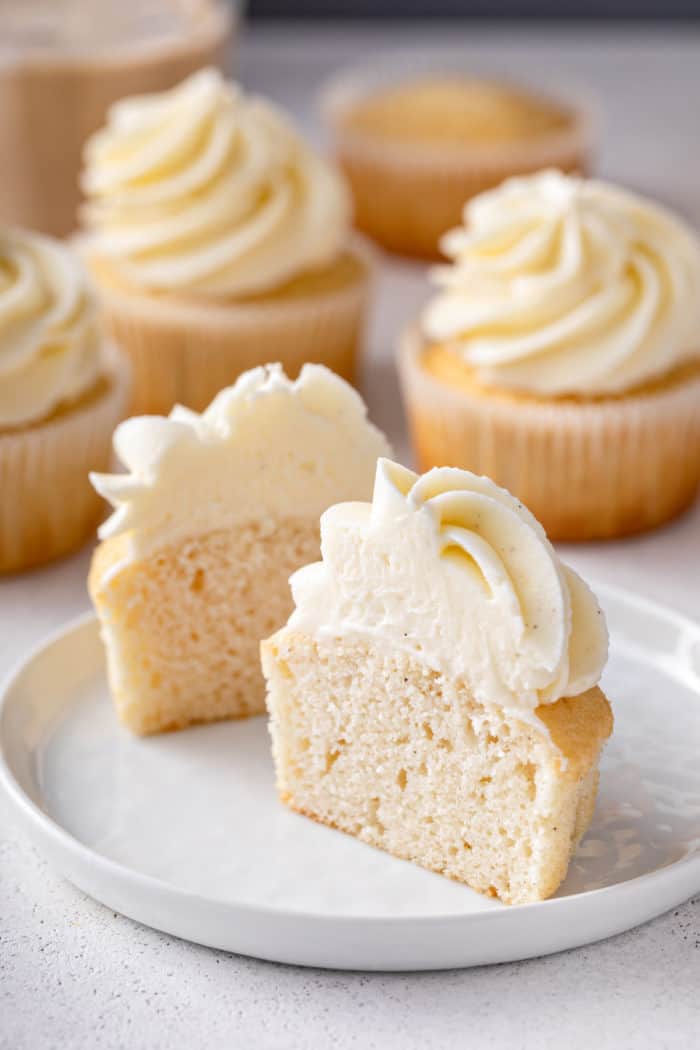 And don't forget about filling your cupcakes! Some of my favorite fillings include:
You can also use any flavor of frosting as a cupcake filling as well.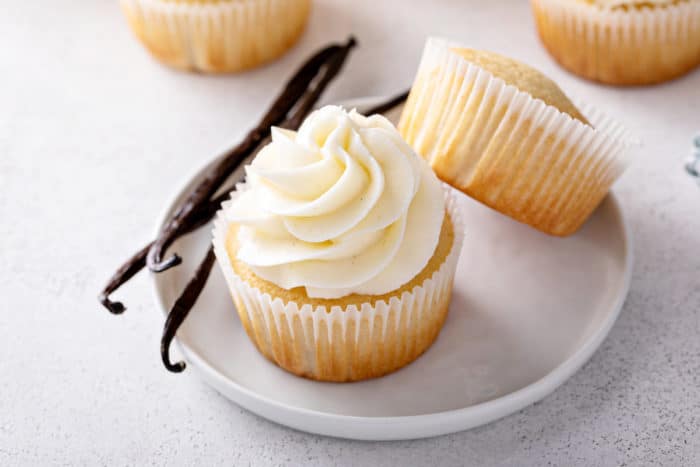 STORAGE AND FREEZING
Store undecorated vanilla cupcakes at room temperature in an airtight container for up to a day before frosting. You can also freeze them, tightly wrapped in a zip-top freezer bag, for up to 2 months before decorating.
Store decorated cupcakes in the refrigerator for up to 3 days. If you are using a buttercream frosting and your house is not too warm, you can store them at room temperature for up to a day.