White Chocolate Pistachio Pudding Cookies
These soft and chewy white chocolate pistachio pudding cookies are packed full of chocolate chips and roasted pistachios that can be enjoyed any time of year.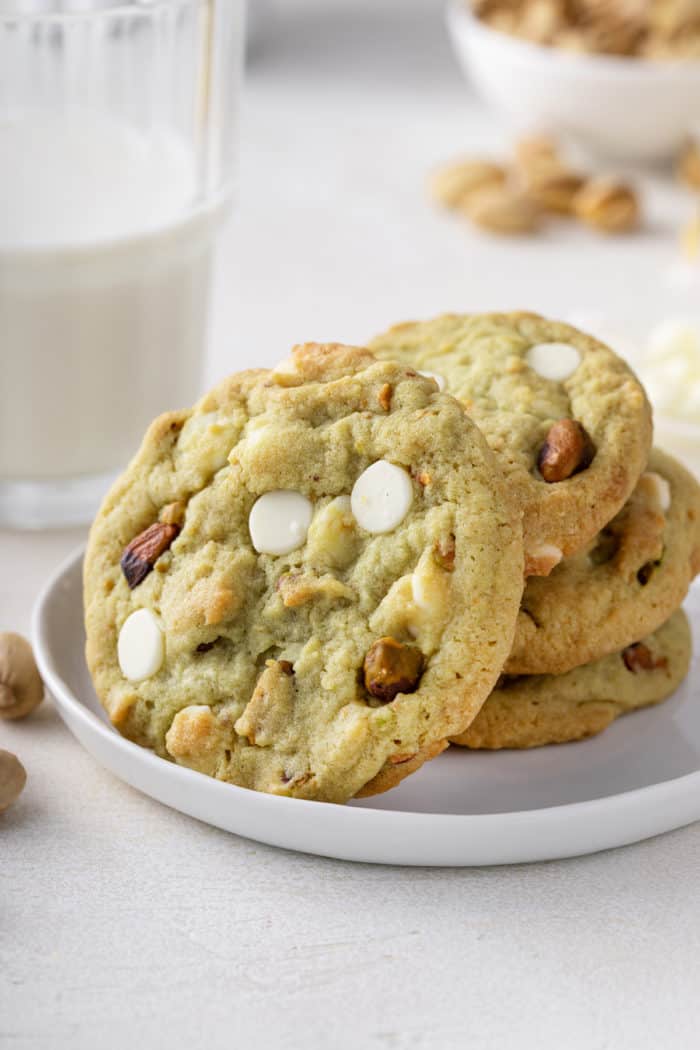 It doesn't matter what time of year it is, I'm probably thinking about cookies.
Even in the middle of pumpkin and apple season. I mean, I always love my iced pumpkin cookies or my apple peanut butter cookies, but there's also never a wrong time to enjoy a soft and chewy white chocolate pistachio pudding cookie.
Make them for any holiday that revolves around the color green. Make them in the summer. Make them in the fall. 
Just give them a try – I know you'll love them as much as I do.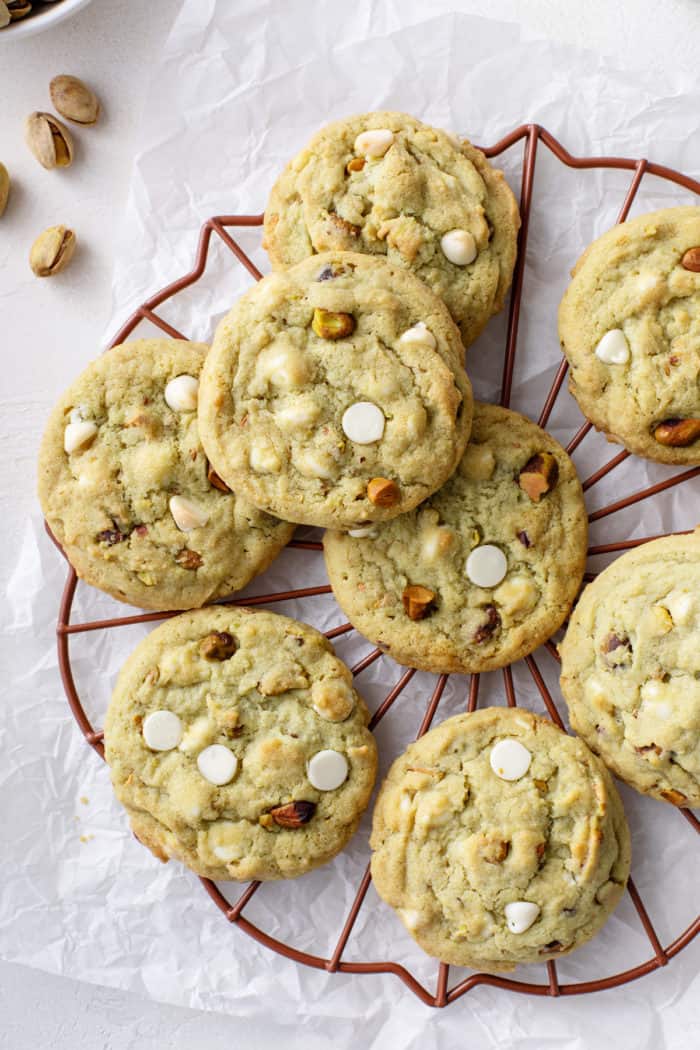 ADDING PUDDING MIX TO COOKIES
Have you ever added pudding mix to cookies?
If you have been around here for a while, you know that I love using instant pudding mix in all kinds of recipes, especially doctored cake mix. Not only does the pudding mix add flavor, it also helps keep the cake nice and moist.
When you add it to cookies, it does something similar: It adds a bit of softness to your chewy cookies, making for an amazing texture. 
Don't worry, it won't make the cookies cakey at all. But if you like your cookies to be slightly soft but still chewy, you have to give this trick a try. 
If you try these white chocolate pistachio pudding cookies and love them, I'd recommend also trying my chocolate chip pudding cookies (which I love for totally different reasons than my favorite chocolate chip cookies) and my oreo pudding cookies.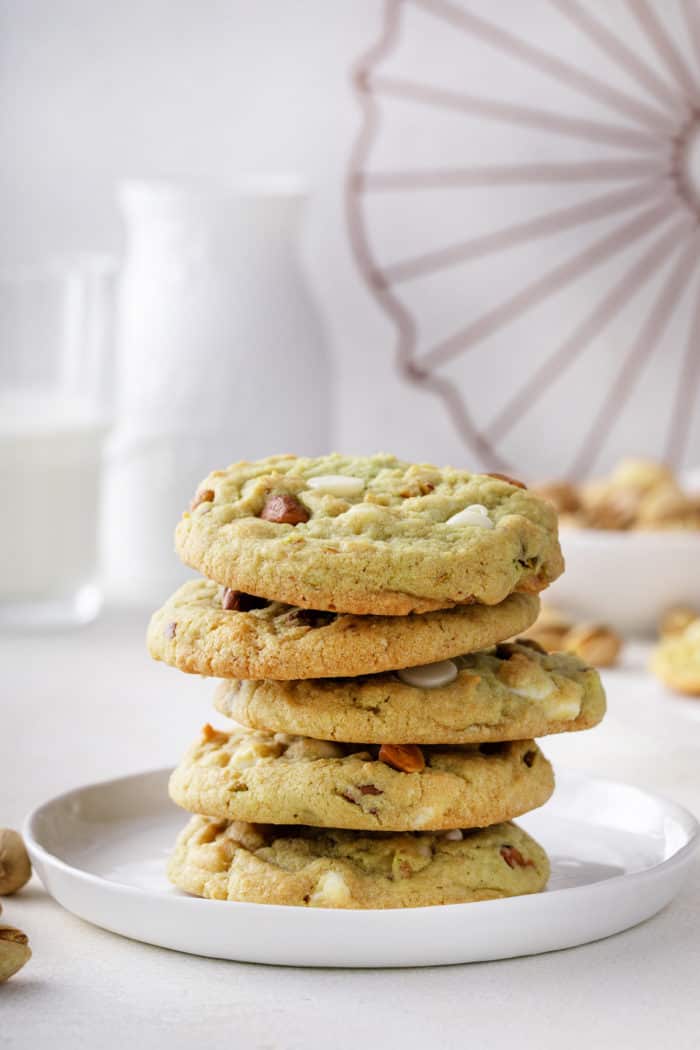 HOW TO MAKE WHITE CHOCOLATE PISTACHIO PUDDING COOKIES
These white chocolate pistachio pudding cookies are for anyone who loves recipes like my pistachio pudding cake, St. Patrick's Day crinkle cookies, or layered pistachio pudding dessert.
Plus, you don't have to chill the dough before baking the cookies. So you are just a short wait away from fresh-from-the-oven goodness!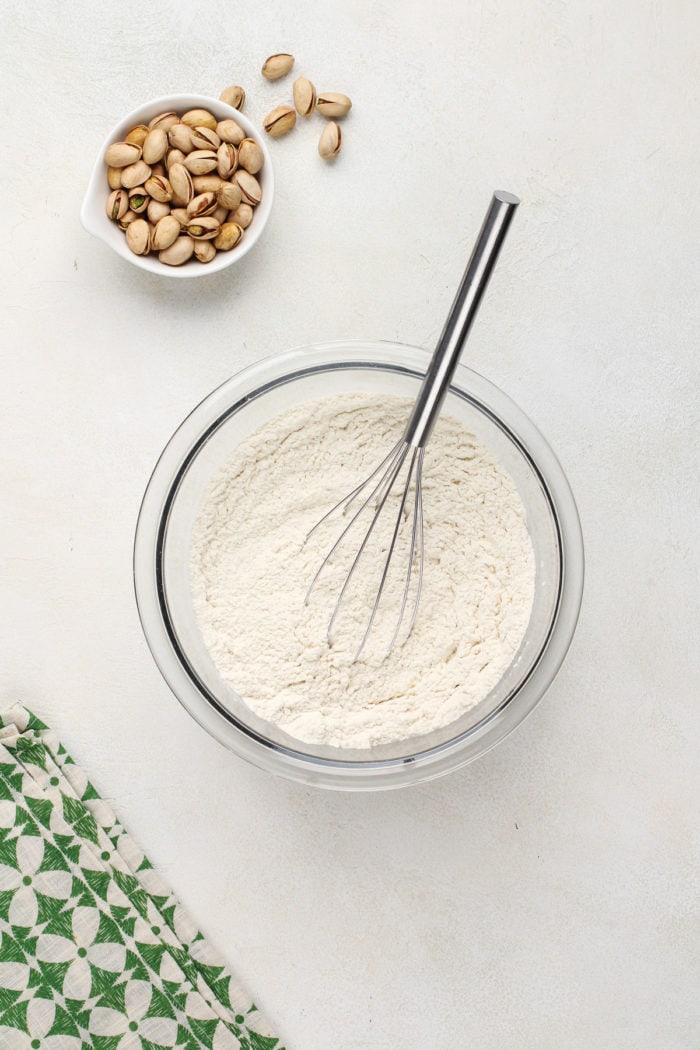 Ingredients you'll need
Aside from the pudding mix, the ingredients you'll need for this recipe are pretty similar to what you'd expect to find in most any chocolate chip cookie recipe:
2 ¼ cups all-purpose flour
1 teaspoon baking soda
⅛ teaspoon fine sea salt
1 cup unsalted butter, softened
¾ cup lightly packed light brown sugar
¼ cup granulated sugar
1 (3.4 ounce) box instant pistachio pudding mix
2 large eggs
1 teaspoon pure vanilla extract
1 cup white chocolate chips
1 cup shelled, roasted, and salted pistachios, roughly chopped
If you can only find unsalted pistachios at your store, don't worry. Simply add an additional ¼ teaspoon of salt to the dough.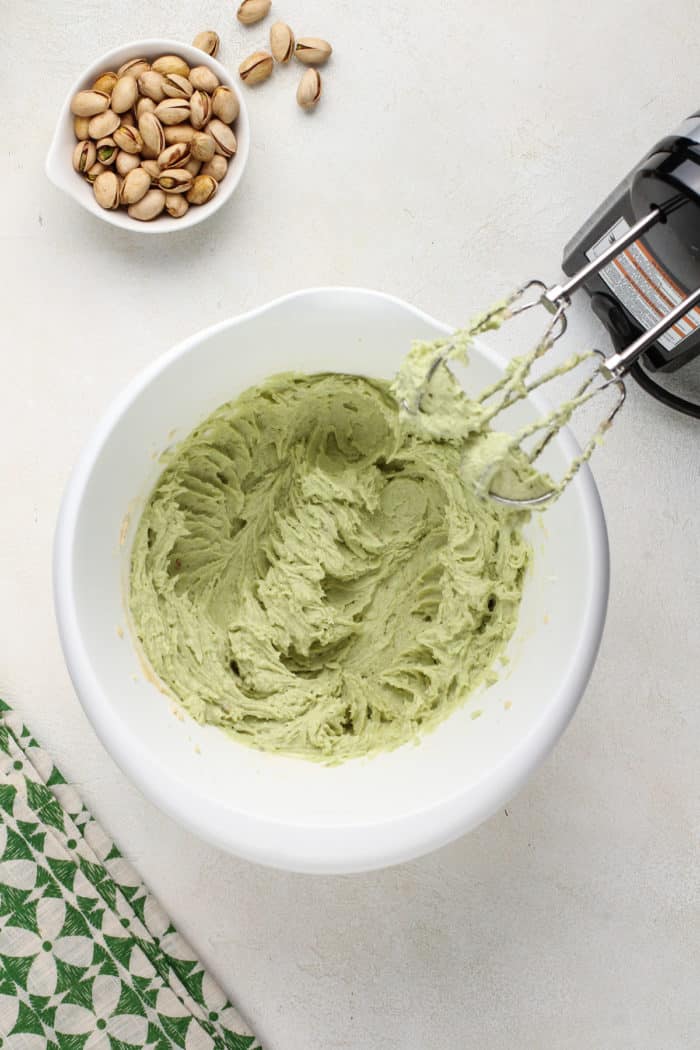 Helpful resources
Before you get started, make sure you know how to measure flour correctly. That way your cookies come out perfect every time!
If you forget to set your butter out to soften ahead of time, check out some of my tricks for how to soften butter quickly.
Out of brown sugar or is your brown sugar hard as a rock? Save yourself a trip to the grocery store by learning how to make a brown sugar substitute and how to soften brown sugar.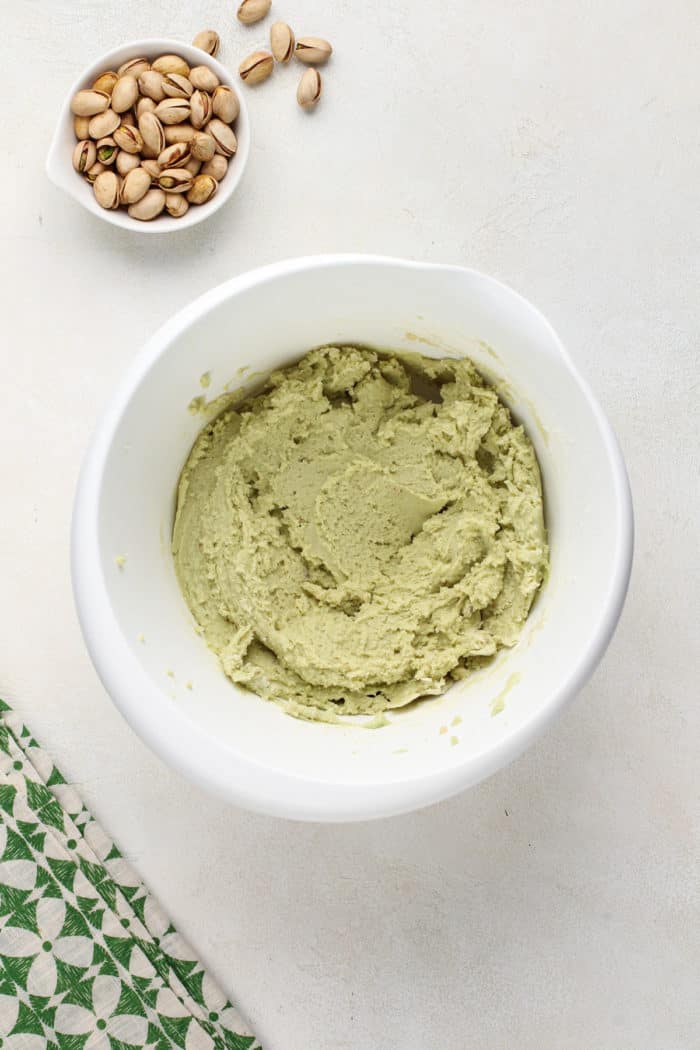 Making white chocolate pistachio pudding cookies
Start by whisking together the dry ingredients: flour, baking soda, and salt. In this recipe, the pudding mix is considered a "wet" ingredient, so we won't use it until later.
In the bowl of your stand mixer fitted with the paddle attachment or in a large mixing bowl with an electric mixer, cream the butter and sugars together until light and fluffy. This will take 3-4 minutes.
Add in the dry pudding mix, the eggs, and the vanilla and mix until well combined.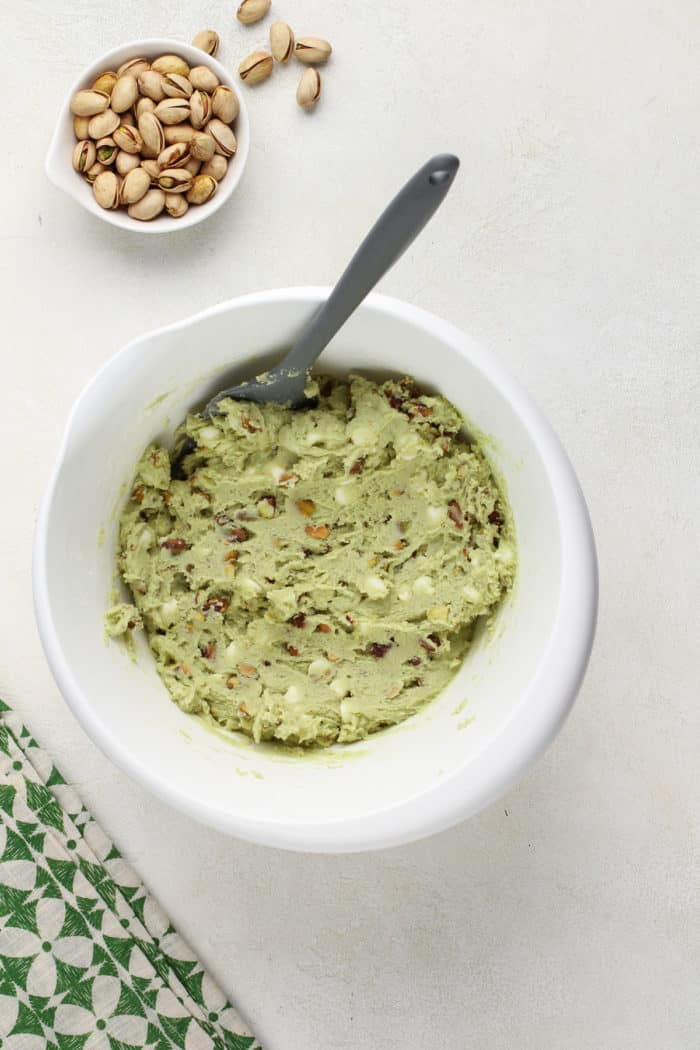 Slowly add the flour mixture, mixing until just combined. Stir in the white chocolate chips and the chopped pistachios.
Use a medium cookie scoop to portion the dough onto lined baking sheets. Make sure you place the dough balls at least 2 inches apart.
Bake the cookies for 10-12 minutes. Try not to over-bake them – if anything, being a little bit under is better!
Let the cookies cool on the baking sheet for 3 minutes, then transfer them to a wire rack to cool completely.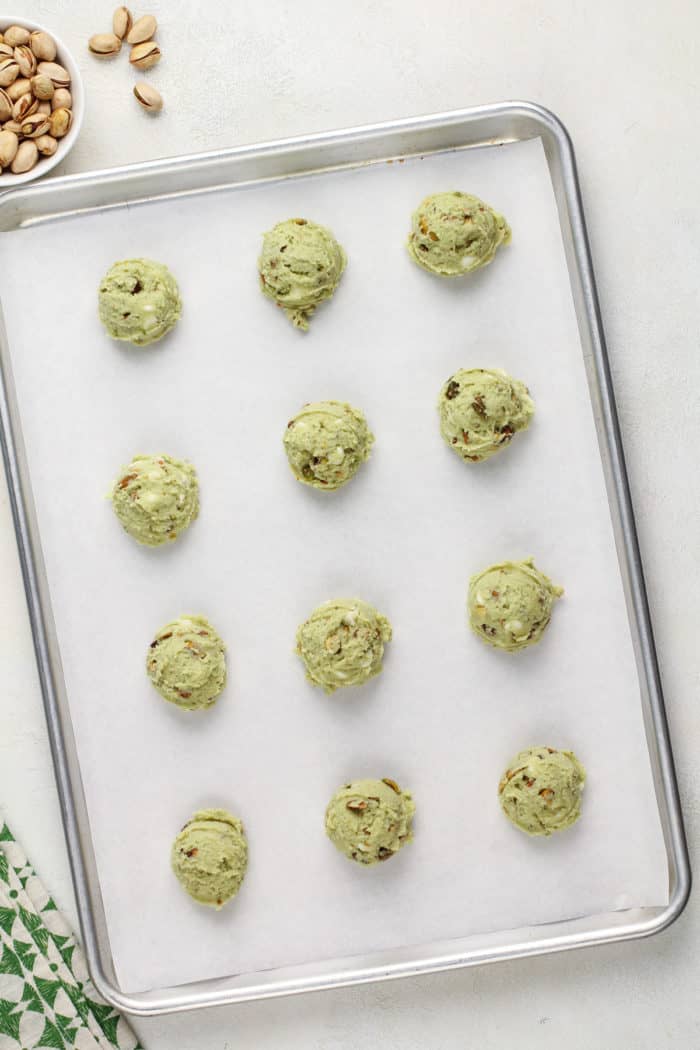 STORAGE TIPS
Store the cooled white chocolate pistachio pudding cookies in a container at room temperature for up to 4-5 days.
You can also freeze these cookies, either before or after baking.
If you want to freeze the dough so you can bake a handful of cookies whenever you want, follow my instructions on my how to freeze cookie dough tutorial.
If you prefer to freeze the baked cookies, simply place them in a zip-top freezer bag or airtight container and freeze for up to 3 months. Cookies thaw quickly, so just let these white chocolate pistachio pudding cookies sit out at room temperature for 30-60 minutes before enjoying.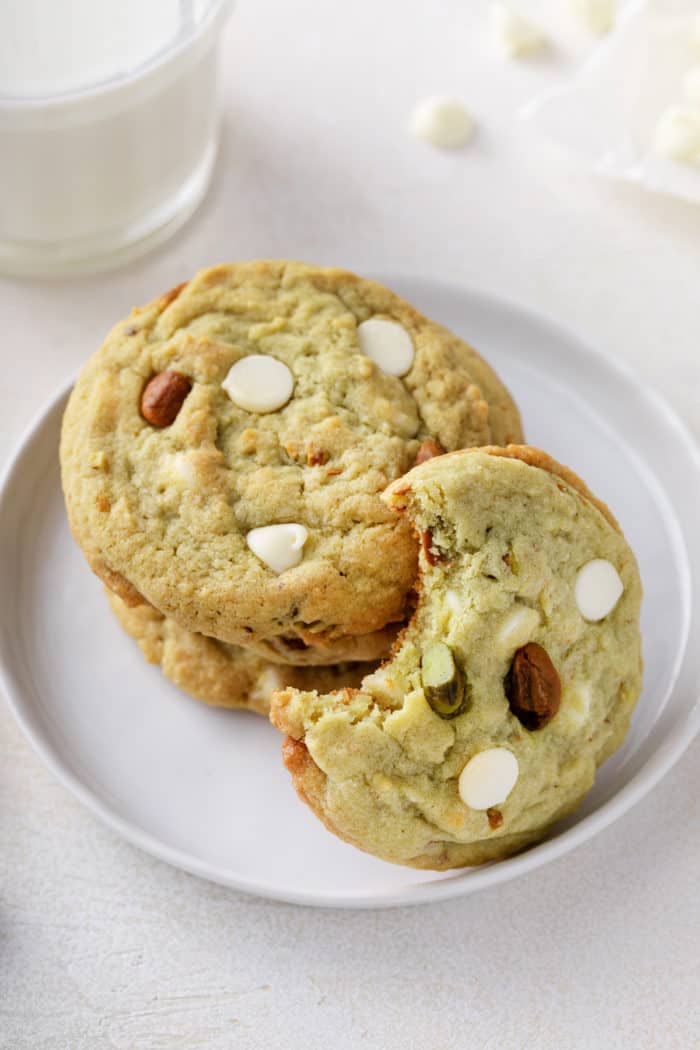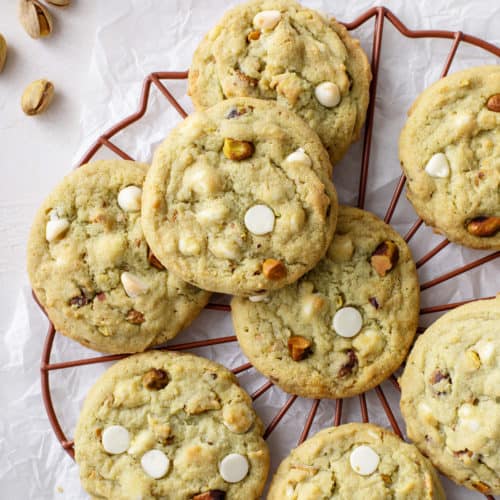 Preheat oven to 350°F. Line baking sheets with parchment paper.

In a large bowl, whisk together the flour, baking soda and salt. Set aside.

In the bowl of a stand mixer fitted with the paddle attachment, or in a large bowl with an electric mixer, cream butter and sugars on medium speed for 3-4 minutes. Add in dry pudding mix, eggs and vanilla and mix until incorporated.

Gradually add dry ingredients to the butter mixture and mix until just combined. Stir in white chocolate chips and chopped pistachios.

Using a medium cookie scoop (about 1.25 to 1.5 tablespoons), scoop cookie dough balls onto prepared baking sheets at least 2 inches apart.

Bake in preheated oven for 10-12 minutes.

Allow cookies to cool on pan for about 3 minutes before carefully removing them to a wire rack to cool completely.
If you are using unsalted pistachios, increase the salt in the dough to ¼ teaspoon.
Helpful resources:
Serving: 1cookie | Calories: 176kcal | Carbohydrates: 19g | Protein: 3g | Fat: 10g | Saturated Fat: 5g | Polyunsaturated Fat: 1g | Monounsaturated Fat: 3g | Trans Fat: 0.2g | Cholesterol: 28mg | Sodium: 59mg | Potassium: 83mg | Fiber: 1g | Sugar: 11g | Vitamin A: 224IU | Vitamin C: 0.3mg | Calcium: 26mg | Iron: 1mg
The default measuring system on My Baking Addiction is US Customary. Unit conversions are provided as a courtesy; please be aware that there may be some discrepancies.
Card may contain affiliate links. As an Amazon Associate and member of other affiliate programs, I earn from qualifying purchases.
Source link